STERLING – Newman's defense was able to stifle the Morrison rushing attack on all but one drive.
Meanwhile, after an early punt and a turnover, the Comets' offense kicked into high gear late in the half as Newman rushed to a 34-6 win over the Mustangs on Saturday night at Roscoe Eades Stadium in the season opener for both teams.
Midway through the second quarter, it was still a 7-0 game, but three quick touchdowns closed out the half for the Comets, with big plays contributing to each.
The two biggest were the two last plays, each one-play drives where Marcus Williams broke multiple tackles. The first was a 51-yard touchdown with 3:09 left in the half.
"I got through the hole and I wasn't sure what to expect," Williams said. "Then I saw somebody come through and I knew if I got a little bit lower I was going to be able to get through them, so I got a little bit lower. Our left guard, Adam Morgan, got the left-side linebacker and I was able to break off."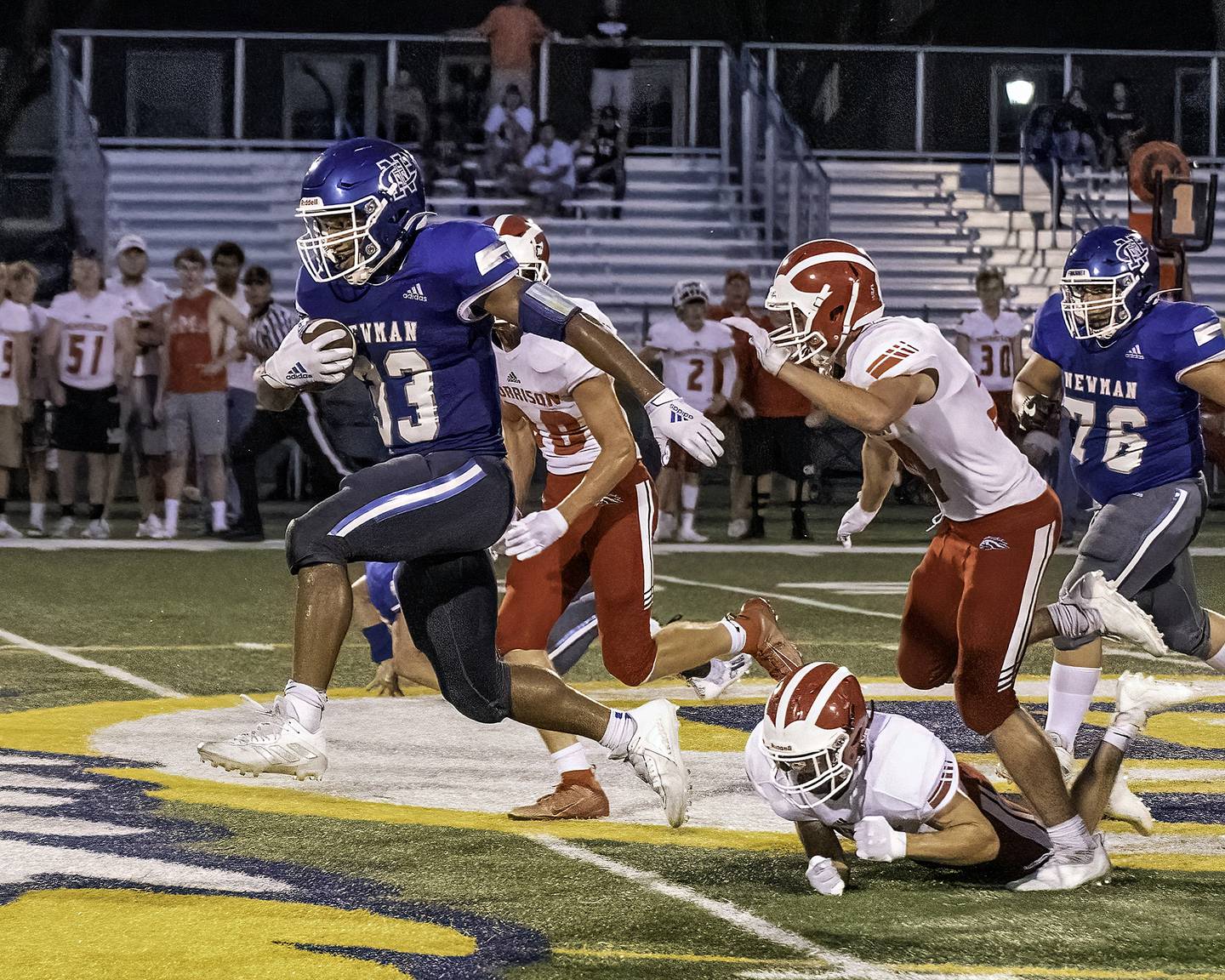 For an encore, he added a 55-yard touchdown on the following drive, one play after Newman had forced a punt.
Another big play set up an earlier Newman score. Comets quarterback Cody Donna hit Drew Scott for a 36-yard gain down to the Mustangs' 8. Hunter Luyando punched it in on the following play.
"You look at that first half, before the five-minute mark of the second quarter, I bet we had them stopped dead in rush yards," Morrison coach Steve Snider said. "They had the one big pass play, and then at the end of the second quarter they put a couple big runs on us where we had guys there and just couldn't make the tackle.
"Those are the things we have to shore up. We need to make sure we're getting to the right spot at the right time in order to make the tackle."
Those big plays came after Morrison's defense had come up with a pair of stops earlier in the game. After a first-down run by Ethan Van Landuit on Newman's second offensive play, the Mustangs pushed Newman back on the next three plays to force a punt.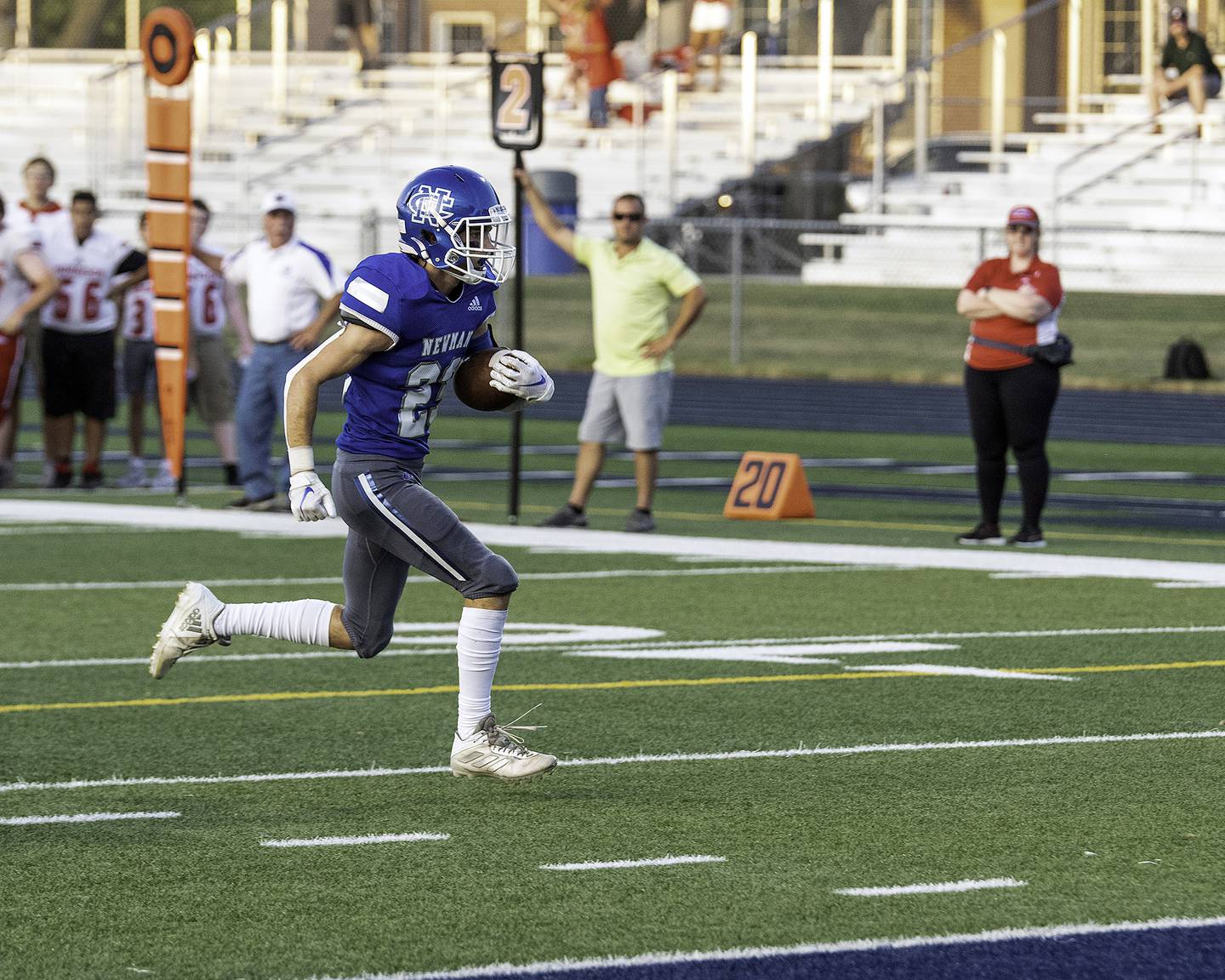 After Morrison punted, Newman got on the board with an eight-play, 52-yard scoring drive capped off by a Nolan Britt 20-yard score, but Morrison came up with another stop on Newman's next drive as Justice Brainerd recovered a fumble.
But Morrison's offense struggled to get much going. In the first half, five Morrison drives ended in punts, with two of those ending behind the initial line of scrimmage. Van Landuit twice got into the backfield to stop Morrison ballcarriers for losses, and Elliot Noble added a sack.
Morrison's longest drive in the first half was a five-play, 19-yard possession. It too ended in a punt.
"We were in our base defense. We were just physical and flying to the ball," Van Landuit said.
Morrison got the ball moving in the third quarter. Starting the half at their own 25, the Mustangs covered 75 yards in seven plays, capped off by Alex Anderson making one cutback move after another to go 53 yards for a touchdown.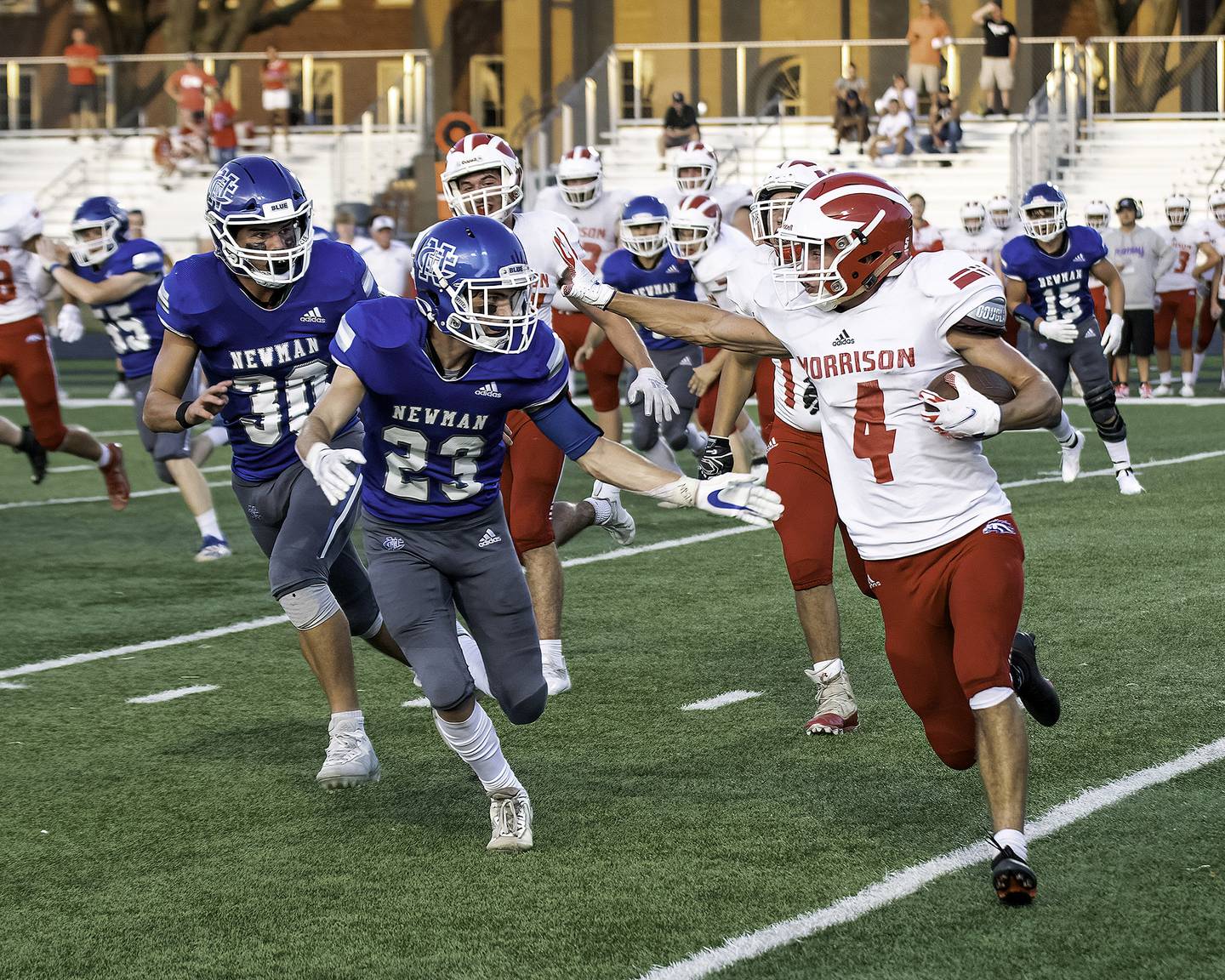 "We just shored some things up at halftime," Snider said. "You could tell in the second half that we just did things right. In the first half we had guards pulling the wrong way. Everything like that, you're not going to move the ball successfully, you're not going to win football games."
But Morrison's offense couldn't keep the momentum going. Morrison had three more possessions in the game, gaining a total of four yards. One of those drives saw Morrison get to the Newman 41 before Will Rude sacked Danny Mouw on fourth down close to the original line of scrimmage.
"We were just flying around. We were playing fast," Newman coach Brandon Kreczmer said. "I think that's one of our strengths in this defense. We're young, but they just fly to the ball."
Newman added to its lead with a 3-yard Brennen Cook touchdown run.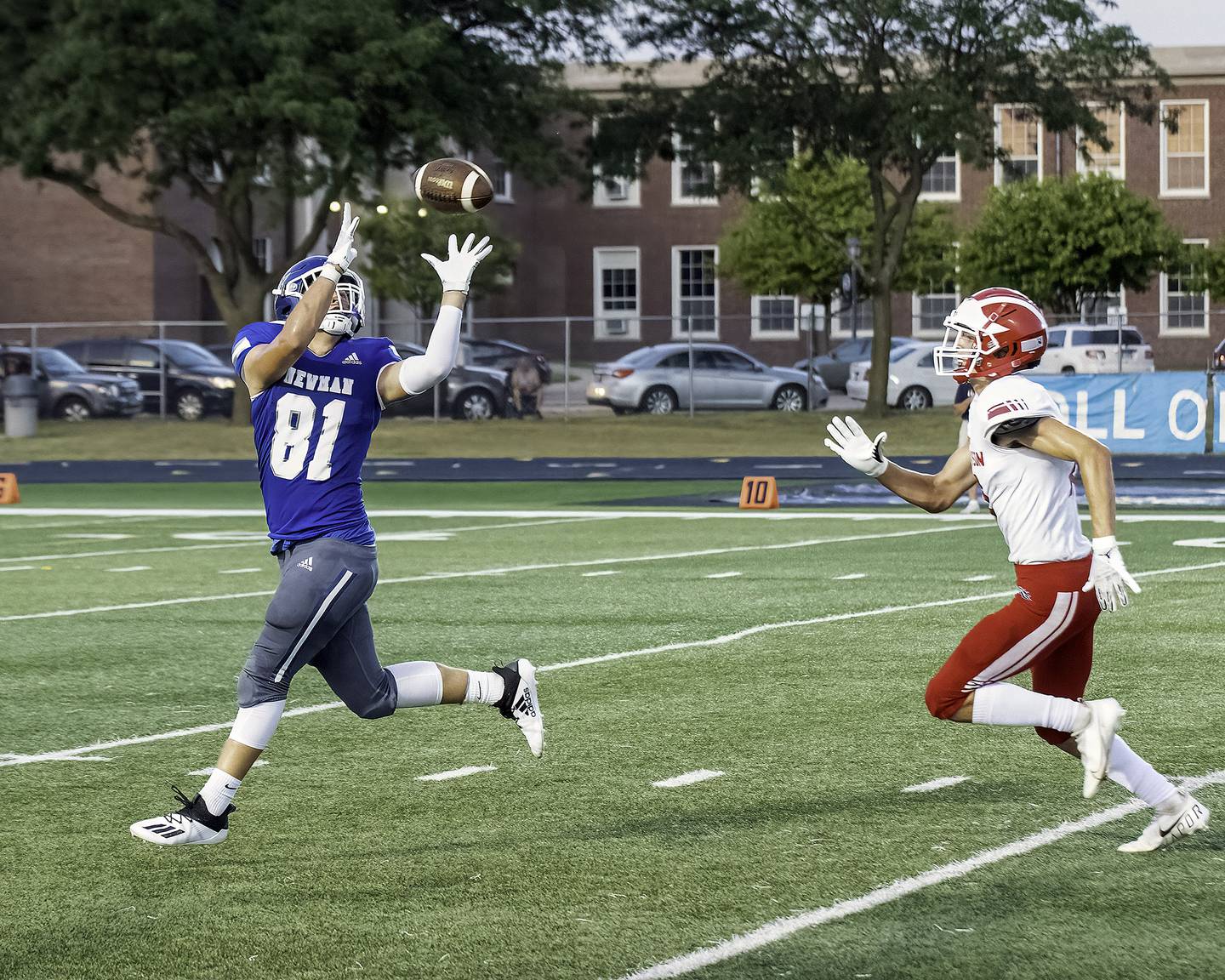 The Comets also got a big boost from special teams, where Jacob Donald put three kickoffs through the end zone for touchbacks and also pinned the Mustangs back at their own 2 following a 43-yard punt.
"Jacob's a great kicker," Kreczmer said. "He puts a lot of time and effort into it. It's not just him. We had to protect for the punts and the PATs. A couple got blocked, but we're going to challenge the team this week and say that special teams are a big part of the game."
Anderson finished the game with eight carries for 51 yards for Morrison, while Brainerd had 14 carries for 46 yards.
Williams had eight carries for 129 yards for Newman, with Donna completing 3 of 5 passes for 62 yards.