COAL CITY – First-year Coal City coach Francis Loughran called his first game a throwback type of game.
It was hard to argue with him.
Coal City and the Morris High School football team played a hard-nosed, physical game in the season opener, and Morris was able to come away with a 13-3 win. It was the third game between the schools that are 13 miles apart, and the visitor has won each game
Hard hits on both sides of the ball were the order of the day, and both defenses were able to stymie the opposing team's offense. The lone touchdown of the game came on a 32-yard pass from Morris' Zach Romak to Myles Johnston on 4th-and-5 with 8.5 seconds left in the first half. Coal City defender Derek Carlson was stride-for-stride with the speedy Johnston and knocked the ball in the air, but Johnston kept his eye on it and came down with the ball in the end zone.
"That was a crazy play," said Johnston, who finished with seven catches for 82 yards. "I saw the ball was in the air after he [Carlson] hit it. I just kept concentrating on it and grabbed it. I thought I might have been out of bounds at first, but I was in the end zone.
"I really didn't think with our offense that would be the only touchdown of the game. But we got through it, and we're 1-0. That's the most important thing."
The touchdown gave Morris a 10-3 lead heading into halftime. Earlier, Morris' Henry Hansen kicked a 22-yard field goal to cap the game's opening drive. Coal City answered with a 40-yard field goal by Aydan Murphey on the ensuing drive. Murphey had set up his own field goal by being on the receiving end of a 59-yard screen pass from Braden Reilly.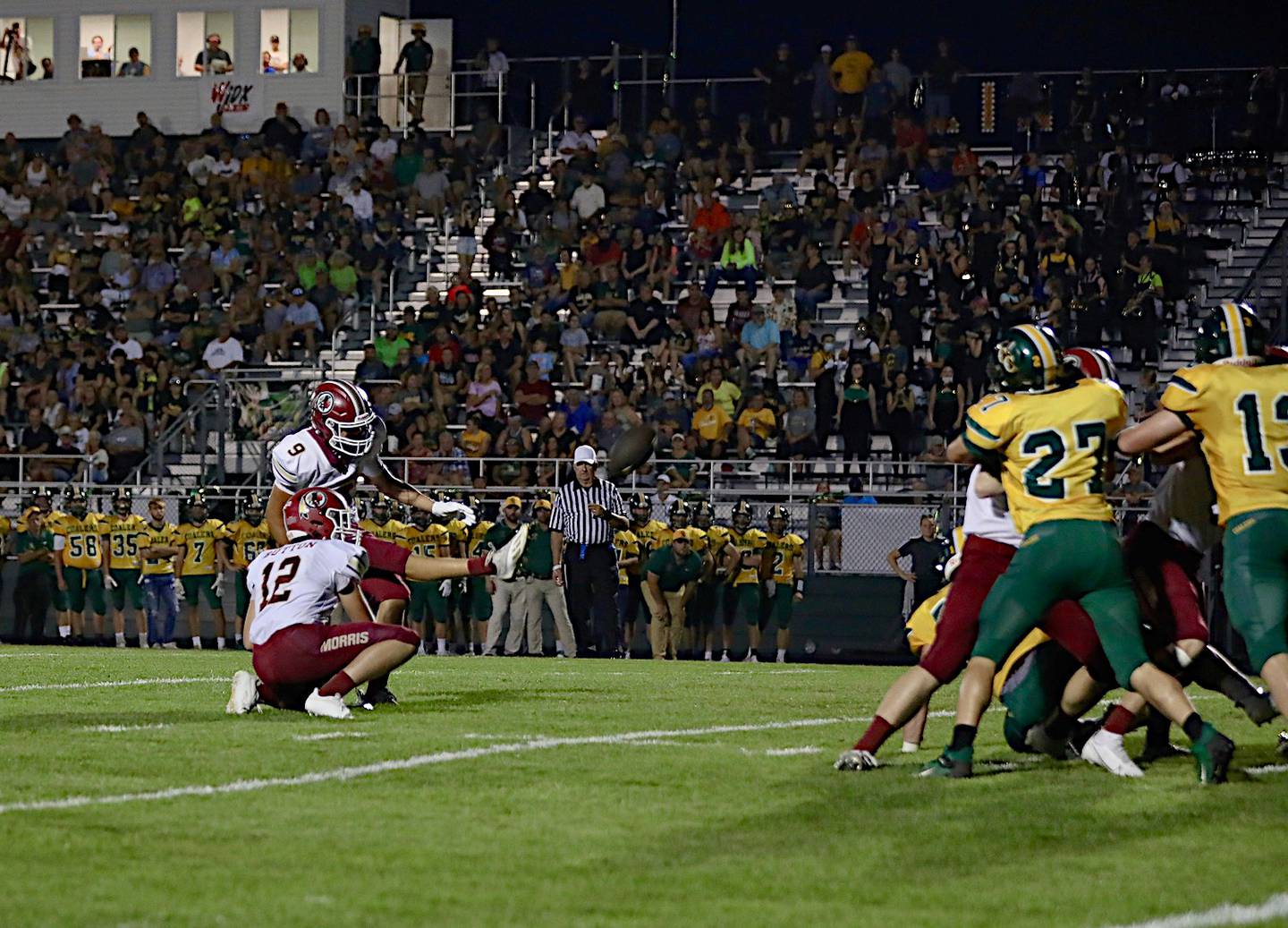 Coal City received the second-half kickoff and controlled the ball for most of the third quarter. The Coalers got two first downs thanks to Morris penalties and eventually reached the Morris 9-yard line before the Morris defense forced a fumble and Morris' Jonah Williams recovered to take over at its own 5 with 2:59 to play in the third.
"I was happy with the way our defense played," Morris coach Alan Thorson said. "Especially considering that they were on the field a lot. We rotated a lot of guys in and out because it was hot and kids were cramping, and everyone that rotated in did a good job."
Morris was able to get a couple of first downs before being forced to punt. A strong kick by Romak and a block in the back penalty on Coal City put the Coalers at their own 32. They advanced to the Morris 24 before the Morris defense delivered two consecutive tackles behind the line of scrimmage for a total loss of seven yards. Murphey's 47-yard field goal attempt came up short, and Morris took over with 8:34 to play.
The two teams traded punts, and Morris' A.J. Zweeres fielded Coal City't punt at his own 41 and returned it 28 yards to the Coal City 31. Four running plays, including a 12-yard run by Ashton Yard, moved the ball to the Coal City 13 before Hansen booted a 30-yard field goal with 2:04 left to put Morris ahead, 13-3.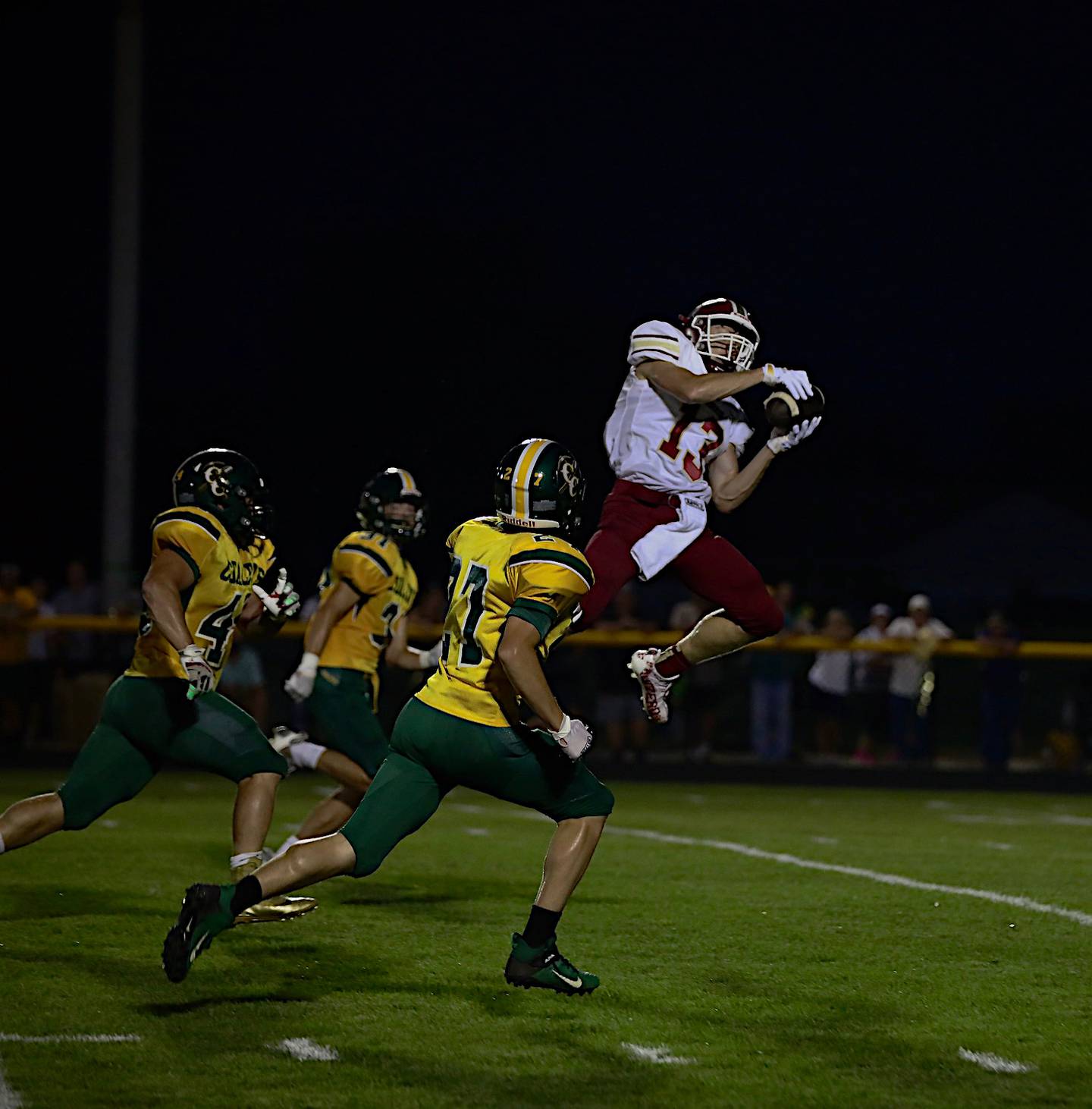 On Coal City's ensuing drive, Zweeres, a sophomore, intercepted a Reilly pass at the Morris 45 with 1:25 left.
"This was my first varsity game, and it was definitely different," Zweeres said. "It was the first time under the lights with a big crowd.
"We were playing prevent pass coverage, and I saw a receiver coming over the middle. I just jumped the route and got the ball. That wasn't the play that won it, though. We played great as a team all night, and it feels good to get that first win."
After Zweeres' interception, Morris was able to run out the clock.
"It wasn't the prettiest win, but we'll take it," Thorson said. "Any time you go on the road, especially in a rivalry game like this, and get a win, it's a good day. I was happy with our offense in the first half. We only had the ball three times, and we scored on two of those possessions.
"We didn't have the greatest offensive night. A lot of that was due to Coal City's defense, but we didn't help ourselves. We had some penalties that hurt."
Morris finished with nine penalties for 72 yards, while Coal City was flagged four times for 30 yards.
Romak completed 15 of 24 passes for 165 yards and a touchdown. Johnston was the leading receiver, while Cameron Hatcher (39 yards) and Aidan Romak (26 yards) each caught three passes. Zach Romak also was the leading rusher for Morris with 26 yards on eight carries.
Ashton Harvey led Coal City with 49 yards on 19 carries, while Carson Headley had 35 yards on six carries. Reilly was 4-of-6 passing for 73 yards with an interception.
"This was a physical, hard-hitting throwback type of game," Loughran said. "Morris has some great athletes, but our guys played very well. They got the touchdown on a big play, and we couldn't have asked more from Derek Carlson on that play. It was just one of those freak plays that happen.
"Our offensive line – Nick Leasure, Tyler Hennings, Nick Latta, Jash Mikel and Colin Dames – did a real good job. Latta is the only returning starter, but all of those guys played real well. And Ashton Harvey ran hard, he only has one speed and it's all-out, and so did Carson Headley. We are going to run by committee this year and ride the hot hand.
"Our guys played very hard against a very good Morris team. Now we will focus on the mistakes we made and try to get them cleaned up."