AURORA – Jared Badie said that he has been taught to treat every play like it is his last.
He practiced that philosophy at a pivotal point Friday.
The Oswego East senior linebacker, an Illinois recruit, made a spectacular chase down strip and steal of the football from Waubonsie Valley running back Antonio Torres in the final minute of the first half that stole momentum right back from the home team.
The Wolves forced three turnovers for the game, Badie two of them, and shut out the Warriors into the fourth quarter of a 17-7 win in the season opener at Dick Kerner Stadium.
"They say big-time players make big-time plays," Badie said. "I work every day to make myself a big-time player. I'm not there yet, but as you see there on the field I'll treat every play like it's my last and give everything I got. That shows on the takeaway. I knew it was a crucial takeaway. I'll do anything to get a win."
Badie forced a fumble on Waubonsie's first play from scrimmage Friday, but it was the play with the Warriors driving trailing 10-0 near halftime that showcased his Division I talent.
Torres caught a pass and headed near the red zone and right sideline, but Badie used his 4.49 40 speed to chase him down, then ripped the ball away from the Waubonsie running back and before his feet hit the sidelines.
"I was always taught to swim my arm down and come down with violence and sticking to my training and sticking to my technique," Badie said. "Obviously that proved true today."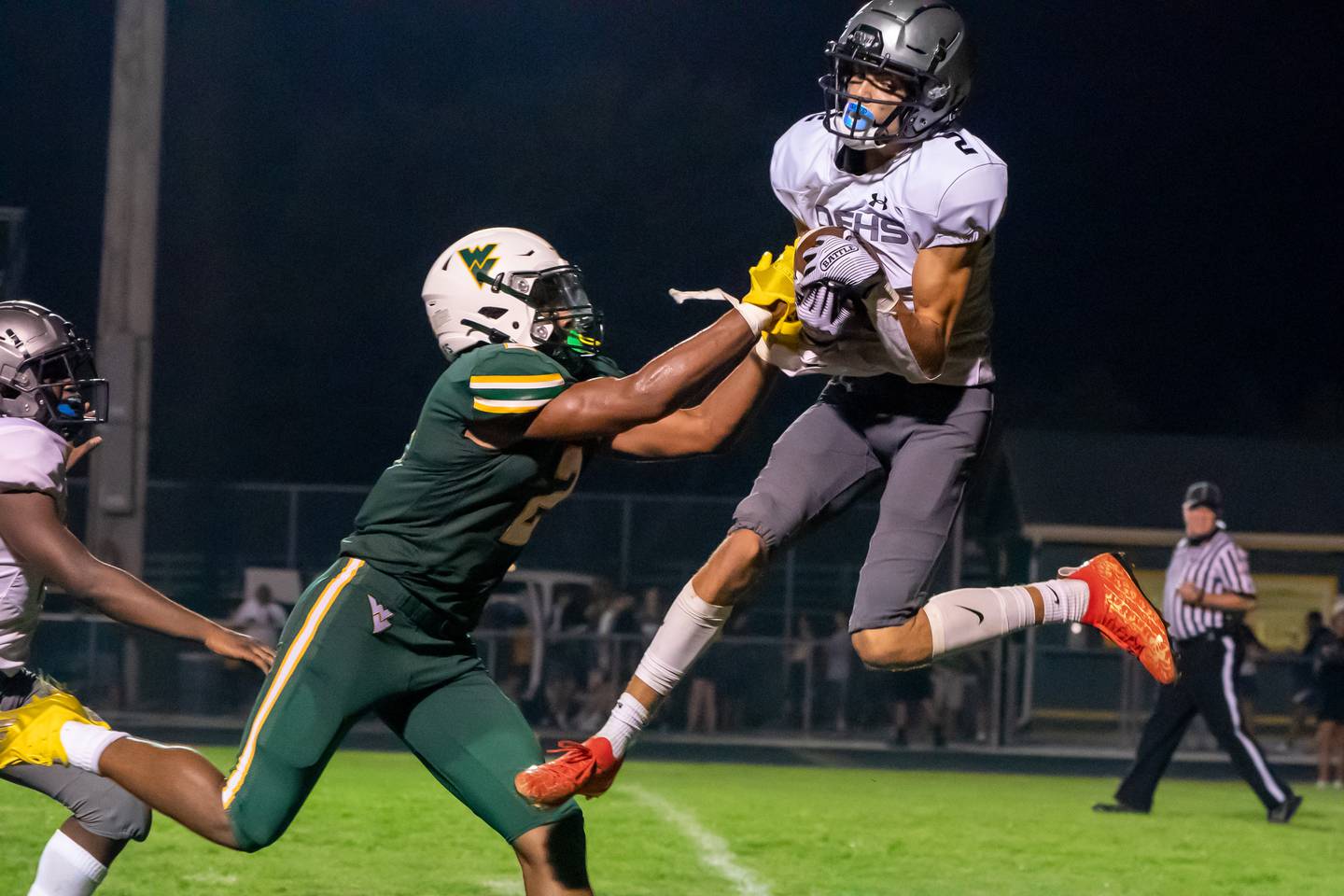 "Rumor has it he's pretty good at football," Oswego East coach Tyson LeBlanc said. "That's the kind of stuff we expect Jared to do. When you got a kid at that caliber, those types of big plays we expect him to do."
Waubonsie Valley coach Tom Baumgartner, who knows the Badie family well, wasn't surprised to see it.
"He's a hell of a player," Baumgartner said. "His mom works in our building, she's got to be the nicest person in the world, but he's just fun to watch. We thought we did some pretty good things tonight, but the play at the end of the half near the sideline was just an absolute gamechanger. We're driving, we might score, we might get it to 10-7, for Jared to come over Antonio's back and take the ball away, that's why the kid is going where he's going."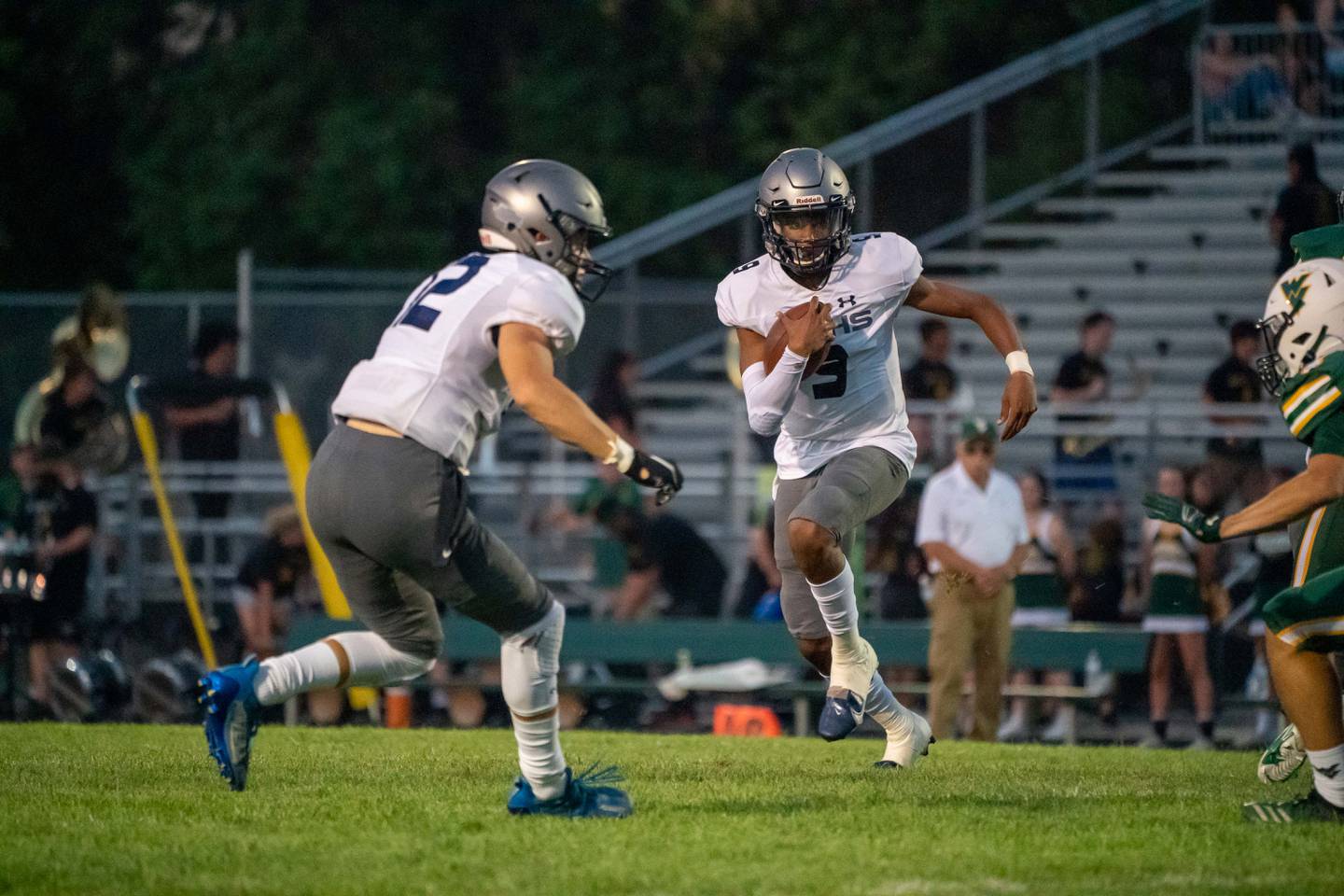 On the other side, Oswego East junior quarterback Tre Jones showcased a glimpse of why he could be the program's next Division I recruit.
Jones, who transferred back to his home district from Montini in July, raced for a 57-yard touchdown on a keeper up the middle for a 10-0 lead with 2:57 left in the second quarter. Jones went down with a cramp on a running play in the first play of the second half, but returned three plays later to fire a 29-yard seed to Ty Carlson on third-and-long.
It set up Darquel Sanders' 35-yard TD run to make it 17-0 with 9:31 left in the third quarter.
On a night where the Wolves struggled to mount a consistent running game, Jones' big-play ability was much-needed. He later took off on a 37-yard scramble, and finished with 106 yards rushing and 45 yards passing on 5-of-10 attempts.
"Truth be told, in practice we blow the whistle so fast we never get to see him run," LeBlanc said. "Again, those are the type of plays we expect from that caliber of player."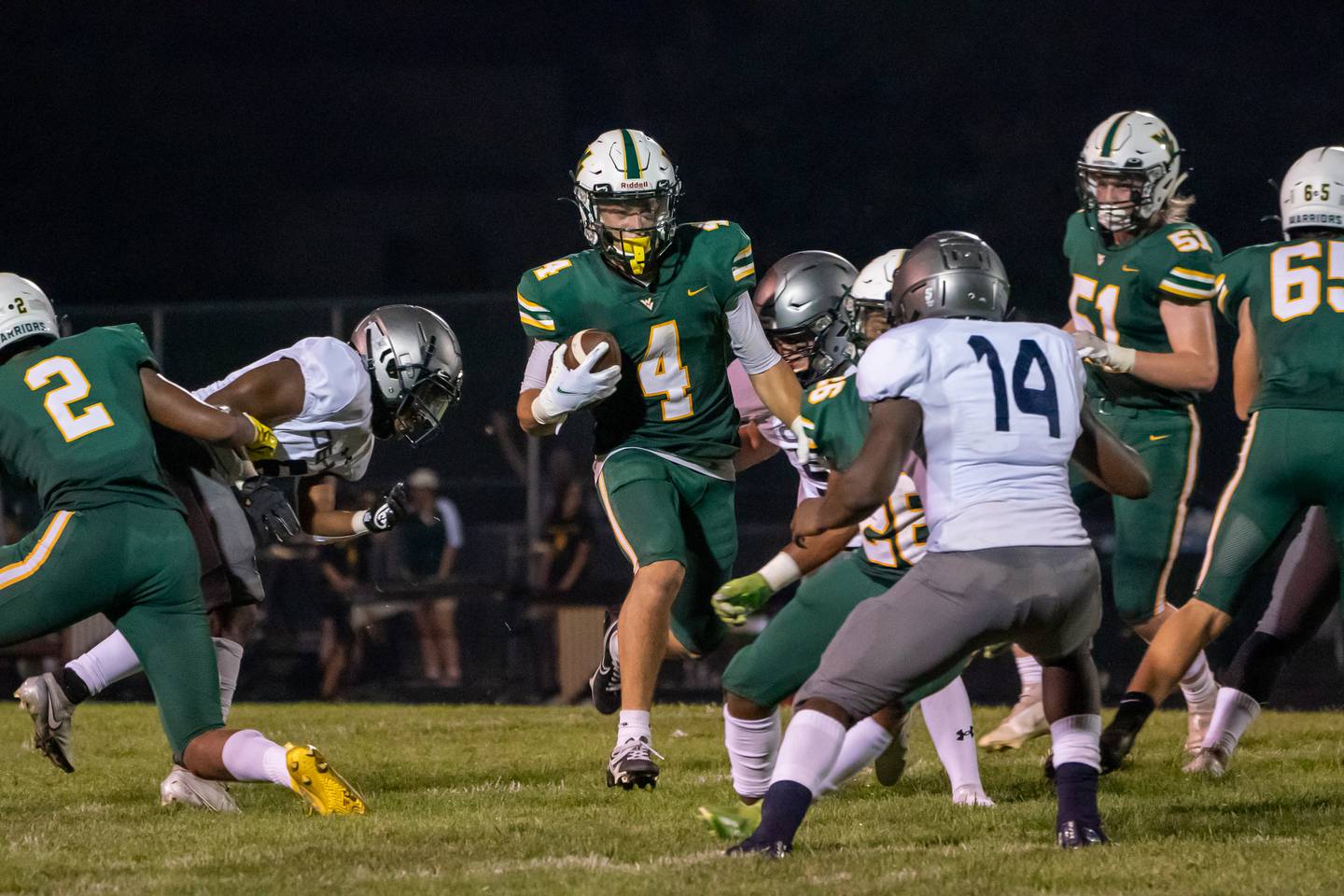 Torres, in his first game back at Waubonsie after playing his junior year at Naperville Central, finally got the Warriors on the board with a 20-yard TD run with 8:00 left in the fourth quarter. He ran for 68 yards on 19 carries and caught four passes for 44 yards.
The Warriors had ample opportunity to draw closer earlier.
Badie's strip was a big play, but Waubonsie also came away empty on a first-and-goal from the 4-yard line after an Oswego East muffed punt snap in the third quarter. The Warriors drove past midfield late in the fourth quarter trailing 17-7, but Carlson made a leaping interception to salt things away.
"We got to punch that in," Baumgartner said. "At the end of the day we made a lot of mistakes, and that's on me."
Oswego East scored in the game's first minutes, capitalizing on Badie's first forced fumble with Owen Valek's 40-yard field goal into the wind that bounced off the crossbar and in for a 3-0 lead.