MINOOKA — Bolingbrook's Bobby Ervin only found out he was playing quarterback for the Raiders on Monday.
After rushing for 220 yards and four touchdowns and going 10-for-11 passing with 102 yards and a score during Bolingbrook's 52-28 victory over host Minooka, one wonders how much damage he would do with a little more lead time.
"I was on the bench last year," Ervin said. "This was my first varsity start."
From the outset, Ervin played with the composure of a savvy veteran. After Minooka fumbled the ball on their second play from scrimmage, Irvin cooly took the play in from the coaching staff, settled under center and threw a dart to standout wide receiver I'Marion Stewart for 17 yards. Two plays later, Irvin was in the end zone with a 2-yard touchdown plunge.
"I was just trying to get my reads and finish them," said Ervin, who is listed as a 5-foot-8 inch, 165-pound wide receiver on the Bolingbrook roster. "And run fast, basically."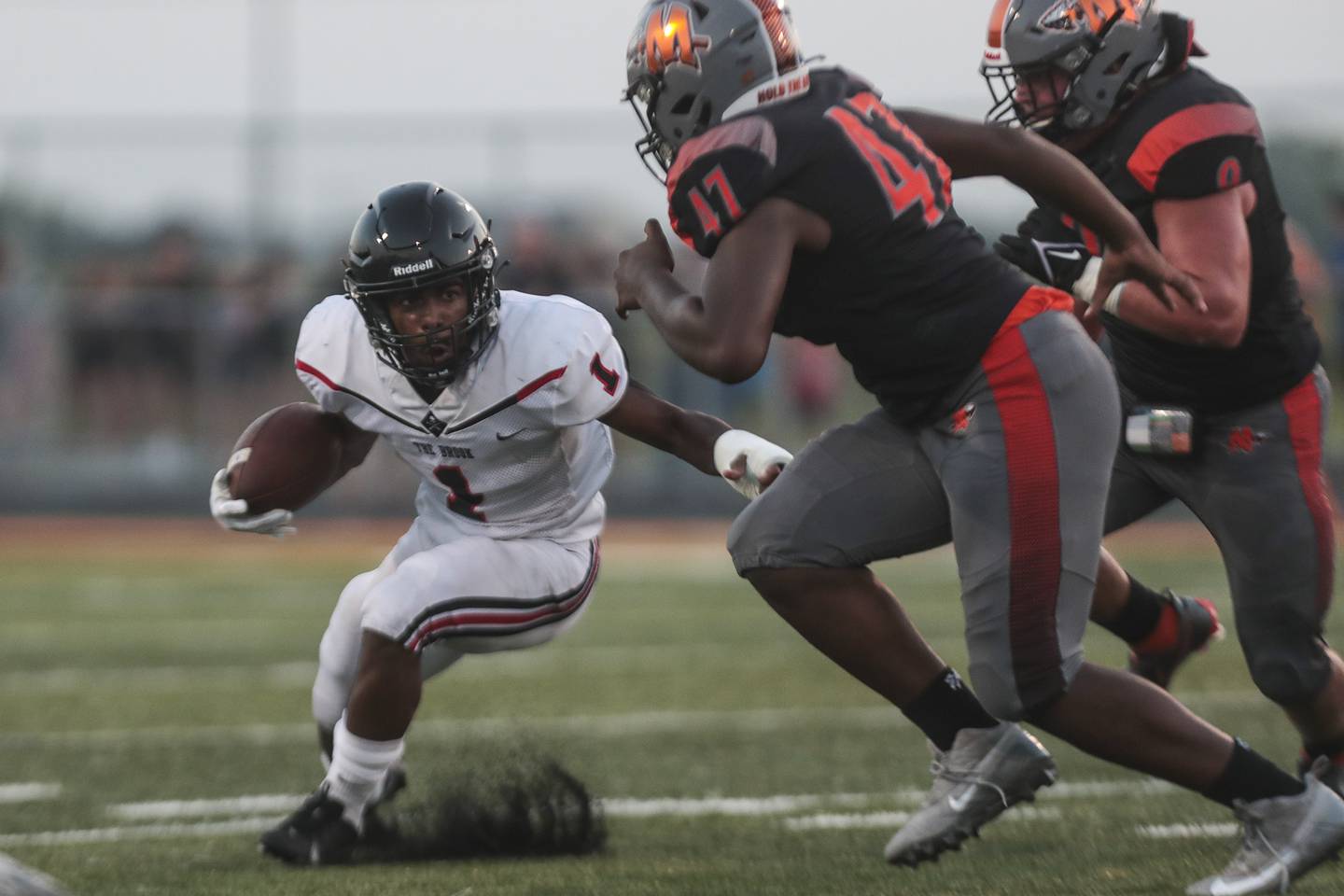 Minooka answered that first score with a lengthy 16-play drive that was capped by a short touchdown run from Ethan Murphy, but that would pretty much be the only time the Indians would be able to sustain consistent offense against Bolingbrook until after the outcome clearly was decided.
John Zeitler reclaimed the lead for Bolingbrook by booting a 37-yard field goal. And then after another Minooka miscue, Ervin marched Bolingbrook down the field using his arm this time, completing a long pass to Stewart before finding Kyan Berry-Johnson in front of the defense for a 30-yard score.
Quickly getting the ball back after a Minooka punt, Stewart broke a long punt return which he nearly carried in for a score, setting the stage for another touchdown run from Ervin, this time from eight yards out.
Minooka did score just before halftime when Murphy fired a strike to Trevor Hudak to close the gap to 24-15, but in the third quarter Bolingbrook seized control of the game.
The Raiders put together a solid drive to start the quarter, getting a touchdown from Anjelo Ervin. And after a quick Minooka drive was foiled, Irvin found himself another seam in the defense and sprinted 74 yards for a score.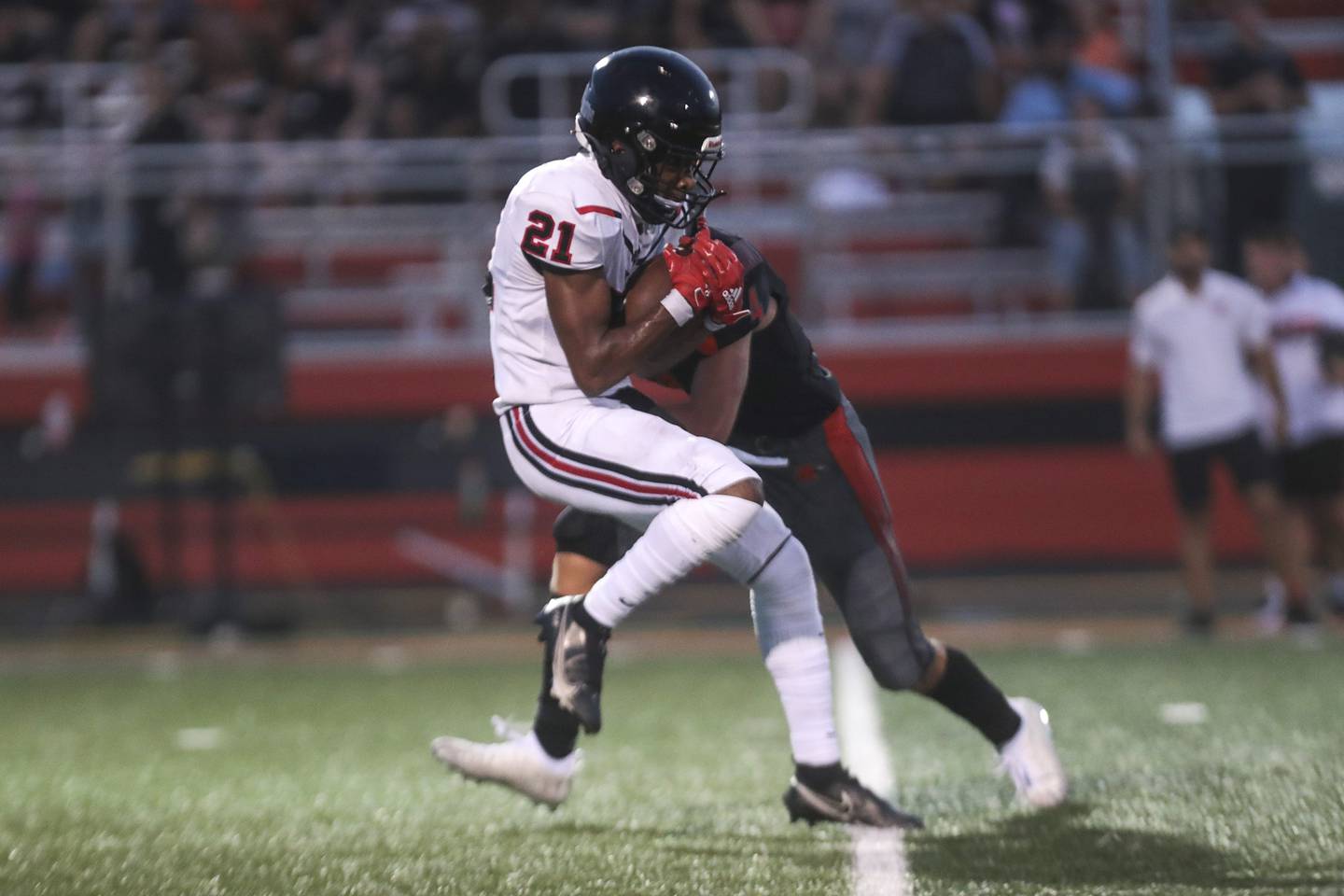 Minooka failed to recover the ensuing kickoff which led to Jaquan Howard racing in from 15 yards out to allow Bolingbrook to push its lead to 30.
Irvin wasn't done. With the outcome clearly in hand he couldn't resist taking advantage of yet another crack in the Minooka defense, slithering through to break away for a 90 yard touchdown.
Minooka added a pair of touchdowns in the fourth quarter, including on a 62-yard reception by Northern Illinois-bound Malik Armstrong, to tighten the margin.
But the night belonged to Bobby Ervin. The journey that put him in that position spoke to the remarkable nature of what he did.
"Between COVID, grades, sick and not enough practices the first week, we had 10 guys on the sideline. We had to make do," Bolingbrook coach John Ivlow said. "We always have an under-center offense and a shotgun offense. We just wanted to get a little mixture, and we thought maybe they wouldn't be prepared for that. He's the under-center quarterback for us. He did his job. Maybe not what people were expecting, I guess."
But even with a comfortable victory, Ivlow is expecting his team to clean up some of the underlying issues they had. The Raiders were penalized extensively in the game, with many of those miscues sparking the ire of their coach.
"There was some stuff out there that we have to correct. We have to play correctly," Ivlow said. "That we can control, and it will be controlled."