Forreston opened the season with a 38-14 win over Stockton.
Devonte King-Black had 12 carries for 85 yards. Noah Johnson rushed eight times for 96 yards.
The Cardinals jumped ahead on a Matthew Beltran touchdown and, after Stockton answered, took the lead for good on a touchdown from King-Black. Beltran added scores in the second and third quarters, and Johnson scored in the fourth.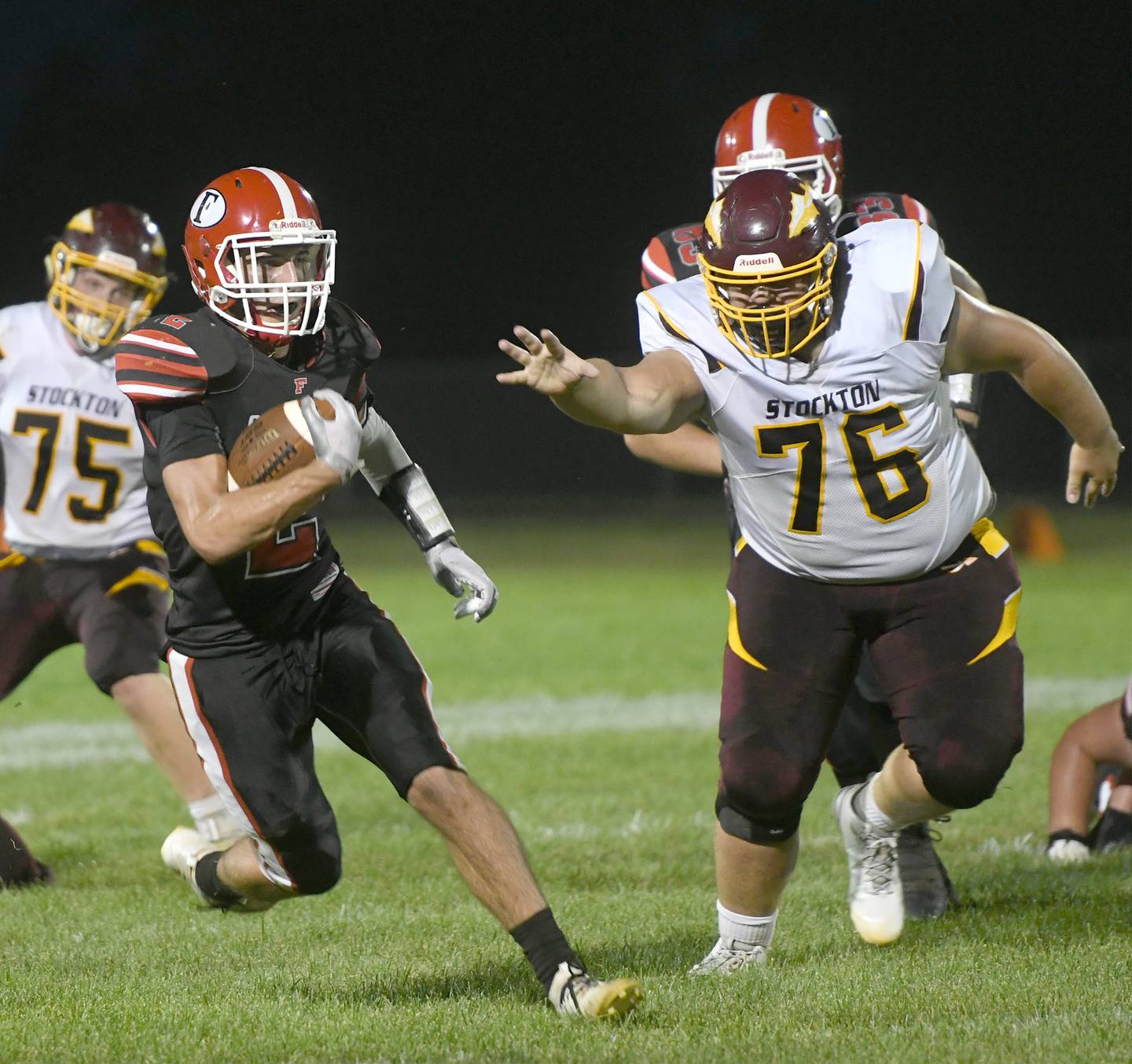 Mendota 24, Erie-Prophetstown 14: The Mendota football team opened its tenure in the Three Rivers Conference with a victory over Erie-Prophetstown.
Uzi Angulo ran for 68 yards and a pair of touchdowns to lead the Trojans.
Angulo scored on a 1-yard run with 8:30 left in the second quarter before the Panthers tied it before the half.
Mendota retook the lead when Damien Magallanes intercepted a pass and returned it 85 yards for a score with 11:29 left in the third.
Emilio Perez extended Mendota's lead to 17-7 with a 24-yard field goal with 2:19 left in the third.
E-P pulled within three points early in the fourth before Angulo scored on a 1-yard run to give MHS the cushion it needed.
Fulton 14, Galena 13: Fulton opened its NUIC tenure with a win at Galena.
Keegan Vankampen scored twice for the Steamers.
Fulton got on the board with a second-quarter touchdown before falling behind 7-6 at halftime, then took a 14-7 lead in the second half.
Amboy-LaMoille 52, Peoria Heights 0: The Clippers opened their first season of 8-man football with a resounding win over Peoria Heights.
Tucker Lindenmeyer had six carries for 91 yards with a pair of touchdowns, one of them from 53 yards out. Joe Quest added 60 rushing hards and a pair of touchdowns. Landen Whelchel rushed five times for 57 yards.
Caden Wittenauer had a receiving touchdown on a 37-yard pass from Lindenmeyer.
South Beloit 52, AFC 14: The Raiders' first full season of 8-man football began Friday with a loss to the SoBos.