The Dixon football team wanted to start the season on a strong note, but even the Dukes couldn't dream up a better opening performance than they put forth Friday night against Oregon.
Sophomore Tyler Shaner stepped in at the last minute to play quarterback, junior Rylan Ramsdell ran for nearly 100 yards, and the Dukes defense shut down the Hawks' attack in a 35-0 Dixon win at A.C. Bowers Field.
"No, I really couldn't imagine a better start; I think that's the best we could've done," said Ramsdell, who finished with 98 yards, including an 18-yard touchdown run to open the scoring. "That first touchdown really did get us going; when we got that, I thought we were going for it all and getting the win tonight. I'm prouder than I've ever been of this team."
The biggest news was Shaner taking over the helm from senior Jacob Gaither, who injured a finger in practice earlier in the week; he'll see a specialist next week to see if surgery is necessary.
That meant Shaner, the coach's son, had to adjust his mindset from backup to QB1 in a couple of days. The end result was impressive, as Tyler finished 12-for-18 for 121 yards and a pair of second-half touchdown tosses to Mason Randick.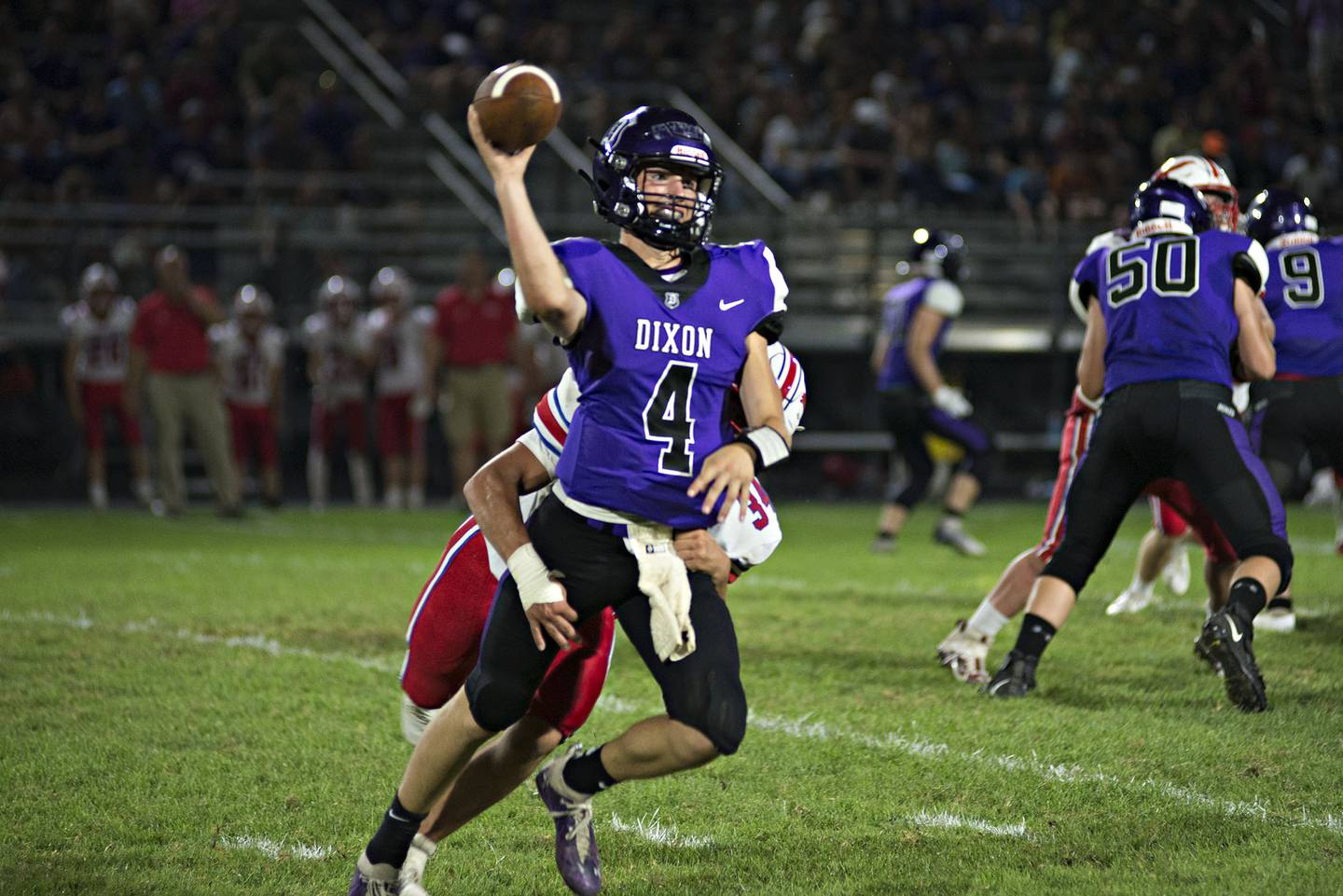 "At first, I was a little nervous, especially before the game. Then we got out here and the crowd started cheering, and I thought 'This is my moment. I live for this, I'm ready for this, I was born for this,'" Tyler Shaner said. "I was listening to my teammates, they were helping me, telling me to calm down, flush all my emotions out, and I did. After the opening kickoff, I was good to go."
Jacob Gusse was Shaner's favorite target, catching six passes for 72 yards. Randick finished with four catches for 29 yards and the two TDs, and Jath St. Pier had two receptions for 20 yards.
Shaner, who had a clean pocket most of the game, also ran for 74 yards on seven carries.
"The offensive line was amazing tonight; I'm so proud of those guys," Tyler Shaner said. "Gusse made me look so much better than I should have tonight, and I'll give Mason Randick props too, because I threw him a few bad balls that he went up and got."
Dixon ran for 273 yards on 29 carries, good for 9.4 yards per carry. Mitchell White scored on an 11-yard run with 1:02 left before halftime, and freshman Eli Davidson sprinted in from 15 yards out to wrap up the scoring with 3:15 to play.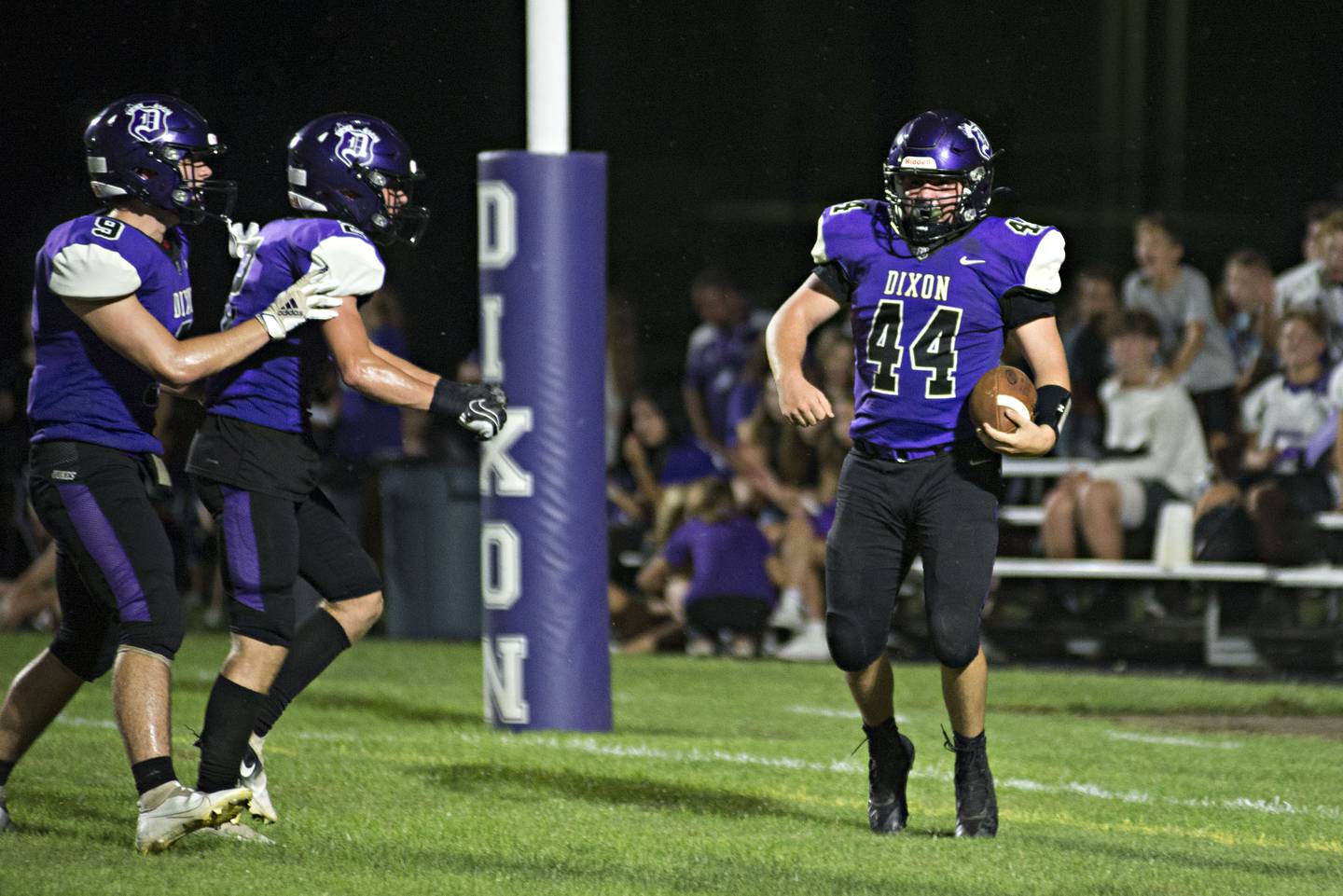 "The line opened holes tonight, and I every time I tell them thanks for doing that for us," Ramsdell said.
On the flip side, the Dukes defense limited Oregon to 60 yards rushing and one pass completion for seven yards.
"I was really happy. Our kids competed pretty well," Dixon coach Jared Shaner said. "I was obviously proud of Tyler stepping in there; two weeks ago, I wouldn't have thought he was getting a snap this year behind who I think is one of the best quarterbacks in our area, who is just unfortunately out for a while.
"But I'm proud of all of our kids. We had guys on the outside go up and make plays for the football, our line got off the ball well and created holes, and played well on the other side as well in stopping the run."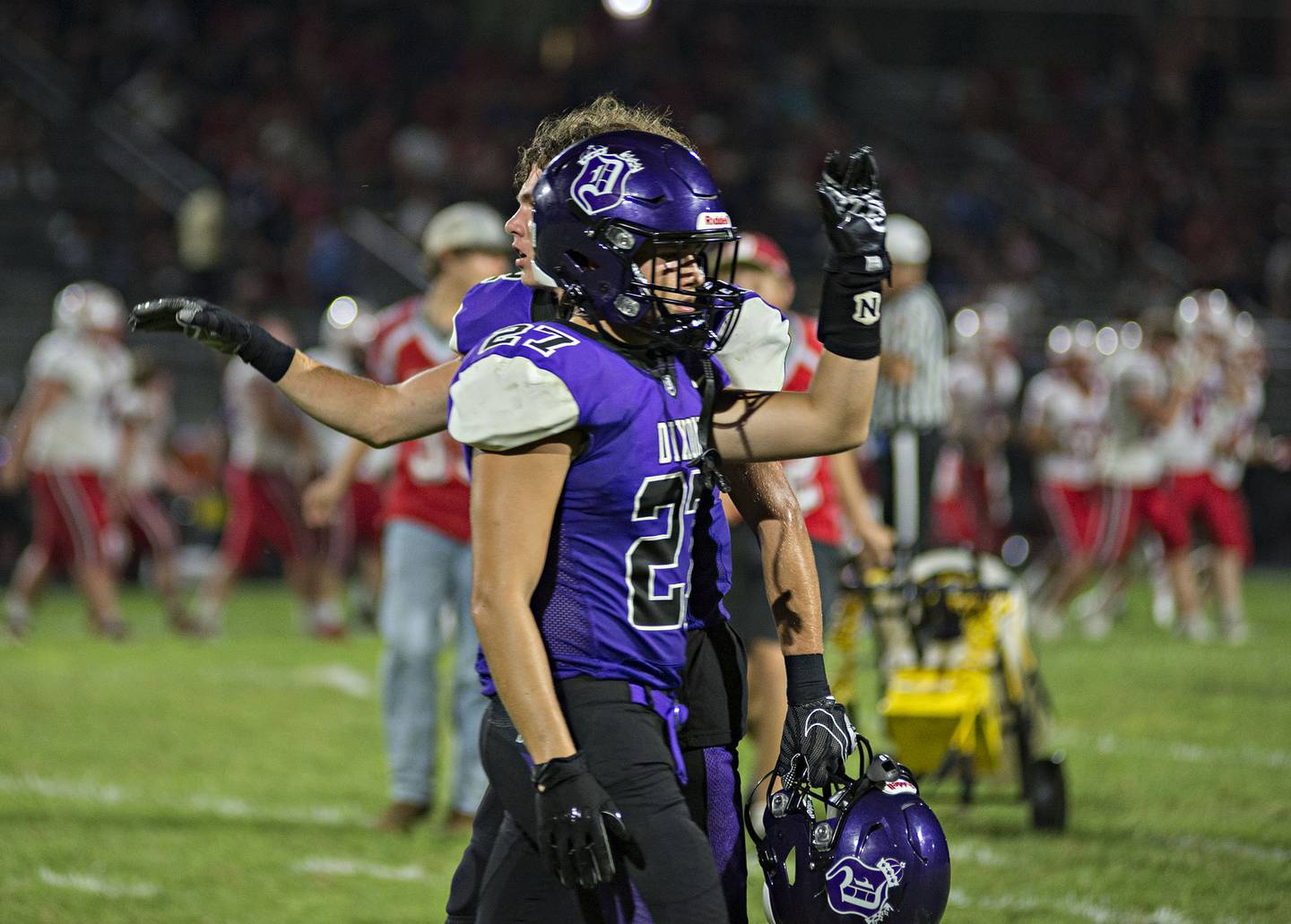 Gabe Eckerd had 28 rushing yards, Daniel Dominguez was bottled up all night and held to 16 yards, and Isaac Reber finished with 12 yards on the ground.
"I thought we played extremely hard, but obviously when you look at their O-line versus our our O-line, our D-line versus their D-Line, then you cross them on over, they obviously have the depth and the size and the strength, and we have some inexperience," Oregon coach Nick Schneiderman said. "We only have one returning offensive lineman – Evan Flaherty – and we moved him from left tackle to center, so he's also learning a new position, and he was battling a little knee injury tonight. I think we showed improvement through the game tonight."
Oregon's best chance to score was on its second drive of the game. After Dixon took a 7-0 lead, the Hawks went 54 yards in 18 plays in 11 minutes, 44 seconds. But the drive stalled at the Dixon 15, and the Dukes took over and went 85 yards in 12 plays – mixing in five runs and six completed passes before White ran in from 11 yards out a minute before the break.
"I didn't even realize that it was a 12-minute drive," Schneiderman said. "That was one key to our success was to chew the clock. Obviously we'd like to punch it in there, and we wanted to hold them to seven for the [first] half, but we gave up that late score.
"They were just able to do what they do well: spread you out, run the counter-trey, run the zone, hit some quick passes, and they capitalized on their chances."