LEMONT – From the first drive of the game it was clear Albert Kunickis wanted to make a statement.
Kunickis took the third play from scrimmage for a 33-yard touchdown, bouncing off of several St Charles East defenders on his way to the end zone.
Just a minute into the game, it was a precursor of things to come for Lemont, who scored on its first six possessions en route to a dominating 47-6 victory over St. Charles East.
Kunickis, who was born without a forearm or hand on his right arm, carried the ball 12 times for 121 yards and two touchdowns. He also caught three passes for 41 yards in the victory, as well.
"We just wanted to come out here, make a statement and put Lemont football on the map," Kunickis said. "This is definitely a great start to that, but there's also a lot of football left… It's a great way to start the season, though, for sure."
Kunickis led a Lemont (1-0) rushing attack that ran for 232 yards, while holding the Saints to just 95 yards on the ground.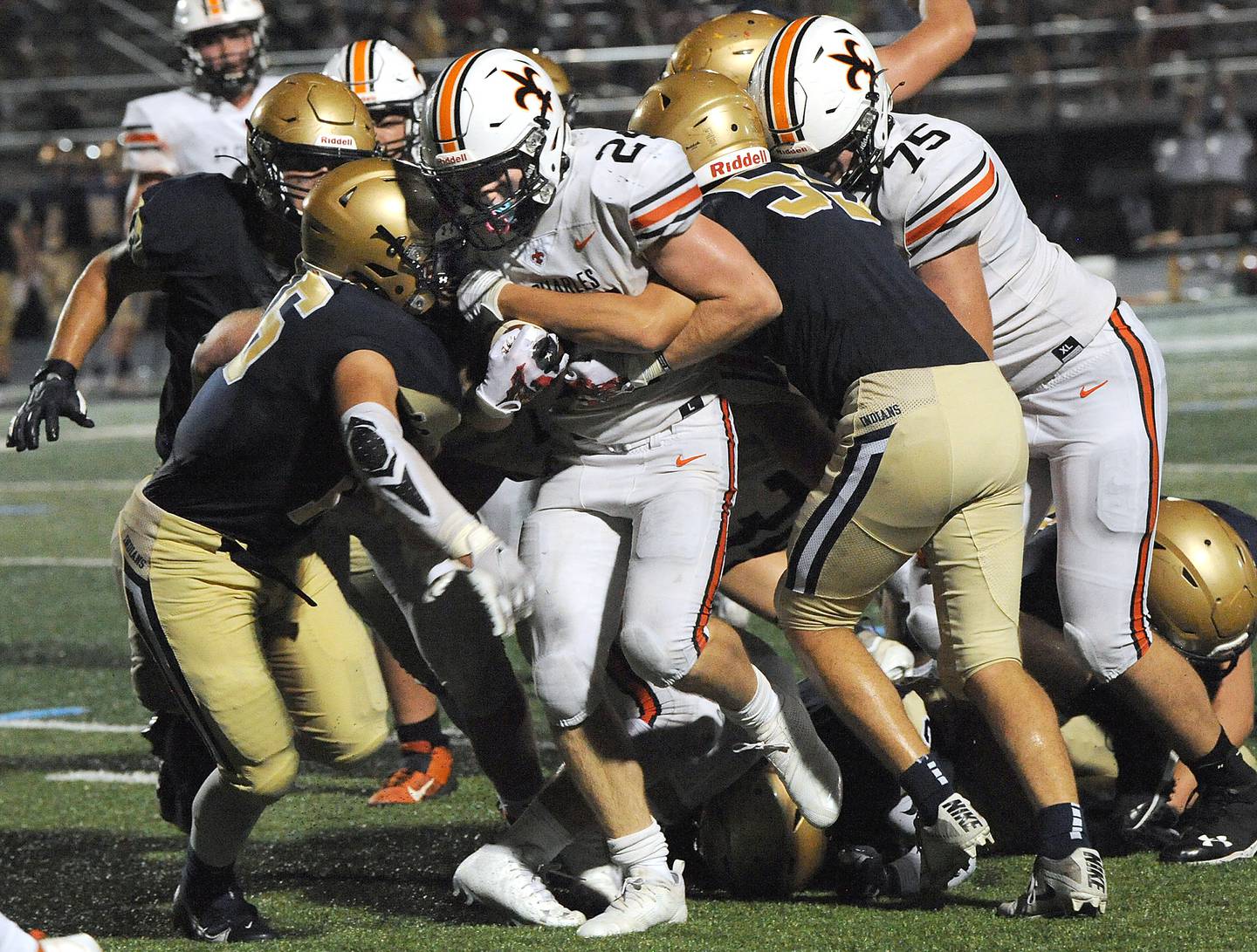 Both coaches knew the fast start was important in securing a victory, but Lemont coach Bret Kooi didn't want his defense forgotten about in a game where his offense scored seven touchdowns.
"I think it'll go unsaid that our defense was outstanding tonight," Kooi said. "I'm not going to say that the offense, [offensive] line and that group wasn't special, but there should be a lot of credit given to the other side of the ball, as well."
"When it came down to it, they were ready to play Week 1 and we weren't," St. Charles East coach Bryce Farquhar said. "I think we got better as the game went on and that second half is a much closer game, but you can't start a game like we did and expect to win. I'm confident in our process and that we can get to where we need to be. We learned a lot about ourselves tonight."
The Lemont defense forced two turnovers, and had several pass breakups throughout the night.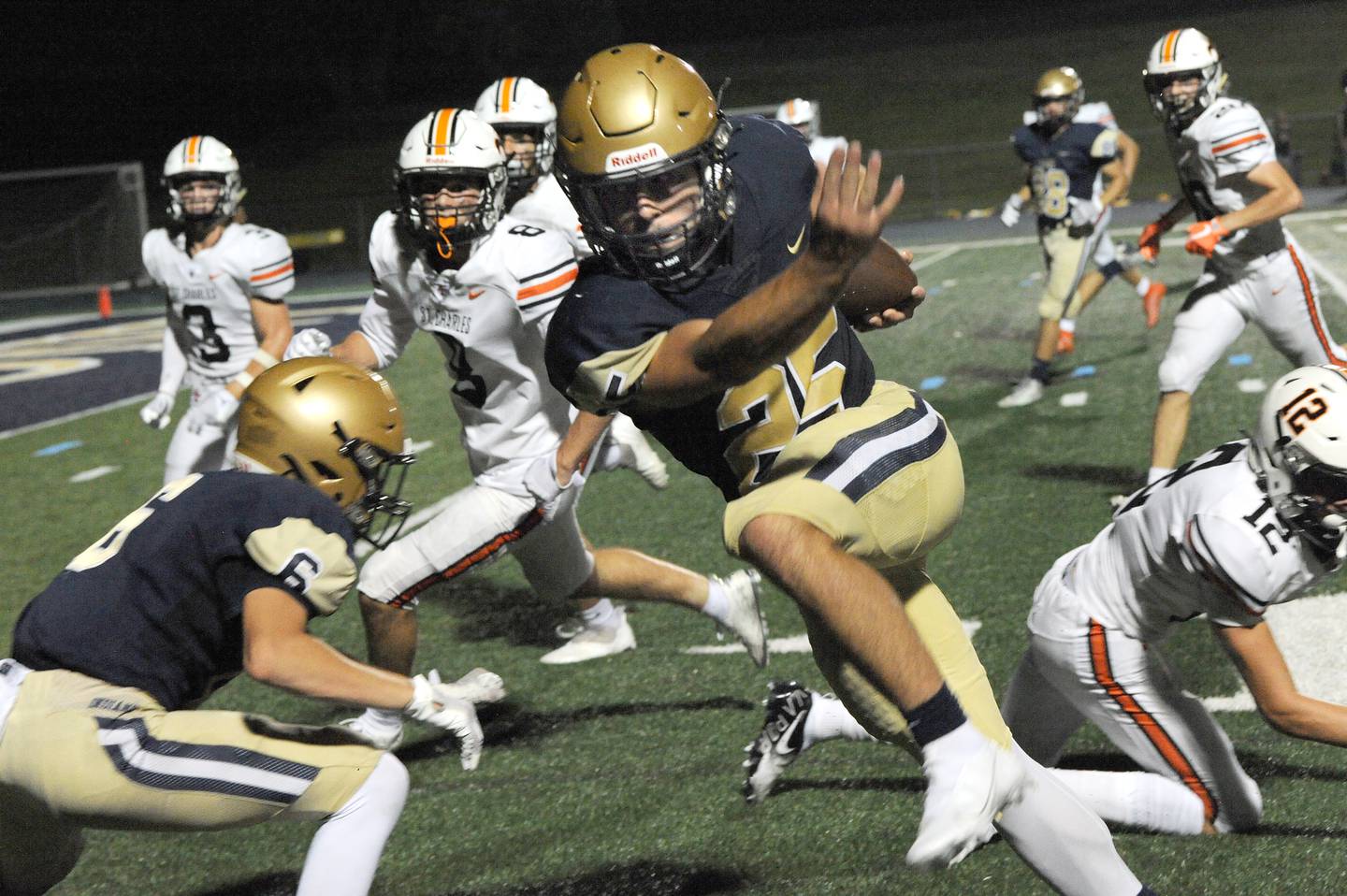 Kunickis followed his early touchdown, at the 11:02 mark, with his second score in Lemont's 27-point first quarter. Sam Andreotti and Alex Tagler also found their way into the end zone in the first 12 minutes.
"He's a stud for us," Kooi said. "He puts his head down, runs hard and is willing to run through anyone. That's the kind of kid you want on your side."
Luke Wallace (15-yard TD) and Dylan Swanstrom (41 yards) capped off Lemont's big first half with receiving touchdowns, as well.
"Needless to say, offensively, we were clicking early," Kooi added. "We have some really great backs and our offensive line was special, as well. I thought our passing game can get better, but that's scary because that was pretty good also."
Lemont quarterback Payton Salomon completed 10 of 15 passes for 192 yards, two touchdowns and an interception by St. Charles East defensive back Gavin Rabe.
Nathan Hayes scored the Saints only touchdown on a 12-yard quarterback keeper, while completing just 8 of 23 passes for 104 yards. Calin Smith paced the Saints on the ground with 48 rushing yards.