Sitting in the shade on a bench outside the Marquette Academy blockhouse and lockerroom, Crusaders head coach Tom Jobst cast a curious eye at each player as he walked past him on their way to the practice field, helmets in hand and cleats clicking on the short cement walkway.
The veteran coach can tell from their body language just what kind of a practice his small but athletic team will have that day, and so far, after one week of their IHSA-sanctioned offseason workouts, he likes what he sees.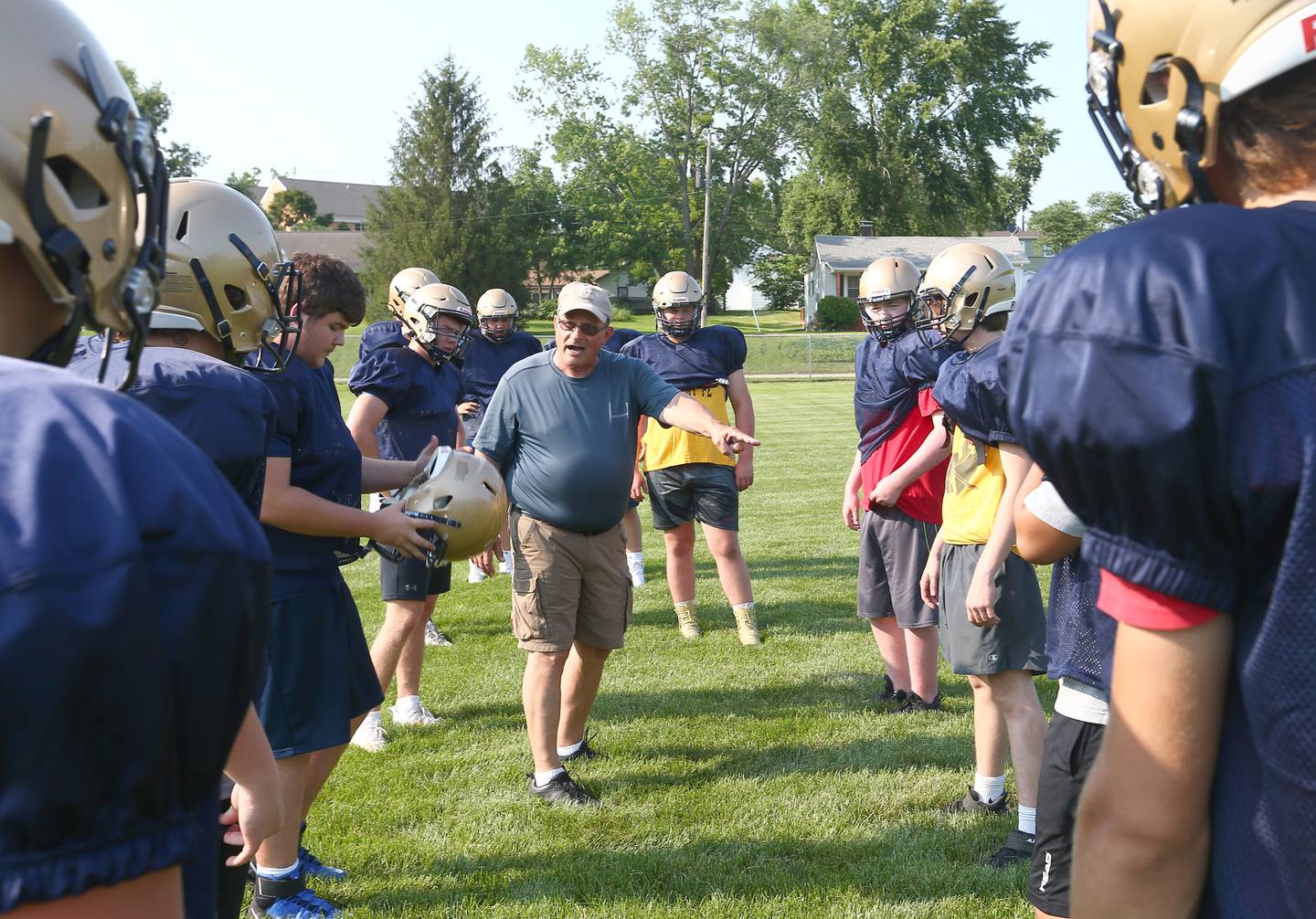 Although his team will be considerably younger than some of his more recent squads – three seniors, nine juniors, 10 sophomores and 16 freshmen – there is considerable talent, and perhaps better yet there is a strong work ethic in those untested numbers.
"I like where we're at, and I like the depth that we're showing so far. Depth is always critical for small schools like ours, and it's going to be no different this year, but our front line guys are good ..." Jobst said. "Just in general, we've had a great summer, a great turnout in the weight room, a good summer in our speed training, and there's a been a lot of really good improvement in our speed work. We're taking it slow, reviewing things from the spring, doing a little research and development, trying things out but keeping things very low key.
"I'm happy with the guys we have. They're smart, hard-working kids, and I'm happy with the way they're preparing for the season."
Because the last sports season (spring) ended so much later than usual, Jobst has cut the usual four-week football camp back to only two weeks to allow the athletes a little more time to relax, travel with their families and/or attend camps and workouts for the other sports they play.
Other than shortening camp, Jobst hopes that playing the six-game spring schedule five months closer to the 2021 fall season will help his team carry over the positive aspects from winning three of its past four games to finish 4-2.
A key to that growth is junior quarterback Alex Graham, who will have smaller targets than 6-foot-6, 250-pound tight end Vic Mullen [now playing at Louisville] but faster, such as junior Tom Durdan, who had an excellent speed camp at Streator High, as well as junior Ethan Price and sophomore Charlie Mullen, Vic's brother.
"You always lose some good players to graduation, but you always have others who step up," Jobst said. "That seems to never fail. The only question is, who that will be?"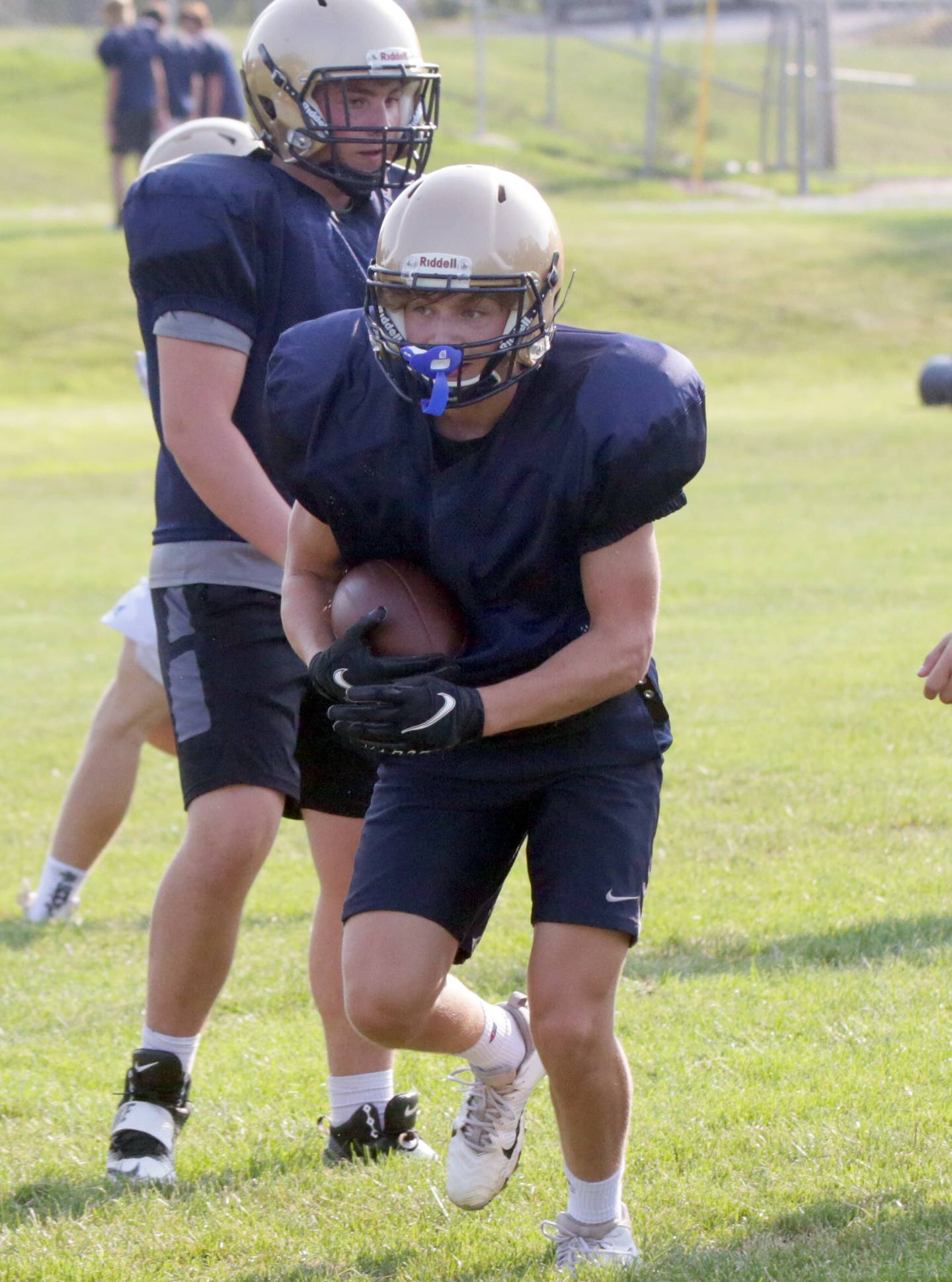 While Jobst and his staff certainly will take advantage of that speed, one probably should not read anything into the fact that passing accounted for 28% of the team's spring yardage. For the first time in three years, the Crusaders took part in a 7-on-7 passing camp, traveling to Streator for the workout last week. They still will be the grind-it-out, wing-T ground attack Jobst prefers.
"Sadly … yeah, a spread offense would be nice, but Coach Jobst knows what works," said Graham. "This year is gonna be different. It's almost a brand new team, too, we were so senior heavy last season. Winning is expected at Marquette, and we want to keep it going. I think we will because of the work ethic that we have.
"Our class is hard-working and so are the others, including the freshmen."
"We've done 7-on-7s before," Jobst said. "We'd do a lot of things we'd never do during the regular season, but the kids have fun. … The last three weeks of the spring season, we had things figured out pretty good, so we're just trying to pick up where we left off, to keep doing the things we were doing in April and build on them."