It's hard to imagine a scenario where an offense could be more dangerous than Joliet Catholic's was in the spring season.
The Hilltoppers averaged 45 points a game. The only contest where they failed to score 40-plus points was against St. Ignatius (a 21-7 win), where the Wolfpack seemed to be engaged in a deliberate game of keep away.
It might not be the worst idea for opponents to try to emulate the St. Ignatius game plan in the fall, because if the Hilltoppers have the football in their hands, they seem to have ample weapons in place to make life just as nightmarish for opponents as they did in the spring.
"That's what we're hoping for," Joliet Catholic coach Jake Jaworski said. "We'll have some versatility on offense with both being able to run and throw the football. We're excited just trying to get through the summer, stay healthy and keep our legs under us."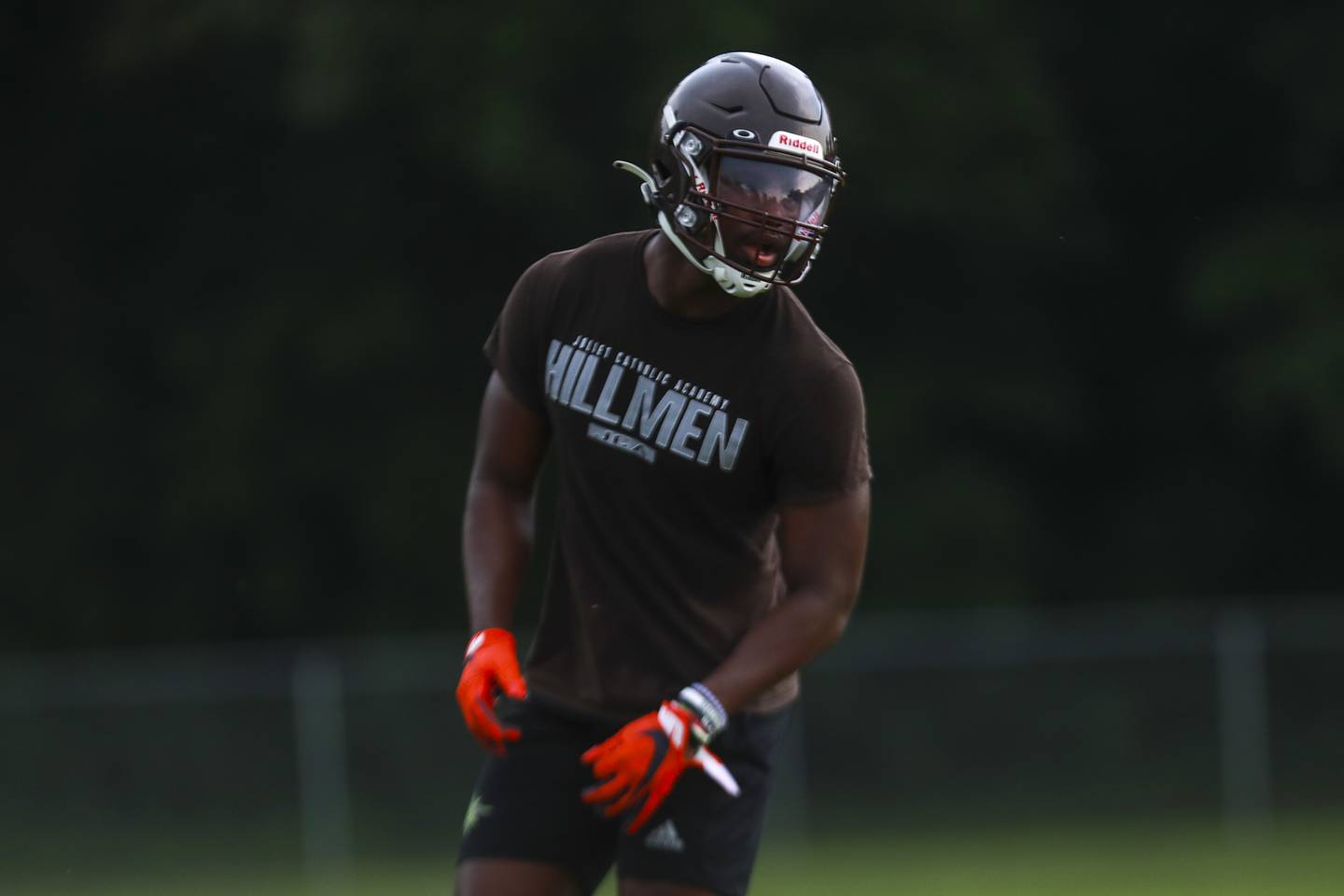 Joliet Catholic's offense will be paced by the contributions of running back Jordan Anderson, who put together a monster campaign for the Hilltoppers in the spring before committing to the University of Illinois.
But it also returns senior quarterback Aidan Voss, who completed nearly 60 percent of his passes and accounted for nearly 1,000 yards of total offense as well, and several other key pieces.
Voss hopes teams make the mistake of believing the Hilltoppers still lean toward being one-dimensional and heavily reliant on the run game to move the sticks. Voss is confident that he and his team are more than ready to pick up where they left off just a few months ago.
"It's weird," Voss said of the quick turnaround. "Usually, I'm really anxious because I'm waiting the whole year to start up football again. It was kind of a preseason for us. I don't mind it, still playing football and having fun."
Voss certainly likes having Anderson next to him in the backfield, but that's not the only thing he's excited to have back.
"We're super confident and excited for the season," Voss said. "We've got Jordan Anderson, obviously, but we've got a lot of other guys back, most of the offensive linemen."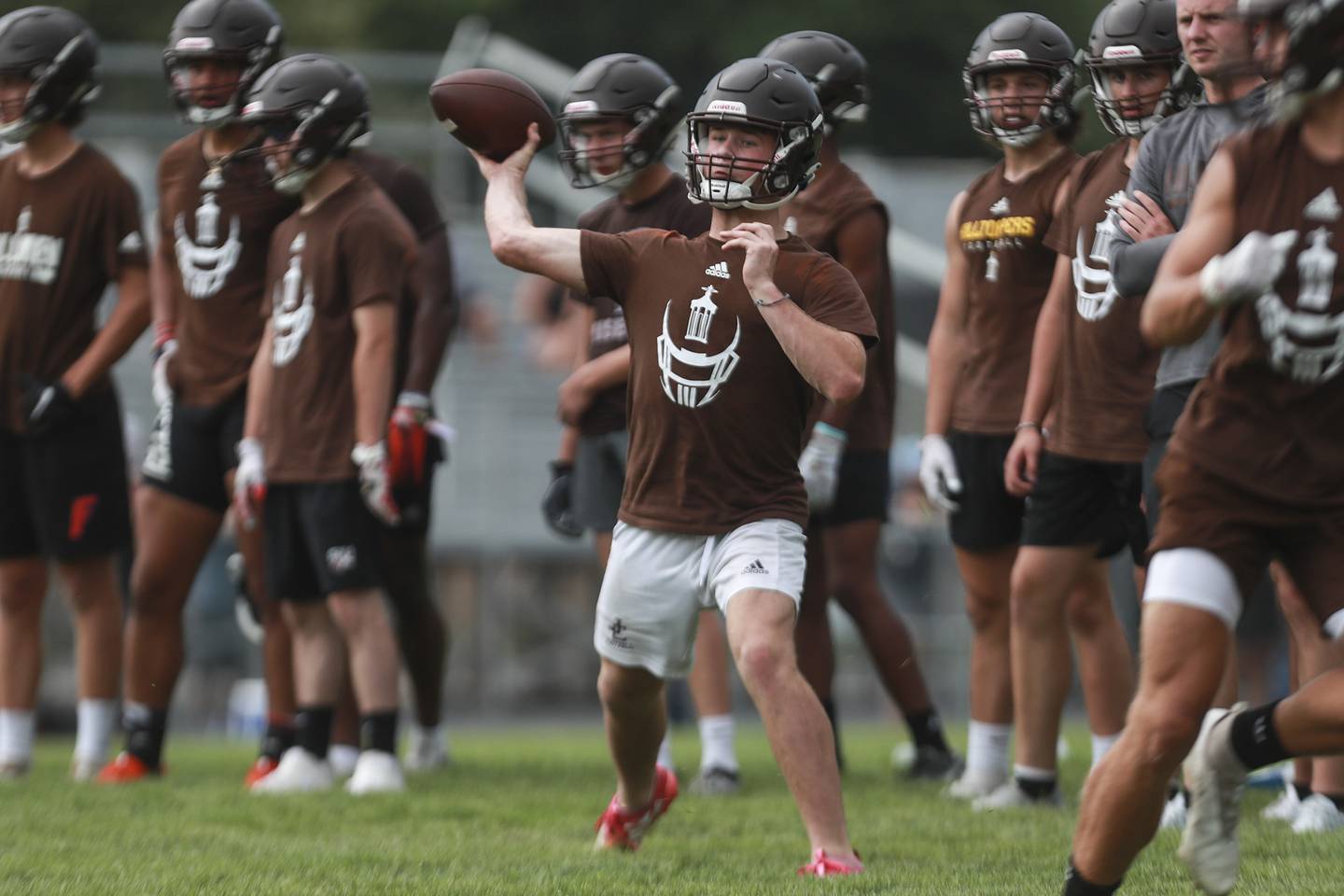 He's also got a wide reciever in Jake Fieldman that he has great confidence in when teams try to take other threats away.
"They have a knack for each other. They [Aidan and Jake] have such a great connection. They have been playing together for a long time," Jaworski said. "Even when Jake's covered, he seems to be open."
With that level of experience coupled with the limited gap between the last time the Hilltoppers were on the field, the summer has been more about refinement than installment.
"We've got a veteran group coming back, and with that the install has gone pretty well. With it not being too many weeks removed from a season, its not like we have had an eight-month gap where kids may lose some of the schematic stuff," Jaworski said. "We've been able to hit the ground running."
Hitting the ground running certainly will be a must for Joliet Catholic. A revamped schedule will bring challenges immediately. The Hilltoppers open the season hosting one of the Chicago Public League's best programs in Simeon and follow that with a trip to St. Louis in Week 2 to square off against arguably Missouri's top program in Cardinal Ritter.
Joliet Catholic now is in a different division in the CCL/ESCC and will play in the Orange Division with St. Laurence, Providence and Montini, while the crossover matchups are with Brother Rice, Benet and De La Salle. The Hilltoppers were scheduled to play St. Joseph in a crossover, but with the closure of that school in the spring, they added yet another daunting nonconference foe in Crete-Monee.
"The schedule beefs up," Jaworski said. "It will be a challenging schedule, but in talking to the guys after our schedule was released, they are excited about it."