FLANAGAN - Painted in big, white letters on the football practice field behind Flanagan-Cornell High School is a phrase the Flanagan-Cornell/Woodland have taken to heart as the Falcons put in their summer work in preparation for the upcoming Aug. 9 official opening practice and Aug. 27 start to the season under the Friday night lights:
"The times of being displaced are over!!!"
Third-year FCW head coach Todd Reed and his Falcons mean that both figuratively — as in the Illinois 8-Man Football Association standings — and literally, with an extra focus on developing muscle to help them impose their will on the field of play.
It seems to be working, as attendance at camp the past week and a half has been in the high-30s up to 40, with most of those putting in work both on the practice field and in the weight room.
"Numbers are outstanding," Reed said. "My first year (as head coach) two years ago, first day of camp we had 12. The first night of camp this year, we had 35 here. It's pretty awesome.
"The buy-in is starting to come, and not just out here, but in the weight room. That started last summer. … We had two different groups going all summer long because of the COVID rules, and we've really hit it hard since school let out.
"Where they started and how much stronger they are now, it's unbelievable."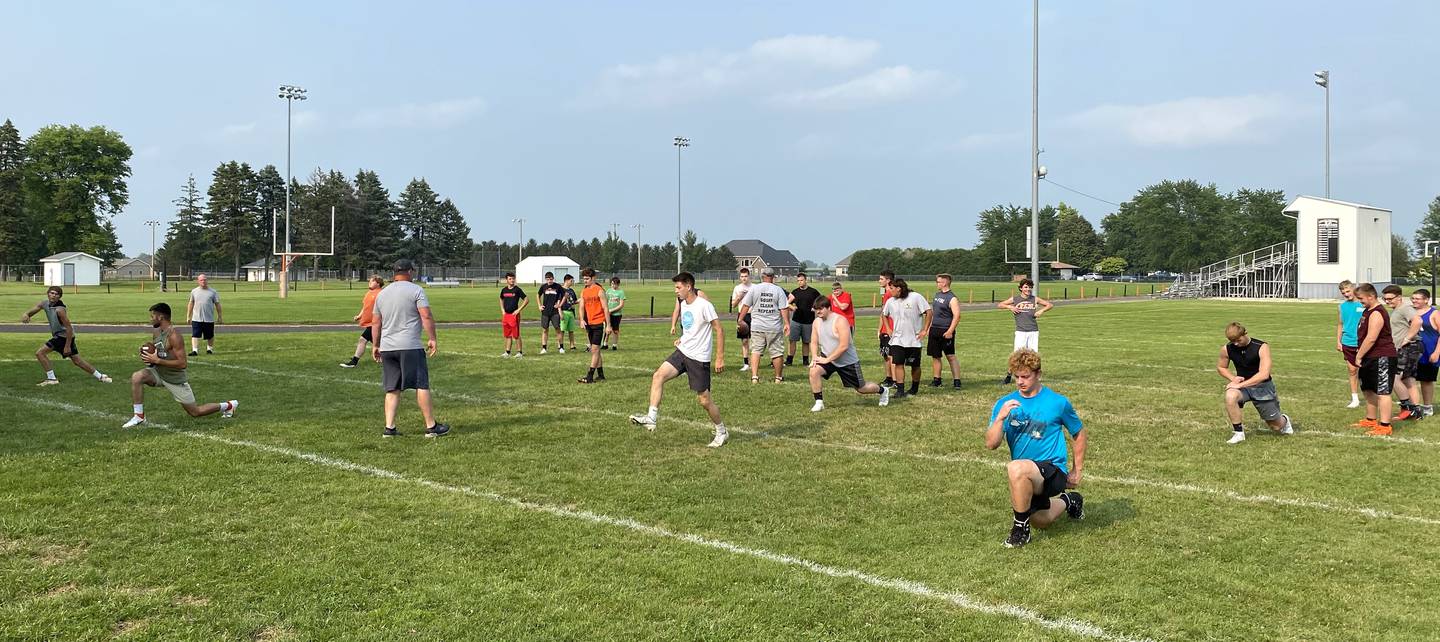 At Wednesday's 5 p.m. workout, the Falcons opened with stretches and drills showcasing their increased numbers, improved strength and increased camaraderie.
"We've all been lifting all summer, everyone's been showing up," said senior quarterback Dallas Hamilton. "We have a great group, and everyone's just here to have fun.
"Mainly we're just getting stronger and getting down the fundamentals so when the real time comes we'll have time to focus on the plays and setups and stuff like that."
Fellow 12th-grade leader Chris Stasko, too, said these Falcons are putting in the summer work for the reward this fall.
"In the weight room we're getting better, faster, stronger, and in football that's the main factor," the offensive lineman/linebacker said. "Then we come out here (to the field) at night and work our butts off practicing.
"We're all working hard, and it's showing."
The short turnaround from the COVID-caused spring season to summer camps and then to a traditional fall campaign is a challenge, Reed admits, but with only one player lost to graduation he feels that unprecedented opportunity for continuity could be a huge asset for his fall 2021 Falcons.
"Having kids play in the same year as another football season is kind of weird," Reed said, "but last year being relatively young with only one senior (graduated I8FA All-State lineman/fullback Kyle Uhl), we had to go with our young squad against a schedule that didn't do us any favors … and we're bringing back a lot of experience.
"We're getting ready for it."