Don "Duke" Dobrino, who brought football back to DePue after a 20-year hiatus in the mid-60s and went on to much gridiron glory, passed away Sunday. He was 86.
Dobrino ranks 15th all-time in the IHSA coaching ranks with 267 victories (267-188-3). He posted 22 wins at DePue from 1965 to 1969, going 22-20-2, with three straight winning seasons in his last three years.
"Lot of good memories from him coaching us. A very competitive guy. Glad I played for him," said 1965 DePue graduate Tom Dobrich, who played basketball and and ran track for Dobrino.
Ernie Barboza Sr., who was a freshman on Dobrino's first Little Giants football team, noted the coach set the program's culture even though success didn't come right away (1-5-2 and 3-6).
"He had just come out of college. We hadn't had football in a while and he reintroduced the program here. It was a learning experience, but he taught us all well. In my opinion, he was fair," Barboza said. "He wanted us all to learn. He knew we had to learn fast because most of us, probably all of us, hadn't played organized football before.
"He was aggressive. He wanted to make winners out of us. He knew it was going to be a learning process. Even for the coaches, it was a learning process. He was fair but aggressive. That first year, we ended up with a 1-5-2 record, which for the first year wasn't bad. Everybody learned from that.
"The second year we went 3-6. The second game we went against LaMoille, which at that time was a powerhouse in our conference. We went up there and got them, 32-7. We learned something from his aggressive style the first year."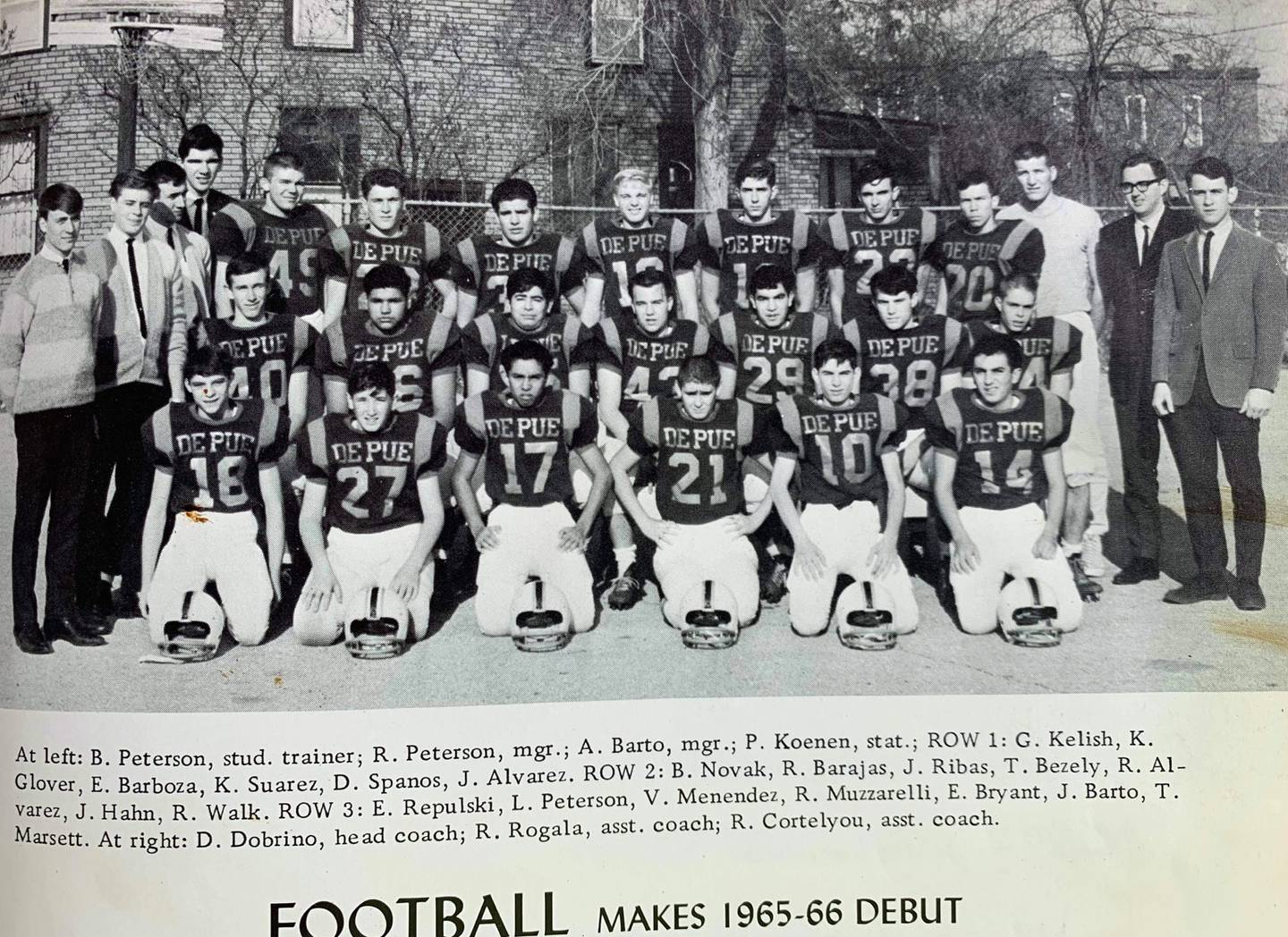 Dobrino made his name at Gillespie, where he guided the Miners to 20 winning seasons, nine playoff qualifiers, including two state runner-up finishes from 1970 to 1996. He returned to coach at Gillespie at age 80 for two seasons, 2015-16, compiling an overall record of 169-111-1.
The Gillespie football field was renamed in his honor as the Don "Duke" Dobrino Field in 2019 in recognition of the program's 100th year.
Dobrino returned to coach in his hometown Mt. Olive in 1997. After six losing seasons, Dobrino led the Wildcats to playoff appearances in his final seven seasons, reaching the 1A semifinals twice and quarterfinals once in a three-year stretch. He finished 76-57 in 13 years at Mt. Olive.
Dobrino was a standout athlete at Gillespie and played football and baseball at the University of Iowa. He pitched in the Pittsburgh Pirates organization.
Barboza saw Dobrino from time to time in DePue at the boat races over the years and said the coach shaped the man he would become at an early age when he joined the military in 1967.
"He'd come back to the boat races. I would talk to him then," Barboza said. "I went to the military. He instilled a lot of inspiration to me that carried into my military time. I believe he was in the National Guard or Reserves. We talked about that at one time when I was home on leave. His work ethic rubbed off on me. I used a lot of that in my military career. To this day, I still use it."