SouthWest Suburban Conference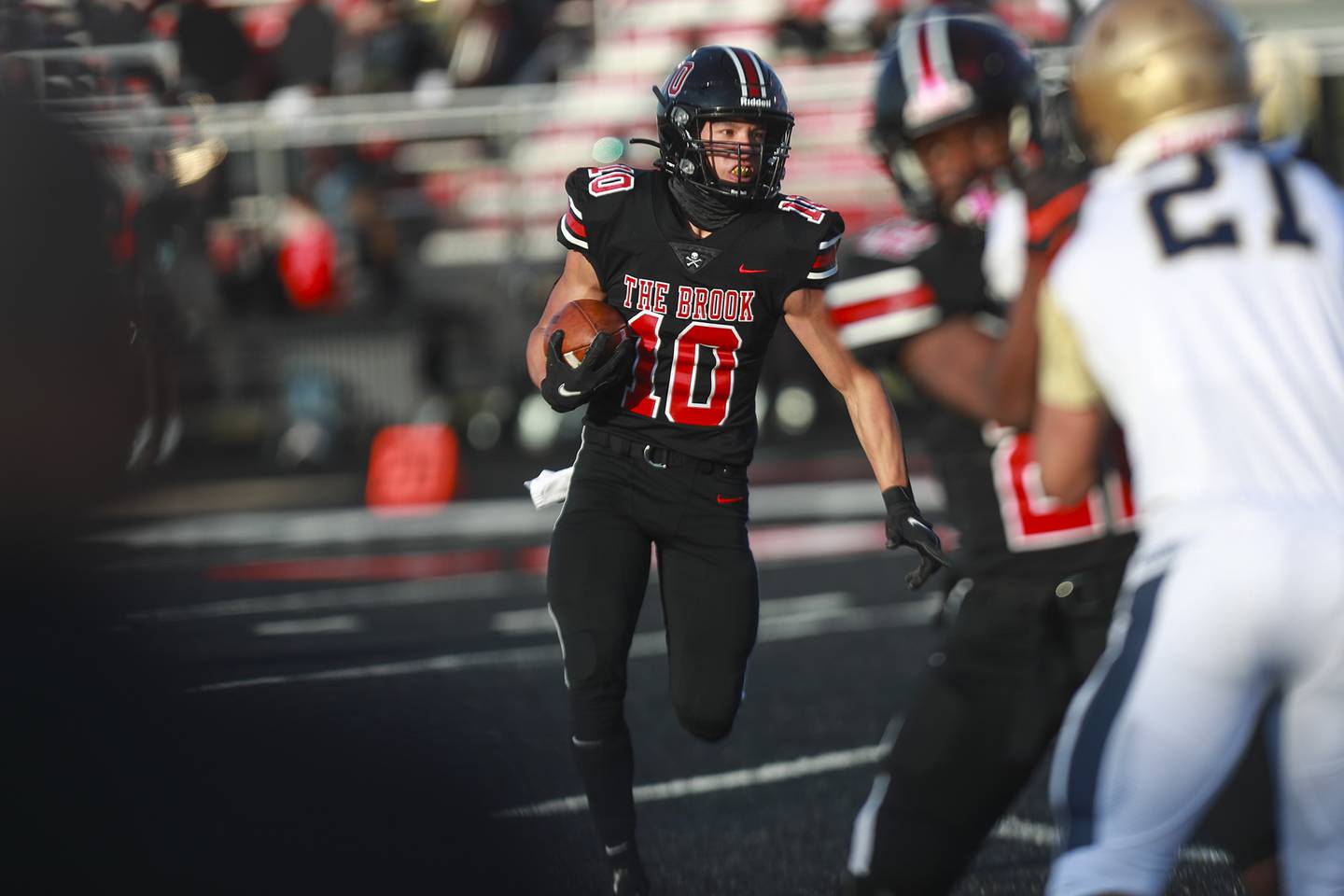 Bolingbrook (3-2) at Andrew (1-3)
When: 7 p.m. Friday
Last matchup: Lockport 24, Andrew 7 (2019)
About the Raiders: The Raiders finally achieved the offensive balance they have been striving for all season last week. The running game got going in a big way behind Jaquan Howard in the Week 5 win over Lemont. If the Raiders can effectively couple that with a passing attack that has produced all season long, they could cap the season with a flourish and a three-game winning streak after a disappointing 1-2 start.
About the T-Bolts: Andrew seems to be limping to the finish line and has been giving up loads of points in recent weeks. It also has to deal with a quick turnaround, playing with just three days of preparation and recovery time after dropping a rare rescheduled Monday night matchup with Lockport.
Pick: Bolingbrook
Lincoln-Way East (5-0) at Lincoln-Way West (5-0)
When: 6 p.m. Friday
Last matchup: Lincoln-Way East 35, Lincoln-Way West 3 (2019)
About the Griffins: Lincoln-Way East has been steamrolling opponents this season and recorded its third shutout of the season in Week 5 against Sandburg. The offense has met the standard set of previous Griffin squads, but the defense has quietly been the standout unit. After allowing two touchdowns in the first week of the season, the Griffins have allowed just 10 points since.
About the Warriors: It's possible that Lincoln-Way West may have got caught peeking ahead on the schedule for this district rivalry game as it needed a fourth-quarter touchdown to finally fend off a plucky Bradley-Bourbonnais squad. The Warriors have been very good at doing exactly what is needed to stack victories up, but they are likely going to need a much more herculean effort to even be in the running for a huge upset win.
Pick: Lincoln-Way East
Lockport (3-2) at Stagg (0-5)
When: 7 p.m. Friday
Last matchup: Lockport 42, Stagg 12 (2019)
About the Porters: There are few programs around that are less likely to want this spring season to come to an end than Lockport. The Porters have played very well in the second half of this season and were absolutely dominant in their Week 5 win over Andrew on Monday night. Lockport has been getting contributions from a number of sources on both sides of the football and seem poised to finish the spring season with an above .500 record, which is something Lockport has done just twice since 2009.
About the Chargers: There's just not a lot for Stagg to hang its hat on at this point. In the last three games the Chargers have surrendered 159 points while not scoring any themselves. The Chargers hope to show some signs of progress in this one and will head into the fall to get a fresh start.
Pick: Lockport
Southwest Prairie Conference
Oswego (4-1) at Minooka (4-1)
When: 7 p.m. Friday
Last matchup: Minooka 28, Oswego 21 (2019)
About the Panthers: The Panthers rebounded from a Week 4 loss in their rivalry matchup with Oswego East by bringing their typically standout defense to the forefront in shutting down Yorkville. Oswego's ability to rein in a Minooka offense that is prone to huge outbursts will likely decide who comes out on top. Oswego has preferred low-scoring, grind-it-out games this season, and a shootout would not likely be something that would play to its advantage.
About the Indians: Other than a one week respite against Plainfield North, Minooka's offensive productivity has been incredibly robust. Excluding that lone loss, the Indians are averaging over 45 points a game. Odds are the offense won't flow as freely against an Oswego defense that often thrives when faced with a formidable offense. RB Hunter Ryan and WR Trevor Hudak are both gamebreakers that can change things in Minooka's favor at the drop of a hat.
Pick: Oswego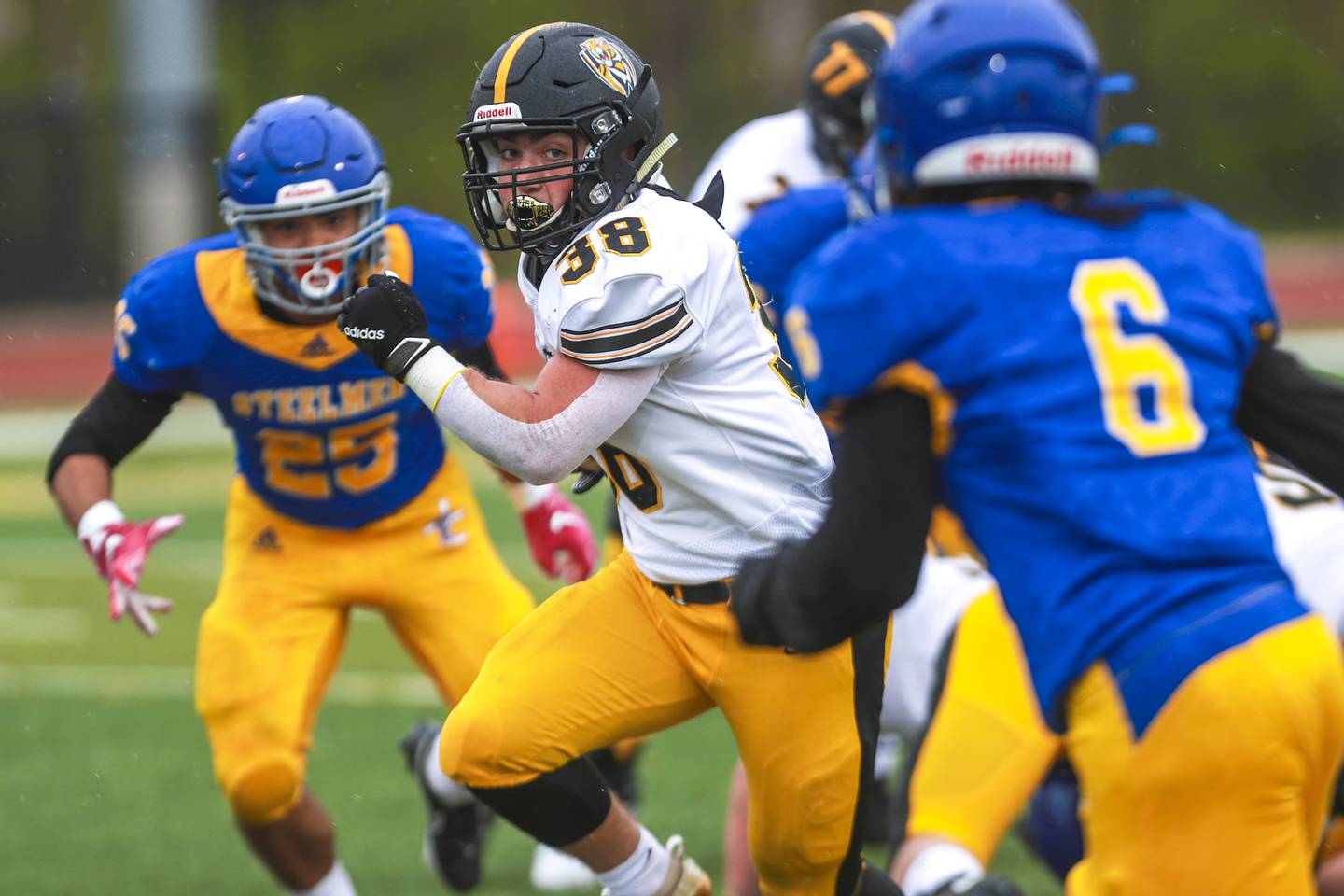 Plainfield Central (2-3) at Joliet West (3-2)
When: 6 p.m. Friday
Last matchup: Joliet West 36, Plainfield Central 7 (2019)
About the Wildcats: Plainfield Central has already made some significant strides, but one more win would put it at the .500 mark, a place the program hasn't concluded a season at or above since 2012. If the Wildcats are going to do it, they will need to lean on the skills of RB Aaron Lakins, who has stacked up over 700 yards rushing in the five games this season.
About the Tigers: Joliet West has definitely got its groove back after starting the season 0-2. The Tigers stepped out of Southwest Prairie Conference play and collected a win over a solid Blue Island Eisenhower team in Week 5 and further demonstrated the skills of a very solid offensive team with a potent running game. More importantly Joliet West's defense has continued to improve and looks set to finish up the season with a flourish.
Pick: Joliet West
Plainfield East (1-3) at Joliet Central (0-5)
When: 6:30 p.m. Friday
Last matchup: Plainfield East 41, Joliet Central 0 (2019)
About the Bengals: Offensively, Plainfield East has been posting huge numbers all season long. Unfortunately the Bengals haven't been able to keep opponents from doing the same. Plainfield East will play this one a bit shorthanded as some of their players will be sitting out the season finale.
About the Steelmen: Joliet Central's efforts heavily depend on a healthy frontline, something that has been hard for the Steelmen to maintain with the rigors of the season depleting already thin ranks.
Pick: Plainfield East
Plainfield North (3-2) at Yorkville (3-2)
When: 7 p.m. Friday
Last matchup: Yorkville 31, Plainfield North 7 (2019)
About the Tigers: Plainfield North is in full grinder mode right now, especially after losing defensive leader Danny Nuccio to a torn ACL in Week 4. Even without Nuccio, the defense is playing extremely well. Offensively, Plainfield North is finding ways to do exactly enough to keep itself in the thick of things. The Tigers still have a chance to capture a share of the Southwest Prairie Conference crown.
About the Foxes: There are quite a few similarities between Yorkville and this week's opponent. Both lean on defense to set the tone. In all but one of the Foxes' games this season, they have held foes at or below 21 points. This is an expected defensive struggle, with special teams, of which both squads have quality ones, likely being the pivot in the outcome.
Pick: Plainfield North
CCL/ESCC
Marmion (1-1) at Joliet Catholic (5-0)
When: 7:30 p.m. Friday
Last matchup: Joliet Catholic 49, Marmion 7 (2019)
About the Cadets: Marmion is an intriguing team that has had a very strange path through the season. The Cadets have had two different COVID-related pauses, one of which caused them to face a different opponent than previously scheduled in powerful Naperville Central, where the Cadets almost pulled off a substantial upset. They later pulled a rabbit out of their hats with a late rally to beat Fenwick. But those are the only two contests they've been able to play to date.
About the Hilltoppers: Joliet Catholic has made things look far too easy this season with just one opponent, largely due to its slowdown tactics, being able to stay within two touchdowns of the Hilltoppers. RB Jordan Anderson, who recently picked up a University of Illinois offer, leads the attack, but he's got plenty of help from teammates like Ja'arie Mack, who scored three touchdowns on just four carries in Week 5, amassing 120 yards rushing in the process.
Pick: Joliet Catholic
Montini (3-2) at Providence (3-2)
When: 7:30 p.m. Friday
Last matchup: Montini 41, Providence 21 (2019)
About the Broncos: It has been an up-and-down season for Montini. The Broncos are currently on the high side of things as they have pieced together three consecutive victories. This came after back-to-back games to start the season against elite opposition. The Broncos have had a bit of a flair for the dramatic, narrowly edging out De La Salle in Week 5.
About the Celtics: Providence has really put some things together over the second half of the season. Led by QB Kevin Conway, the Celtics have been potent on offense with Conway threatening with both his arm and his legs. Minnesota-bound Jameson Geers has been a consistent force as a receiver, while running back Aaron Vaughn gives the Celtics another threat to complicate things for opposing defenses.
Pick: Montini
South Suburban Conference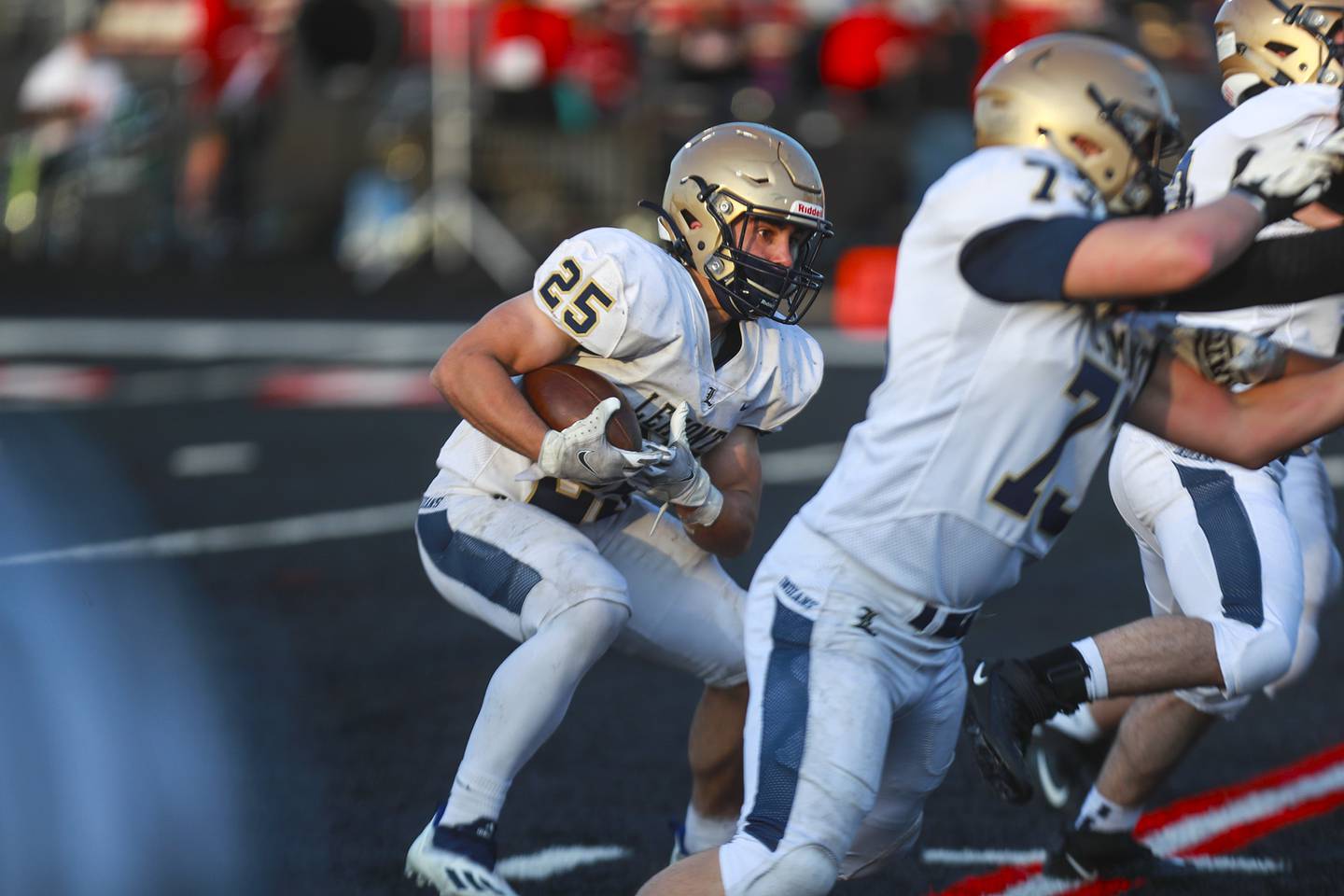 T.F. South (4-1) at Lemont (2-2)
When: 7 p.m. Friday
Last matchup: Lemont 26, T.F. South 0 (2019)
About the Rebels: Although T.F. South's record is superior in this matchup, it is hard to tell exactly how competitive the Rebels are due to a very uneven schedule. T.F. South's lone loss came at the hands of Reavis, the only team on T.F. South's schedule with an above .500 record currently. The Rebels have also only narrowly pulled out victories over the teams that have struggled mightily otherwise.
About the Indians: Lemont has also played a pretty uneven schedule, but has pushed itself in games against conference stalwart Hillcrest and a Week 5 game with Class 8A Bolingbrook. And while neither of those games went the Indians way, they did prove Lemont's mettle and seem to indicate that they are well positioned to close the season with a victory here.
Pick: Lemont
Interstate 8 Conference
Morris (3-2) at Sandwich (0-4)
When: 6 p.m. Friday
Last matchup: Morris 57, Sandwich 28 (2019)
About the Redskins: Morris is probably stinging from a late score that allowed LaSalle-Peru to escape with a one-point victory in Week 5, but the opportunity exists here to allow Morris to finish the season on a strong note. QB Zach Romak has had a pretty solid year and should be able to guide the offense to a successful season capper.
About the Indians: Sandwich is still looking for its first win and has come dangerously close to collecting one in a couple of games this season. But the odds are stacked against the Indians finding a way to earn that elusive victory in this one. Sandwich has struggled against the better teams in the league, and Morris certainly qualifies by that standard.
Pick: Morris
Sangamon Valley Conference
Dwight (2-3) at Momence (3-2)
When: 7 p.m. Friday
Last matchup: Dwight 52, Momence 28 (2019)
About the Trojans: After starting 2-0, things have gone off the rails a bit for Trojans. In three consecutive losses, Dwight hasn't been all that close to competitive against the conference's top teams. That doesn't bode well for them here as Momence has been significantly more competitive than they had been in recent seasons.
About the Redskins: Using common opponents, things look pretty promising for Momence here. Although Momence was handled fairly easily by the conference juggernaut, Clifton Central, it was coming off a solid win over Seneca in Week 4. The same Seneca team that just beat Dwight rather handily in Week 5.
Pick: Momence
Seneca (1-3) at Iroquois West (1-4)
When: 7 p.m. Friday
Last matchup: Seneca 47, Iroquois West 14 (2019)
About the Fighting Irish: After enduring a loaded early season schedule and a pause for COVID, Seneca was finally able to put together a complete performance on both sides of the football in a comfortable win over Dwight in Week 5. Seneca blew open a close contest by scoring 24 fourth-quarter points. The Fighting Irish piled up nearly 300 yards of rushing.
About the Raiders: Iroquois West is still challenged by being the smallest school in the Sangamon Valley with often the fewest number of upperclassmen dotting the varsity roster as well. However, the Raiders do have some elite talent as offensive lineman Clayton Leonard just committed to play for the University of Illinois.
Pick: Seneca
Nonconference
Romeoville (2-2) at York (3-2)
When: Friday, 7 p.m.
Last matchup: First Meeting
About the Spartans: The Spartans had to put things on pause in Week 5, but will likely get a chance to take a crack at finishing above the .500 mark for the first time since 2009. Even if they come up short, Romeoville has made solid strides this season and did so with a lot of younger players playing a role. The Spartans could be a program on a solid upswing heading into the fall season.
About the Dukes: York has had a quietly solid season. The lone losses, both competitive ones, have come at the hands of ranked opponents Hinsdale Central and Glenbard West. In recent seasons, York has struggled to stay out of the second division in the West Suburban, but with a win over Oak Park-River Forest this season that's an indicator that York might be poised to enter the upper echelon of the conference in future campaigns.
Pick: York
Evanston (3-2) at Lincoln-Way Central (3-2)
When: Friday, 6 p.m.
Last matchup: First Meeting
About the Wildkits: Evanston was dangerously close to running the table through its first five games, losing a pair of games by three and another by seven. The Wildkits are a boom-or-bust type of offense and Lincoln-Way Central's secondary will have its hands full trying to slow down WR Kamau Ransom.
About the Knights: Lincoln-Way Central has been looking far and wide to try to secure an opponent for Week 6 after learning of a schedule vacancy heading into Week 5. They Knights have drawn a difficult opponent here, but based on the way the Knights have surged over the second half of the season with back-to-back comfortable wins,confiden ce is high that they can play right with a program like Evanston.
Pick: Evanston