In his final road game, York senior quarterback Max Assaad turned in an inspiring performance that might have a long term impact on the program.
Assaad engineered a stirring nine-play, 69-yard winning touchdown drive in the final two minutes to lift the Dukes to a memorable 18-17 victory over Oak Park-River Forest on Friday.
With 2:03 left in regulation, the Huskies scored a touchdown to seize a 17-10 lead. The Dukes started the winning drive with 1:55 remaining. Assaad showed his poise and veteran leadership, leading the Dukes slowly down the field. On a first-down, four-vertical pass play, Assaad hit Luke Malaga for a 29-yard touchdown pass to slice the deficit to 17-16 with 33.6 seconds left.
Assaad ended his storybook outing with a storybook ending, finding Malaga for a 2-point pass for the decisive points.
With the win, the Dukes (3-2, 1-2 in West Suburban Silver) remain on target for the program's first winning season since 2011. Due to COVID-19 tracing with Proviso West, the Dukes were forced to adjust their schedule. They will host Romeoville on Friday.
"As seniors, we believe that we've already turned this program around," Assaad said. "Coach (Mike) Fitzgerald was hired when my class were freshmen. We have changed the culture into one that promotes family, discipline, work ethic, positive attitudes, commitment and character.
"We're incredibly excited and motivated to potentially bring a winning season to York football for the first time since 2011."
Assaad has led the Dukes to a pair of emotional victories to keep the Dukes in position for a winning season. He threw for 226 yards and a touchdown in a 25-23 comeback win over Willowbrook in Week 4.
But Assaad had a masterful effort against the Huskies, completing 25 of 43 passes for 351 yards and two touchdowns. It was the second-highest, single-game passing total in York's long program history. Aaron Berman kept the drive alive with a key fourth-down reception to set up Malaga's late TD. Assaad completed five of his nine pass attempts in the winning drive.
"Leading your team down the field to score on a game-winning drive with time running out is a surreal feeling," Assaad said. "It's every quarterback's dream. There was never a doubt in my mind that we were going to win the game on that drive. We had been sharp with our passing game all night, so our confidence as an offense was very assuring."
Assaad's become a likely and unlikely hero late in the season. As a veteran leader, Assaad was expected to be a vital player this season. But he was benched after an interception in the shutout loss at Hinsdale Central in Week 2.
"I never doubted myself, even not after losing to Glenbard West and getting taken out of the Hinsdale (Central) game," he said. "The past three weeks have taught me a lot about myself as a football player and a person. Getting taken out of the Hinsdale game was incredibly difficult to deal with, but as a team we responded with two incredibly focused and productive weeks of practice."
York coach Mike Fitzgerald said Assaad's 180-degree turnaround is an inspiration for the younger players in his program. Fitzgerald admitted a winning season is big source of motivation for his players.
"He definitely battled through adversity this season and bounced back," Fitzgerald said. "I really challenged him to step up, knew we had to have more from him. In the last two weeks, he's really played at a high level and played very confident and been poised. You never know how kids will respond to adversity. Max showed his true colors how he turned it on. He's done a tremendous job the last two weeks. It's awesome to see him lead us.
"I think every year we've seen growth (as a program). It's a process. A lot of steps to get where we need to go. We've made huge strides this season by beating good caliber teams in Willowbrook and Oak Park-River Forest, and how we beat them, going down the wire and winning in exciting fashion and not being rattled. That shows the growth of the program and leadership we have and how kids have bought in and worked hard. We're all excited. If we can win this game, it's the first winning season since 2011, which is a big goal for the seniors."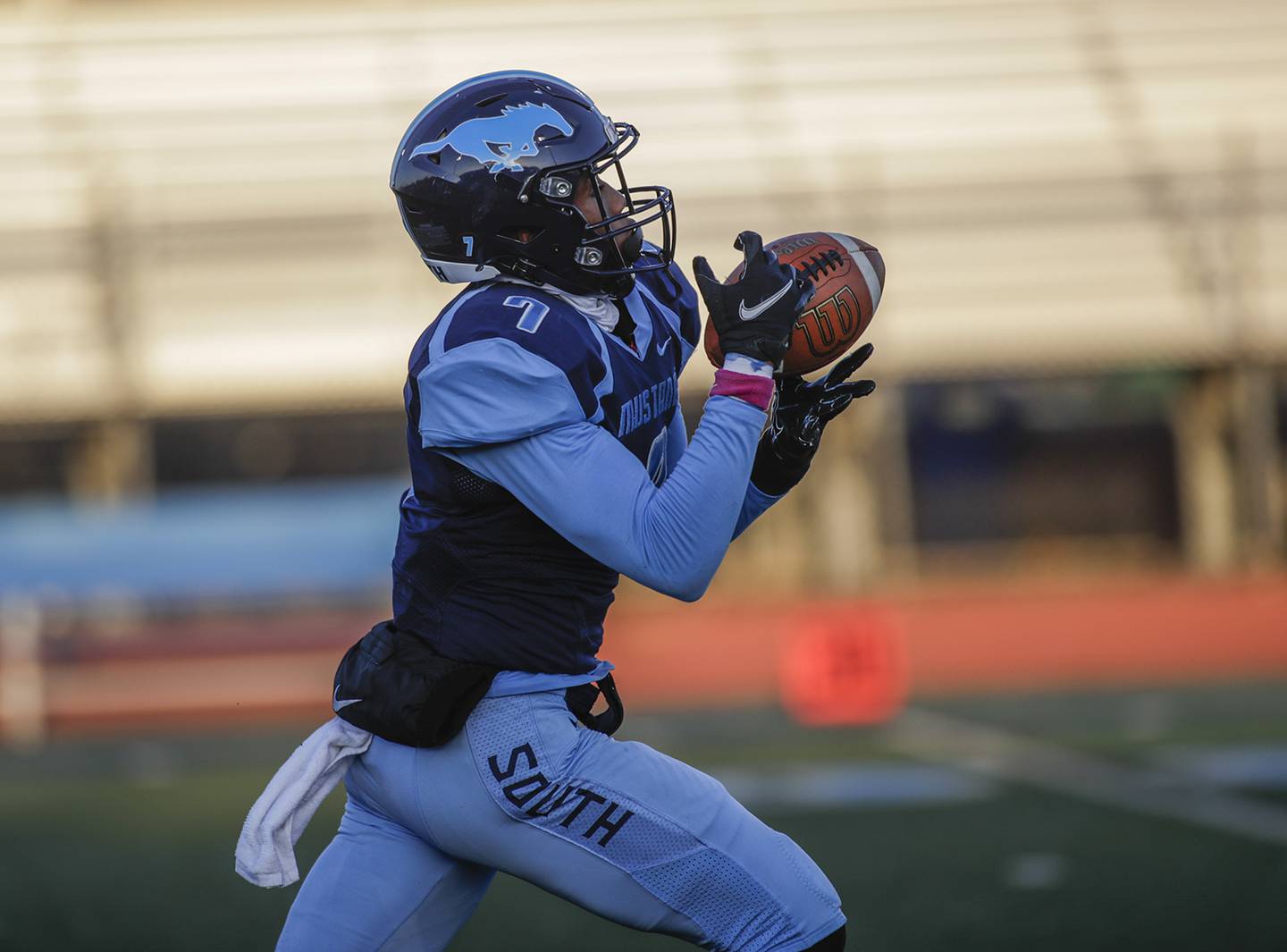 South looking to end streak
Downers Grove South Mark Molinari can provide vivid details on his program's recent five-game series losing streak to neighborhood rival Downers Grove North.
The Mustangs (3-1, 3-1) will try and end their recent series slide in Friday's 7 p.m. road game against the Trojans (1-2, 1-2).
"Four of the five losses have been pretty close," Molinari said. "We've had opportunities to win in nearly every game. We've not finished some drives, and even fumbled the ball. Hopefully, this year things will be different. I think we have some weapons on offense, with quarterback Ryan Dawson, wide receivers Eli Reed, Rashon Murff and Mack O'Halloran. We need all those guys and the offensive line to play well.
"North also has a young quarterback like us. We have to stop the run game and get them into passing situations."
Reed, a junior, is a player to watch against the Trojans. Reed said the entire team is motivated to beat their rivals.
"It's really fueling a flame inside all of us to show out and prove that Downers Grove South football is back," Reed said. "There's clearly an attitude and presence and focus when we talk about this week. It's become personal over the years."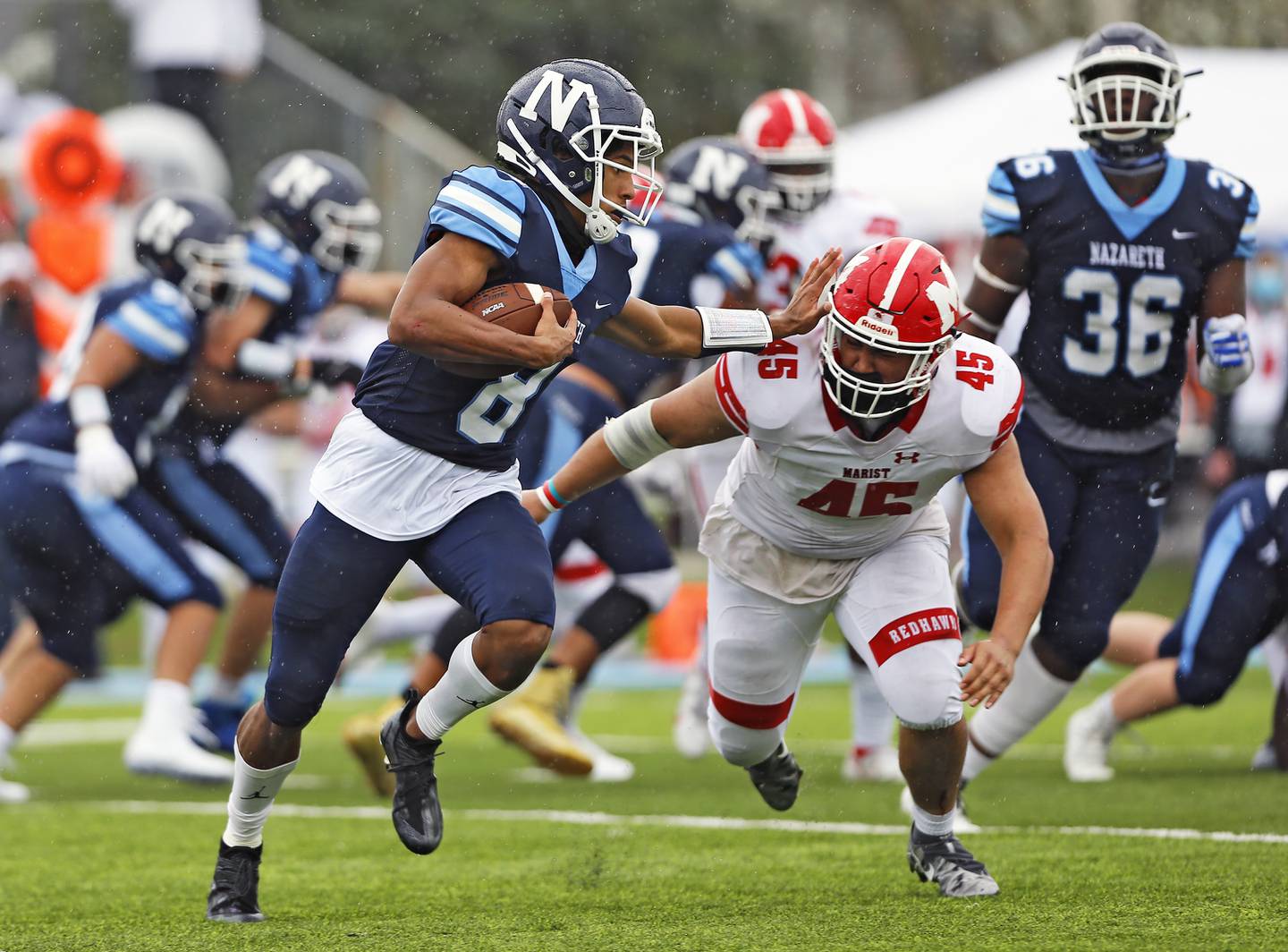 Morris suffers serious knee injury
Nazareth junior Tyler Morris, a four-star recruit, suffered a torn ACL following an interception in last week's loss to Notre Dame. Morris, who has numerous major Power Five offers, is out for the season. His status for his senior season remains uncertain.
"I've never had a player had a significant impact from the first day they stepped onto our field as a freshman until Tyler," Nazareth coach Tim Racki said. "From there, his example on how to be great and is so talented and how he acted in public and is very humble. He's the definition of class, outside of his talent.
"The advancements they've made repairing knees and getting athletes back on the field is leaps and bounds from even five years ago. I'm not worried about Tyler. He's going to attack his rehab process. He's never taken anything for granted. He's going to use this as motivation to come back stronger. He's a driven kid."
The Roadrunners (2-2, 2-2 East Suburban Catholic) host Benet at noon on Saturday.