St. Edward running backs Joe Sacco and Clem McCullough took turns sharing the spotlight on Monday night.
Sacco and McCullough made numerous big plays throughout Monday's 49-8 victory over Westmont in Metro Suburban Red action.
In a fitting moment, Sacco and McCullough both exited the game at the same time following a first-down play to a round of applause from the sparse crowd midway through the fourth quarter.
Sacco, a senior, had touchdown runs of 1 and 65 yards and caught a touchdown pass to go with an interception. McCullough, a junior, scored on a 64-yard touchdown run and added a 5-yard TD reception.
"We've been practicing all week, and just going back between us two is dangerous," McCullough said. "We've been working hard through the offseason, and it paid off. It was a team effort."
Sacco did his best Walter Payton impersonation on his third-quarter 65-yard touchdown, slowing down near the 30-yard line with a one-leg high-step move before cutting to his left.
"I learned that move from the man himself, Walter Payton," Sacco said of his long TD run. "All the blocks were good, and our offensive linemen did a great job making holes for us. I just went from there. Clem is going to be handed the torch next year, and hopefully he can keep it going next year."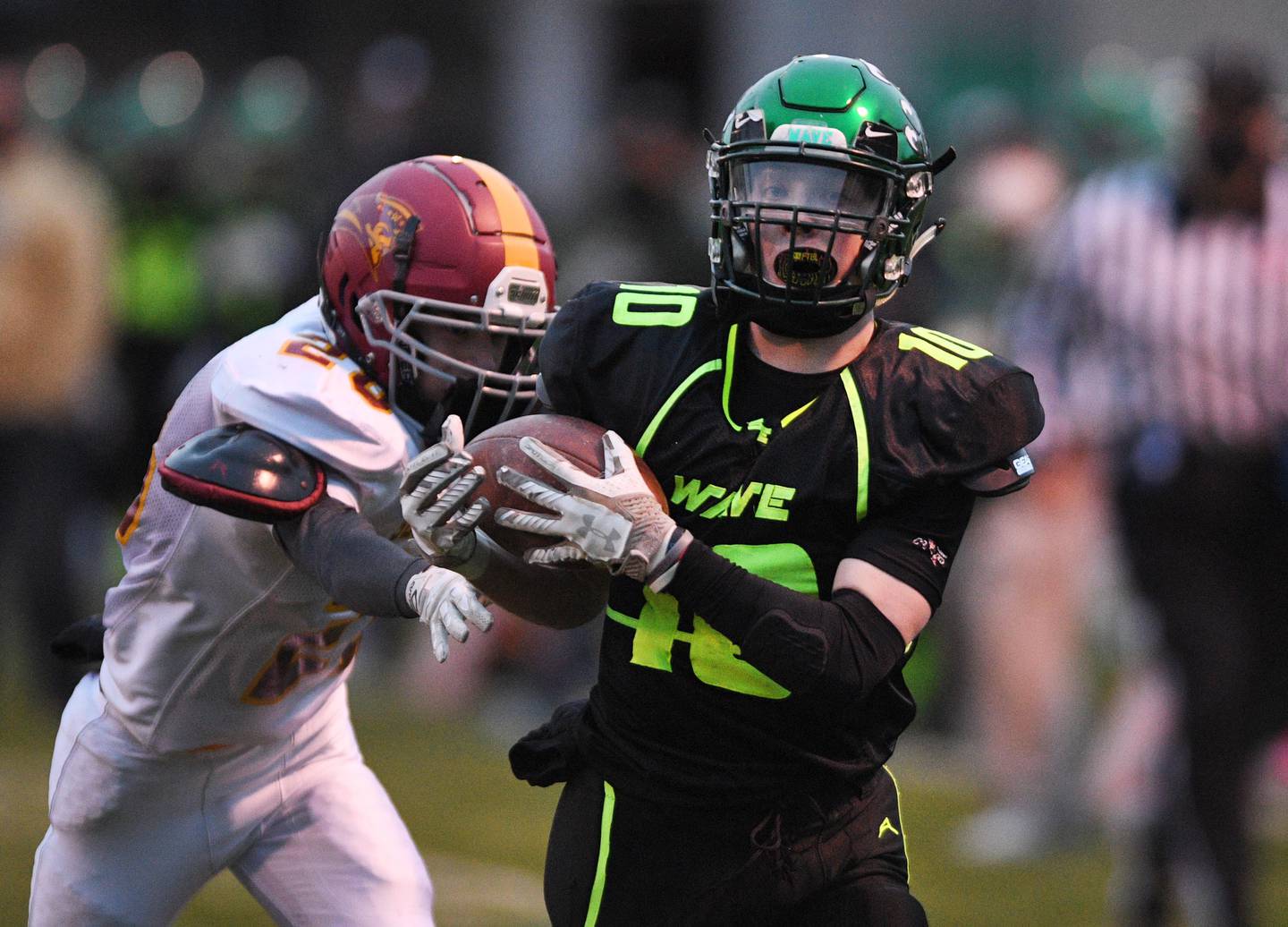 After Sacco scored on his long TD run, McCullough matched his teammate with his 64-yard run on the next offensive play by the Green Wave.
"I read my blocks and executed and just saw the hole," McCullough said.
The Green Wave (3-1, 2-0), who hadn't played in two weeks due to COVID-19 protocols involving an opponent, had a big advantage before the start of the game, dressing over 45 players compared to 15 for the Sentinels (1-4, 1-3). Westmont turned the ball over three times in the first half to fall behind 35-0. The Green Wave scored 49 consecutive points before Ben Juska, who rushed for 88 yards, scored on a 35-yard touchdown run late in the fourth quarter for Westmont.
Even though the Sentinels fell into an insurmountable hole early in the first half, they showed a lot of heart and resolve by battling until the end, especially with the majority of their starters playing nearly every snap.
"St. Edward is an extremely well-coached team and they execute and don't make many mistakes," Westmont coach Daniel Woulfe said. "The one thing, for sure, we as a coaching staff have to do at Westmont is, we don't have a lot of players, so we talked about from the very beginning that football is supposed to be fun. We're either winning or losing with class."
The Green Wave defense played stellar throughout the conference game, finishing with a sack, 2 interceptions and a fumble recovery. Junior defensive lineman Cameron Sauceda led the way with an interception, fumble recovery and pass deflection.