WILMETTE – For the second week in a row, Loyola football prepared for a new opponent on short notice. Quarterback JT Thomas didn't know much about Phillips, but he knew the defensive line featured some imposing size.
"Their front is just something you never see," Thomas said. "It's all man-to-man. We knew generally what we had to do. We don't see a defense like this. It was difficult, but our coaches are phenomenal in preparing us."
The Ramblers made difficult look easy Friday.
Loyola scored two touchdowns in the first half, then broke things open after halftime in a 30-0 win over Phillips on Friday in Wilmette. The Ramblers (5-0) remain unbeaten heading into next week's finale against Marist with the CCL/ESCC Blue division title on the line.
After scheduling a Week 4 game against Hillcrest on short notice, the Week 5 win over Phillips (2-1) marks back-to-back wins for Loyola against teams they didn't expect to see this season.
"Very nice of Hillcrest and [Phillips] to pick this up," Loyola coach John Holecek said. "Both of them said this helps our program to play against you guys. What was I going to do, take two weeks off to prepare for Week 6? So it worked out great."
Loyola ate up half the first quarter on its opening drive and scored on a 22-yard touchdown pass from Thomas to receiver Perrion McClinton. Phillips' offense struggled from the beginning. The Wildcats punted on their first possession and threw an interception on their second.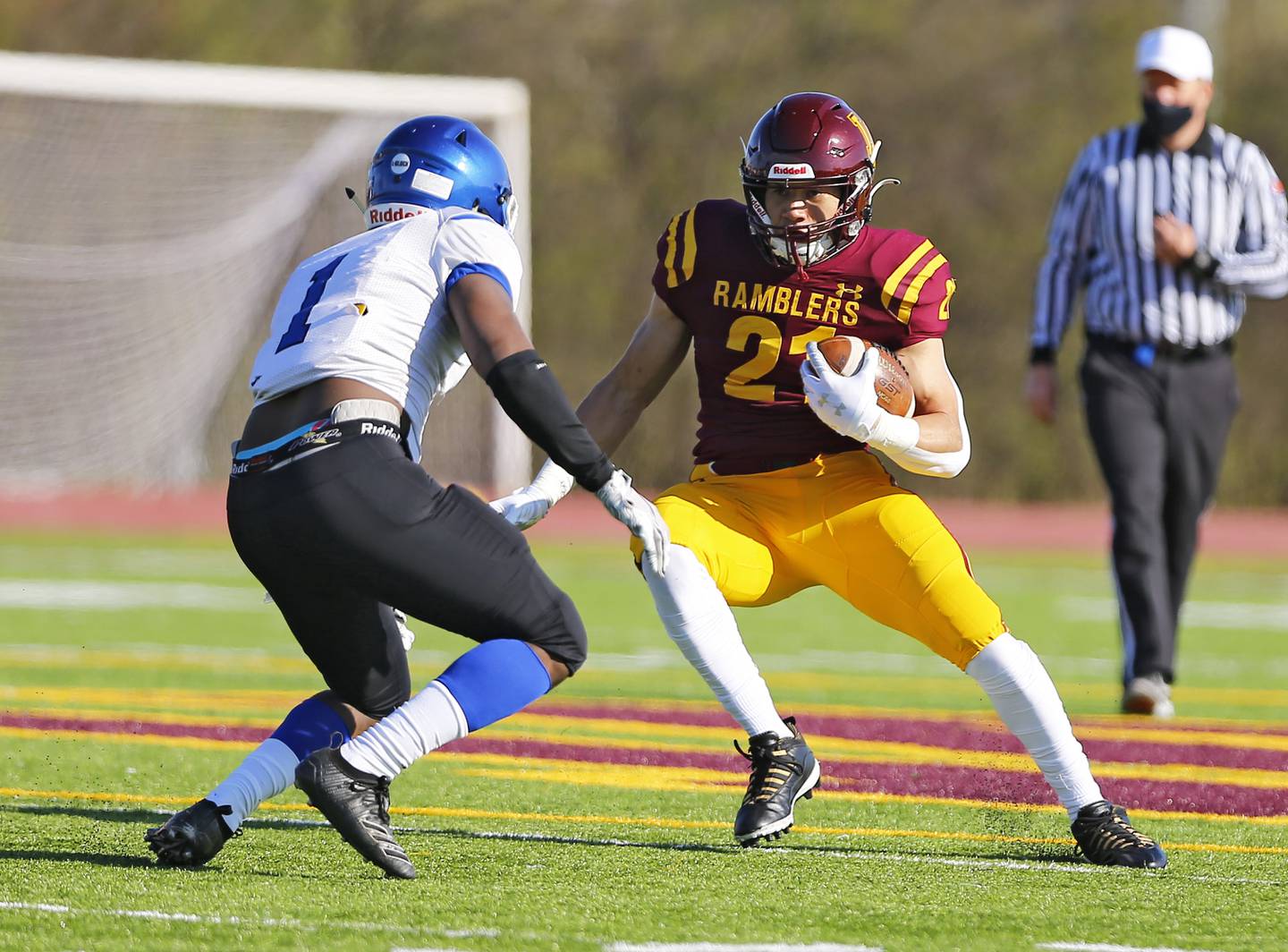 Loyola running back Vaughn Pemberton scored a 16-yard touchdown to push the score to 14-0 in the second quarter. Phillips had a chance to cut the deficit to one possession before halftime, driving down to the Loyola 5-yard line, but couldn't punch it in the end zone. Quarterback Tyler Turner was pressured in the pocket on fourth down and his pass fell incomplete.
"We got the look we wanted and [there was] just a little bit of pressure," Phillips coach Troy McAllister said. "Just missed it. Would've been an unbelievable catch."
Loyola's Aidan Brownlee scored a touchdown on a reverse in the third quarter, which opened up the floodgates for the Ramblers. Pemberton finished with 77 yards and a touchdown on 10 carries. Marco Maldonado ran for 59 yards on 10 carries.
Loyola and Phillips had last played in 2017, when a Phillips goal-line stand secured a win in the final seconds. Those two teams both went to state that year (Phillips won the Class 5A title, Loyola finished as 8A runner-up).
In normal times, Phillips and Loyola inhabit two different worlds. The past year has exacerbated that. While the IHSA allowed football teams to hold offseason contact days in the summer and fall, Chicago Public Schools didn't allow its schools to do the same.
McAllister's team hasn't had the same opportunities to use the weight room. Prior to Friday, Phillips had played only two games.
"For us, it's just getting an opportunity to compete against one of the best teams in the state and we knew, physically, we're just not there," McAllister said. "With everything that's transpired over the past year, our kids haven't been in school. We're not in the weight room. This was a great experience for our kids to see one of the standards of the state."
Loyola operated like a well-oiled machine. McAllister felt his team's lack of conditioning was evident in the second half.
"I feel bad for these guys because they just started," Holecek said. "The CPS tied their hands completely. We had 20 [contact days] in the summer, 20 in the fall, then started in January. So we can do a lot more than these guys can."
For the Ramblers, the win was an emotional one, too. Days before the home finale, they learned that tight end James Kyle would no longer be playing football due to health reasons.
Unfortunately my football career has come to an end because of my health issues. I would like to thank my teammates and coaches for making it such a special experience. I would also like to thank all the college coaches that took time out of their lives to recruit me. 81 Out✌️ pic.twitter.com/MioI19GPOX

— James Kyle (@James_Kyle88) April 15, 2021
"We all wrote 81 on our wrist [tape]," Pemberton said, alluding to Kyle's jersey number. "That sucks, but it's life. It's sad. I just appreciate all of it. I'm just happy to be out here."
James, a 6-foot-5 junior, has several Division I college football offers, but unfortunately will not be playing football again.
"It's heartbreaking," Holecek said. "A talent like that, a 6-5 athlete that can do everything, and for him not to be able to play. But you know, life gives us obstacles you have to overcome."