MORRIS — Nearly every successful program, no matter what sport, has a victory it can look to in which it turned the corner.
Friday night's 20-19 win over Morris just may end up being that win for La Salle-Peru's football program.
The Cavailers (4-0) got a 20-yard touchdown pass from Tyler Hartman to Reese Kurtz on fourth-and-4 with 1:18 to play to erase a 19-13 deficit and take a 20-19 lead.
On the winning play, Hartman dropped back and threw to Kurtz in the left flat. Kurtz grabbed it, turned toward the end zone, and leaped over the goal line just as he was hit.
"That was a heck of a play by Reese Kurtz," Hartman said. "He's been in the program with me for four years and has been one of my main men for four years. I just got it to him and he came up big."
But, it wasn't quite over.
Morris (3-2) wasn't going to go down easily.
Starting at their own 30, the Redskins drive to the Cavaliers' 13-yard-line before the L-P defense made its final stand. The Cavs sacked Morris quarterback Zach Romak twice for a total loss of 10 yards before a third down pass was incomplete.
Morris attempted a 40-yard field goal that fell about nine yards short, and La Salle-Peru was able to kneel on the final play to secure the victory.
"This is a great victory," La Salle-Peru coach Jose Medina said. "This is one that the program can hang its hat on.
"We fought hard until the end, and I am very proud of these young men. We faced some adversity, but they never gave up."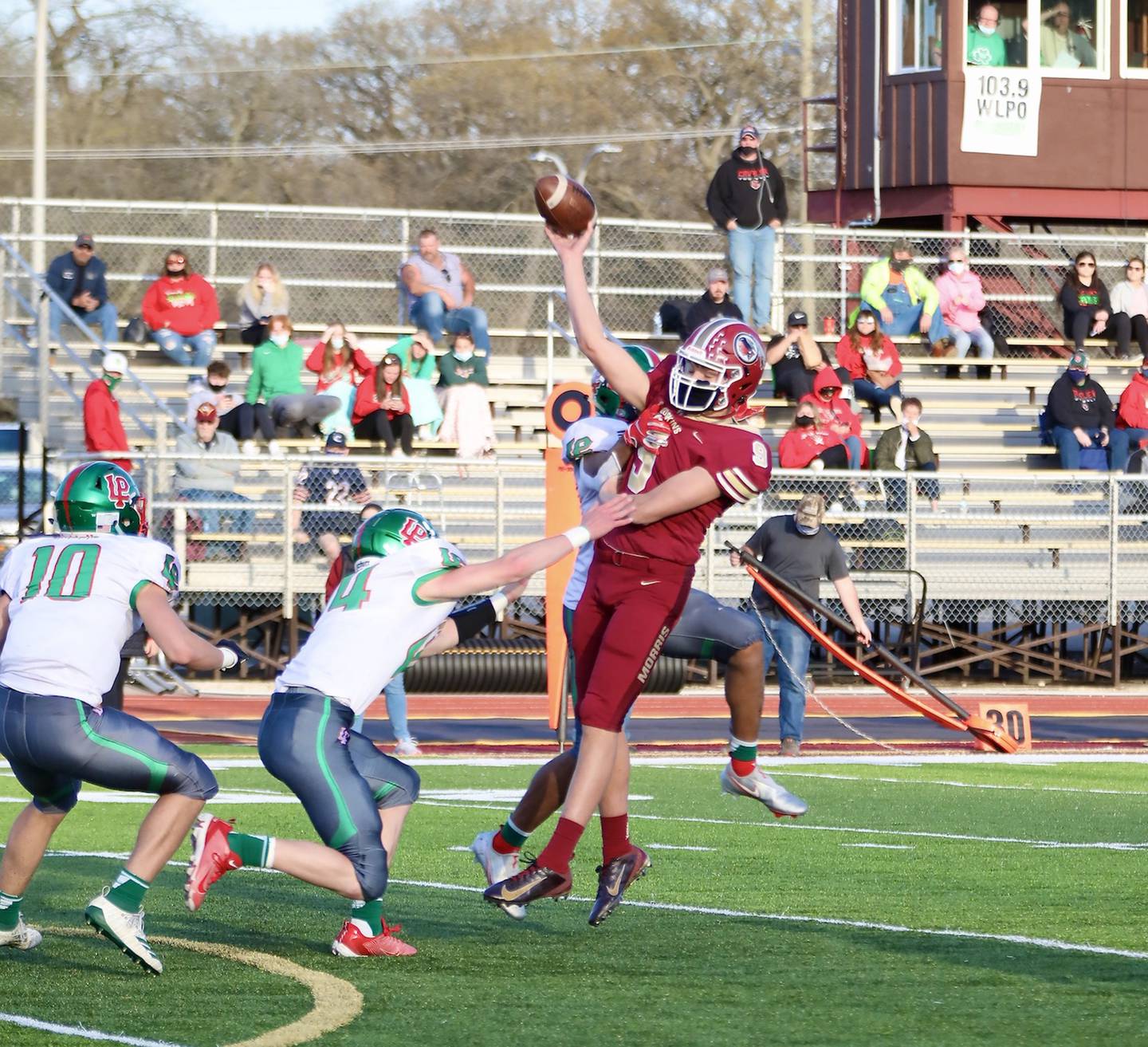 It didn't start out well for L-P as Morris took the opening kickoff and drove 61 yards on five plays, the last a 35-yard touchdown pass from Romak to Myles Johnston. The extra point gave the Redskins a 7-0 lead with 10:21 to play in the first quarter.
Early in the second quarter, the Morris defense stopped L-P on fourth-and-3, taking over at their own 42. Romak ran twice for 27 yards before finding Johnston again, this time from 31 yards out, and Morris led 13-0 after a botched extra point with 10:33 to go until halftime. Neither team scored the rest of the first half.
La Salle-Peru received the second-half kickoff and embarked on an 11-play, 77-yard drive that ended with an 8-yard Hartman run for a touchdown to cut the Morris lead to 13-7. Hartman then intercepted a pass at the Morris 16 and, after a 3-yard run by Matt Carrico (23 carries, 109 yards), Corey Walker scored from 11 yards out and Drake Weber's kick gave L-P a 14-13 lead.
Morris then drove inside the L-P 20, but the Cavaliers recovered a fumble on the first play of the fourth quarter. The Cavaliers drove to midfield before being stopped again on fourth down. The fourth-down play included an intentional grounding penalty and Morris took over at the Cavaliers' 37.
Back-to-back sacks by Will Daugherty and Weston Wenzel moved Morris back to the 50, but Romak hit Nathan Jepson with a pass at the 37. Jepson eluded a tackler and sprinted into the end zone. A conversion run failed, but Morris held a 19-14 lead with 4:27 remaining.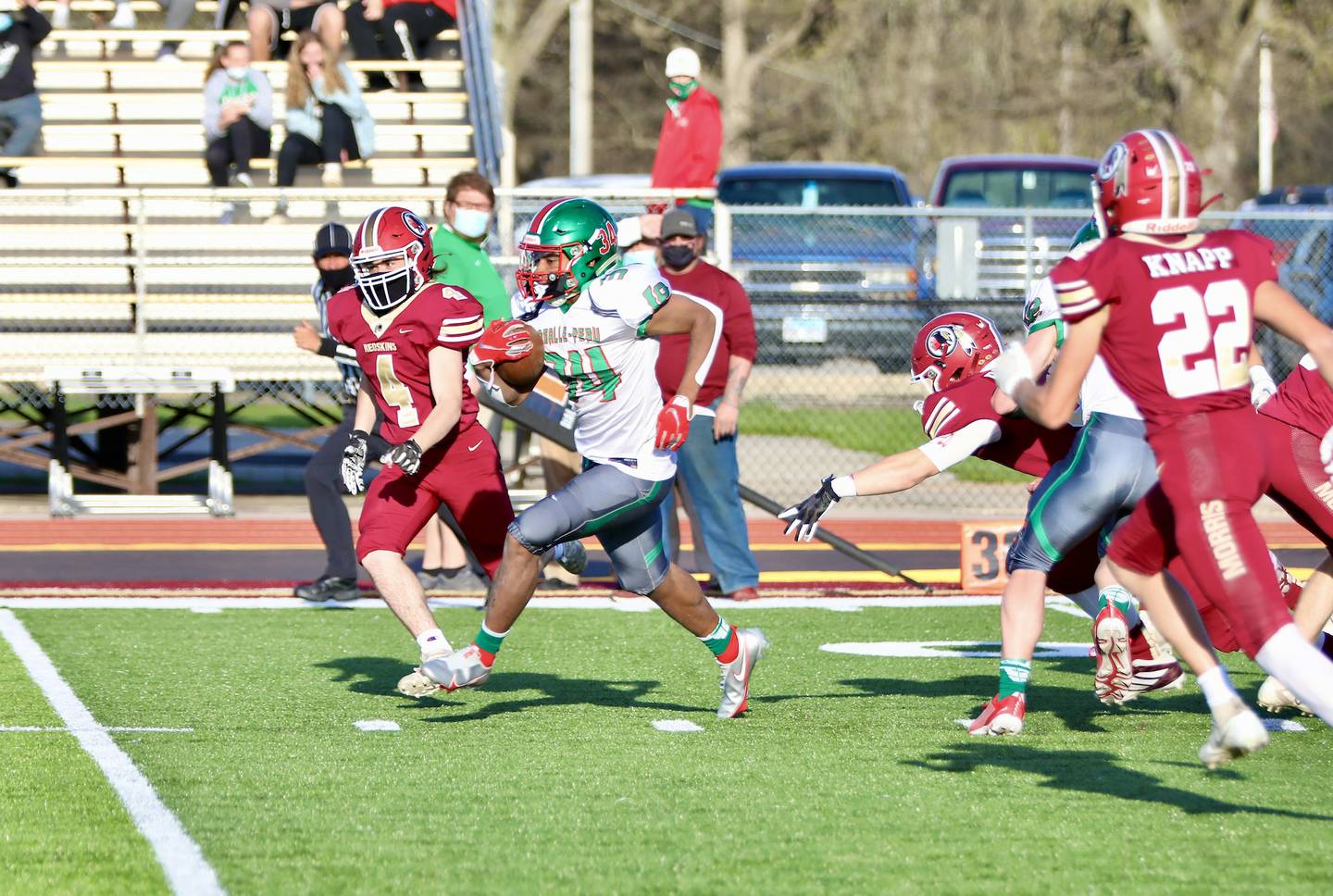 Weber returned the ensuing kickoff 30 yards to the L-P 46. A run by Sean Whitfield put the Cavaliers to the Morris 41, and an unsportsmanlike conduct penalty on Morris moved it ahead to the 26. On 3rd-and-14, Hartman hit Weber for a 10-yard gain, setting up the winning touchdown.
"At halftime, we knew we weren't out of the game," Hartman said. "Morris had kicked our butts in the past, but this is what we play for. We found a couple of plays that worked and stuck with them, and our defense stood up and made plays."
"We saw what we had to do at halftime," Medina said. "The first half, we kind of took off, and against a program like Morris, you can't do that. Our offensive line did a great job tonight and Tyler Hartman is a gamer. He came out there on a bum wheel and made some plays for us.
"We battled against a very skilled team. This is a great victory for our program, and we have a shot next week at going 5-0 for the season against another good program in Kaneland."