PLAINFIELD – Dylan Rasmason just did what needed to be done, as did the rest of his Plainfield North teammates.
The Tigers already were without one of their best players Friday, Danny Nuccio, who tore his ACL on the third play in Week 4. Two more of their best, Carlos Conley and Jared Gumila, were dinged up during Friday's game. But guys like Rasmason picked up the slack.
More of a defensive player before this season, Rasmason scored on a 35-yard touchdown run on the same drive Conley was hurt on. The defense did much of the rest, holding Oswego East to only six first downs in a 17-10 Southwest Prairie West win.
"We've had a lot of adversity this season, from summer all the way a year ago," said Rasmason, a junior. "We've been playing through it to the best of our ability. Guys have been stepping up."
The Tigers needed even more help when Conley, a big-play threat on offense and special teams, pulled up lame on a punt return near the Plainfield North goal line in the second quarter.
Conley was helped off the field and on crunches after the game, but the Tigers helped themselves, going on a 12-play, 96-yard scoring drive. Rasmason's 35-yard TD run, on a jet sweep around the right end, gave Plainfield North a 7-0 lead with 5:27 left in the second quarter.
"We've been working on that jet sweep for a while. We knew if we pounded it in then it would work," Rasmason said. "Even though Carlos is a great player, gotta work without him."
Rasmason got 10 more carries in the second half after Gumila left with nagging cramps. His runs, and a fake of a second sweep, set up Adam Smith's 9-yard keeper for a TD and a 14-3 lead with 5:15 left in the third quarter.
Meanwhile, backup receiver Colin Day was moved to middle linebacker, one of a series of moving parts that worked for the Tigers (3-2, 2-1).
"The kids rallied," Tigers coach Anthony Imbordino said. "OE is a great football team, well-coached, ton of athletes, but our kids stayed together and pulled it out. Dylan, we moved him to offense this year, he was more defense at the lower levels, but he has been very good in practice and waiting for his opportunity, and he just ran with it and did a heck of a job."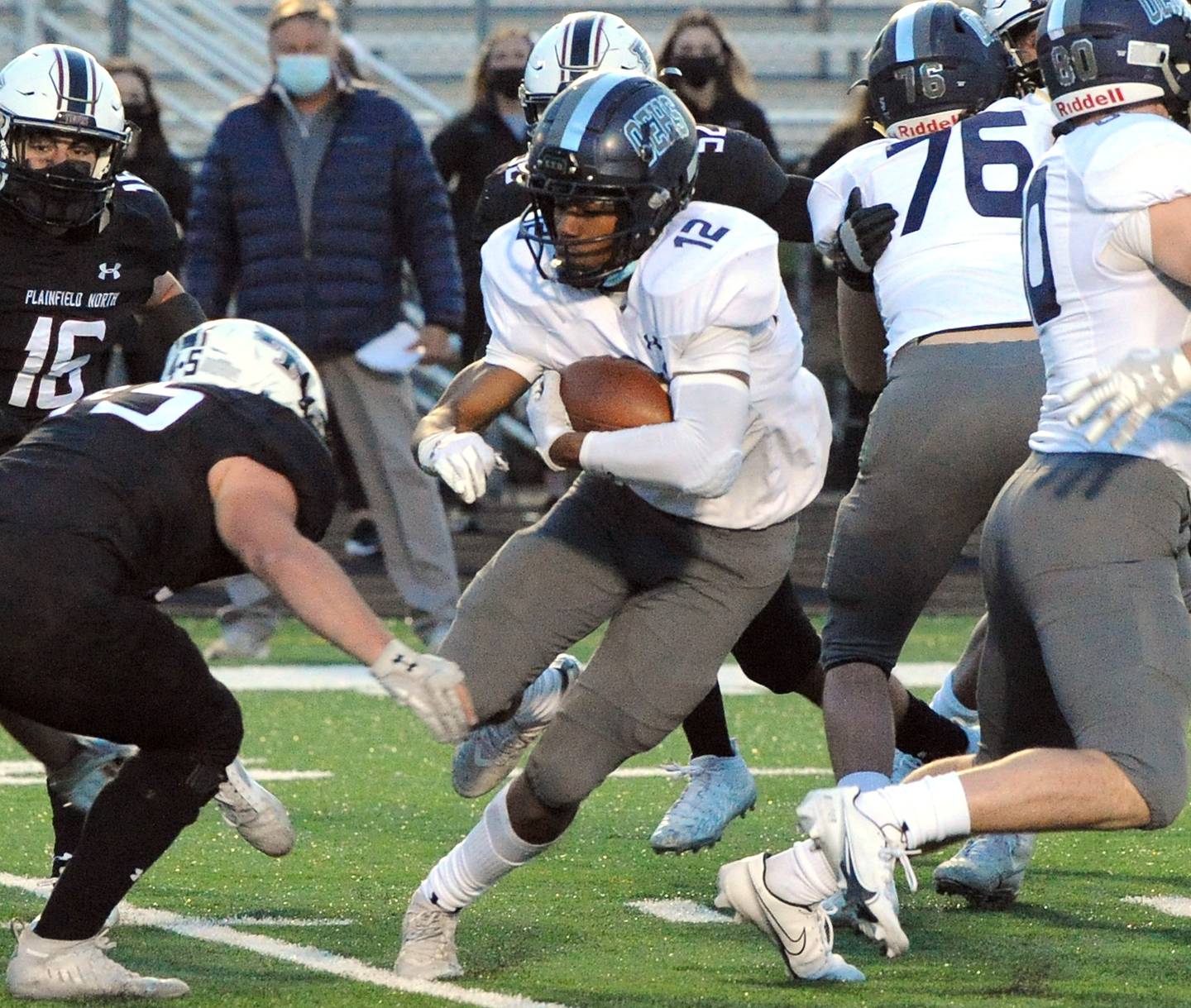 Oswego East (2-3, 1-3) was coming off an emotional win over Oswego in Week 4, its first win in the crosstown series, but it struggled to generate any offense against Plainfield North.
Its best offensive play of the night came by trickery. Wide receiver Jackson Lamboley took a reverse and threw a 45-yard TD pass back to quarterback Michael Ford to close the Wolves within 17-10 with 11:10 left in the fourth quarter. But the Wolves managed only 154 yards for the game (56 rushing) and their last drive in the final minutes went nowhere.
Indicative of their desperation to get anything going offensively, the Wolves tried a fake punt from their 27 in the third quarter, that was stuffed for no gain.
"I thought they [Plainfield North] played better than us up front tonight," Oswego East coach Tyson LeBlanc said. "We just gotta do a better job. Took a chance on a fake punt, we tried to generate something, it backfired on us. But our kids always come out and play hard."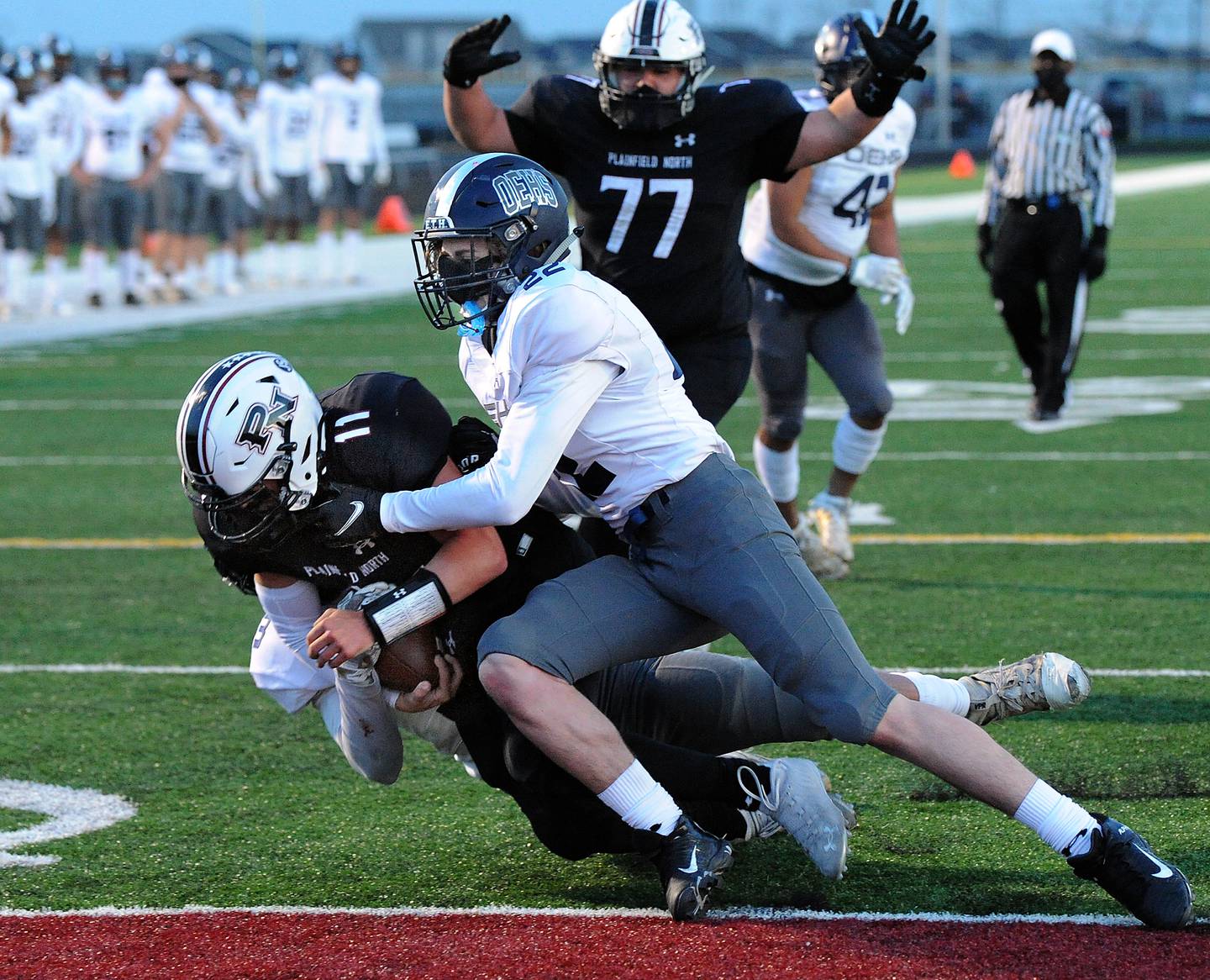 The Wolves' defense hung in there most of the night, but two offsides penalties, one on a fourth-down punt, kept Plainfield North's 96-yard drive alive.
"Got to do a better job in those key situations," LeBlanc said. "If you take care of the little things there are no big things."
Plainfield North junior linebacker Justin Yeazell had two sacks, one on Oswego East's final possession of the first half that forced Owen Valek's 39-yard field goal that made it 7-3 at the half. Yeazell's second sack came on the Wolves' last drive, on third down, that all but salted away the win.
"Our defense is exceptional," Imbordino said. "We knew we would hang our hat on our defense all year. OE is scary with the athletes they have. We moved our backup receiver to middle linebacker this week, Jacob Remaly, we moved him to strong safety. Pieced it together, guys stepped up when they needed to."
Smith was 9 for 15 for 118 yards and Gumila ran for 78 yards on 24 carries for Plainfield North, which hosts Yorkville on Friday for the chance at a share of the SPC West title.
"That's pretty [darn] amazing for a season that got shortened," Yeazell said. "We're going to make the best of it."