WILMINGTON – The Wilmington football team spent most of Friday night's game with visiting Coal City on the ropes.
But despite being in what appeared to be a disadvantageous position for most of the evening, the Wildcats never seemed to mind that much.
More important, they never quit, either. And when a window of opportunity opened, the Wildcats leaped through and escaped with a 24-21 victory despite an incredible offensive performance from Coal City's Asa Cooper.
It came down to the wire with the two longtime rivals after Wilmington captured the lead on an 11-yard touchdown run by Matt Sanchez. Sanchez had two huge runs on the final Wilmington scoring drive, and although only four minutes remained after he scored, the outcome was far from secure.
That's because of Coal City's quick scoring potential with Cooper. He already had scored three long touchdowns in the game and amassed more than 250 yards rushing as the Coalers tried to at least send the game into overtime.
Coal City marched down the field and moved inside the Wilmington 30-yard line, but a botched handoff with a little more than a minute to play gave the ball back to Wilmington. With a first down on a few running plays, the Wildcats secured the victory.
"We just kept fighting and fighting. That was real rivalry football right there," Wilmington coach Jeff Reents said. "We just kind of kept our head above water there and weathered the storm with Coop[er]. I guess we contained him a little bit, but he's got speed that you just can't prepare for."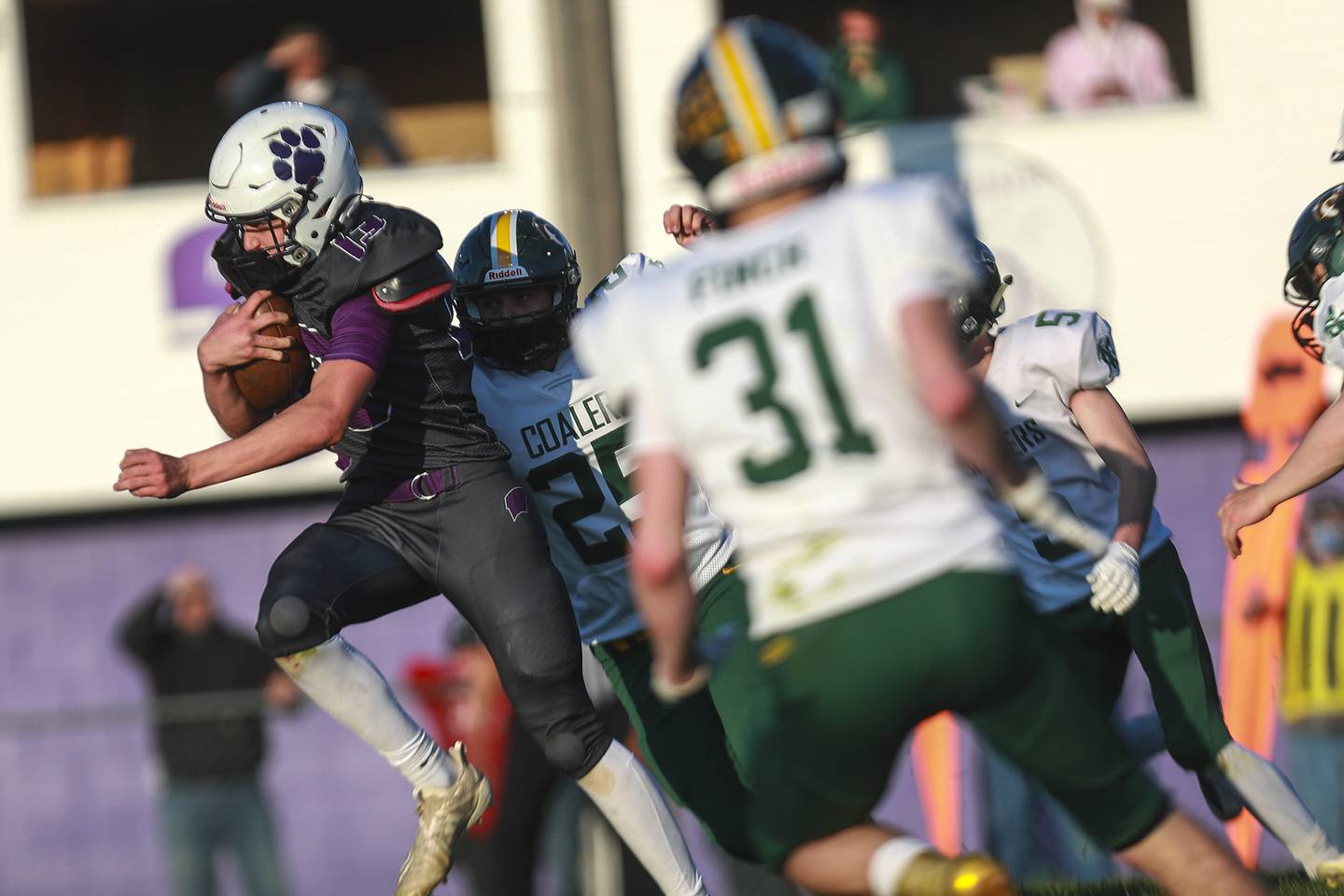 Cooper showed that speed almost immediately, answering Wilmington's first score of the game with a 74-yard burst in which he broke a tackle and then simply ran away from the rest of the Wilmington defense.
After it looked as if Wilmington was poised to answer that score by driving deep into Coal City territory, a fumble put the ball right back in Cooper's hands, which he promptly turned into another long touchdown, this time from 90 yards.
The two teams dug in during the second quarter, with neither doing much damage, but Cooper was back at it again in the third quarter, breaking off a 66-yard touchdown run for a score that put the Coalers up 21-7. At that point, Cooper had 256 yards on only nine carries, and Wilmington's hopes seemed to be on the severe fade.
But the Wildcats pushed back with a lengthy drive that ended with a Nick Narine 2-yard touchdown run that trimmed the margin to 21-14, and early in the fourth quarter the Wildcats added an important 43-yard field goal from Allen Richards that brought them even closer.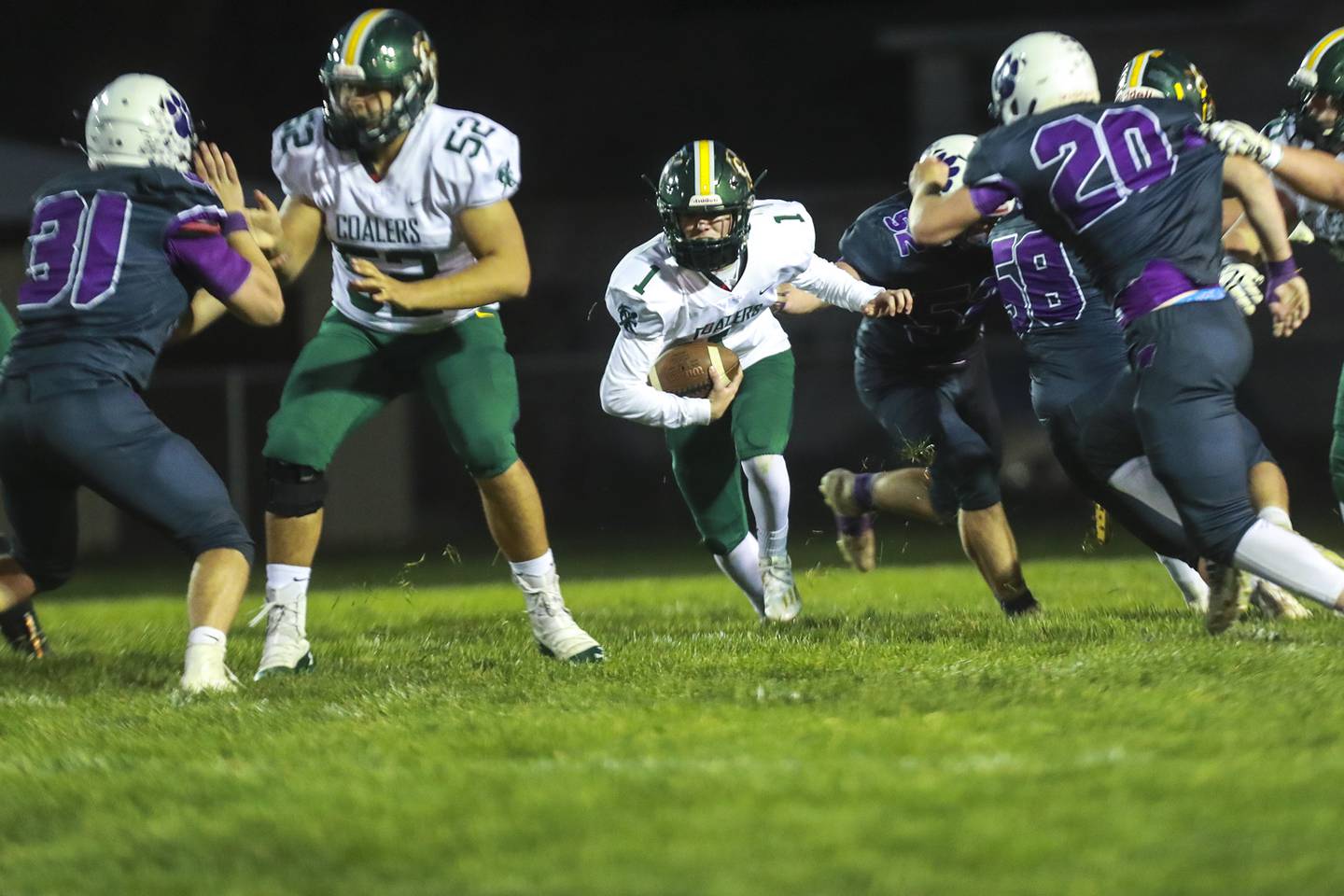 And while Wilmington was drawing closer, Coal City was having difficulty sustaining drives long enough to keep Wilmington from stealing the momentum.
That revolution was complete after the Wildcats quickly got the ball back after the Richards field goal and marched swiftly down the field, a 34-yard breakaway by Sanchez put Wilmington in position to take control, and Sanchez did the honors one play later on an 11-yard burst that proved to be the game-winning touchdown.
"Our offensive line didn't sustain drives like we wanted to. We count on Cooper so much to make the big play that sometimes we are unable to sustain drives when we need to," Coal City coach Dan Hutchings said. "They got us. Tip your hat to them. They were the better team."