La GRANGE PARK – With Nazareth threatening near the goal line, Marist linebacker Jimmy Rolder sat back in his zone and saw a Roadrunners receiver crossing over the middle of the end zone. Nazareth quarterback Aidan Pieper reared back to pass and Rolder was in the perfect spot.
"My eyes lit up on that one," Rolder said.
The 6-foot-3, 220-pound junior was in the right place at the right time and came down with a momentum-shifting interception in the third quarter. At that point, Marist held a slim six-point lead. It might have been Nazareth's best scoring chance of the day.
Rolder later caught a second interception, helping the RedHawks to a 13-0 win over Nazareth in a CCL/ESCC crossover game Saturday at Valenta Stadium in LaGrange Park.
"[This win] means a lot," Rolder said. "[Nazareth] is a team that's always been great, beat us last year at home. We just felt good. They came out confident, we just came out ready to play."
Rolder's two second-half interceptions were game-changing plays. They made up for an early missed opportunity. Right out of halftime, a Nazareth pass slipped through his hands.
"I'm going to blame that one on the rain," he joked after the game. "Off the hands. Should've had it."
Meanwhile, running back Jamari Grant rushed for 153 yards and two touchdowns on 29 carries for Marist (3-1). After a scoreless first quarter, Grant hurdled over his offensive line for a one-yard touchdown run that capped a 71-yard Marist touchdown drive.
"My O-line, they always come through in the clutch," Grant said. "When they fell, I was just going to jump over. And I scored."
As has been the theme for the Marist offense, Grant carried much of the load. He had 20 carries and 112 yards alone in the first half. He added another 1-yard touchdown run early in the fourth quarter. Quarterback Dontrell Jackson contributed 20 rushing yards on 12 carries. Jackson also threw for 121 yards on 10-for-16 passing with an interception. Receiver Matt Rolek caught six passes for 105 yards.
Nazareth (2-1) did its best to slow Grant and the RedHawks. But the Roadrunners offense had one too many miscues.
"Just lack of execution, didn't capitalize on the chances we had," Pieper said. "[Chances] were there. Going forward, we've got to take advantage of those. It sucks, but we're going to bounce back and be ready for Notre Dame next week."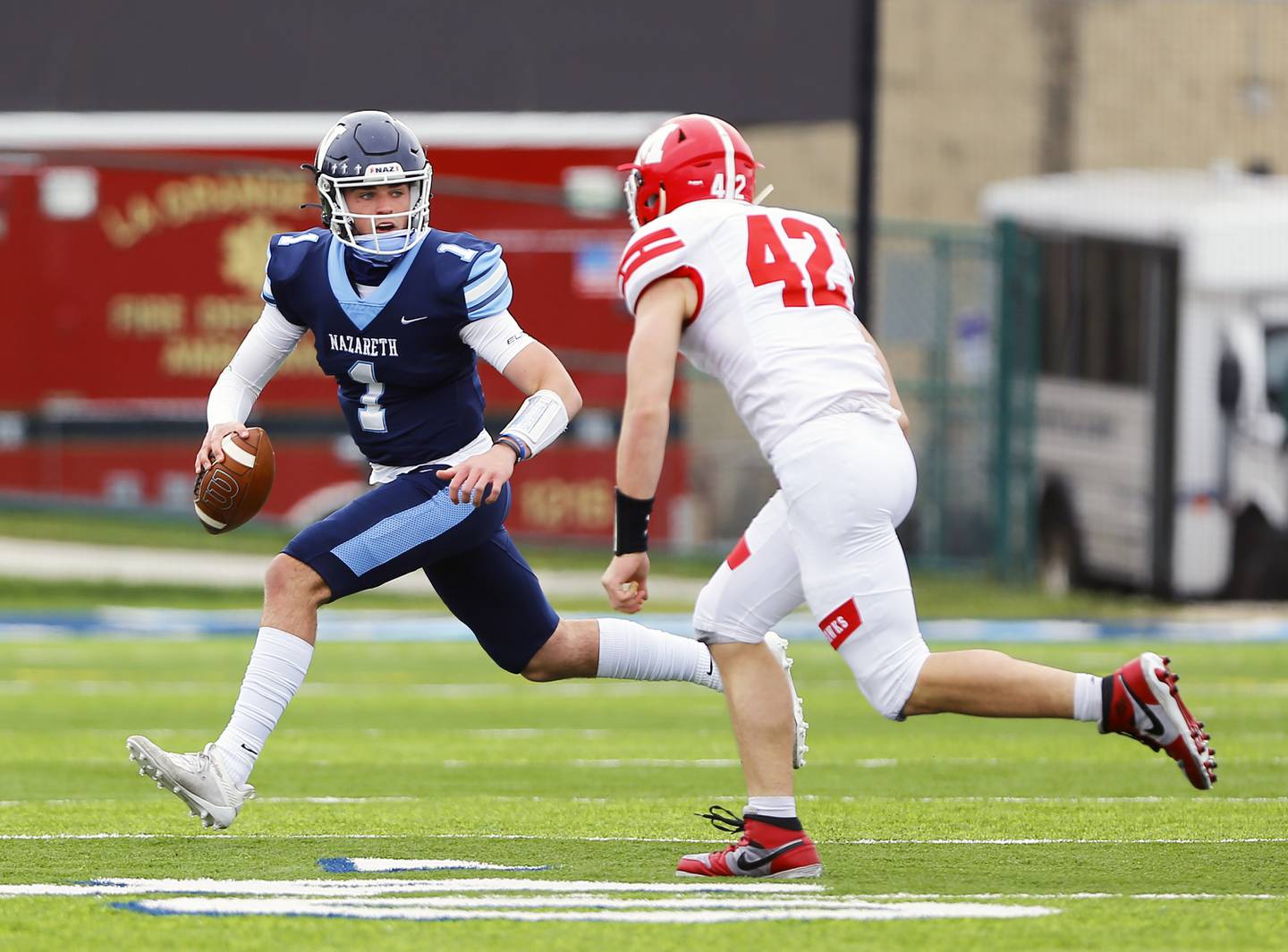 Pieper finished his day 10-for-21 passing for 86 yards with one interception. The Roadrunners rotated in several quarterbacks into the game. Ben Michel and Cass Kinsella also took snaps, with Kinsella throwing the second interception to Rolder.
Late in the fourth quarter, Nazareth mixed it up, going exclusively to the wildcat formation for a brief stretch with running back Kaleb Miller taking direct snaps. Miller ended his day with 21 yards on 14 carries.
The Marist defensive front was just a little bit too formidable Saturday.
"It just shows how good we can be when we're all playing as a unit and all together," Rolder said. "Everyone doing their own job. Just making it work."