JOLIET – Some teams don't handle being expected to win very well.
For Joliet West, that definitely was the case earlier this season when it was upset by Romeoville.
But it appears the Tigers learned their lesson Saturday afternoon, as they once again found themselves in the role of favorite and responded by easily toppling district rival Joliet Central, 48-0.
"Honestly, not to take anything away from Romeoville's effort, that's what happened that week. Romeoville came to our place and beat us," Joliet West coach Bill Lehr said. "But we talked to them all week about being in the position where you are expected to win and then going out and winning."
Things started on a sour note for Joliet Central (0-4). After being forced into a three-and-out on its first possession, the long snap eluded the grasp of the Steelmen punter, and Joliet West's Jerry Richards was in the perfect place to scoop up the loose ball and breeze in for a 6-yard touchdown return.
After the Tigers forced another quick punt, the running game found its footing and stretched the lead to 14-0 on a 7-yard scamper from Skylar Crudup.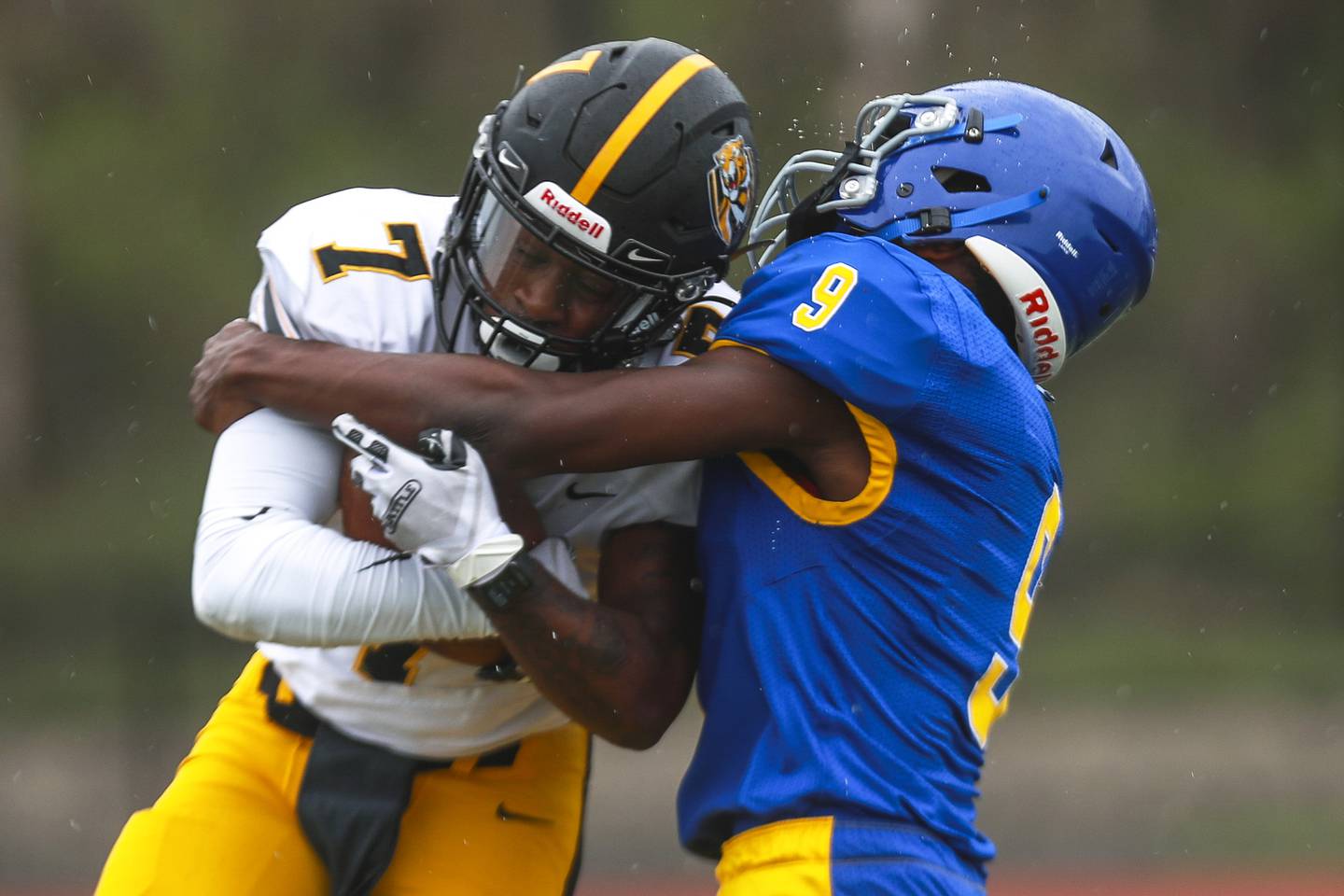 Central's defense stood tall the rest of the quarter and created a turnover in the red zone, recovering a fumble early in the second quarter. But the inability to do anything with the football was a problem for the Steelmen and short fields of play had the Tigers repeatedly putting cracks in Central's ability to stay competitive in the game.
The Tigers started on at the Steelman 15-yard line and scored a touchdown from Crudup to Ena Dorcooo in the second quarter, and just before halftime Crudup found Anthony Buccellato for a 29-yard score to give Joliet West a 28-0 lead.
Fatigue started to set in for Central in the third quarter, as its already low roster numbers incurred a number of injuries in the first half.
James Zilinger rammed his way through the Steelmen defense for a early third quarter touchdown, and Robert Satterwhite had the first of his two interceptions in a three minute span and ran it back for a 52-yard touchdown.
Carter Baranski scored from three yards out to cap the scoring and set the running clock in motion.
The win keeps Joliet West in position to make a run at defending the Southwest Prairie East Conference title they won last season. With one league loss, the Tigers are a game behind Plainfield South, the only team in the league without a division loss through three games. Plainfield South and Joliet West will play at Plainfield South on Friday.
"We gotta win out," Lehr said. "Plainfield South just scored a ton of points last night, and we're going to have our work cut out for us. But we just have to focus on what we do and what we can take care of, and I think we'll be okay."