CHICAGO – Mount Carmel quarterback Justin Lynch had been throwing to receiver Jack Butcher all game long. So why not do it in crunch time, on third-and-9 from the 11-yard line in the fourth quarter?
Lynch threw a high-arcing pass into the corner of the end zone, and Butcher went over a Marist defender to grab what became his third touchdown of the game.
Butcher caught 10 passes for 164 yards and three touchdowns in Mount Carmel's win over Marist, 24-21, on Saturday at Mount Carmel's Barda-Dowling Stadium at Carey Field. Mount Carmel (2-1, 1-1 CCL/ESCC Blue) rebounded after a loss to Loyola a week ago.
"I've just got a great QB in Justin making plays for me and finding me in the end zone," said Butcher, a 6-foot-5 senior from Flossmoor. "And that's how we win."
For Marist (2-1, 1-1) it marked the first loss of its season and the first loss in the vaunted CCL/ESCC Blue division.
[ Photos: Marist vs. Mount Carmel ]
"Another nail-biter and it's going to be that way every week," Marist coach Ron Dawczak said. "Two really good teams. They made plays when they needed to."
In the end, Marist couldn't find a way to slow the Caravan offense. Butcher made several key catches on third downs. Mount Carmel didn't punt at all in the second half.
With Lynch running things at quarterback, Mount Carmel kept the ball moving. He went 19-for-28 passing for 222 yards with three touchdowns – all to Butcher – and no interceptions. Running back Kenenna Odeluga pitched in 62 yards on 14 carries.
[ CCL/ESCC notes: Mount Carmel's Kenenna Odeluga "didn't want to get my hopes up" when Illinois called, now he's a future Illini ]
With Western Michigan recruit Jaali Parker unavailable at receiver Saturday, Butcher became the top target.
"I love J-Butch," Justin Lynch said of Butcher. "Coming into this game, we're targeting him, he was hot early on, I'm going to keep feeding him the ball."
Butcher scored on a 15-yard pass from Lynch in the first quarter, a 14-yard pass in the third quarter, and the 11-yard reception in the corner of the end zone to cap off his hat trick.
"I told my quarterback: 'Just throw it up,'" Butcher said. "Every 50-50 ball, that's my ball. It's never a 50-50 ball when I'm up. I want to come down with it every time, no matter the coverage."
Butcher, who also plays cornerback, almost had what would've been a momentum-shifting interception late in the game on defense, too. Mount Carmel coach Jordan Lynch said he liked seeing Butcher playing with some swagger by the end of Saturday's game.
"He made huge [plays]," Jordan Lynch said. "Not even the touchdowns, he made great catches all around and you saw, I mean, the confidence goes up."
Butcher's third-quarter touchdown gave Mount Carmel its biggest lead of the day, 17-6. Marist kept fighting back, though. The RedHawks scored touchdowns on two long second-half drives.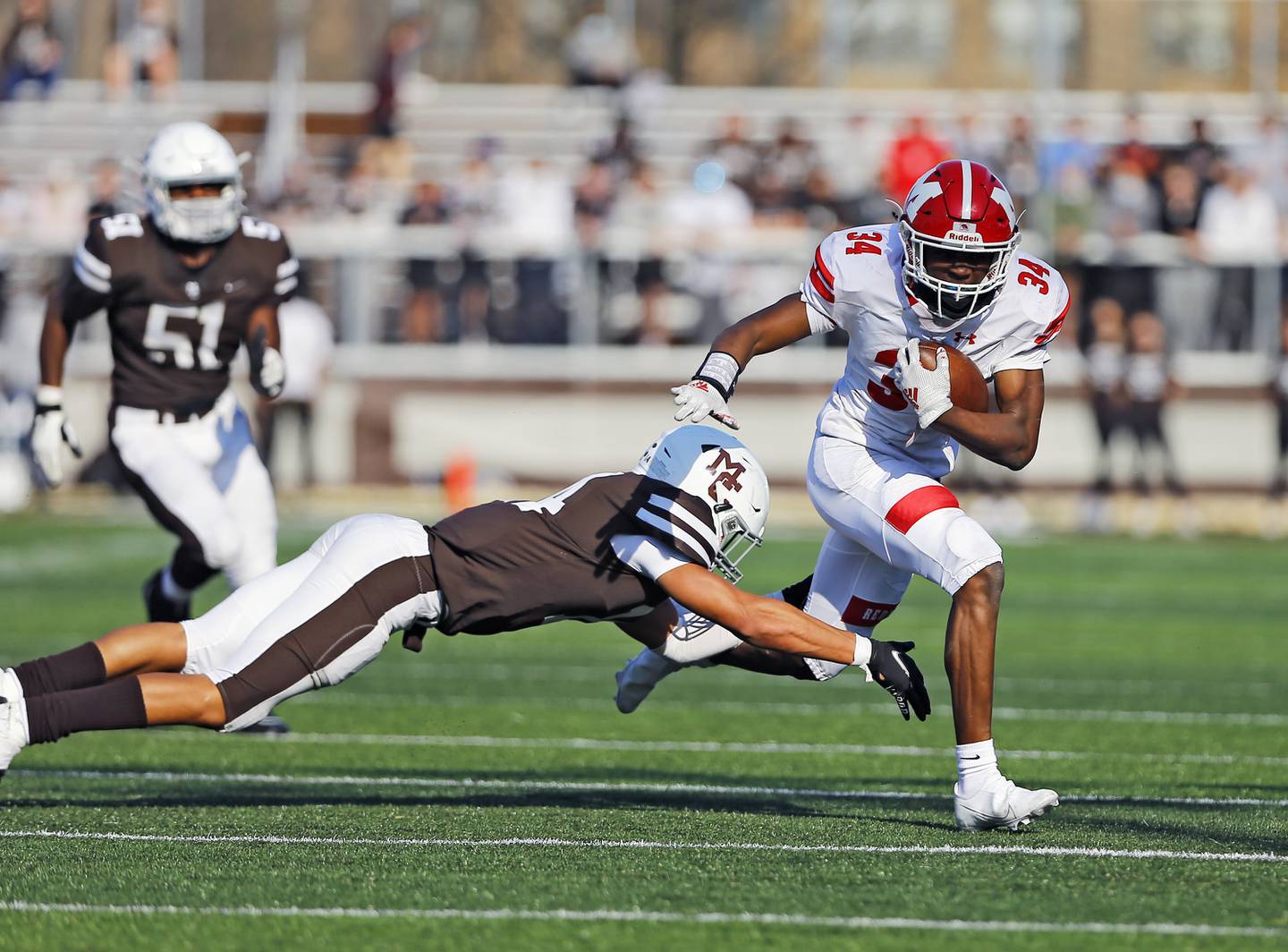 Running back Jamari Grant punched in both touchdowns, capping drives of 80 and 81 yards, respectively. Grant ran for 79 yards on 25 carries with two touchdowns. Quarterback Dontrell Jackson Jr. added 57 yards on 12 carries.
Grant scored his second touchdown with 5:03 remaining in the game. Unfortunately for the RedHawks, the defense couldn't find a way to stop Mount Carmel's offense. The Caravan ran out the final five minutes, including drawing Marist offsides on a key fourth-and-2 with the clock running under two minutes.
The penalty gave Mount Carmel a first down and allowed it to kneel out the clock.
"We made a couple of mental mistakes, but I give a lot of credit to [Mount Carmel]," Dawczak said. "They made plays when they needed to and they came out on top today."
[ CCL/ESCC notes: Recovered from broken leg in 2019, St. Rita's Henry Wilson shines in Week 2 ]