SouthWest Suburban Conference
Lincoln-Way Central (1-1) at Lincoln-Way East (2-0)
When: 6 p.m. Friday
Last matchup: Lincoln-Way East 38, Lincoln-Way Central 2 (2019)
About the Knights: Lincoln-Way Central has been pretty steady through the first two weeks, but the level needed to compete this week obviously will have to be cranked up. QB Turner Doran and RB Ethan Rossow have made for a very competent offensive duo for the Knights through two weeks, and the defense has performed well, despite falling last week to district rival Lincoln-Way West.
About the Griffins: Lincoln-Way East's defense has responded to the challenge through the first two games of the season as it has been dominant against a pair of their top rivals. The offense usually is sparked by a powerful running game, which is keyed by RB Jamal Johnson. He was slowed a little bit in the win over Homewood-Flossmoor, but the Griffins responded by throwing three touchdown passes.
Friday Night Drive pick: Lincoln-Way East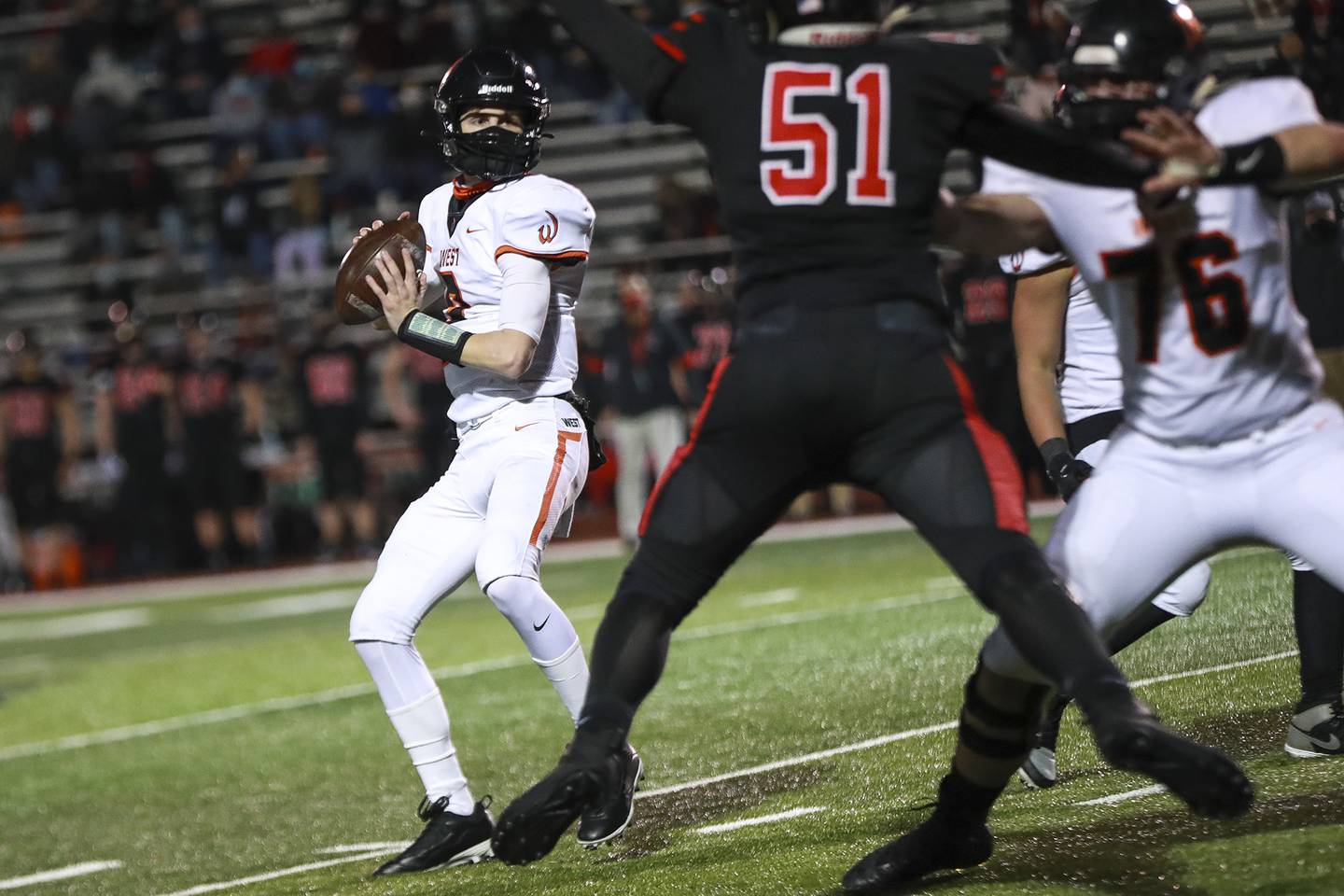 Stagg (0-2) at Lincoln-Way West (2-0)
When: 5 p.m. Friday
Last matchup: Lincoln-Way West 34, Stagg 7 (2019)
About the Chargers: It has been a rough go for Stagg, particularly on defense, where they have surrendered 90 total points in their first two contests. Stagg showed a little bit more offensive life in Week 2 in a loss to Andrew, but the Chargers will need dramatic step ups on both sides of the ball to be in this contest.
About the Warriors: Lincoln-Way West is off to a strong start to the spring season and has developed a defense that appears to be capable of being a difference maker. The Warriors could be particularly tough to deal with in this weekend's matchup. RB Justin Harris has developed into a real offensive threat for the Warriors, who seem capable of doing damage both in the run and pass games.
FND pick: Lincoln-Way West
Lockport (1-1) at Bolingbrook (1-1)
When: 1 p.m. Saturday
Last matchup: Bolingbrook 29, Lockport 14 (2019)
About the Porters: Lockport has been pretty productive on offense with QB Riley Pfeiffer showing his strengths as both a thrower and a runner in the first two weeks. But the defense was the shining star in a shutout against Sandburg in Week 2. Even in Week 1, the unit played pretty well other than being victimized by a few big plays.
About the Raiders: What a difference a week makes. Granted, the Raiders ran into a buzzsaw with Lincoln-Way East in Week 1, but a lot of things went well this past week as Bolingbrook racked up 500-plus yards in a win over Bradley-Bourbonnais and routinely forced the Boilermakers into three-and-outs. If the Raiders can get anywhere near the offensive productivity they did in Week 2, they will be in good shape against Lockport.
FND pick: Bolingbrook
Southwest Prairie Conference
Joliet Central (0-2) at Romeoville (1-1)
When: 7 p.m. Friday
Last matchup: Romeoville 28, Joliet Central 7 (2019)
About the Steelmen: Joliet Central's schedule certainly was not conducive to offensive success, as both West Aurora and Plainfield South boast fairly stout defenses. The Steelmen certainly hope they can find better footing against the Spartans. Joliet Central has posted only six points through two games.
About the Spartans: Progress from Week 1 to Week 2 was notable for the Spartans as they copped what could be classified as a mild upset by toppling Joliet West in overtime. Wins against teams other than Joliet Central and Plainfield Central have been hard to come by in this program for the past few years, so the Spartans clearly are trending in the upward direction.
FND pick: Romeoville
Plainfield East (1-1) at Joliet West (0-2)
When: 6 p.m. Friday
Last matchup: Plainfield East 23, Joliet West 19 (2019)
About the Bengals: The Bengals aren't having much trouble flexing their offensive muscles in the early going, having a highly productive day led by the four-touchdown performance from WR Jordan Knowles in a Week 2 win over Plainfield Central. But it's fairly certain that the team is hoping it can tighten up some things on defense so every game doesn't turn into a shootout.
About the Tigers: The Tigers still are trying to find their offensive identity, and it hasn't been a smooth sail so far. Joliet West is another team that safely would indicate that its defense is ahead of its offense right now, but bridging that gap will be key to the team turning things around over the remaining four games.
FND pick: Plainfield East
Plainfield North (1-1) at Minooka (2-0)
When: 7 p.m. Friday
Last matchup: Minooka 34, Plainfield North 0 (2019)
About the Tigers: Plainfield North put forth a quality effort against a good Oswego team in a narrow loss in Week 2. The Tigers weren't able to quite get the ground game they established in the opening week going, but they likely will try to go back to that well here in attempt to not only post points of their own but play keep-away with a Minooka offense that has shown a propensity to score quickly.
About the Indians: Minooka survived a fierce challenge from Oswego East in Week 2 to remain undefeated. Minooka would like to shore up some things on defense to take a little of the pressure off an offense that has been highly productive. Hunter Ryan has been a force running the football, while Trevor Hudak had a breakout game at wide receiver with two touchdowns and a kick return for a score against Oswego East.
FND pick: Minooka
Plainfield South (1-1) at Plainfield Central (0-2)
When: 6 p.m. Friday
Last matchup: Plainfield South 48, Plainfield Central 7 (2019)
About the Cougars: It's lunch bucket football for Plainfield South as it continues to use an attack that is based on effective running of the football and the play of a sturdy defense limiting opportunities for opponents. RB Keith Brunson continues to lead a bruising Cougars offense.
About the Wildcats: There's been improvement on both sides of the football for Plainfield Central thus far, but unfortunately for them, it has failed to net a victory. The Wildcats almost certainly will have trouble piling up as many points as they did last week against a tough Plainfield South defense, but there's little doubt that the Wildcats are making some progress.
FND pick: Plainfield South
CCL/ESCC
St. Ignatius (0-2) at Joliet Catholic (2-0)
When: 7:30 p.m. Thursday
Last matchup: Joliet Catholic 40, St. Ignatius 14 (2019)
About the Wolfpack: Defensively, St. Ignatius has been pretty good despite the 0-2 mark on the season. It surrendered only two touchdowns to a quality Benet squad, and in last week's loss to IC Catholic the Wolfpack still kept their foes under 20 (19-6 loss). The offense, however, has struggled to match up, and odds are the situation won't improve against a Joliet Catholic defense that has been stingy with yardage and points.
About the Hilltoppers: It has been an impressive start for Joliet Catholic. It has outscored its two opponents to date, 91-7. The only real goal the Hilltoppers can have is to simply stay the course. RB Jordan Anderson has been an offensive dynamo for JCA, while a stacked defense doesn't give opponents a whole lot of options.
FND pick: Joliet Catholic
Providence (1-1) at St. Rita (1-1)
When: 7:30 p.m. Thursday
Last matchup: St. Rita 22, Providence 0 (2019)
About the Celtics: It was a true grind-it-out effort for Providence in Week 2, as a solitary touchdown held up to help Providence coach Mark Coglianese to his 100th career victory at the school. Providence has been pretty strong on defense. The unit will be put to the test with the offensive weapons St. Rita can claim.
About the Mustangs: St. Rita has shown both sides of itself in the first two weeks of the season. In Week 1, the Mustangs showed how capably they can play defense, limiting a powerful Loyola team to seven points in a 7-3 loss. Last week, the Mustangs erupted for 51 points in a win over Montini. RB Kaleb Brown is the obvious weapon, but far from the only dangerous component St. Rita can deploy.
FND pick: St. Rita
South Suburban Conference
T.F. North (1-1) at Lemont (1-1)
When: 7 p.m. Friday
Last matchup: Lemont 57, T.F. North 22 (2019)
About the Meteors: T.F. North has split a pair of games this season, both competitive contests. But keeping that trend going will require a step up from the Meteors, particularly on offense, as T.F. North has yet to score more than 20 points in either of their games.
About the Indians: Lemont traded punch for punch with Hillcrest before succumbing in the end during Week 2, and although Hillcrest did manage to post some points in that victory, Lemont still will be anchored around the strong play of a talented defense. Odds are it will return to form this week against an opponent with a little less firepower than Hillcrest possesses.
FND pick: Lemont
Illinois Central Eight Conference
Lisle (1-1) at Coal City (2-0)
When: 6 p.m. Thursday
Last matchup: Coal City 36, Lisle 7 (2019)
About the Lions: Lisle's offense has been up and down this season. It fared well in the win over Reed-Custer but was nonexistent for most of the Week 1 matchup with Wilmington until making a late rush.
About the Coalers: Coal City has played like an absolute powerhouse out of the box on both sides of the football. Coal City hasn't allowed a point yet and isn't even allowing teams to move much, either. Offensively, the Coalers are leaning on Asa Cooper to make a fair amount of the team's big plays, but they are far from a one-man show.
FND pick: Coal City
Manteno (0-2) at Peotone (2-0)
When: 6 p.m. Thursday
Last matchup: Manteno 14, Peotone 7 (2019)
About the Panthers: Manteno typically has a pretty strong passing attack but has had some trouble taking flight in the early going. The Panthers ran into a brick wall of a defense against Coal City in Week 2 but are hoping to turn it on against a longtime rival they once were cooperative football partners with.
About the Blue Devils: Peotone looked sharp in a Week 2 victory over Streator. The Blue Devils' typically strong running game was productive, and they also managed to sprinkle in some success through the air. In the shortened season, rivalry games like this likely take on a little extra significance.
FND pick: Peotone
Wilmington (2-0) at Reed-Custer (1-1)
When: 6 p.m. Friday
Last matchup: Wilmington 47, Reed-Custer 0 (2019)
About the Wildcats: Wilmington's running game was exemplary as it usually is stacking up just short of 300 rushing yards in a Week 2 win over Herscher. But the shining stars of the effort came on the defensive side of the ball as the Wildcats held Herscher to negative rushing yardage on the night. After Herscher scored to start the game, it almost completely was neutralized the rest of the way.
About the Comets: After a strong showing in the first week of the season, things took a step backward for the Comets in Week 2 against Lisle, as Reed-Custer was shut out in the loss. This game likely will be a challenge for Reed-Custer as it has had significant trouble in this matchup for more than a decade.
FND pick: Wilmington
Interstate 8 Conference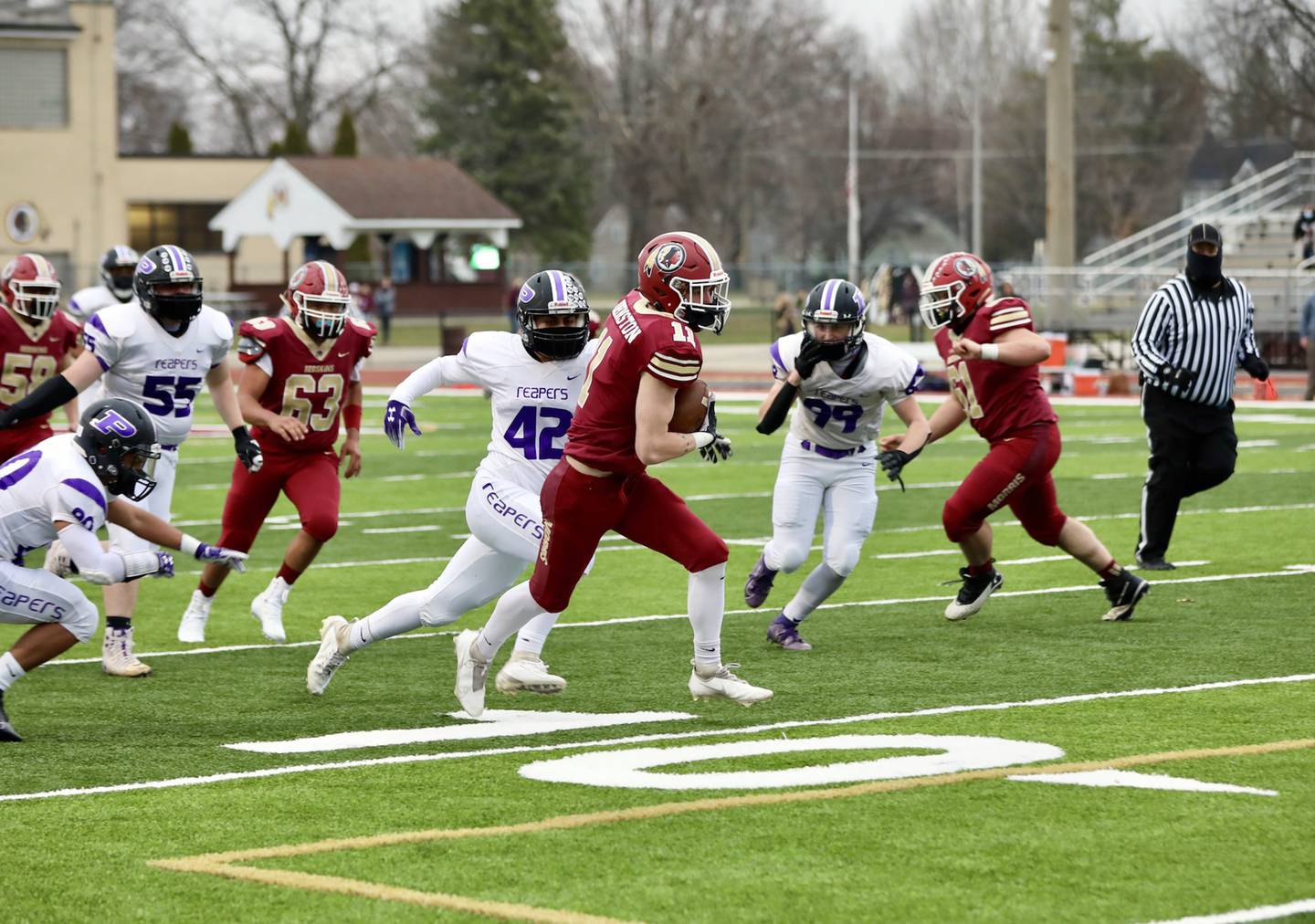 Morris (2-0) at Ottawa (0-2)
When: 1 p.m. Saturday
Last matchup: Morris 62, Ottawa 12 (2019)
About the Redskins: Morris has been spreading the wealth offensively with great results, as it has broken out of the gates with a pair of relatively easy victories. Zach Romak threw three touchdown passes in the 35-12 win over Plano in Week 2 and has been liberally using a multitude of capable receivers to keep the chains moving.
About the Pirates: Ottawa has been better on defense to start the spring season but still needs to make some strides on offense in order to compete with the better teams in the Interstate 8. The Pirates have managed only one touchdown in each of their games.
FND pick: Morris
Sangamon Valley Conference
Watseka (2-0) at Seneca (0-1)
When: 7 p.m. Friday
Last matchup: Seneca 20, Watseka 0 (2019)
About the Warriors: Watseka has developed into a pretty strong program in the Sangamon Valley Conference with four consecutive playoff appearances to their credit. They appear to have the components in place that would have allowed them to make a run for a fifth if that were possible. Watseka looks particularly strong on defense, allowing only six points in its first two games.
About the Fighting Irish: Seneca missed its week 1 matchup with Paxton because of COVID protocols, but it appeared in last week's season opener for the Fighting Irish the offense needed no time to shake off the rust. Seneca posted 30 first-half points and piled up nearly 500 yards of total offense. Unfortunately for Seneca, its defense could not fence in Central's more powerful offense in a shootout loss.
FND pick: Watseka
Clifton Central (2-0) at Dwight (2-0)
When: Saturday, 2 p.m.
Last matchup: Clifton Central 50, Dwight 24 (2019)
About the Comets: Central has been dynamite offensively, including a huge output in a win over Seneca in Week 2. QB Jay Lemenager has been a dynamo and is piling up huge yardage totals. Central's defense hasn't been as stout as the offense, but it is hard to imagine a scenario where Central isn't a substantial favorite in this one.
About the Trojans: Dwight is off to a 2-0 start and should be commended for that, but one does have to keep in mind that a step up in play is going to be a must if they even want a chance at running that mark to 3-0. The Trojans' first two foes this season combined to win just two games in 2019. This will be a dramatic step up in competition.
FND pick: Clifton Central