RIVER GROVE – Al Michaels and Chris Collinsworth were not in the booth, but in the back of your mind you could hear Carrie Underwood singing 'Waiting all day for Sunday night' in what was a rare Sunday night high school football game. Joliet Catholic Academy traveled to Triton Community College to play Fenwick in a CCL/ESCC White division conference game.
The Hillmen (2-0) scored on the first play from scrimmage as quarterback Aidan Voss hit Ja'Arie Mack on a 71 yard TD pass and run and the route was on as JCA prevailed, 42-7.
Voss would end the game completing 7-of-11 passes for 210 yards on the night.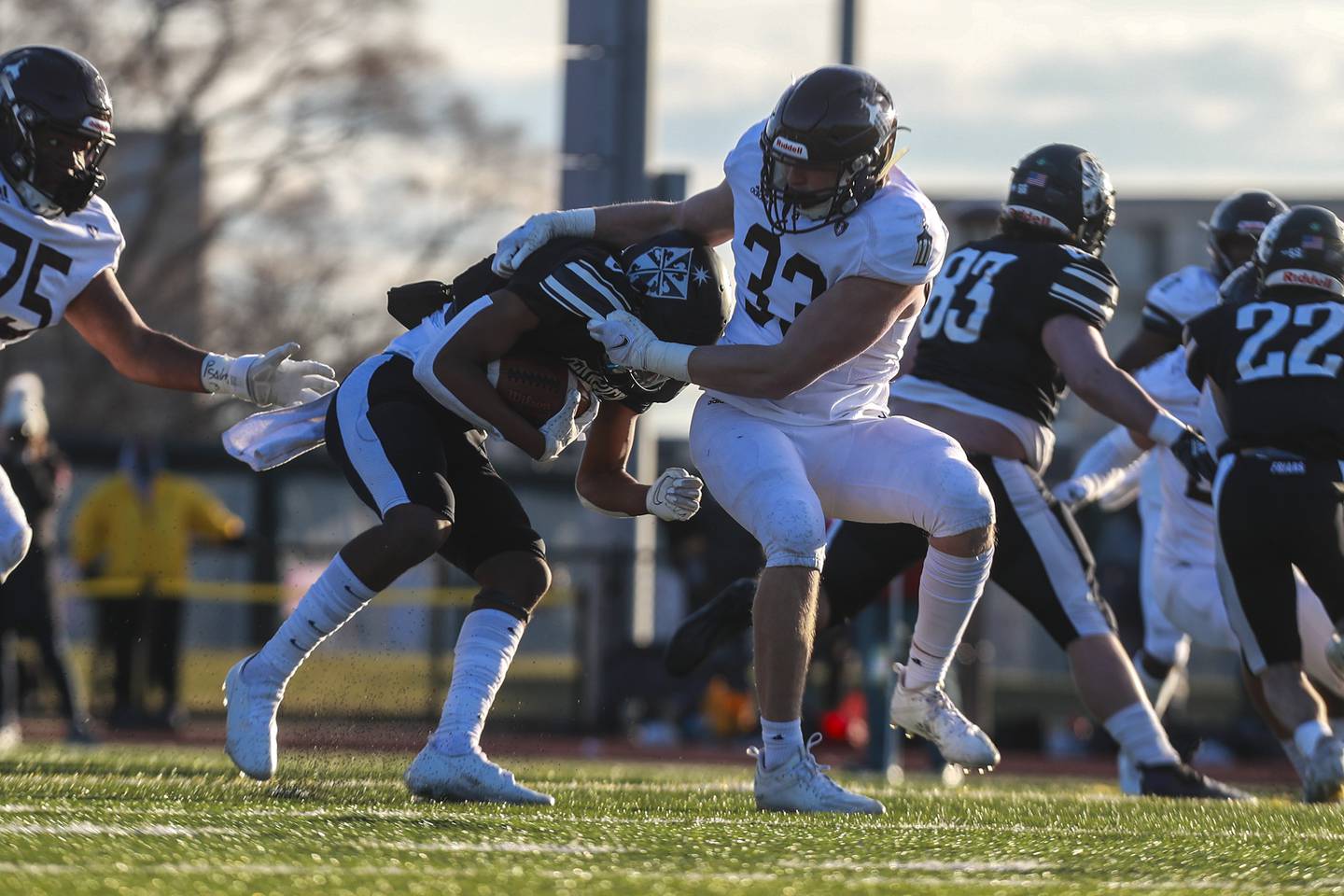 "We practiced that play all week because we thought that maybe [that's] the defense Fenwick would be in and it worked out great," Voss said. "We just want to come out here and have a good time, especially for our seniors. This is their last opportunity, and we want to make this a memorable last season for them.
"Playing on a Sunday still had the same atmosphere as a Friday night, but it seemed like when you play when your in youth sports and play on a Sunday."
On JCA's next possession, after a punt by Fenwick, a 76 yard drive culminated with a 10 yard touchdown run by Jordan Anderson. That touchdown run would be the first of five touchdowns for Anderson as he had four on the ground and one through the air. He would end the night with 161 yards rushing on 17 carries. His other touchdowns runs were 27, 1 and 3 yards, as his final touchdown with 7:55 remaining in the third quarter made it a 42-0 game and started the running clock.
"We prepared well all week for this game, and I know some of the players on Fenwick, and this was for some bragging rights," Anderson said. "We are working hard in practice all the time just to get better, and that will be big for next year because we are still young. People tend to overlook our defense, and they are so good."
JCA had a potent offensive attack that had gone for more than 200 yards rushing in the first half. The starting defense hasn't allowed a point and had interceptions by Patrick Duffy and Anthony Kasper on Sunday. The Fenwick (0-1) touchdown came late in the fourth quarter after both teams had many non-starters in the game.
"We are 2-0 right now, and that is exactly where we wanted to be," JCA coach Jake Jaworski said. "This week was weird because of the extended week, and then we have a short week this week playing on Thursday.
"Since this was Fenwick's first game we didn't have any film, so with that first play we assumed what they would play and then saw a little in the pregame and it worked well. We just want to continue to get better and every week we see things and the room for improvement. We have high standards for this program and whether it's just six games or the regular format for a season, we want to put the best product on the field."