AURORA– Deajeion Lewis wasn't expecting to touch the ball nearly as much as he did in helping Yorkville to a 35-21 victory over West Aurora on Friday night.
But the junior running back looked pretty comfortable in leading the Foxes' ground game after starter Dougie Burson suffered a horrific leg injury late in the first quarter and didn't return.
Lewis finished with 32 carries for 171 yards for the Foxes (2-0, 1-0 Southwest Prairie West), who built a 28-0 halftime lead and held off a late charge from the Blackhawks (1-1, 0-1).
"I knew I was next up," Lewis said of seeing his teammate go down. "I just said a prayer for Dougie – I'm still praying for him. I hope he gets better soon."
Burson, who ran for nearly 200 yards in Yorkville's Week 1 win at Plainfield Central, went down with just over two minutes left in the first quarter and the Foxes leading 14-0. He'd run for 66 yards and one touchdown before the injury, which came after a nine-yard gain near midfield.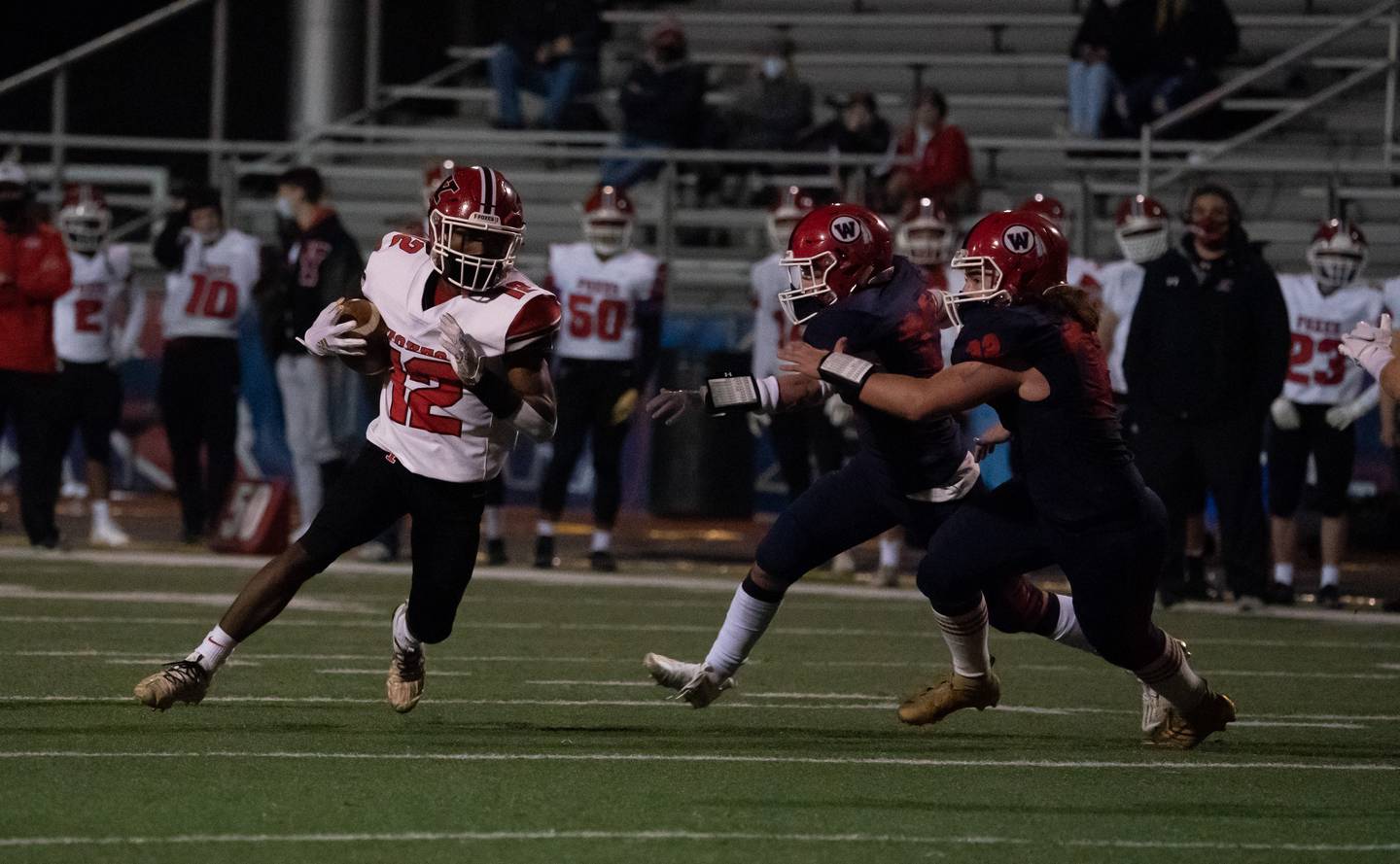 After a lengthy delay that included Burson being taken off the field on a stretcher, the Foxes regrouped and churned out a 14-play drive, capped by a Luke Davies five-yard pass to John Swarn, extending their lead to21-0. Although Burson was gone, he remained an inspiring presence to his teammates for the rest of the night.
"You hate to see that, especially with a guy like Dougie," Davies said of the injury. "He had a great performance last week and he's such a hard worker. We all love him. But we were able to play for him, play hard and finish up strong like he would have wanted."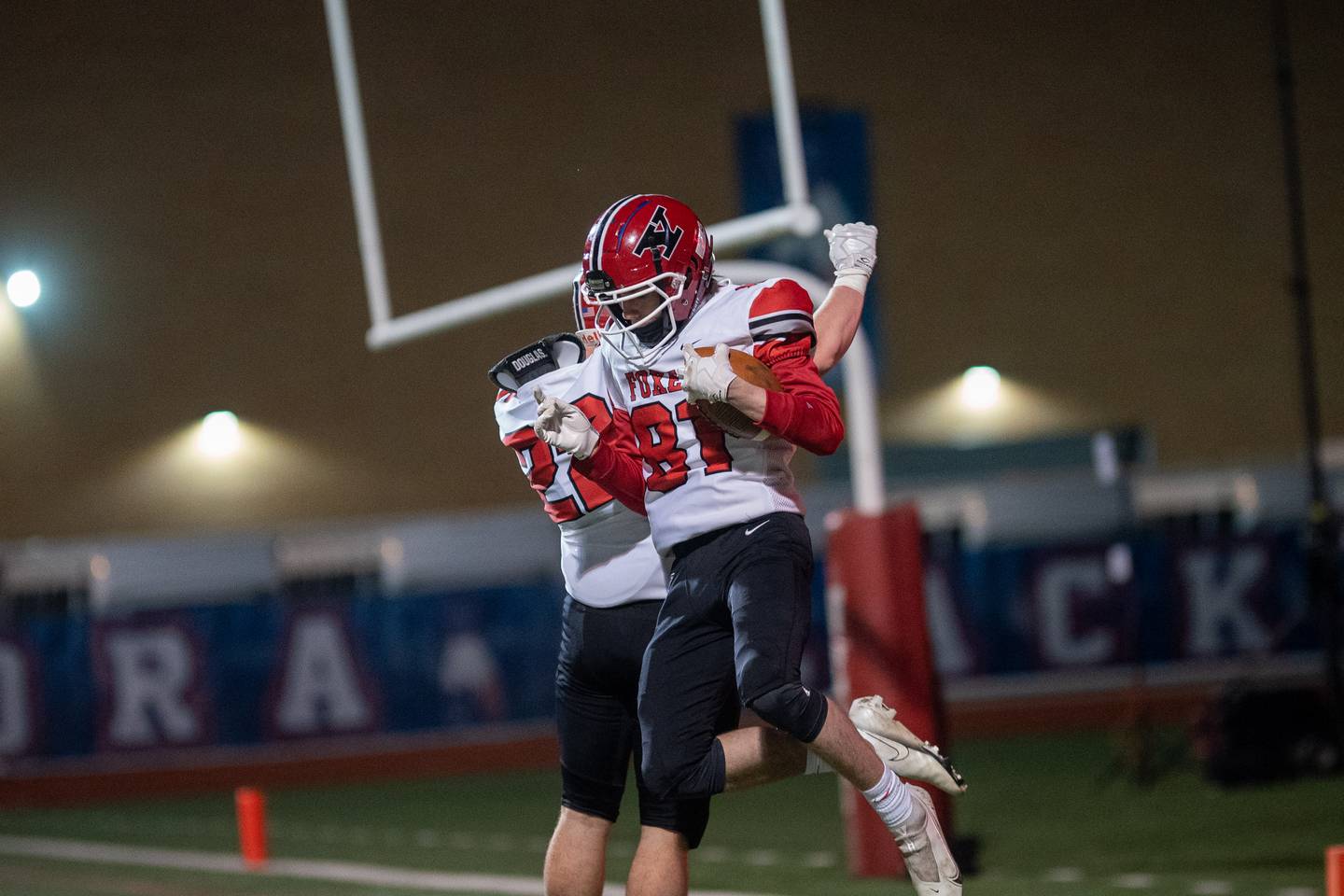 Davies finished with 139 yards passing and three touchdowns, which all came in the first half. His 35-yard completion to Kory Flowers started the scoring only two minutes into the game. Davies ended the half with a 22-yard scoring strike to Lucas Fisher. That capped an 11-play drive that featured eight carries by Lewis.
Mistakes hurt West Aurora in the first half. The Blackhawks were called for nine penalties in the first two quarters and committed two turnovers in falling into a deep hole. But they responded with three Gino Martino to Matthew Brown second-half touchdowns to keep the score respectable.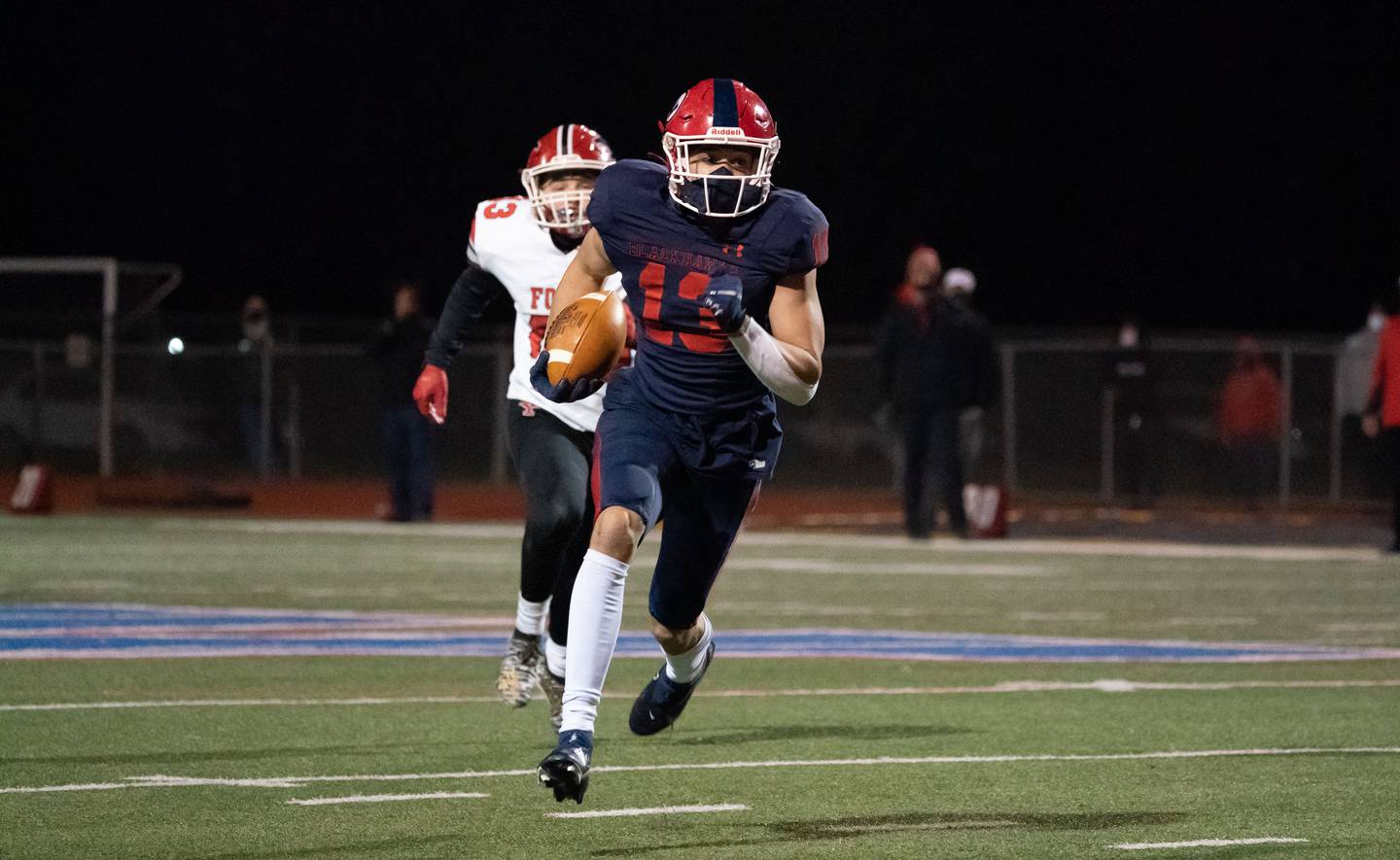 Brown caught a 58-yarder to put the Blackhawks on the board midway through the third quarter. On their next drive, Martino again found Brown for a 56-yard bomb that cut Yorkville's lead to 35-14 early in the final quarter.
Martino and Brown saved their best play for last – a 73-yarder on fourth down to complete the scoring.
But the night really belonged to the Foxes and their fallen teammate.
"You feel bad for a kid like Dougie with all he's been through," Yorkville coach Dan McGuire said. "He had a great game last week and started off with a great game (Friday). He does everything right. You just wish as a coach you could do something different to help him out."