SouthWest Suburban Conference
Lincoln-Way East (1-0) at Homewood-Flossmoor (1-0)
When: 6 p.m. Friday
Last matchup: Lincoln-Way East 26, Homewood-Flossmoor 7 (2019)
About the Griffins: The Griffins looked pretty sharp in Week 1, immediately getting the ground game going in a big way from the outset. That powerful phase of the offense, led by Bowling Green-bound Jamal Johnson, actually might be enough to carry them through the season, but the aerial attack also produced two scores in the win over Bolingbrook. The defense appeared to have some voids to fill behind safety Matt Kordas, but many of those questions were answered with authority by the newcomers.
About the Vikings: It was a workman-like effort from the Vikings as they slowly and consistently pulled away from Lockport in a Week 1 win. There's obvious offensive firepower available for H-F, so it should provide a challenge for a Lincoln-Way East defense that looked spectacular in the opener. This will be the last meeting between Lincoln-Way East and a Homewood-Flossmoor led team coached by Craig Buzea, who is leaving H-F to take a job in Indiana after the school year.
Friday Night Drive Pick: Lincoln-Way East
Lincoln-Way West (1-0) at Lincoln-Way Central (1-0)
When: 6 p.m. Friday
Last matchup: Lincoln-Way West 10, Lincoln-Way Central 6 (2019)
About the Warriors: Offensive balance was the name of the game for the Warriors in a Week 1 win over Andrew as they passed for 167 yards and ran for 166 yards. West is hoping it can keep that trend going this season, but if not it looks like it's developing a big-play threat in Eric Nowak, who racked up about 100 yards receiving on only two catches.
About the Knights: Just as Lincoln-Way West relied on offensive balance in their opening win, the Knights were very similar in that regard. They piled up about 200 yards rushing in the win over Bradley-Bourbonnais, as Ethan Rossow led the ground game. QB Turner Doran also had a solid night. Regardless of the setup, this game has notoriously been a low-scoring, tight battle between two district rivals.
Friday Night Drive Pick: Lincoln-Way West
Sandburg (1-0) at Lockport (0-1)
When: 7 p.m. Friday
Last matchup: Lockport 28, Sandburg 21 (2019)
About the Eagles: Sandburg erupted in Week 1 in an easy victory over Stagg. Kevin Zimmer played a big role as the Northwestern-bound wrestler threw for two TDs and ran for another. Zimmer likely will have to keep that level of production in order to topple Lockport, which drew a tough defensive assignment against Homewood-Flossmoor last week.
About the Porters: The Porters had a tough time keeping up with the high-powered attack of Homewood-Flossmoor, but have a better opportunity to get into their groove here. The Porters already have suffered a rather substantial blow to their offense as junior running back Ty Schultz won't play in the spring because of an injury. Lockport still looks to have the pieces in place to be dangerous through the air. That seems likely to start here.
Friday Night Drive Pick: Lockport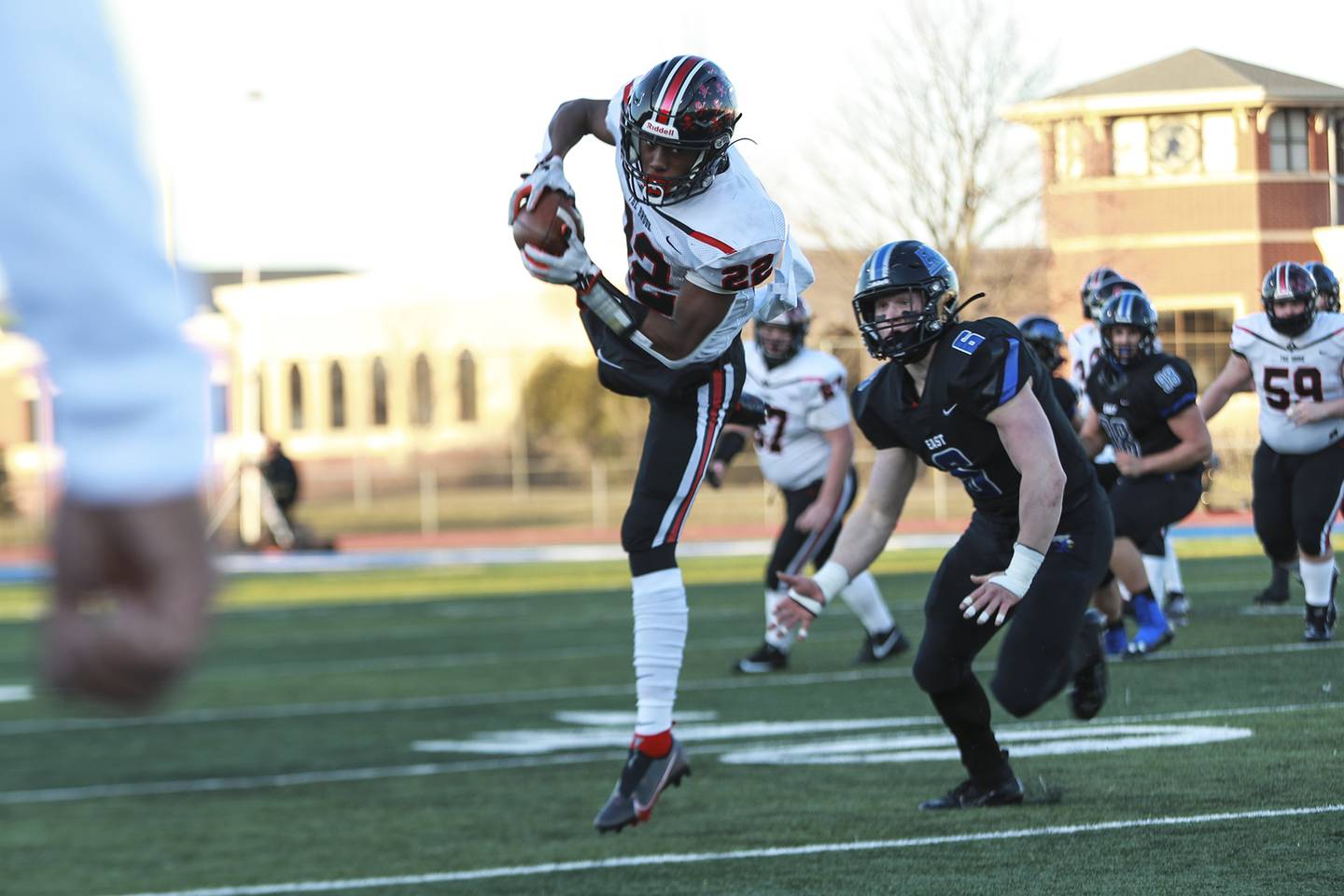 Bradley-Bourbonnais (0-1) at Bolingbrook (0-1)
When: 1 p.m. Saturday
Last matchup: Bolingbrook 35, Bradley-Bourbonnais 3 (2019)
About the Boilermakers: The Boilermakers got into a shootout with Lincoln-Way Central and ultimately couldn't keep up in Week 1, but there were some encouraging signs. Bradley-Bourbonnais clearly showed an aptitude for effectively running the football as the Boilermakers piled up about 300 rushing yards, including a 170-yards rushing from Ethan McCarty. If the Boilermakers can fill some gaps on defense they could be a difficult grind-it-out type of team to deal with.
About the Raiders: The Raiders had a tough go in the season opener against Lincoln-Way East, but there still were glimmers of what could be. The Raiders were inside the red zone with an opportunity to tie the game late in the second quarter, but a costly turnover squelched that. Things went downhill from there. The Raiders also are in the process of a bit of an offensive overhaul, going pass heavy. QB Vincenzo Meschi had a rough game against a savvy LWE defense, but clearly possesses the arm strength to make things happen.
Friday Night Drive Pick: Bolingbrook
Southwest Prairie Conference
Joliet Central (0-1) at Plainfield South (0-1)
When: 7 p.m. Friday
Last matchup: Plainfield South 48, Joliet Central 0 (2019)
About the Steelmen: Crossover games in the Southwest Prairie have not been very kind to the Steelmen recently. A Week 1 loss to West Aurora did not buck that trend. Joliet Central struggled in all facets, but if history tells us anything the options for the Steelmen seem to improve somewhat once they are back in divisional play. Regardless, this isn't the greatest divisional matchup, as the Cougars have really gotten the best of the Steelmen in recent seasons.
About the Cougars: It was a rough opener for Plainfield South as it ran into a very good Oswego defense that was tough all game. Now, in division play, things likely will become a bit easier. Keith Bronson and Brian Stanton give Plainfield South a solid one-two punch as offensive specialists and they should find a little more room to move this week.
Friday Night Drive Pick: Plainfield South
Plainfield Central (0-1) at Plainfield East (0-1)
When: 7 p.m. Friday
Last matchup: Plainfield East 36, Plainfield Central 10 (2019)
About the Wildcats: Although Plainfield Central did not get the result it wanted in its Week 1 loss to Yorkville, there were plenty of encouraging signs. The Wildcats were in the game until the end. After a 2019 season where they struggled to stay competitive in the majority of games, competing well in a crossover game is a great sign. RB Aaron Larkins was a workhorse, a trend they hope can continue.
About the Bengals: There was a lot of offense for Plainfield East in Week 1, but unfortunately for the Bengals Minooka put up more points. QB Brett Winiecki had a solid night for Plainfield East, completing 80% of his passes, and he also was productive running the football. The more pressing concern is shoring up a defense that has a lot of new faces in new places. It had a rough time against a solid Minooka team.
Friday Night Drive Pick: Plainfield East
Oswego (1-0) at Plainfield North (1-0)
When: 7 p.m. Friday
Last matchup: Oswego 14, Plainfield North 13 (2019)
About the Panthers: The Panthers long have hung their hat on exceptional defensive play. It looks like that's still the case after they recorded a shutout, probably not the last, in a Week 1 victory over Plainfield South. On offense, it appears QB Cole Pradel and WR Nik Hampton have developed a rapport.
About the Tigers: Plainfield North appears to be taking a different approach to moving the football this season. After going heavily to an aerial attack last season, a ground-and-pound attack led by Jared Gumila was the key in a win over Romeoville. Plainfield North's defensive effort mirrored that of Oswego with a shutout. Odds are that both teams likely will have a much harder time scoring this week than they did in Week 1.
Friday Night Drive Pick: Oswego
Oswego East (1-0) at Minooka (1-0)
When: 7 p.m. Friday
Last matchup: Minooka 24, Oswego East 7 (2019)
About the Wolves: Oswego East looked sharp in its win over Joliet West, anchored by a solid defense and the pass/run capabilities of QB Michael Ford on offense. It's probably a blueprint that will continue to work throughout the season. The defense will be challenged a bit more in the Week 2 matchup against Minooka.
About the Indians: Minooka erupted for 58 points in its victory over Plainfield East and mostly did it with new players at the skill positions. QB Josh Davis did get a little experience last year as a back-up, and Hunter Ryan meshed seamlessly into his new role as the lead running back. He scored three times and accounted for about 200 yards of total offense.
Friday Night Drive Pick: Minooka
Romeoville (0-1) at Joliet West (0-1)
When: 6 p.m. Friday
Last matchup: Joliet West 28, Romeoville 0 (2019)
About the Spartans: Romeoville is rebuilding and that takes time. It was a difficult start in a crossover against Plainfield North, but every team in the Southwest Prairie East lost in Week 1 and most of the teams in that division have trouble in crossover games. For Romeoville the opportunity to make some strides starts here.
About the Tigers: In a way, Joliet West is another team that is rebuilding. The Tigers lost some experience in the trenches and have to figure out how to make the new blend of players work. Offensively, this was a program that expected to have Indiana-bound Trent Howland in the backfield but injury has kept him from being a factor this spring season. The Tigers likely will find more success this week.
Friday Night Drive Pick: Joliet West
CCL/ESCC
Joliet Catholic (1-0) vs. Fenwick (0-0) at Triton College
When: 6 p.m. Sunday
Last matchup: Joliet Catholic 49, Fenwick 14 (2019)
About the Hilltoppers: Joliet Catholic stepped on the gas pedal and didn't let off in its opener against St. Laurence. A powerful attack was on display with RB Jordan Anderson leading the way with 100-plus yards and three touchdowns coupled with a defensive unit that didn't relent all night. Fenwick should provide more of a test.
About the Friars: Fenwick is entering this game as a bit of an unknown, as it didn't play its Week 1 game against Nazareth because of COVID-19 concerns. It stands to reason that Fenwick might be a little shaky from opening-night jitters, but one thing is for certain, the Friars have one of the state's best quarterbacks in underclassmen Kaden Cobb.
Friday Night Drive Pick: Joliet Catholic
Providence (0-1) at Niles Notre Dame (0-1)
When: 6 p.m. Friday
Last matchup: Niles Notre Dame 28, Providence 7 (2019)
About the Celtics: Providence was playing catch up most of Week 1 against Brother Rice. And with an opponent as good as Brother Rice, that's never a great place to be. Even so, Providence was within striking distance, trailing by only a touchdown at halftime before slowly seeing its chances for a win slip away in the second half. That ability to hang in there is a good sign for Providence, who plays a brutal schedule.
About the Dons: Like Providence, Notre Dame had a difficult Week 1 opponent in Marist, and like Providence it had a tough time trading punch for punch with the Redhawks. Week 2 provides a chance to make progress on both sides of the football for a program that has established an identity of playing tough defense.
Friday Night Drive Pick: Providence
South Suburban Conference
Lemont (1-0) at Hillcrest (1-0)
When: 7 p.m. Friday
Last matchup: Hillcrest 32, Lemont 26 (2019)
About the Indians: Good things were expected from Lemont this spring, but the Indians announced their presence with authority in an easy win over Shepard. The Indians were expected to have a good defense led by Al Pontrelli, but the offensive eruption against Shepard proves that this team could be a force on both sides of the ball.
About the Hawks: The Hillcrest-Lemont matchup now has become the premier matchup in the South Suburban. Hillcrest got the better of Lemont last season and still has some dangerous components, most notably standout RB Mar'kiese "Bucky" Irving.
Friday Night Drive Pick: Hillcrest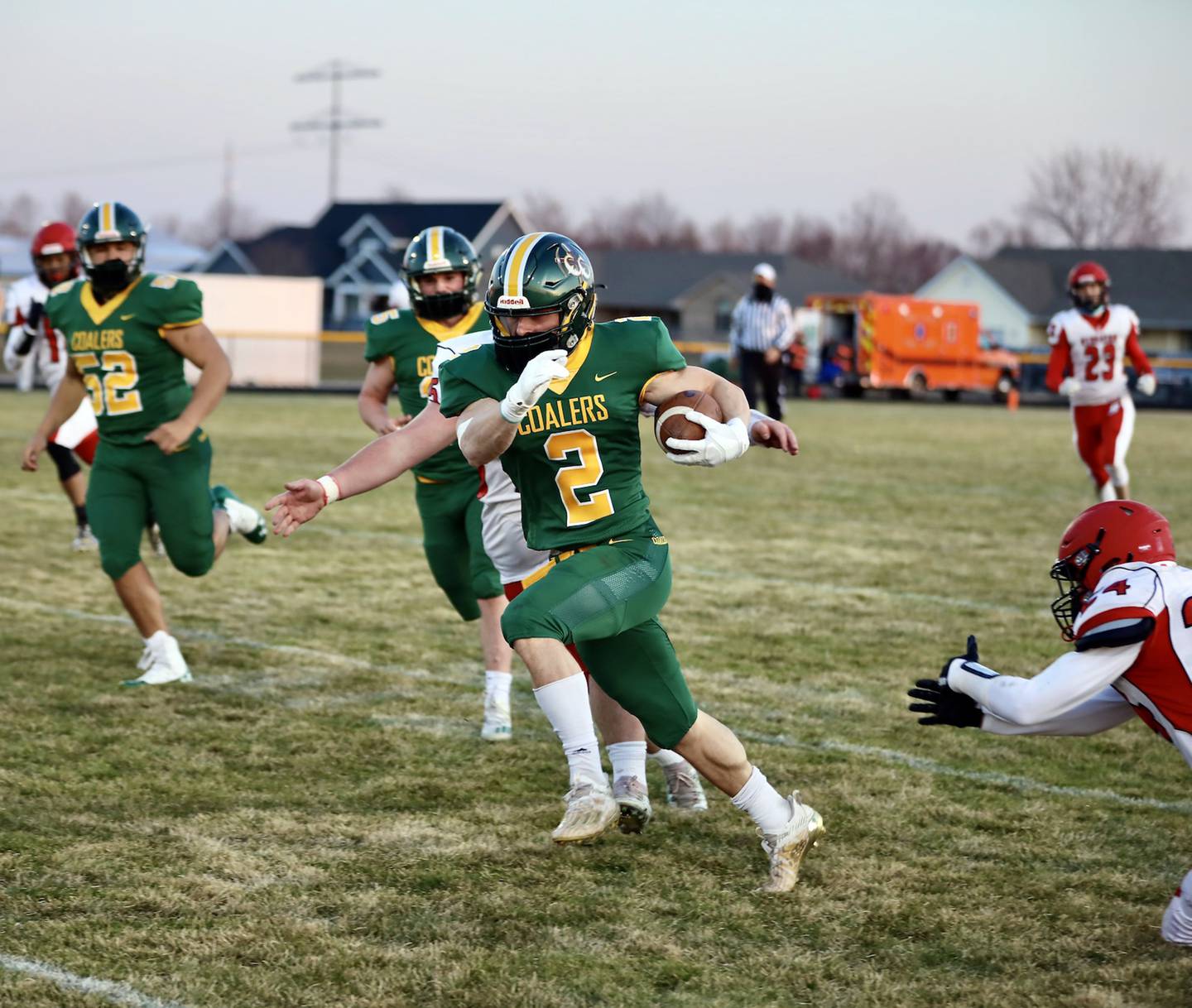 Illinois Central Eight Conference
Coal City (1-0) at Manteno (0-1)
When: 6 p.m. Friday
Last matchup: Coal City 41, Manteno 7 (2019)
About the Coalers: Coal City picked up exactly where it left off with a dominant performance against Streator. Asa Cooper demonstrated his ability to be an all-purpose offensive dynamo for Coal City, scoring in about every way possible in Week 1. The defense also deserves credit after turning away Streator at every chance.
About the Panthers: Manteno has had a fairly prominent aerial attack in recent seasons, but even with Caleb Borkenhagen returning after throwing for more than 2,000 yards as a junior, the Panthers offense was grounded in a loss to Reed-Custer. Manteno likely is trying to adjust to the loss of top wide receiver Luke Trepanier, who opted out of the season to focus on baseball, and offensive lineman Josh Gesky, who graduated a semester early to begin his college football career at the University of Illinois.
Friday Night Drive Pick: Coal City
Reed-Custer (1-0) at Lisle (0-1)
When: 7 p.m. Thursday
Last matchup: Lisle 49, Reed-Custer 6 (2019)
About the Comets: The Comets already are off to a rousing start with a dominant victory over Manteno. Despite playing them annually, Reed-Custer hadn't beat the Panthers since 2009. Elliot Cassem led the attack with a pair of touchdowns as the Comets had a dominant running attack. They also returned an interception for a score against Manteno.
About the Lions: Not a lot went right for the Lions in the season opener. Lisle actually trailed 35-0 through three quarters only making the score respectable by rallying for three touchdowns in the final 10 minutes. In order for Lisle to get back on track it likely will turn to the ground game. The Lions completed only two passes against Wilmington.
Friday Night Drive Pick: Lisle
Peotone (1-0) at Streator (0-1)
When: 6 p.m. Friday
Last matchup: Peotone 33, Streator 14 (2019)
About the Blue Devils: Peotone typically is a hard-nosed team, and that doesn't appear to be changing. The Blue Devils are ground-oriented and have a bruiser to lead the attack in Ben Balmer. The key for Balmer is to stay healthy. Peotone was a solid team in 2019 with him on the field, but the Blue Devils scuffled without him.
About the Bulldogs: It was a rough go for the Bulldogs in their first game under new head coach Kyle Tutt. In fairness, not a lot of programs, with a new coach or not, have had much luck against Coal City over the past few years. It isn't going to be much easier against a Peotone defense that has proven very tough, but Streator just needs to survive what is sure to be its toughest part of schedule.
Friday Night Drive Pick: Peotone
Wilmington (1-0) at Herscher (0-1)
When: 6 p.m. Friday
Last matchup: Wilmington 49, Herscher 7 (2019)
About the Wildcats: The Wildcats were precise like they always are but probably still are working out some things in their vaunted double wing rushing attack. Nine different ball carriers rushed for positive yardage in Wilmington's Week 1 win over Lisle. The defense was exemplary as well, shutting out Lisle for three quarters with little yardage before a fourth quarter push tightened the score.
About the Tigers: Herscher was in the thick of things in their Week 1 loss to Peotone, but still is having to convert a fair amount of players to varsity competition. The Tigers only have seven seniors on their roster. The core is in the senior class with QB Blake Holm, WR Camden Berns and FB-LB Austin Joyce, but they'll need some younger players to step up.
Friday Night Drive Pick: Wilmington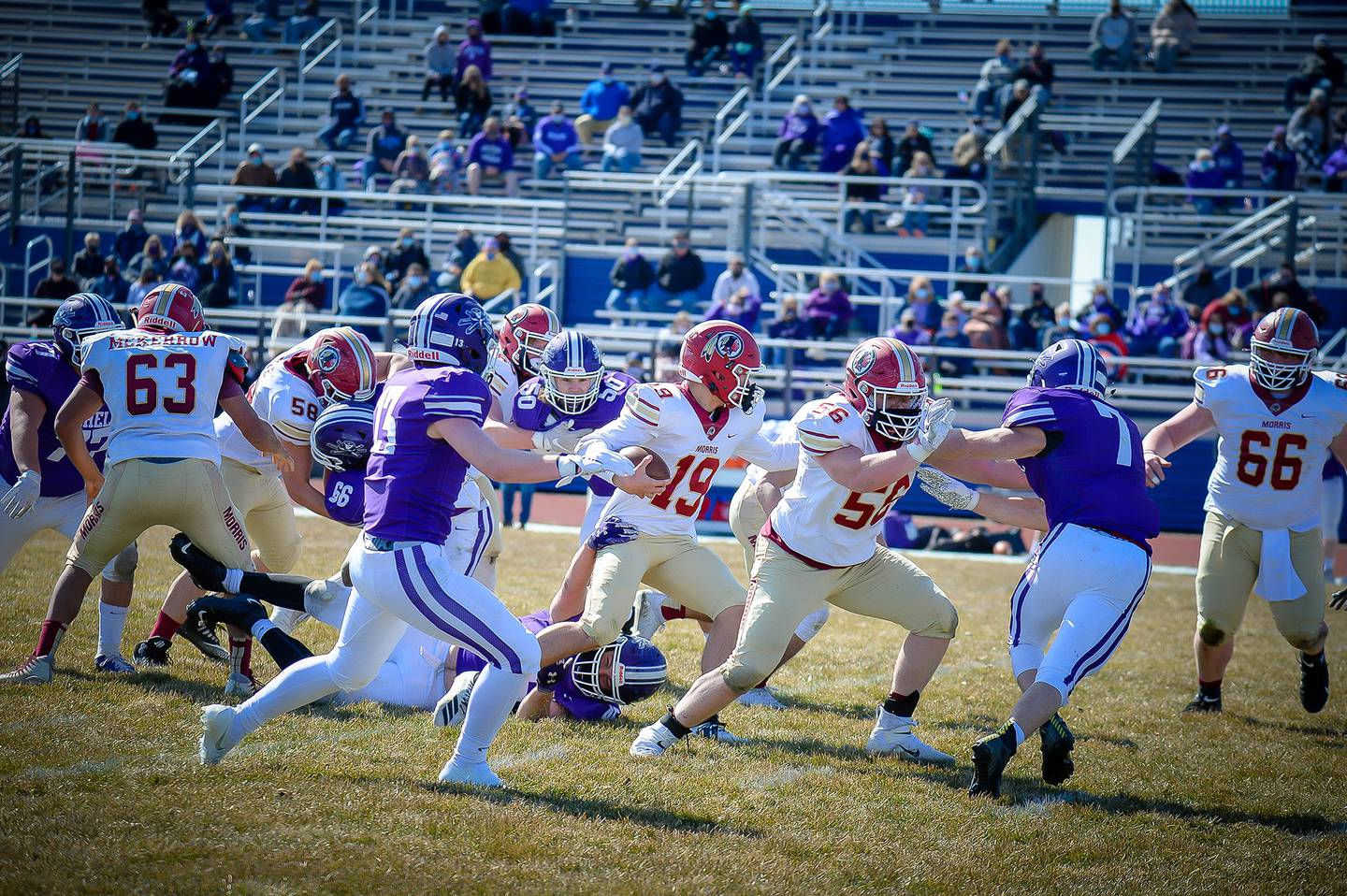 Interstate 8 Conference
Plano (1-0) at Morris (1-0)
When: 6 p.m. Friday
Last matchup: Morris 43, Plano 0 (2019)
About the Reapers: Plano brought plenty of defense in its Week 1 win over Ottawa, holding the Pirates to negative yards rushing. That defense should have more of a challenge from Morris. The offensive is more of a work in progress. Plano used three different quarterbacks in Week 1, with each of the three bringing something to the table.
About the Redskins: Morris showed some flashes of how good it could be, especially on defense where a number of players kept Rochelle at arm's length during the Week 1 win. Offensively, John Landers set the tone, scoring both rushing and receiving TDs.
Friday Night Drive Pick: Morris
Sangamon Valley Conference
Iroquois West (0-1) at Dwight (1-0)
When: 7 p.m. Friday
Last matchup: Dwight 45, Iroquois West 13 (2019)
About the Raiders: Iroquois West has struggled for several years as one of the smaller enrollment schools in this conference. Iroquois West was paired with the clear conference favorite in Clifton Central and was handily defeated. However, the Raiders do have to deal with junior offensive lineman Clayton Leonard, who just picked up an offer from the University of Illinois.
About the Trojans: The Trojans cruised to a Week 1 win over Walther Lutheran, who was essentially added to the conference to help the scheduling imbalance created by the league having an odd numbers of teams. The opportunity appears to be there for the Trojans to move to 2-0, but its hard to tell how much can be taken from Dwight's win over Walther Christian, as the program has scuffled for multiple seasons.
Friday Night Drive Pick: Dwight
Seneca (0-0) at Clifton Central (1-0)
When: 7 p.m. Friday
Last matchup: Clifton Central 28, Seneca 15 (2019)
About the Fighting Irish: After canceling the first game of the season with Paxton-Buckley-Loda because of COVID-19 concerns, this isn't exactly the ideal matchup. Seneca's offense likely will be predicated on the running attack. For its own sake, it might want to limit the number of opportunities Clifton Central has with the football.
About the Comets: Had their been a postseason, the Comets felt as if this senior class could make some noise. An explosive offense is anchored by senior QB Jay Lemenager, and the defense is chock full of experienced playmakers that will likely make the Comets difficult to score on.
Friday Night Drive Pick: Clifton Central