Kenenna Odeluga had heard this story before.
The Mount Carmel senior running back and linebacker had been going through the recruiting process since he was a sophomore. He was already committed to Division I FCS Penn when Illinois called the Caravan coaches last month. Odeluga was hesitant to put too much stock in it. Power Five conference schools had seemingly been interested in the past.
"I didn't want to get my hopes up," Odeluga said. "I've been through that rigamarole of coaches saying they're interested and then nothing comes out of it."
Not until he jumped on a call with Illinois outside linebackers coach Kevin Kane did it start to feel serious. Then first-year Illini head coach Bret Bielema wanted to schedule an hour Zoom call. Suddenly it was all very real.
Bielema spoke with Odeluga and his parents for the better part of an hour. He devoted one-on-one time to them and showed Odeluga the team facilities.
"The one thing I like about him is he's very sincere," Odeluga said. "His energy is not fake. It's not like he's trying to put on a show."
Illinois offered Odeluga a full scholarship and he committed to the Illini on March 13. It's rare for a senior to land at a Power Five school so late in the recruiting process.
A two-way player for Mount Carmel – and one of the top running backs in the CCL/ESCC – Odeluga will play linebacker in college. Thanks to the pandemic, Odeluga hasn't had a chance to visit the Urbana-Champaign campus.
"This was definitely out of my radar," Odeluga said. "At that point, I was really just tired of the recruiting process. I really just wanted to focus on a school."
That school is now Illinois. After assembling his staff, Bielema made it a point to have a coach on his staff call every high school football program in Illinois. Those efforts appear to have landed at least one diamond in the rough in Odeluga.
Big game looming: Speaking of Mount Carmel, it has a huge game against Loyola this week. The two powerhouse programs are coming off narrow wins in Week 1. Loyola topped St. Rita, 7-3, while Mount Carmel edged Montini, 31-21.
Mount Carmel will travel to Loyola for a 1:30 p.m. kickoff on Saturday. The game will have big implications on the CCL/ESCC Blue division standings.
Loyola ranks No. 2 in Class 8A in the latest Friday Night Drive coaches poll, while Mount Carmel ranks No. 2 in Class 7A. Friday Night Drive's Steve Soucie ranks Mount Carmel No. 3 in the state in his latest power rankings, with Loyola coming in at No. 4.
[ Friday Night Drive Week 1 Power Rankings ]
Both teams made deep playoff runs in 2019. Mount Carmel won the Class 7A state championship, while Loyola lost in the Class 8A quarterfinals.
"That's a big game for us," Loyola running back Vaughn Pemberton said after Friday's win over St. Rita. "That's like our state game, in my mind. I'm coming out mad."
A year ago, Mount Carmel beat Loyola, 17-14, on a last-second field goal. Mount Carmel has won two consecutive games against Loyola.
"We've always had great games with Loyola, it always comes down to the last play," Odeluga said. "It's going to be fun. They're a good team. They're always a sophisticated team, good technique and everything. We have a long history with them."
Mustangs' late spark: The ball caught in the lights and there was an instant when St. Rita's Isaiah Bragg thought he might lose it.
"I was like, 'Oh man, I don't know how I'm going to do this,' but just put my hands there," Bragg said.
Bragg caught the pass from quarterback Tommy Ulatowski and turned up field. What he saw next was open space. The catch came in the final minutes of Friday's loss, 7-3, against Loyola. Ramblers running back Vaughn Pemberton had scored the go-ahead touchdown moments before.
[ Loyola's offense struggles, but scores clutch touchdown in 7-3 win over St. Rita ]
With the clock ticking under two minutes, this was desperation time for St. Rita.
"Initially, I thought it was touchdown all the way," Bragg said. "I looked to my right and saw like two 6-3 linebackers chasing me down."
It wasn't a touchdown, Bragg was pushed out of bounds at the 16-yard line, but his 67-yard reception gave St. Rita life in the final minutes, and it gave the team a shot at the end zone. The Mustangs wouldn't find a game-winning score, but Bragg's big gain sure made it interesting. A few plays later, Loyola's Artist Benjamin pulled down a game-clinching interception in the end zone on fourth down.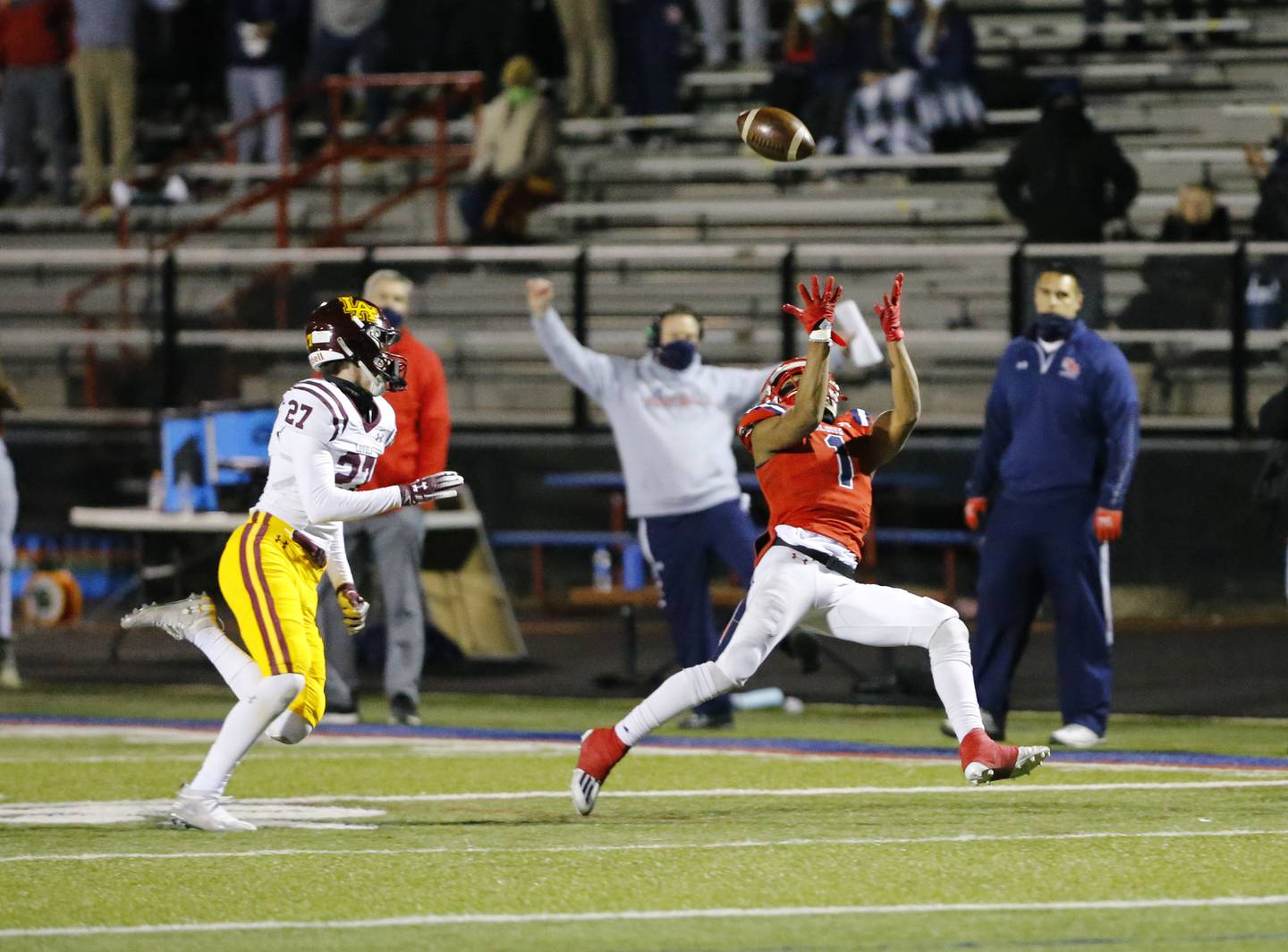 Bragg, a senior committed to Division III University of St. Thomas in Minnesota, finished his day with five catches for 124 yards. St. Rita showed glimpses of its offensive firepower Friday – such as Bragg's big gain – but never found the end zone. The run game was a struggle for much of the night for the Mustangs, who look to rebound against Montini this week.
COVID cancellations: After canceling both its Week 1 and Week 2 contests, Marmion is back on the schedule for Week 2. In the interim, it had to scramble to find a game.
Between the time when Marmion first canceled its Week 2 game and when it received approval to return to action this week, Marmion's original Week 2 opponent, St. Ignatius, had already filled its Week 2 slot. IC Catholic will play at St. Ignatius at 7:30 p.m. Friday.
We were given the thumbs up to resume football activities. Updated schedule for the week:

- Wednesday / Thursday / Friday - Practice 4:00-6:15
- Saturday - 2:00 PM game @ Naperville Central@MarmionAD

— Marmion Football (@MarmionFB) March 23, 2021
Luckily for Marmion, Naperville Central needed an opponent because Week 2 opponent Neuqua Valley had to shut down football activities. Marmion will travel to Naperville Central for a 11 a.m. kickoff Sunday.
Marmion already had to cancel its Week 1 game against De La Salle. Other Week 1 CCL/ESCC cancellations included the Carmel at DePaul matchup and the Nazareth at Fenwick game. As of Wednesday, Marmion at St. Ignatius is the conference's only Week 2 cancellation.