Whether bringing energy in practice or being prepared for any role he's asked to fill, St. Charles North senior wideout Aedan Hayes is seeing the genuine investment pay off on Friday nights.
"His level of preparation and dedication to the team has grown exponentially this year," North Stars junior quarterback Ethan Plumb said of Hayes on Tuesday. "He knows every receiver's position and has become a true captain of this team."
Hayes had three touchdowns and 187 receiving yards in their 40-14 win over St. Charles East last Friday.
"One unique thing about Hayes is that he is always bringing energy and raising the level of competition," Plumb continued. "At practice, he is always getting the team fired up and ready for drills. He works hard at his craft everyday and is always looking for ways to improve and learn from others."
Dedication and effort is at the root.
"I'm just doing whatever it takes to contribute to my team," Hayes said on Monday. "Whether it's blocking or getting first downs, [I'm] looking forward to build off that in the coming weeks, and making plays when given the chance."
Hayes is one of several key contributors for Plumb to have at his disposal, including senior Jake Mettetal, who has over 40 catches on the season; and Jake Furtney, who had a four-touchdown explosion in their 42-35 overtime victory against Wheaton Warrenville South two weeks ago.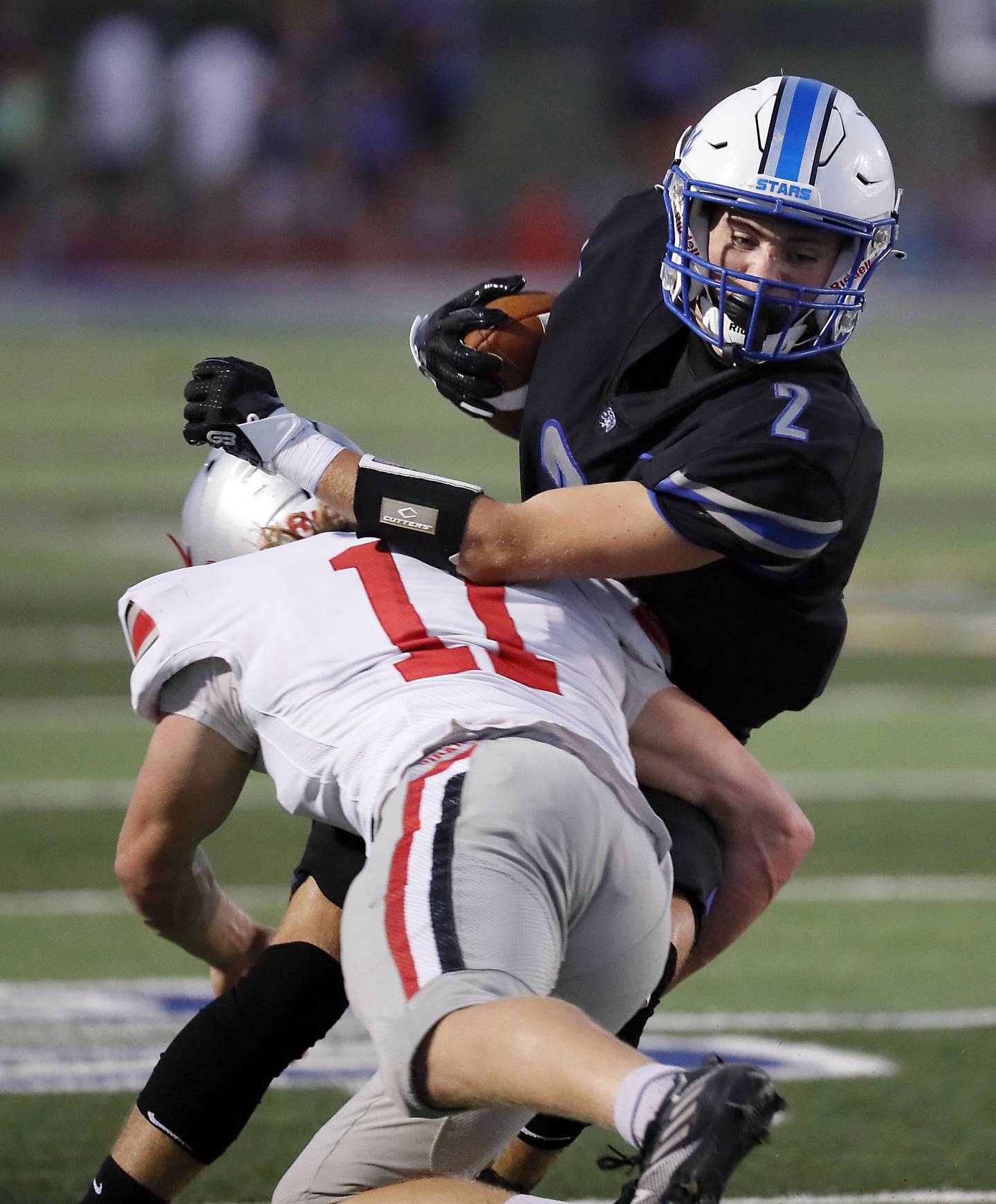 "Obviously, all those guys are fantastic players, and it is an honor to be on the field with them," Hayes said. "When the ball comes your way, you have to make a play, My preparation and effort are both things that I think got me into the role to make those plays against Saint Charles East."
Plumb, who has four games of over 300 yards passing thus far this season, has kept his offense on track after a pair of consecutive losses to Batavia and Wheaton North on Sept. 8 and 15 with two wins in recent weeks over WWS and SCE.
"We knew that we had to raise our level of play and figure out how to have a complete game," Plumb said. "We had flashes of greatness in both games, but we weren't able to do that all game long. We knew that we had to work harder in practice and all buy in to get the results we wanted. We got back to playing our brand of football and are going to continue to do that in the coming weeks."
"Practice. The coaches set up the practice schedule perfectly to prepare us both mentally and physically.," Hayes said. "Nonetheless, our offensive line and Ethan Plumb makes everything possible. Coach [Keith] Snyder says: 'One percent better every day, and we took that to heart in these past couple weeks."
Osborne supplementing Batavia secondary
Shadowing a four-star recruit in Geneva junior wideout Talyn Taylor is a tall task for any defensive back.
Helping limit him to one catch for five yards in the first half and three catches for the night in the Bulldogs' tight 21-18 win over the Vikings is an example that junior defensive back Chase Osborne is up for any challenge Batavia coaches put in front of him.
"I think a big contributor to limiting Talyn's impact was the scheme that [defensive coordinator Matt] Holm and [defensive backs coach Billy] Colamatteo put together for this week. We almost always had two guys on him and we basically forced their offense to find a different way to gain yards on us that didn't involve him."
Osborne, though, wasn't alone in the effort.
"Mostly though, our corner, Josh Kahley, did a really good job covering him. And, I think, contributed to shutting him down more than I did. He's our lockdown corner, and he always has the confidence to go up against the opposing teams best receiver."
Osborne finished with seven tackles last Friday. To date, he's third in tackles with 41 and averages just shy of seven per game.
"I feel like I've done a good job in the run game, which is a lot easier when you have such a good d-line and linebackers, but I definitely feel like I could make more plays in the passing game. I could also definitely work on my hands. Coach Colamatteo would agree," Osborne said.