In the middle of summer camp, York running back Jake Melion sensed a possible promotion on the horizon.
After watching running back Kelly Watson break off several highlight-reel runs in a historic season for the Dukes' program last fall, Melion patiently waited his turn.
That time came this summer.
"Last year I was a backup to a very talented running back, so we split most of the reps," Melion said. "I made sure to train my body well enough to take on a [bigger] role this year being the feature back. Last year motivated me a lot because we were so close to our goal, so I knew if we wanted to reach that goal this year, I would have to put in a lot more work and hours in to help us hopefully reach our goal."
So far, Melion is proving to be a star running back, helping the Dukes absorb several key graduation losses. In a battle of unbeaten teams, Melion had an inspiring performance to lead the Dukes to a 32-21 victory over Downers Grove North in a key West Suburban Silver game Sept. 29.
"Jake had a great game against Downers Grove North," York coach Mike Fitzgerald said.
Melion carried the ball 31 times and rushed for 260 yards and two touchdowns. He also caught two passes for 46 yards and another TD.
Melion's rapid rise has been a key element in the Dukes opening the season with six straight victories for the second year in a row. He rushed for 213 yards and scored three touchdowns in a win over Hinsdale Central on Sept. 22, had 156 yards rushing against Oak Park-River Forest on Sept. 15 and ran for 166 yards and two scores in a blowout win over Nazareth on Sept. 1.
"The key to my success is always my blocking," Melion said. "The blocking has been excellent. Our offensive line is unbelievable and the wide receivers are also making my job a lot easier. I would not be successful without them. As a team, it's great to be on the same track as last year, but we didn't finish where we wanted to last year so we're hungrier than ever. I knew there wasn't going to be a drop-off. Everyone worked really hard during the offseason and I had full confidence we would perform well."
Melion said he worked on his speed and strength to prepare for a bigger role in the offense, especially after the graduation of star quarterback Matt Vezza. Melion's strong running has helped open up the passing game for the Dukes, which is forcing defenses to cover every inch of the field.
"I worked on a lot of speed and agility work while also putting on some weight to be the best version of myself when the season came around," Melion said. "This season has been a lot of fun. It's always great being undefeated, but it's even better because all the hard work in the offseason is paying off. It's awesome to be a part of this team."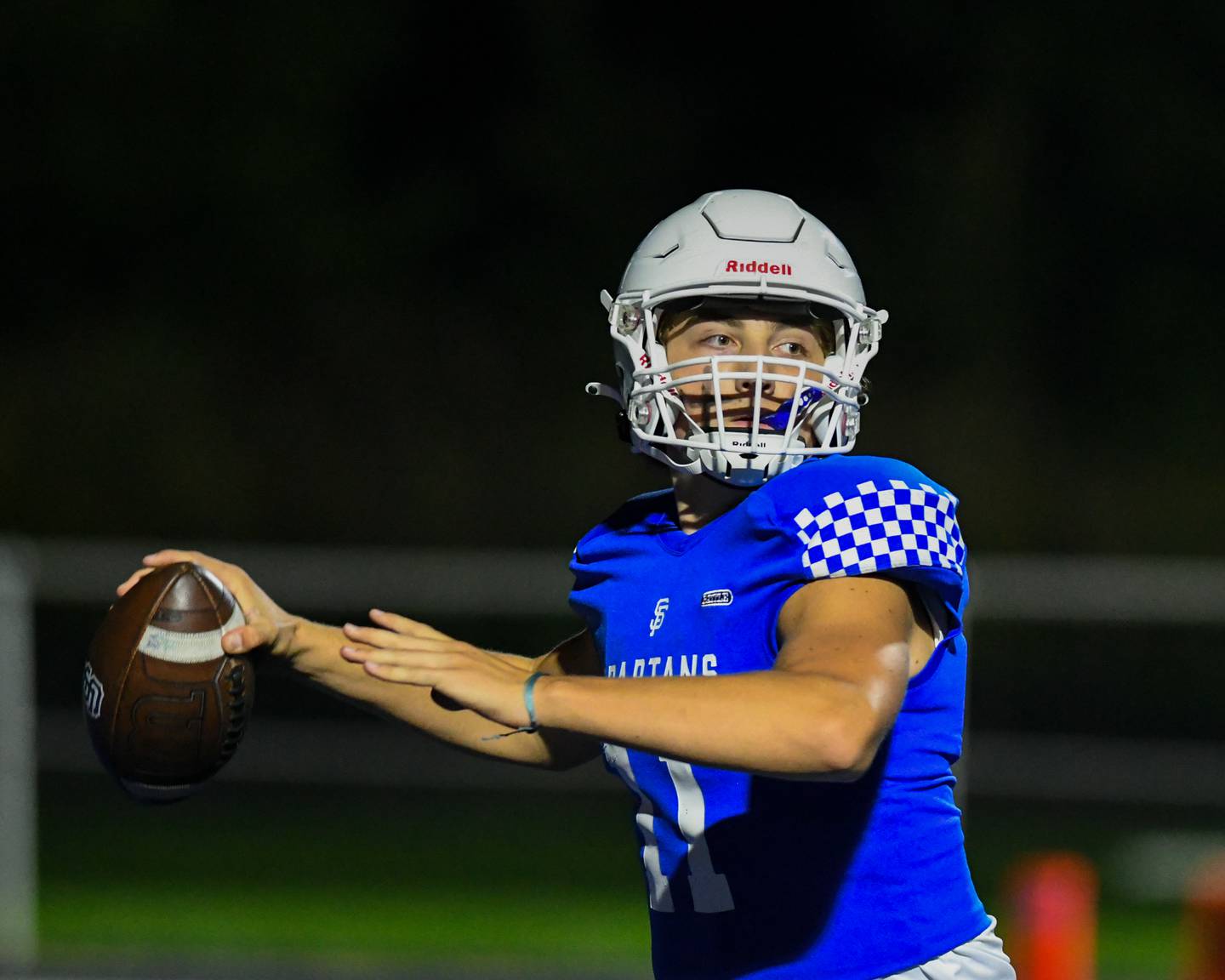 A new and improved Alessio
St. Francis senior quarterback Alessio Milivojevic worked on many aspects of his game to prepare for a difficult schedule this season. The Ball State recruit possesses a rocket arm, tremendous poise and leadership but wanted to improve his speed for his final season.
On Sept. 29, IC Catholic witnessed Milivojevic's new and improved wheels. The standout quarterback led his team to a memorable second-half comeback partly due to prolonging several drives with his running in the Spartans' 35-34 victory over the Knights.
The 6-foot-1, 200-pound Milivojevic had runs of 13, 10, 7, 10 and 9 yards to force the Knights (5-1, 1-1 CCL/ESCC Orange) to adjust their defense. He scrambled free on numerous runs to keep the chains moving, including a 10-yard TD run on fourth down to tie the game at 27-27 with 9:47 left in the fourth quarter.
"They were dropping a lot of guys down and didn't expect me to run the ball," Milivojevic said. "Last year I wasn't the fastest, to be honest. I worked all offseason with my trainer to get me faster. I'm 100% different of a football player now. It makes me two-dimensional. Teams can't drop back. They have to have a spy on me, and even if they do, I can get around him."
St. Francis coach Bob McMillen said Milivojevic is the total package at quarterback. The Spartans (4-2, 1-1 CCL/ESCC Orange) have won four of their past five games heading into Friday's home game against St. Rita.
"If anybody can tell me there's a better quarterback in the Midwest, I want to see them," McMillen said. "Alessio is a competitor and he's a leader. The kids love playing with him. Alessio is by far the best quarterback in the state."
Tidbits
Glenbard South ended South Elgin's 29-game Upstate Eight Conference winning streak with a 14-13 win Sept. 29.
Glenbard West is starting to make some noise after losing two games in a row, crushing Hinsdale Central 42-21 last week to win its third straight game. The Hilltoppers (4-2, 2-1) look to end York's unbeaten string in Friday's road game.