St. Francis junior running back TyVonn Ransom made many memorable runs last Friday night against Joliet Catholic.
Ransom ran for a career-high 210 yards and scored three touchdowns to spark the Spartans to a thrilling 33-28 comeback win over Joliet Catholic. But Ransom had one last dash to complete following the conclusion of the emotional game – running to the 40-yard line to chat with Joliet Catholic star senior running back HG Grigsby.
Ransom, who is awaiting his first scholarship offer, said he wanted to give props to Grigsby following his big showing in the heated battle of big-time running backs. Grigsby, who said he had 12 offers, is one of the top running backs in the state.
"I just had to come up to (HG) and give him respect because we're both running backs," Ransom said. "It just felt like the whole game we were going back and forth with touchdowns, so I had to go show him some love."
Ransom is still attempting to make a name for himself. Through five weeks, Ransom is on the path toward being considered among the top backs in the state. Ransom sparked the comeback with an 83-yard touchdown burst in the third quarter. He added a two-yard TD run late in the fourth quarter to account for the game-winning score to give the Spartans (3-2, 0-1, CCL/ESCC Orange) some momentum heading into Friday's pivotal league game against rival IC Catholic (5-0, 1-0).
Ransom played mostly on the junior varsity level last season, but worked extensively on his speed, power and strength in the offseason to handle the rigors of a heavy workload.
"I did a lot of training and did a lot of offseason work," Ransom said. "I've been playing running back since eighth grade. I'm way more developed than last year, when I was on JV. I played little bit of varsity, too.
"I didn't start because we had two seniors, but that was good because I got good experience. I feel I'm a better person and athlete now. I'm hoping soon to get an offer, but right now just grinding and staying focused and being a leader."
The quick development of Ransom, a strong and physical back with track speed, has provided another dimension to the offense for the Spartans. His emergence has been a big plus, especially against one of the toughest schedules in the state. His big-play ability is helping make the offense more two-dimensional, plus allowing star quarterback Alessio Milivojevic to attack defenses and force them to cover every inch of the field.
The Ball State recruit is 93-of-125 for 1,301 yards, with 12 TD passes and three interceptions. Ransom has 95 carries for 672 yards and scored six touchdowns, averaging 7.1 yards per carry, to go with nine receptions for 52 yards.
St. Francis coach Bob McMillen said Ransom made himself into an elite back via hard work and dedication.
"TyVonn put on 26 pounds of muscle," he said. "The kid is shredded. He worked with a speed and running backs coach to have better vision and hit the holes. He's off to an unbelievable start and is an elite running back."
McMillen traces Ransom's success back to last season's end-of-year meeting.
"We talked to him that this wasn't going to be sophomore football anymore," McMillen recalled. "He needed to be bigger and faster from the get-go. He immediately went to the weight room to work his tail off. He's a kid who studies the game, and is trying to be the best he can be. He hasn't had much notoriety but people are starting to take notice now. You saw his top-end speed against Joliet Catholic on his long touchdown run. They had guys who had angles on him, but he was able to run past them."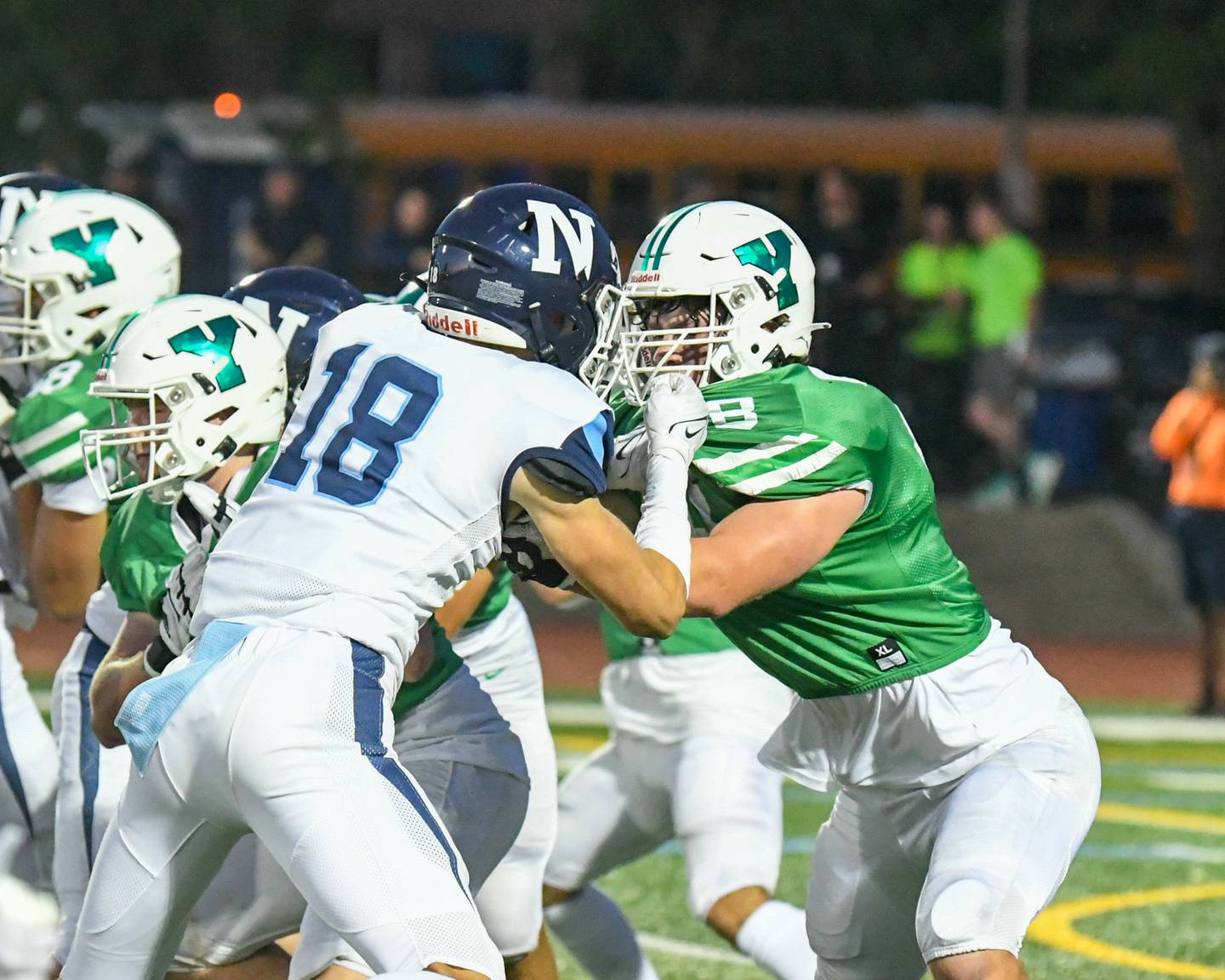 Big game in the Silver
Friday is shaping up for another monumental battle for York.
A year ago, the York football team was in the middle of an epic season in the 100-plus years of the program. The Dukes won all of their regular season games, captured the West Suburban Silver title and reached the Class 8A semifinals to finish with a 12-1 record.
Now, just five weeks into the 2023 season, the Dukes have followed the same path as last year. Five games, five victories. But the Dukes faced a key showdown in Week 6 last season against long-time nemesis Glenbard West. The Dukes pulled out an emotional 17-13 victory over the Hilltoppers.
On Friday, the Dukes (5-0, 2-0) face another tough week six test when they travel to undefeated Downers Grove North (5-0, 3-0). The Dukes have dominated all five of their opponents by a whopping 218-75 just over halfway through the regular season. The Trojans have allowed just 26 points in their last three games, while the Dukes have scored at least 35 points in each game this season.
York coach Mike Fitzgerald said his team must stick to their game plan to knock off the Trojans.
"I think the ability to run the ball and stop the run will be a big factor in the game," he said. "We need to win at the line of scrimmage to be successful on Friday. We also need to play a clean game in terms of winning the turnover battle and avoiding penalties. Big plays will also be a factor in the game so hopefully we can continue to create some big plays and eliminate big ones on defense and special teams."
Fitzgerald said his team has thrived due to several players stepping up into key roles this season, including the offensive line.
"A lot of our skill guys have had some big games this year and our offense has put up a lot of points and yards, but the guys upfront have really come together and allowed those skill guys to have success," he said. "Gavin Honken, Joe Reiff, Austin Bagdasarian, Colin Cushing, Adam Nix and Max Jaras have all played well. On defense, a lot of people know about our seniors but our juniors on defense have really stepped up to keep our defense playing at a high level, from Jimmy Conners at linebacker and Eddie Sica at defensive back. They are two juniors who have done a great job making that jump to the varsity."
Tidbits
Nazareth is finally back in the win column following Friday's 21-13 triumph over St.Ignatius…Wheaton North takes on Wheaton Warrenville South on the road in the annual Wheaton Battle on Friday…Lyons' defense is quietly making some noise, holding the last four opponents to under 18 points.