Princeton's 28-6 win over Sterling on Friday was 95 years in the making.
The Tigers' last win over the Golden Warriors came in 1928 (26-6) at home, not at PHS, but rather at Alexander Park in Princeton.
The teams met Friday for for the first time since 1949 with the Golden Warriors winning 19-6 at Princeton.
The former conference rivals, who were in opposite divisions in the former North Central Illinois Conference, have now played 10 times with Sterling winning six and Princeton four.
The Tigers roughed up Sterling, 41-3, in their first meeting in 1912.
Friday's meeting came a bit by accident. PHS coach Ryan Pearson called Sterling counterpart Jonathan Schlemmer looking to fill his Week 5 opening with the departure of St. Bede from the Three Rivers, but rather asking his input about Moline, who he thought had the open week.
"He kind of paused a second and said, 'Wait a minute. Did you say Week 5?' I said, 'Yeah, Week 5.' He said, That's actually us. Want to play?' I said, 'Absolutely,'" Pearson said.
Three Rivers comes up big vs. Western Big 6
The Three Rivers Conference has now won both of its games against much larger Western Big Six foes picked up to replace St. Bede on its 2023 schedule
Sterling Newman (210 enrollment) surprised Rock Island (1,686), 22-20, in Week 4.
Princeton (515) followed up with its 28-6 dismantling of Sterling (978) on Friday.
A third Three Rivers-Western Big Six matchup is on deck in Week 7 when Mendota (507) plays at Geneseo (840).
Taking them by rush
Pass? Who needs to pass.
Bureau Valley did not attempt a single pass in its 35-14 win over Mendota Friday night, riding the running game led by Elijah Endress (21-249, 5 TDS) and Cameron Lemons (11-102) to 434 yards rushing on 43 attempts (10.1 ypc).
Princeton attempted just two passes, completing one for two yards, empowered by 247 yards rushing (174, 3 TDs by sophomore Casey Etheridge) on 47 attempts to a 28-6 win over Sterling.
Between them, the Storm and Tigers combined for 681 yards rushing on 90 attempts while outscoring their opponents, 63-14.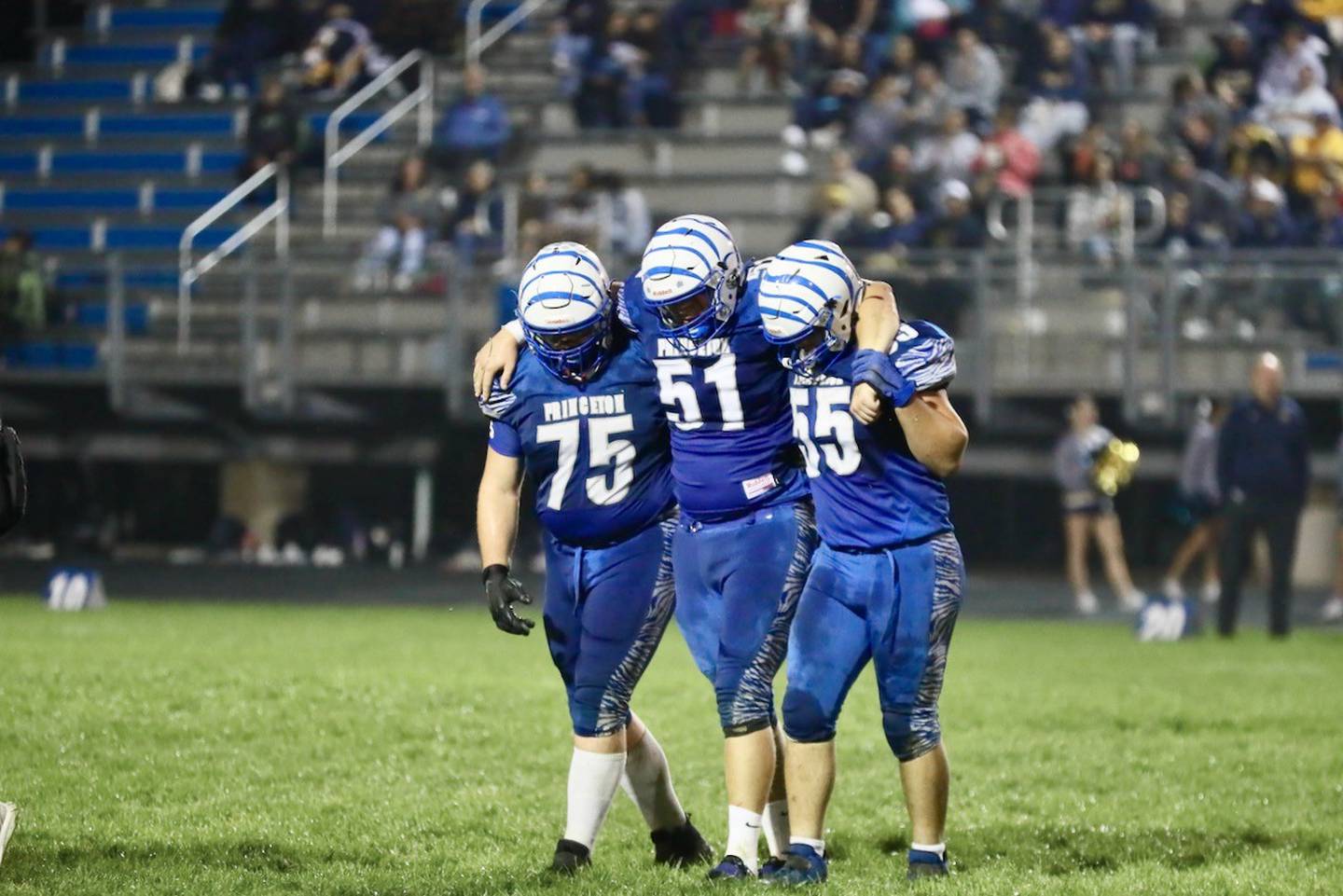 Costly wins
Bureau Valley's and Princeton's wins Friday came at a big expense.
Princeton senior defensive lineman Bennett Williams, who has committed to play for the Air Force Academy, sustained a knee injury during the third quarter. A MRI on Monday revealed what was was feared, an ACL/MCL tear.
The Storm lost senior Blake Helms to a broken leg during kickoff coverage. He had surgery Saturday morning and was in good spirits watching his Detroit Lions win on Sunday with a group of his teammates at his house, his dad, Bret, said.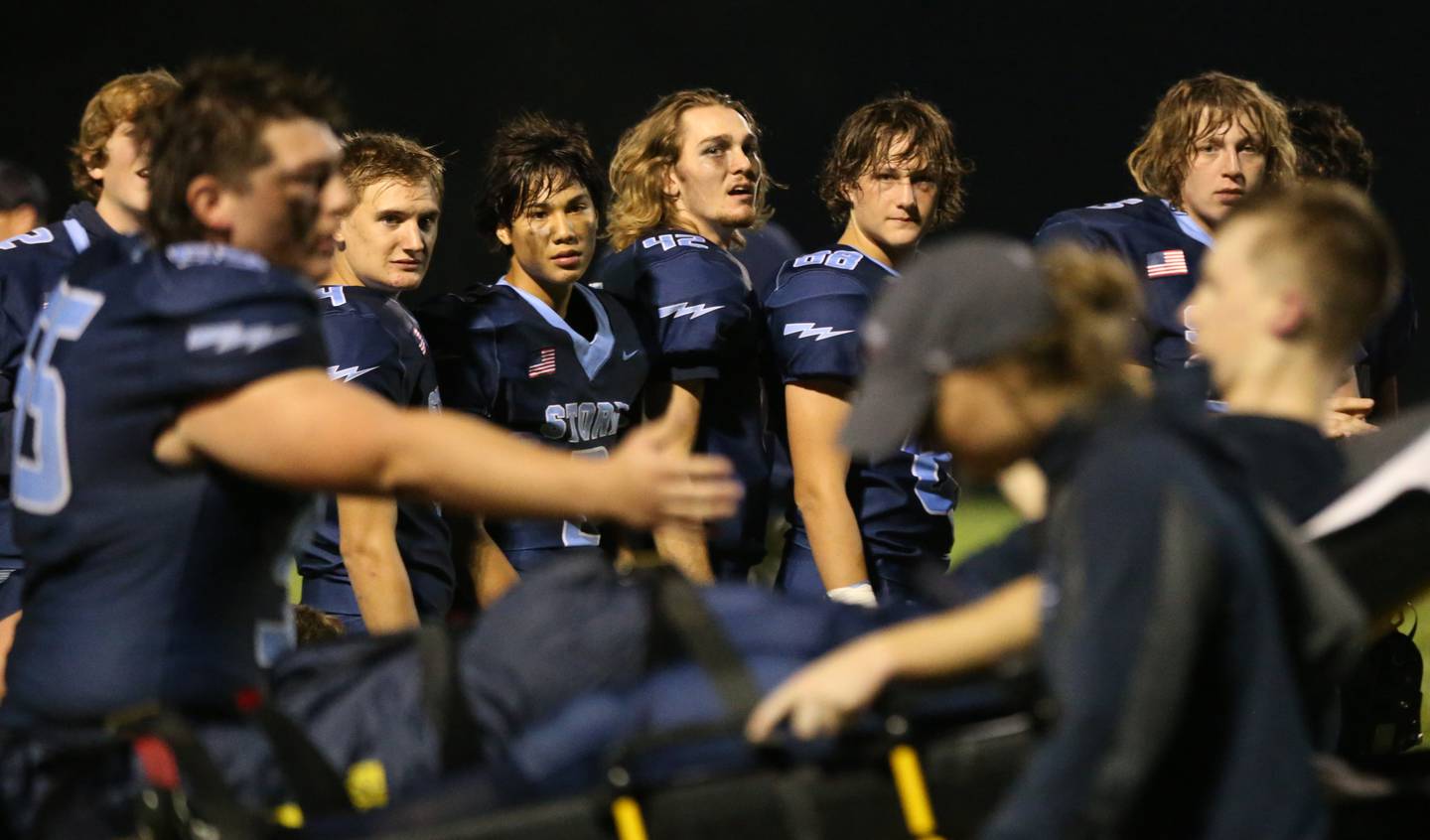 Record breaker
Noah LaPorte has become Princeton's all-time leading receiver with a season and half remaining to play in his prep career.
The PHS junior passed 2022 grad Bennett Sierens (1,033) after Week 4 and now has a career total of 1,106 after a 2-yard reception Friday night.
LaPorte, who had a 40-yard interception return for a Pick 6 Friday, is already drawing the interest of the likes of the University of Illinois.