Oswego East's Niko Villacci received a rather rude introduction to varsity football.
He's been on an upward trajectory since.
The Wolves' sophomore quarterback had his best game to date last Friday, throwing for 147 yards and three touchdowns and running for a fourth score in his team's 41-3 win over Plainfield South. Villacci is clearly starting to feel his oats and put memories of a two-interception 28-7 loss to Waubonsie Valley well in the rearview mirror.
"Feeling good right now with the status of the team," Villacci said. "The first week was definitely different. The speed of the game has really changed. My coaches helped me a lot and so did my teammates, helping me understand the speed of the game, take what they give me and let the game come to me."
For his part, Oswego East coach Tyson LeBlanc said they've done a much better job as a support system surrounding his young talented quarterback since that Week 1 loss.
"We didn't put him in a good position that first week," LeBlanc said. "We weren't sure what Waubonsie would do and they came out and did some things that we didn't prepare him for; that's a little bit on us as coaches. There is a reason he is playing varsity football. He has the arm talent, the intangibles. It's a matter of getting a guy comfortable, and then game planning."
Villacci, also a very good baseball player, is well-schooled in the art of being a quarterback. He's worked since he was 11 with quarterbacks coach Greg Holcomb, who also trained current Michigan quarterback J.J. McCarthy.
"He's made a big impact on me," Villacci said. "We do a lot of off-balance throws, stuff that is uncomfortable and trying to make it comfortable. I always played quarterback as a youth, and baseball helped me with that. I always had a strong arm but at first I was just a kid who could throw the ball far. I've started to learn how to read defenses."
LeBlanc said that Villacci's accuracy jumps off the film.
"I honestly can't think of a time that I have seen a throw of his that is uncatchable, really really miss bad," LeBlanc said. "He has great accuracy, good arm strength. And it's his demeanor and how he carries himself. He has that it factor. All that being said he has a ton of room to grow. He doesn't even drive a car yet."
Oswego wary of 1-3 Plainfield North
On paper, record-wise, Oswego (4-0) would look like a significant favorite going into Friday's Southwest Prairie West opener at Plainfield North (1-3) – but Panthers' coach Brian Cooney knows better than to judge a book by its cover. The Tigers have given up a combined 37 points, hardly a stat that matches up with a 1-3 record.
"I don't buy that record of theirs one bit," Cooney said. "They have a combined three losses to two good 8A schools [Lockport and Naperville Central] and [Joliet West] coach [Daniel] Tito has his boys playing good, and they beat them. Plainfield North could easily be 4-0. That's how we're approaching it."
Cooney is cognizant of the memorable games that have transpired on his watch between defending SPC West champ Plainfield North and Oswego, which ruled the roost in the league for much of the last decade.
It started Cooney's first season, when Oswego beat Plainfield North 28-21 in a first-round playoff game. Two years ago, the Panthers beat Plainfield North in double overtime
"Every time we play them it is a extremely competitive, high-paced, fast, physical football game," Cooney said. "That is how we like to play, and how historically they like to play. Record aside, we're not buying it. Coach Anthony [Imbordino] is doing a phenomenal job over there, he's a coach that worked with us for two years and is familiar with the core of what we run and is a smart guy."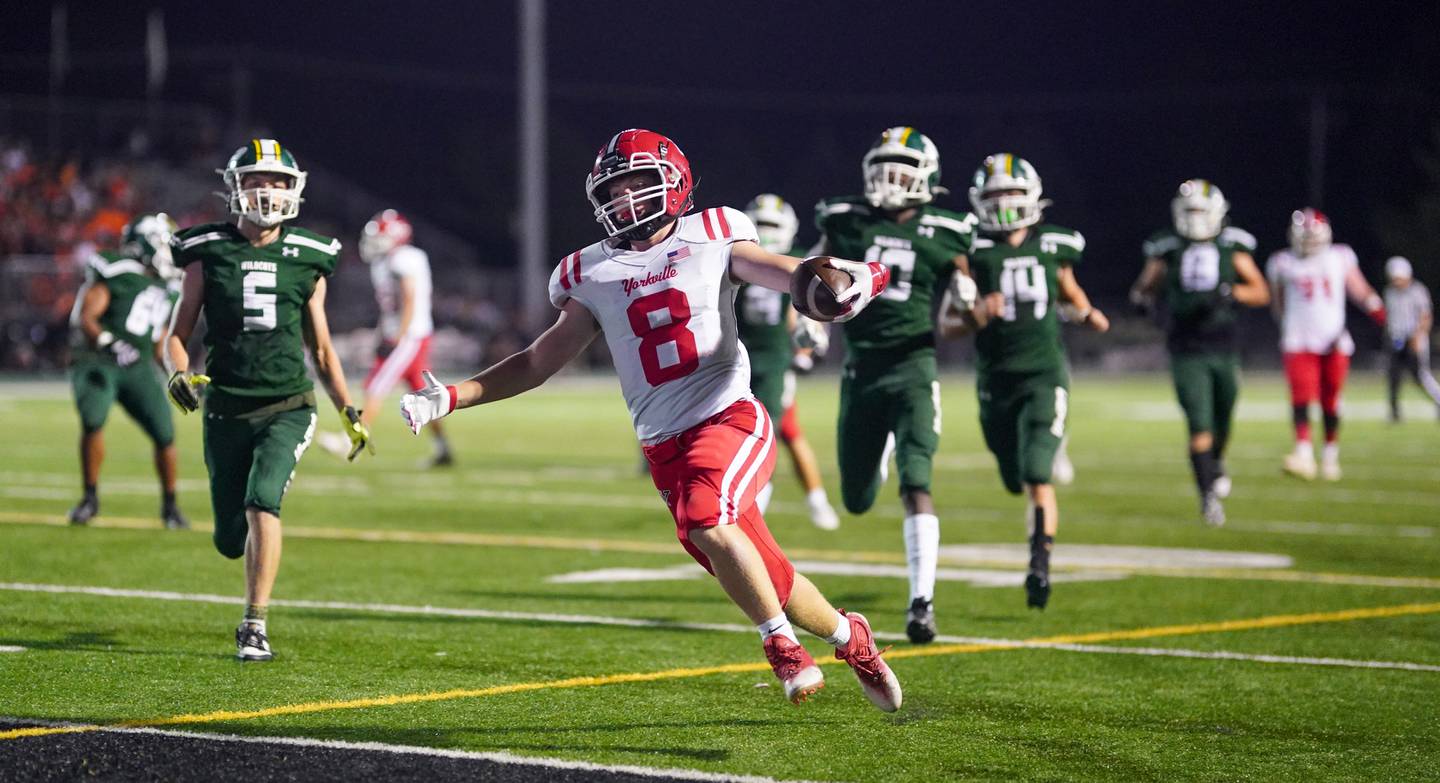 Foxes hit the ground running
Yorkville coach Dan McGuire didn't hesitate when asked what was the biggest difference between his team's 28-0 win over Plainfield Central and the Foxes' two previous games, both losses.
"Most importantly, we were able to run the football," McGuire said.
Indeed, the Foxes piled up 208 yards at 5.3 yards per carry in the win. Junior Ryan Wulff ran for 93 yards on 15 carries and a touchdown, and senior Josh Gettemy ran for 87 yards on 10 carries. That total yardage was more than the previous two weeks combined against New Trier and Joliet West, and the yards per carry nearly double.
"We had been pretty inconsistent running the football this year," McGuire said. "It was good to be able to have some positive plays in terms of the running game. Defensively, being able to hold a team without scoring is good to see.
"Any time you have a group and things don't go their way, you never know how they will respond. It's good to see the kids bought into what we're doing and know they can do better."
Plano defense shines through controversial loss
Plano's Rick Ponx is not one to point fingers at officials, but the veteran coach did not hold back in his assessment of last Friday's 20-15 loss to LaSalle-Peru that was decided in the final minute.
"It was one of the most poorly-officiated games I've been a part of," Ponx said. "Their calls affected us. I thought we had one stolen from us."
Ponx pinpointed a few controversial plays on L-P's game-winning drive that ended with Brendan Boudreau's 52-yard touchdown pass to Seth Adams.
Prior to that, a pass that Ponx said clearly hit the ground was ruled a catch. On the same drive, on a fourth-and-six an L-P player was tackled at the 40-yard line but the ball spotted at the 42 to give the Cavaliers a first down.
"You turn on the YouTube version, L-P's radio announcers even said that's the game," Ponx said. "When they spotted the ball, they said 'Well there's a hometown call.' If your own radio station is saying a game is poorly officiated.... It hurt our kids."
Despite the result, Ponx took great pride in the effort – particularly on the defensive side.
Andrew Cox had 10 tackles, two for loss, and two sacks, and also ran for 108 yards. Waleed Johnson had 15 tackles, three for loss, and forced a fumble.
"We played as well as we could have played on defense," Ponx said. "Our kids just played faster. We had a good week of practice, we knew what they would run and we reacted to things quickly. And we played very physical."
It doesn't get much easier for the Reapers, with unbeaten Richmond-Burton coming to town. But Plano does take momentum with its performance from last week.
"I told them that we come out and play like the way we played against L-P, we can play with anybody in the league and beat anybody in the league," Ponx said. "That's what I'm trying to pump them up with. Let's see if we can go out there and get it done."
Sandwich gets measuring stick
In Sandwich's 49-7 loss to state-ranked Richmond-Burton Friday, the Indians got a good glimpse of what they would like their own program to become.
A program based on a strong running game and great offensive line play, Richmond-Burton has qualified for the playoffs in 15 of the last 16 seasons with the lone exception being the pandemic-shortened 2020 season. That includes seven seasons of more than 10 wins, a state championship in 2019 and a runner-up in 2011.
Not only that, the schools have similar enrollment figures – 572 for Richmond-Burton compared to 579 for Sandwich.
"They're proven, and we're up and coming and climbing that mountain," Sandwich coach Kris Cassie said. "They are where we want to be with our program. And so this was a measuring stick game, and we're going to use it just as that."
Despite the loss, it's been quite the start for Sandwich in its first year back as a varsity program and Cassie sees more coming in the near future.
"This is a group that as a freshman/sophomore team went 8-1 last year, and they started a spark in our football program and our community," he said. "They're a hard-working group, and they're a good group. We got some seniors back to the program, and they trust the process. They believe in what we're doing. They're a fun group to work with. They believe they can win. They expect to win."
-- Andy Tavegia