Will Potter's natural position is safety.
The Downers Grove South senior was thrust into a position of need this fall that caused him to shift away from the defensive side of the ball.
On the last lap of his prep career, Potter was hand-picked to be the starting quarterback for the Mustangs – definitely not the normal time for a player to pick up the demanding position for a big-school program with playoff aspirations.
But Potter, committed to play baseball for Missouri Southern State University, welcomed the challenge of piloting the Mustangs – from behind the center spot and via a bigger leadership role.
"We didn't really have a quarterback, so I just stepped up," Potter said. "I kind of had a feeling halfway through my junior year that I was going to play quarterback, so I started taking second-team reps behind Ryan Dawson. I kind of fell in love with it, so I worked the entire offseason. It's been a blast.
"Last year I got in for two plays (at quarterback) against Downers Grove North. That was it."
The 5-foot-10, 165-pound Potter said he had an eye-opening experience in his first career start at quarterback against Wheaton North in the season opener this season.
"I was pretty nervous playing against a pretty good Wheaton North team, which had two Division I defensive ends coming at me," Potter said. "I knew my guys had my back and they stepped up and did a great job and blocked them. I hardly got hit."
The Mustangs (1-3, 1-0 West Suburban Gold) endured some growing pains in the first three weeks against a group of quality opponents – Wheaton North, Downers Grove North and York – before finally getting their first win of the season against Willowbrook on Friday night.
Potter joined a long list of key contributors in the win, passing for 110 yard and running for 35 yards, including a dazzling 17-yard TD scamper in the 28-21 win. Shortly after notching his first career win as a starting quarterback, Potter discussed his wide range of emotions.
"It's just a great feeling after going 0-3 and seeing all the guys cheering and stuff," Potter said. "I was like, 'We have to go punch this in. We got this and it's winning time.' That's what we did. It's weird for sure not starting (on defense), but got a little bit here at the end (against Willowbrook). I'm always itching to play, but quarterback is my position. The best part of playing quarterback is scoring touchdowns. It's a great feeling to get my first win under my belt, with many more to come. It's great to see all the guys happy. It's awesome."
Potter sparked the game-winning drive in the fourth quarter with a third down conversion, whipping a pass off a bootleg pass across his body to wide receiver Chris Williams to extend the drive.
"My bootleg, I was looking for my tight end, but the safety picked up on him," Potter said. "I knew that post was going to be there. Chris Williams is really fast. I caught him in stride, and that was it.
"It was just instinct. I'm the starting quarterback this year, never played it before in my life. I just went with pure instinct and hit him in stride.
Downers Grove South coach Mark Molinari gushed about Potter's late-game moxie and toughness in leading his team to a comeback victory over the Warriors.
"He's a throwback kid you can trust, when you put the game ball in his hands because he will make some good decisions," Molinari said. "He's the best one that we've got for this year. Hopefully, he will lead us to five more victories and get on a roll and we get into the playoffs.
"That was a huge bootleg. We run the ball like 95 percent of the time, so we got to hit our bootlegs when we get a chance to do them. James did a good job of going up and getting it and he hit him. It was exciting. Our kids work hard. We have to find a way to win five more now."
Downers Grove South senior running back Deon Davis, who scored on a pair of 1-yard TD runs against Willowbrook, said he's not surprised by Potter's quick adjustment to playing quarterback.
"He's a phenomenal athlete," Davis said. "We have a great connection and we bonded really quick. Our chemistry is really, really good. He's as good as a quarterback as he is a safety. For him to play quarterback in his first year, he's making it look easy."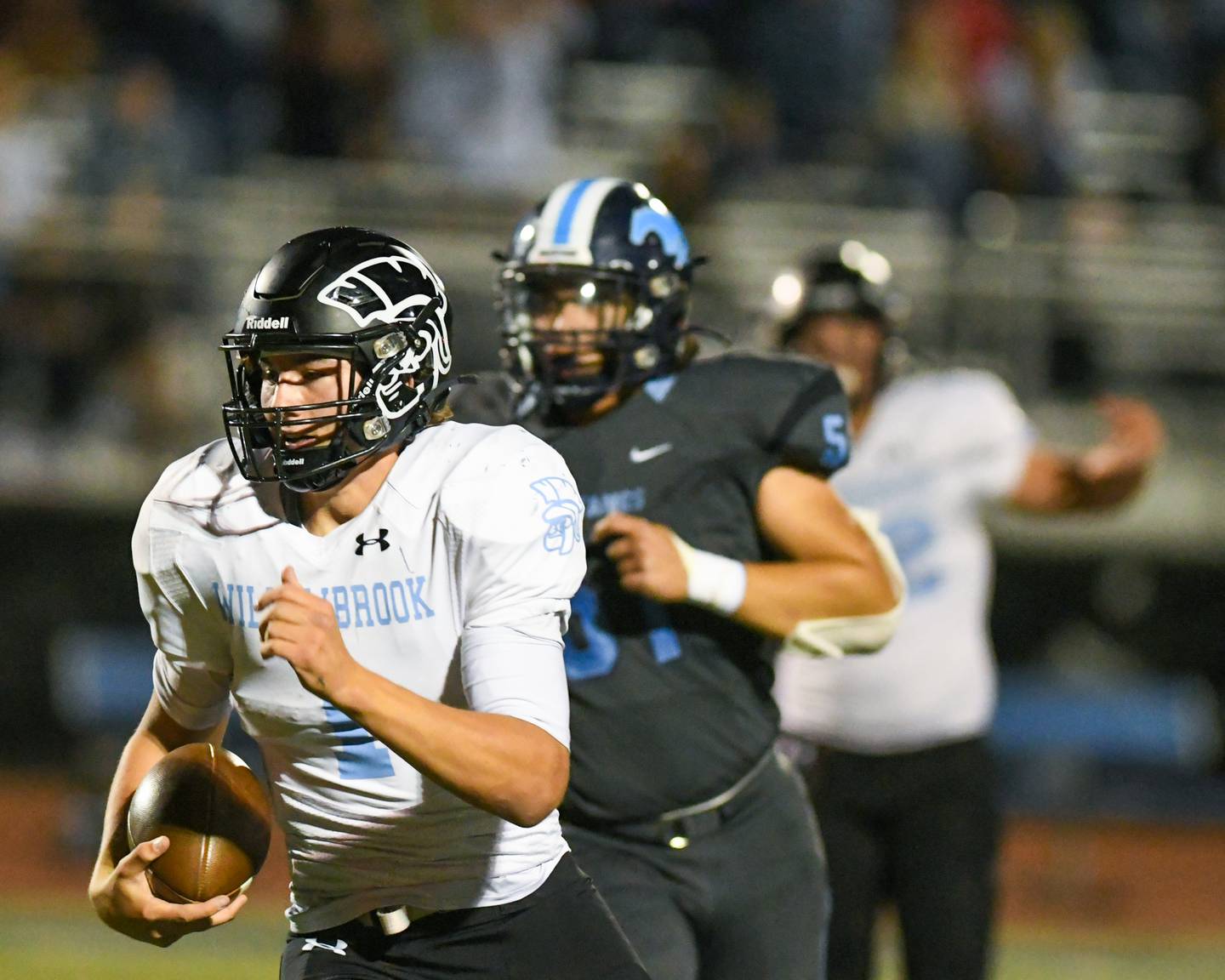 Willowbrook QB Palicki in unique spot
Willowbrook senior quarterback Arthur Palicki finds himself in a unique position this season. The Warriors, a program with a rich playoff history in recent years, have a solid group of young players attempting to find their footing on the varsity. That leaves Palicki forced to shoulder a bigger load of the offense.
Against Downers Grove South, Palicki showed he can impact a game with his legs with his performance in the first half and his strong and accurate right arm in the second half. A dual-threat quarterback, Palicki said he's starting to receive more attention from colleges after the first month of the season.
At 6-foot-4 and 215 pounds, Palicki has all the desired measureables that colleges are seeking in a quarterback to go with his running ability. In the first three weeks of the season, he passed for 550 yards, ran for 250 yards for 10 total touchdowns. He threw for 176 yards and a touchdown and rushed for 66 yards and two TDs against the Mustangs.
"I haven't talked to any coaches since the season started," Palicki said on Monday. "I've received some (interest) after a good game last week from some schools, like Grand Valley State, Winona State and Valparaiso. I have an offer from Winona State, and I had an offer from Northern Iowa, but they ended up taking another kid.
"It's been a little rough around the edges with a couple of tough losses, but we are rallying together as a team to get back on track and win some football games."
Willowbrook coach Nick Hildreth said Palicki is a player to watch.
"He has a super high ceiling and the sky is the limit for him," Hildreth said. "For us, we have to hone (his talents) in and be more consistent."
Extra points
Nazareth's four-game road trip is finally over. The defending Class 5A state champions suffered tough defeats to Kankakee, York, Montini and IC Catholic Prep. All four of the Roadrunners' opponents have yet to lose a game this season. The Roadrunners host St. Ignatius (2-2) on Friday to start a three-game homestand…After a 5-5 record last season, Fenwick (3-1) has a key home game against Notre Dame (2-2) on Saturday…Montini hits the road for games against Marian Catholic and Providence after playing three of its first four in Lombard…Downers Grove North is one of the surprise teams in the area, winning its first four games by outscoring the opposition 142-48.