York senior quarterback Sean Winton embraced the challenge of leading a program looking for a new leader.
In 2022, the Dukes had a magical season that included winning the West Suburban Conference Silver Division championship and advancing all the way to the Class 8A semifinal.
But the graduation of standout quarterback Matt Vezza, one of the key players in the program's turnaround in the last three seasons, left a big hole to fill in terms of production and leadership.
Winton has helped filled that void early in the season, leading the Dukes (2-0) to a pair of resounding victories, including a 42-13 rout over Nazareth on Friday. The 6-foot-2, 185-pound Winton completed nine of 15 passes for 120 yards and four touchdowns, while running back Jake Melion ran for 166 yards and two scores. The Dukes defense allowed just 15 yards rushing.
Winton said he was ready to lead the Dukes this fall.
"I feel I've handled it exactly as I thought I would," Winton said. "I've always been cool, calm and collected tyle of player and don't let the outside noise affect my game. Having a great skill group and offensive line gives me all the tools that I need to be myself out there and just have fun.
"Beating a great program like Nazareth the way we did, I would say sends a message to the state that we're not here to play around and we got our eyes on the title. The keys to both wins is our great coaching staff and every teammate doing their job to prepare for each game. It all starts with practice, whether it's film study, lifting or actual practice, the team is locked in and focused week in and week out."
Through two games, Winton has completed 22-of-32 passes for 398 yards and seven touchdowns. Wide receiver Luke Mailander has 10 catches for 253 yards and three TDs and Melion has 45 carries for 328 yards and three touchdowns. Offensively, the Dukes have tallied 810 total yards and 87 points.Winton admitted the Dukes had a chip on their shoulders entering the season.
"There was a lot of talk in the offseason about whether or not we would be able to keep York afloat and be a team too look out for," Winton said. "As of right now, I think we've done a great job of that and teams are starting to realize that we haven't 'fell off' and we aren't planning to."
Winton credited York coach Mike Fitzgerald and the coaching staff for easing his transition to QB1 status for a big program with lofty goals. The Dukes head to Downers Grove South Friday for a 7:30 p.m. game.
"Coach has given me countless tips and advice that has helped me so far," Winton said. "One thing he's explained to not only me, but to the team as well is that you don't need to be a hero and everyone has to do their job 110% and we will be a great football team."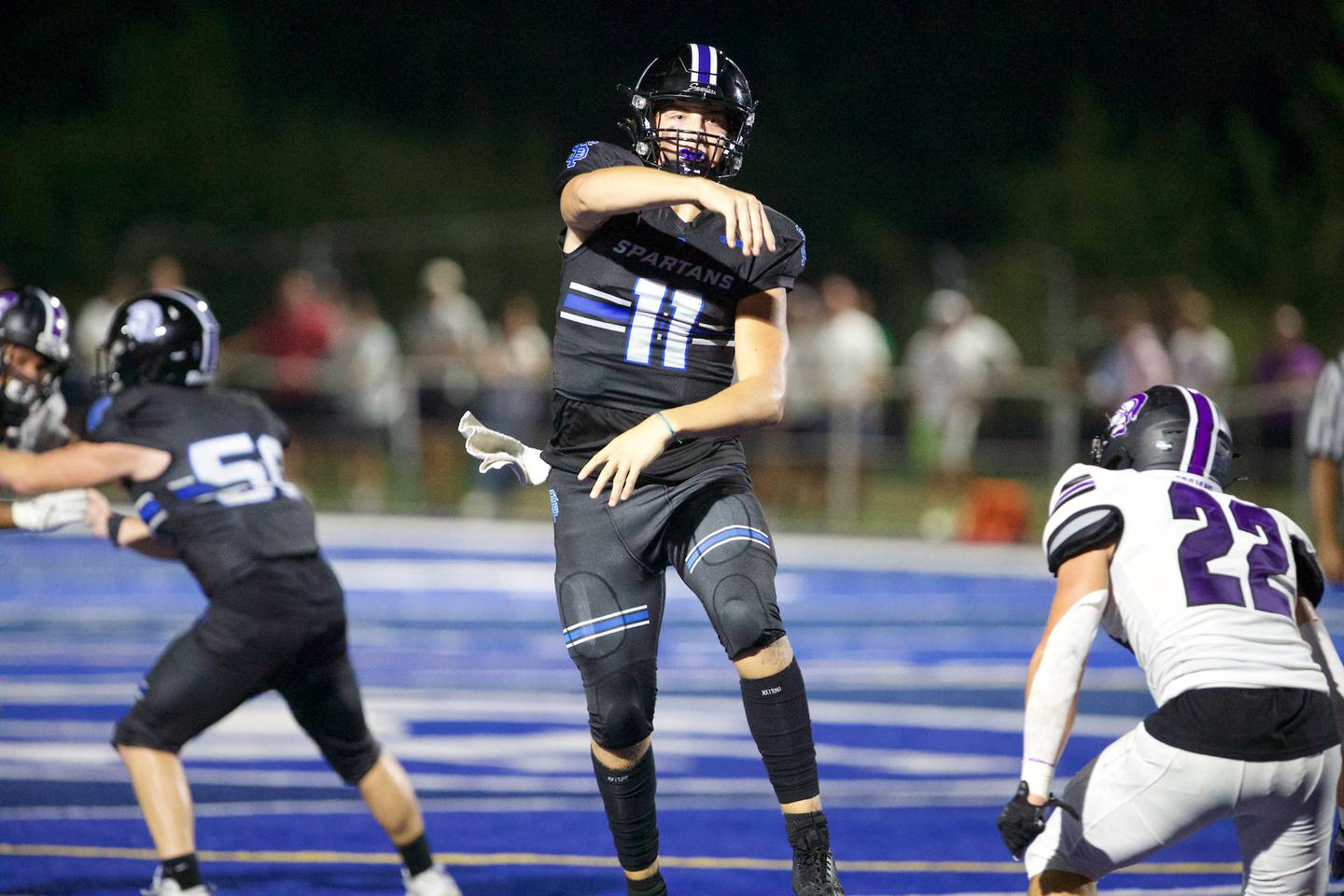 St. Francis gets back on track
A week after opening the season with a tough home defeat to Downers Grove North, St. Francis is back on the right track following an impressive 42-28 triumph over Sterling.
The Spartans (1-1) received a big game from quarterback Alessio Milivojevic. The Ball State recruit was locked in from the start, completing 16-of-19 passes for 265 yards and four touchdowns and he added a rushing touchdown.
St. Francis coach Bob McMillen said Milivojevic is playing at a high level early in the season.
"He's an even keeled kid, and thrives being the guy in the spotlight," McMillen said. "He wants the ball and wants to make plays and shown nothing but being a competitor every week to be the best quarterback in the state. He performs week and week out.
"Alessio is playing tremendous right now, but also running back Tyvonn Ransom has rushed for over 100 yards in each of the games on less than 20 carries per game. He's running the ball well. Dom Beres is an absolute tackling machine right now. He's all over the place making plays. Him and Alessio are our two main leaders on the team, our two main vocal guys. They work every day and make sure everyone around them is getting better."
The Spartans, who travel to St. Laurence on Friday, picked up a big-time showing from wide receiver Ian Willis, who hauled in nine receptions for 197 yards and three touchdowns.
McMillen said the St. Laurence game is a unique challenge for his coaching staff and players. The Vikings (2-0) crushed Von Steuben 77-0 in their opener and did not play last weekend due to a forfeit by Noble Academy.
"I would like to be 2-0 like everybody but we're excited to be where we ware, got those two games to prepare us for CCL," McMillen said. "We need to get prepared, better to play teams that are competitive. We're playing a good football team that has some very good athletes but only played one game, so we're not knowing what to expect makes it difficult."
Extra points
Meanwhile, also in Elmhurst, IC Catholic Prep is also among the unbeaten teams in the state. The Knights (2-0) have knocked off Gray Bowman Academy (Indiana) 47-0 and Chicago Orr 34-0 but have a tough test on Friday at Benet (2-0).