BATAVIA – A competitive loss isn't a consolation prize to victory itself.
Batavia knows that.
In the wake of the Bulldogs' 14-13 loss to Lincoln-Way East last Friday, both teams left points on the board and plays to be made on the field.
The Bulldogs can point to a fumble at the goal line in the first quarter that would've tied the game at 7-7 on their first possession. Or the missed two-point conversion that would've positioned them for a win, to name a few.
The Griffins, meanwhile, missed two field goals in the first half. Add in two called defensive pass interference calls on Batavia's touchdown before the end of the first half, the score might've looked differently.
Though, in the context of LWE's 31-16 blowout win last season, the Bulldogs nearly aced the rematch test.
Boe gritted his way through a grueling effort of 168 passing yards, 84 rushing yards and two touchdowns. Senior all-purpose weapon Charlie Whelpley exploded for eight catches for 63 yards.
Defensively, senior linebacker Ben Fiegel had 15 tackles, including a blocked field goal. Junior linebacker RJ Bohr added seven tackles with four quarterback pressures and one pass defensed.
"All week, we talked about sending a message. Obviously, winning would've sent a better message. This shows we can compete," Boe said after the game. "Especially after last year, everyone thought it was just going to be a smoke show. I just think we like to show that we can compete."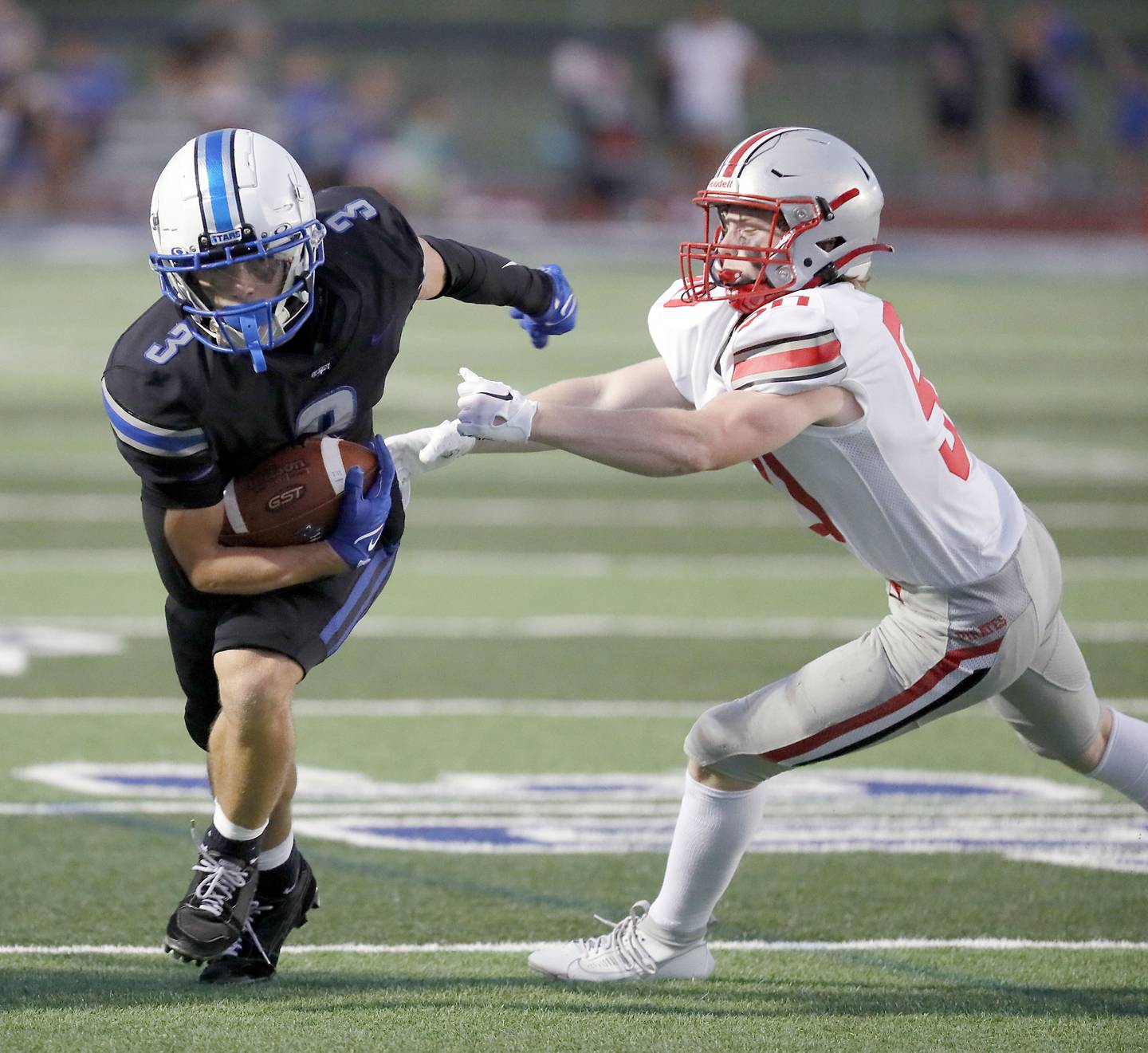 Ethan Plumb, St. Charles North prepare for Wheaton North
St. Charles North is taking it one day at a time.
The North Stars are off to a 2-0 start with DuKane Conference play starting this week against Wheaton North (1-1) this Friday.
"...All we are focused on is getting better each day in practice and staying in the moment," St. Charles North junior quarterback Ethan Plumb said. "Our team motto this year is 'brick by brick' and each practice this week will be an investment into making the Friday night game a victory."
One key to victory for the North Stars is the continued ascension of senior wideout Jake Mettetal.
Mettetal led the North Stars in receiving last season with 29 catches for 258 yards. During their Week 1 victory over Palatine, he exploded for 12 catches, 177 yards and two touchdowns. Mettetal added another touchdown in North's 30-14 victory over Crete-Monee.
"To me, he's really just taken himself to the next level as both a leader of our team, and playmaker on the field," Plumb said. "His playmaking abilities have always been there, and have been evident the past couple of years; but as I can attest to it now being both our third year on varsity, confidence is a key factor."
"He knows what he is doing, and has the ability to coach up others when necessary," Plumb continued. The best has yet to come for him this year and he's only going to get better."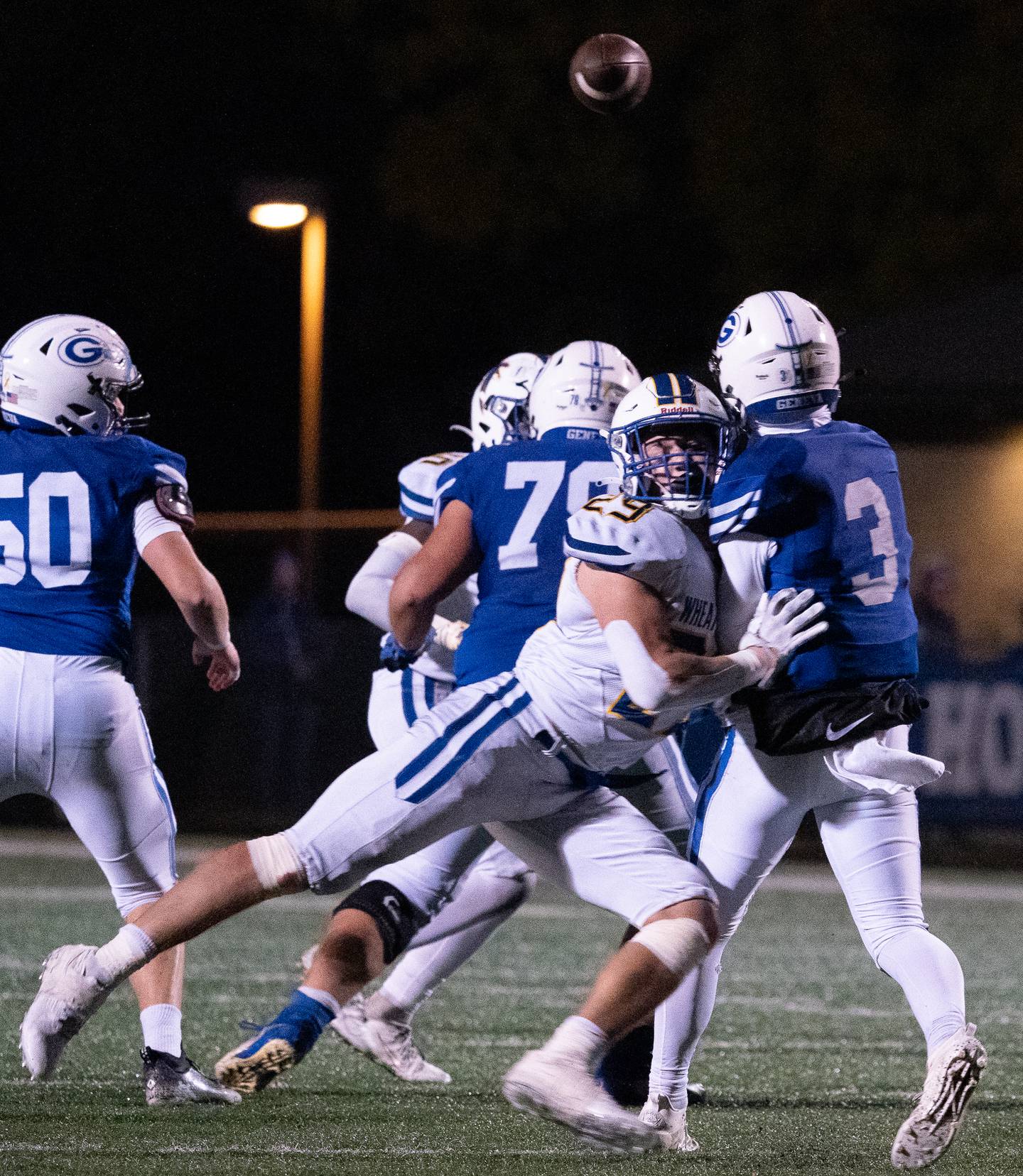 Stempowski, Geneva stay efficient in 2-0 start
Geneva moved the chains when it counted in its 21-10 victory over Lemont on Friday.
On third downs, the Vikings had eight conversions on 13 attempts and a 7-of-8 success rate on their three touchdown drives.
Quarterback Nate Stempowski and the Geneva offense is keeping it efficient with plenty of factors to put stock into.
"I personally put most stock into my legs and making plays on the ground and getting the ball out to my playmakers quickly," Stempowski said.
The Vikings running game is also getting it done with the tandem of juniors Michael Rumoro and Troy Velez. Through two weeks, Rumoro leads with 167 rushing yards and five touchdowns.
"[Rumoro] makes getting first downs easy with his runs he's almost always getting five-plus yards a carry. He's quick and shifty and is always capable of making the big play," Stempowski said.
Geneva hosts Wheaton Warrenville South (1-1) at 7 p.m. Friday.
"[For a win], it'll take playing as one unit and keeping the ball moving in the air and on the ground," Stempowski said. "If the line moves, it's almost always going to be a positive play."