Cale Reeder stood on the postgame stage, confetti falling all around him, and took his turn to hold the trophy while a sea of fans dressed in blue flooded the field beneath him.
It was mission accomplished.
Reeder, a former All-State safety at Yorkville and the 2019 Record Newspapers Player of the Year, came close to winning a national title twice before at South Dakota State. The Jackrabbits were Division I Football Championship Subdivision national runner-ups Reeder's freshman year and semifinalists in 2021. This year, they finished the deal.
South Dakota State on Sunday beat its biggest rival North Dakota State for the second time this season. The 45-21 win at Toyota Stadium in Frisco, Texas capped off a 14-1 season with the first national championship in the 123-year history of the program.
"Holding the trophy, seeing all the fans on the field, it was almost like a dream," said Reeder, a junior safety. "It showed all the work that we had put in paid off. Last season, coming up short, coming up empty, this shows that we have winners on this team. We wanted to get the job done and we did."
South Dakota State won its last 14 games after a 7-3 loss to Iowa in the season-opening game back in August. The Jackrabbits' first win over North Dakota State, 23-21 on Oct. 15, vaulted them to No. 1 in the rankings for the first time ever.
The Jackrabbits erased a 21-7 deficit in that first game. The rematch was total domination. South Dakota State never trailed, and led 31-14 at halftime. Quarterback Mark Gronowski, a Neuqua Valley product, scored on a 51-yard touchdown run to make it 38-14, and threw for 223 yards and three touchdowns. The Jackrabbits won their four playoff games by an average margin of 25.5 points.
"We were just confident in all the guys on the team, the coaches drew up a great game plan, the offense scored a lot of points and the defense held them to 21, which is pretty good against a great team like North Dakota State," Reeder said. "Since we played them so often and played them earlier in the year it carried over with the confidence we had."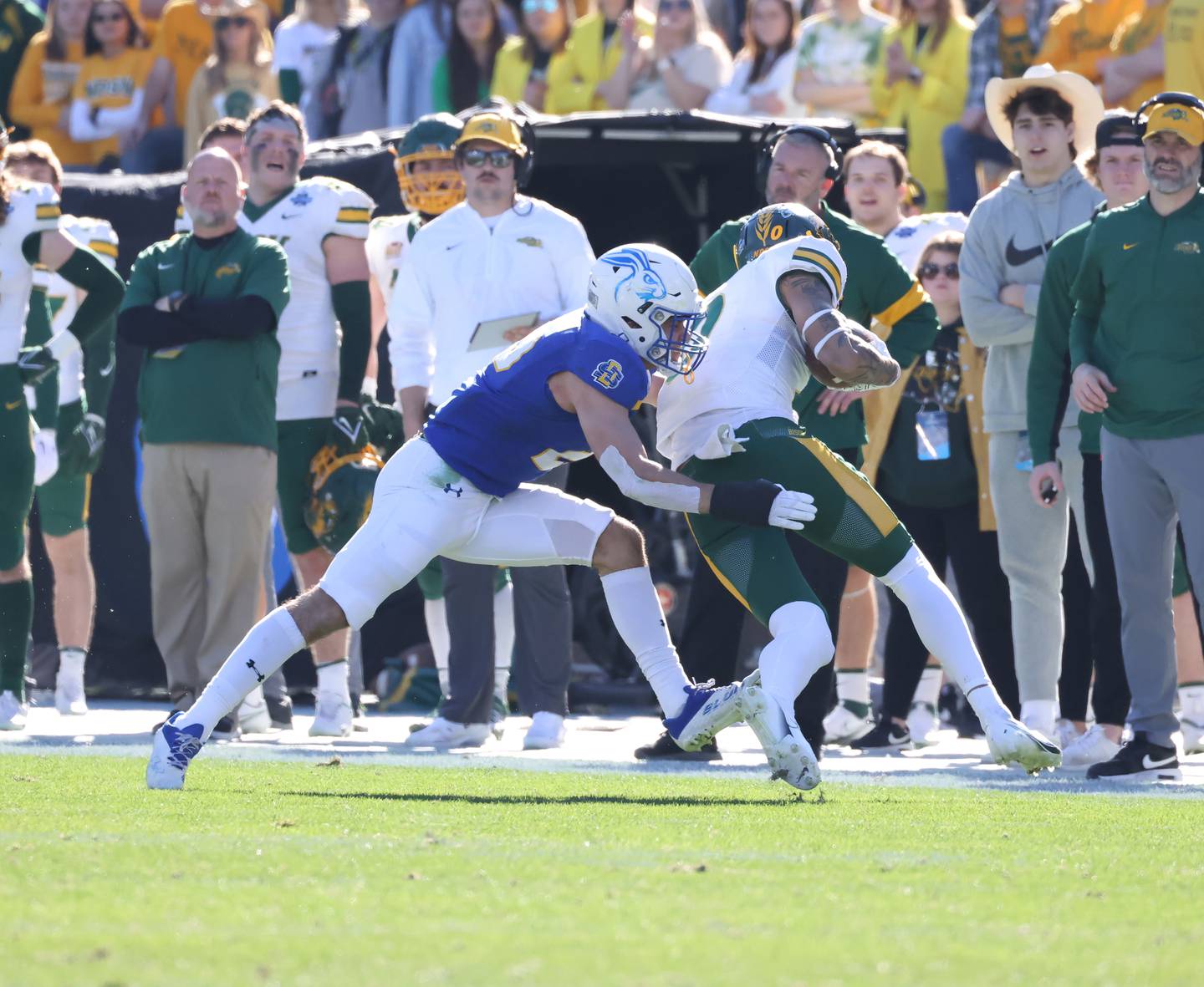 The win over North Dakota State in the national championship game was the Jackrabbits' first win over the nine-time national champion Bison in the playoffs, and their fourth straight win over their biggest rival.
"A lot of people in South Dakota, they don't even want to say North Dakota State – they will call them the school up north. It's a great rivalry," Reeder said. "It's honestly kind of crazy. There is a lot of hatred toward each other, but it's good though. It's such a great rivalry game. You don't need any more motivation when you play them. It's laid out in front of you."
Reeder missed that first game with a pinched nerve in his shoulder. He also missed time with a concussion. But Reeder returned to post 33 tackles, three tackles for loss, a sack and had three interceptions in 11 games for a defense that allowed just 15.8 points per game, third in all of FCS.
"He's long and he's athletic, he can change direction really well," South Dakota State defensive coordinator Jimmy Rogers said of Reeder. "He's a good tackler — that's also an area he can improve upon — but he's physical and can make plays in space. I was happy to see what he did for us this season and then also his ability to help others around him when he was out, pushing those guys to carry the load in his absence. He's a good teammate."
At Yorkville, Reeder led the Foxes to the second round of the playoffs in both his junior and senior seasons. He played in all 10 games as a true freshman at South Dakota State. Reeder moved into the starting lineup at safety midway through last season, and made eight starts while playing in 15 games.
"Right away when we got him in recruiting we knew he was going to be special, and he had a great year last year," Rogers said. "This year, he's battled some injuries but as far as when we look at our depth chart, he's one of the top players that we have returning. We feel super excited about him and what he's done; we've just got to keep him healthy and the progress will show as we continue to go forward.
"I do believe he's a guy that has the ability, if he keeps taking the jumps year in and year out, that he's going to have a chance to play beyond college football."