Trent Matejko knew he had to prove himself.
Matejko, the St. Charles East senior running back, battled injuries before even getting out of the gate a year ago.
Suffering a high and low ankle sprain the week before last season started, Matejko wasn't quite able to get back to full speed. He played in six games before suffering a broken collarbone to end his season following week six.
"Coming off injury this year [week one], I knew I had a lot to prove and a lot to live up to," Matejko said. "So it's been motivating me to work beyond hard to play at my best."
Matejko soon reminded all on the field what he's capable of, brushing his way to 137 rushing yards in the Saints' 28-14 win over Lincoln-Way Central.
"I feel I performed good," Matejko said. "But after reviewing film of our team, there is a lot I learned that can help moving forward as an individual. I never settle for doing good and not learning from mistakes. So, going into week two, I will be working on my mistakes that I noticed in [our] previous game."
"Trent Matejko is a dog," senior quarterback Lane Robinson said. "Trent is going to be a very vital key for our offense."
Saints wideout Blake Schuette calls Matejko a "powerhouse."
"No one is stopping Trent," Schuette said. "He's the hardest runner I've ever seen in football and I think he's going to do some damage this year."
"Especially with those guys up front – Austin Barrett, Hayden Harbison, Gideon Kopalchick, Bodey McCaslin and James Brennan," Saints coach Nolan Possley said. "[Brennan hasn't] played since his freshman year and now he's a huge [piece] in that right guard spot on our line."
"S, to be able to lean on those guys with an engine like Trent, it's always nice to be able to fall back on that," Possley continued.
Matejko feels his best complement to the offense is his versatility.
"I can be a downhill runner, which was very affective in our win against Lincoln-Way Central," Matejko said. "I can also use my speed as an outside runner. So, as a whole, it makes the run game a lot more reliable and versatile against most defensive lineups we will be going against."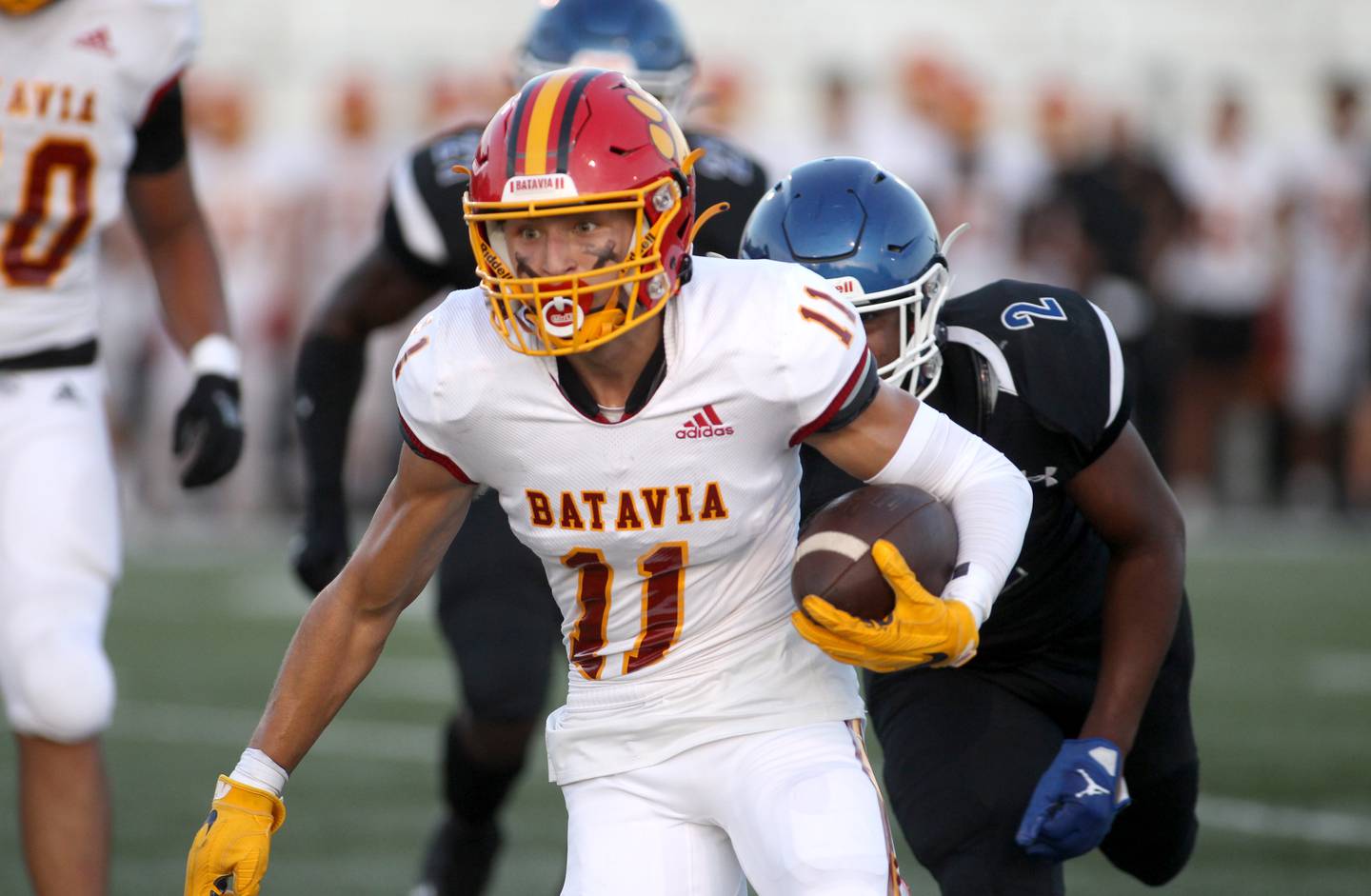 Batavia's big connection
Of many conclusions one can draw from Batavia's 43-6 victory over Phillips last Saturday, the connection between quarterback Ryan Boe to wideout Drew Gerke is a focal point.
One can likely expect to hear the phrase: 'Boe's pass is completed to Gerke' quite often.
Gerke himself had four catches for 42 yards and one touchdown.
"…We got some quick backs, we got the receivers, tight ends. We want to be balanced '" Batavia coach Dennis Piron said. "We want to be able to run [or] throw any down, any distance. It makes it very difficult if we can do that. That's what, I think our goal offensively was coming into tonight – do a little bit of both things [and] get our guys all clicking."
"I know we pressed a little bit, I felt, with some long throws because they so much wanted to hit those right away; they're there," Piron continued. "But, I think you'll see great improvement from week one to week two overall."