Last season, the Kaneland defense gave up 30 points or more five times in 10 games, including against five of the six playoff teams they faced.
According to defensive back Alex Panico, the quest to get better started right after the season ended.
"If you weren't in a winter sport, I'd say every kid was in there lifting four or five days a week," Panico said. "We kind of bought into the weight room. That's where we knew our season had to start."
The defense, and specifically the run defense, was a weak spot for a team that could put up points. The Knights scored at least 20 points in every regular-season game.
Coach Pat Ryan said the team needs to be more physical up front and not get pushed around as much as it did last season. Tackling also needs to improve, he said.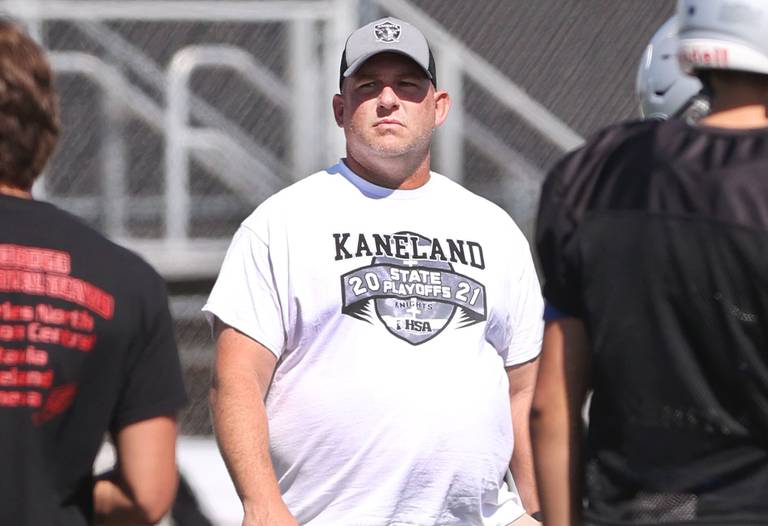 "We expected we need to make big improvements," Ryan said. "For us, a big thing was having to be better against the run. And we're getting better at that. We're more physical in the front seven, and we're still kind of young, but we're experienced now. We've brought back a lot of guys."
Defensive back Johnny Spallasso said stopping the run is a focal point this offseason for the Knights.
"We need to be able to stop the run this year," Spallasso said. "Last year we had a little trouble with it at times. Our defensive backs are a great group of guys, and if we can end up stopping the run, too, it's going to be a really tough defense to score on."
Through camps, 7-on-7s and a joint practice with DeKalb last week, Panico said he's definitely seeing a better defense.
"We've definitely improved from where we were at this point last year," Panico said. "I think all 11 kids on the field wanted to stop the run game because our passing defense was probably our highlight. As coach said, our tackling needed to get better, and our run defense needed to get better. I feel like we're heading in the right direction."
Ryan said he hopes the defense is able to catch up to the level of the Knights' offense this season.
"Our approach is we don't want to say we have this great offense, so it's OK if we give up some points," Ryan said. "We want to be good on both sides of the ball."