Two years ago, about the time the COVID-19 pandemic was turning the world upside down, Jacob Welch was doing his best to stay the course.
Then a freshman at Johnsburg, and coming off his first varsity football season, Welch frequently posted videos of himself running hills at Ringwood's Glacial Park, running sprints or lifting weights in his basement.
Fortunately, Kamara Welch, Jacob's mother, had just purchased a squat rack that the family had in its basement for Jacob and his father Matt when they lifted.
And there were the words of advice that NFL tackle Bryan Bulaga, a 2007 Marian Central graduate who then played with the Green Bay Packers, offered when he returned a message from Kamara about her aspiring young athletic son.
Bulaga's message was: "Be relentless in the weight room."
Welch knows how to work and knows how to listen, which is why he now has nine NCAA Division I scholarship offers.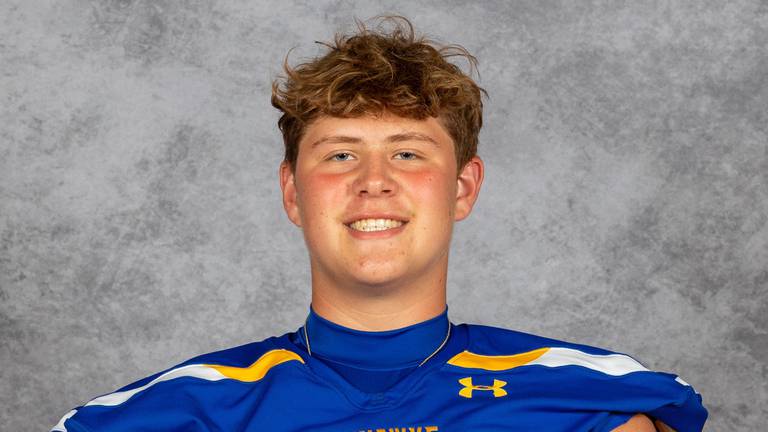 Welch (6-foot-6, 305 pounds) is a three-year starter at offensive tackle for the Skyhawks and was an Illinois High School Football Coaches Association Class 4A All-State selection. He will make more college visits throughout the spring and hopes to commit before his senior season starts.
"My motto is just 'Trust the process. Stay patient. Your time will come,' " Welch said. "You see Twitter and social media and it's easy to get jealous because you see other guys getting offers and you've worked just as hard. The last two weeks of January, offers started to flow, that was a very surreal moment. I was super-excited and super-blessed with all those nine schools that offered me."
"My motto is just 'Trust the process. Stay patient. Your time will come.' "

—  Johnsburg offensive lineman Jacob Welch
The list consists of Ball State, Central Michigan, Eastern Michigan, Illinois State, Miami (Ohio), North Dakota, Northern Illinois, Southern Illinois and Toledo. Welch and his father have visited about 15 schools, with many more visits planned this spring.
Skyhawks coach Sam Lesniak is thrilled that his big man is getting so much attention.
"Jacob has done a phenomenal job," Lesniak said. "You think back to COVID, it really separated some people. You have a guy like Jacob, who didn't skip a beat and then guys on the opposite side who don't do anything. You want to talk about separating himself, he did a huge job separating himself."
Welch credits several people with helping him along the way, from his former trainer Namon Johnson [also a former Johnsburg assistant coach] to his neighbor, former Skyhawks' standout Justin Peake, now a linebacker at D-II Northern Michigan.
"Namon helped me with my technique and all my lifts," Welch said. "Justin really took me underneath his wing. He would take me every morning to lift when I was in eighth grade. He's been a big role model for me and had a lot of confidence in me playing on varsity."
Lesniak said the coaches knew they had a special player coming in Welch.
"He came in and absolutely knew the playbook," Lesniak said. "He was a football guy. Right now he could coach any offensive line position to any kid.
"He was always drawing up blocking schemes for different fronts. As a freshman, he was a bigger kid, nowhere near as strong as he is now. but his technique, his feet, those were always exactly what you coached, he knew exactly where he was going every play."
Lesniak remembers Welch's first varsity game came against Marian Central, which had two D-I defensive ends on its line, Jayden Thiergood (Air Force) and Brian Allen (Iowa).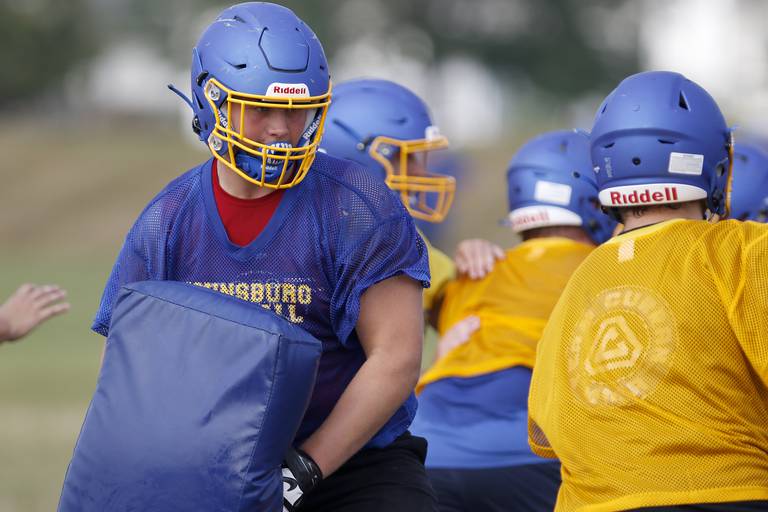 Welch also was fortunate to have 350 pounds of weights, along with the squat rack Kamara just bought when he was a freshman. He and Matt lifted four to five times a week. By his sophomore year, Jacob needed more weight and tracked down four 45-pound plates to add.
The Twitter videos his freshman year started as part of Johnsburg's 6 a.m. Club, which had met at school before the pandemic hit. After that, it became the 6 a.m. Challenge, where a teacher or student would post a video running 2 miles or doing some other physical challenge, then tagging another person for them to do their video the next day.
"Jacob was a regular with it where he would do the 6 a.m. even when he wasn't nominated," Lesniak said. "I would have guys send stuff to me when they were doing it, rally around each other a little bit."
Welch is good friends with Marian Central's Luke Dalton, now an offensive lineman at Cincinnati. Welch has visited Cincinnati twice. When Welch was a freshman and Dalton was a sophomore, the two worked out at FIST football, with coach Kevin Sabo, who teaches offensive and defensive line techniques.
Welch just finished his basketball season with the Skyhawks and will focus his efforts on lifting and preparing for one-day camps and his senior season. The number of offers is certain to grow in the next few months.
"I've been talking with my head coach and my dad," Welch said. "I'd like to commit a week or so before my senior season so I can not think about it and just play ball. That's really what I'm leaning toward right now."