Loyola senior James Kyle owned all the traits any high school football player who aspired to play collegiately could ask.
At 6-foot-5, 225 pounds as a sophomore, Kyle looked like a NFL tight end. College coaches quickly noticed. They weren't only impressed with his size, but his quick feet, good hands and long arms. He was a prospect any college would want.
Nebraska offered him his first scholarship in the middle of his sophomore year. Then came the offers at the beginning of his junior season.
Kentucky.
Cincinnati.
West Virginia.
Virginia.
But then, it all vanished when doctors discovered blood clots in Kyle's lungs. Doctors put Kyle on blood thinners and told him he could not play football again.
"It was always my dream to play in college, maybe at the next level," Kyle said. "It really sucked."
Kyle never gave up hope.
His family worked with doctors across the nation to develop a plan where the senior can potentially play college football. Thanks to help from former Chicago Bear offensive lineman Olin Kreutz, Kyle connected with a NFL player who has played in the league after battling the same setback.
Now he's fighting for a chance at something that seemed guaranteed only a couple years ago.
"It's really encouraging," Kyle said. "I've never given up since I've not been able to play football. I've still been training, I've gotten bigger. I'm still the same person."
---
Kyle just thought he was out of shape.
The tight end made the transition from playing football during his sophomore season to basketball and was winded. He couldn't keep up, but he figured he just needed to get into basketball shape.
Nothing changed.
Kyle felt out of breath for weeks and went to different urgent cares where x-rays showed there was nothing wrong.
It wasn't until February 2020 when Bridgid Kyle received a text from her son at school saying that he couldn't breathe. He was gasping for air when she called, barely able to speak. She was out of town but told her husband Mike to get their son out of school and to an emergency room.
There the staff immobilized him when exams revealed blood clots in his lungs, fearing they could dislodge and stop the blood flowing to his heart. The threat decreased once James Kyle started taking blood thinners, but the treatment put his athletic career in jeopardy.
Blood thinners keep new clots from forming or existing ones getting bigger. But there is a risk of dangerous internal bleeding to a person's stomach, bowel or brain if they sustain a hit or fall.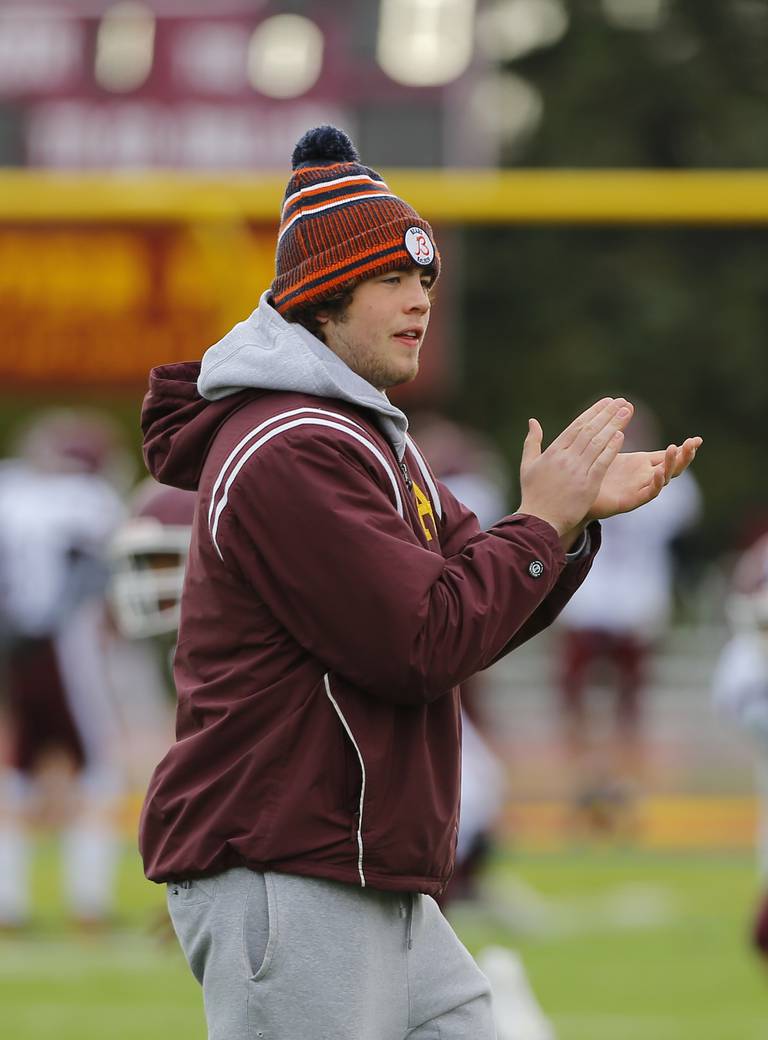 Because of those risks, James Kyle stopped playing sports for almost a year.
"It's completely frustrating," Loyola football coach John Holecek said. "This is a top athlete that doesn't get to do what he looks like he's made to do. He's a competitor, he's athletic, he's long, great feet. He was maturing so great, playing well in the limited time in the spring. So it's heartbreaking."
The doctors told the Kyle family that James Kyle would need to be on blood thinners for a year. Hopefully they would find what caused the clots and he'd return to football. After a year of research and consulting with physicians across the nation, doctors still couldn't determine why the clots were in his lungs.
The COVID-19 pandemic forced the 2020 IHSA football season to be delayed until Spring 2021, and doctors told the family that James Kyle could play football with a risk that the blood clots could return without taking blood thinners. He and his parents decided that he would take the risk and play his junior season.
James Kyle played in the first couple games when he fractured his elbow against Mount Carmel in Week 2. He played with it against Brother Rice the following week and after the game the swelling was all over his arm.
Loyola's trainer became concerned and told him he should be on blood thinners. When James Kyle met with his doctors they agreed: he needed to go back on blood thinners permanently. He couldn't ever play football again.
"That was terrible," James Kyle said. "Right in front of you, she crushed your dreams. I know that's not her fault at all, the doctors are trying to make sure I don't get hurt."
Unfortunately my football career has come to an end because of my health issues. I would like to thank my teammates and coaches for making it such a special experience. I would also like to thank all the college coaches that took time out of their lives to recruit me. 81 Out✌️ pic.twitter.com/MioI19GPOX

— James Kyle (@James_Kyle88) April 15, 2021
Loyola had a game the next day and James Kyle didn't know whether he could be around the team. He wasn't going to suit up with his teammates and he couldn't bear the thought of not stepping on a football field ever again.
He'd never get a chance to play the game that just a couple months ago he thought he'd be continuing in college. All of a sudden, it was all gone.
"It was very emotional, super heartbreaking," Bridgid Kyle said. "You go from having all those offers to not being able to put pads on, it's devastating."
---
Olin Kreutz couldn't believe what he saw.
Loyola had moved his son, James Kreutz, and James Kyle both up to the varsity team during their sophomore seasons, joining Olin's older son, Josh Kreutz. James Kyle impressed Olin Kreutz so much that he had one simple question for his sons after the game.
"Who the hell is that?"
"Some things you can tell will immediately translate to college," Olin Kreutz said. "He just played tight end at an extremely high level. I thought one day he's going to be recruited by all the top schools in the country just because of the way he was playing football at that young age."
When James Kreutz told his father that James Kyle couldn't play football anymore, Olin Kreutz wanted to see if he could help.
Trey Smith is a rookie offensive lineman for the Kansas City Chiefs who plays in the NFL on blood thinners. He was first diagnosed with blood clots in his lungs in 2018 during his sophomore season at Tennessee, which forced him to miss the remaining five games of the season.
Doctors came up with a plan for Smith to play on blood thinners and he did so for the next two seasons with the Volunteers without any issues. The Chiefs drafted Smith in the sixth round of the 2021 NFL draft and the lineman has started in all 13 games this season.
Olin Kreutz knew Duke Manyweather, who trains linemen for the NFL combine. Manyweather knew Smith and passed along his information to Olin Kreutz, who then passed it along to the Kyle family.
"Anything you can do to help, especially when you hear someone has done it before, it's not impossible," Olin Kreutz said. "You just want to present all the options to someone, and if in a little way you can reach out to someone and you just try to find a way to help them."
Smith and James Kyle got in contact with each other and talked through what he did at Tennessee that helped him play football without any issues.
Smith and James Kyle have developed a bond since their first phone conversation. They text when James Kyle has questions. The two have built a special relationship during a tough time for James Kyle, which has helped him continue his hope of regaining his dream of playing football.
"It's been nice for James to just text Trey Smith back and forth because they have sort of the same thing," Bridgid Kyle said. "It's a nice sounding board for James."
---
Dr. Stephen Moll has become a pioneer in helping athletes find a way to play football on blood thinners.
The University of North Carolina Blood Research Center clinician, researcher and professor has developed a treatment called intermittent anticoagulation, which allows athletes to take blood thinners but also play football in a safe fashion.
Smith and the Tennessee doctors told the Kyle family that Smith followed the treatment, which involves taking blood thinners in strict intervals and keeping up to date with any issues with his body.
The Kyle family met with Moll earlier when they wanted to learn more about playing football with blood clots after his initial diagnosis. They returned to the doctor after talking with Smith and learning about the treatment that helped him play.
James Kyle's doctors worked with Moll and the Tennessee team doctors to devise a plan that would allow the high schooler to play football and keep him safe.
After doing constant testing of blood draws, the doctors determined that James Kyle digests the blood thinners in 22 hours. Loyola usually only hits during one practice a week, so wherever he would play, James Kyle would take a blood thinner 23 hours before he was set to participate in a practice where the players hit. By the time practice would take place, the blood thinner would be out of his system and it would be safe for him to play.
He would replicate the same steps before a game.
After each practice and game away from blood thinners, he would meet with the trainers and James Kyle would do a self examination to see whether he injured himself, noticed any bruises or hit his head.
"James is very in tune with his body if he has to be," Bridgid Kyle said. "He's not going to do something to harm himself in terms of if he's having a hard time breathing, he's going to be the first one that's going to say 'I'm calling it quits.' He's very aware of what this is."
There's always a risk something could go wrong. That's the worry Bridgid Kyle and her husband have at times. But there's risk with anything that James Kyle can do while on blood thinners.
He could fall and hit his head while out on a run. He could get into a car accident. There are always risks for someone who is on blood thinners, but the family has done their research and trust the doctors that this is the best course of action if their son wants to realize his dream.
"So yes, there's worry about football, but there's worry about everything else," Bridgid Kyle said. "Just being on blood thinners for the rest of your life is not fun, and very nerve wracking for me because it could be anything."
The Kyle family presented the plan to Loyola this season but Holecek and the team's trainers determined they couldn't do everything the proper way it needed to be done for James Kyle to be safe.
That will be the key for the tight end: he needs to find a college that is willing to take the extra precautions and liability of letting him play.
---
James Kyle had a simple message when he sent out a Tweet on Nov. 8.
"I just want to play ball again."
The Loyola senior announced that after working with doctors across the nation, he has a plan for how he's going to play football. He's not asking for a scholarship, he's just asking for a chance.
James Kyle reached out to all the former coaches who recruited him, telling them about his plan. Some coaches have reached back and invited him to come down to campus to go over the plan in-person to see what exactly needs to happen.
"If someone is willing to take a chance on him and they want to go with the plan, we would love it," Bridgid Kyle said.
Since his Tweet, James Kyle has announced that Fordham, Eastern Illinois and Northern Illinois have all offered him preferred walk-on spots to their rosters while the University of Mount Union offered him an opportunity to play.
The dream for James Kyle is to walk on to a team and show that through his hard work, talent, size and a well-researched plan, he can be the player so many thought he'd become when he made his varsity debut as a sophomore.
At 6-foot-5, he still looks like an NFL tight end as he stands on the Loyola sidelines during games. With the support of family, teammates, coaches, doctors and new friends along the way, James Kyle is close to realizing those dreams he thought he'd never get a chance to achieve.
"It gives me hope for college and definitely my parents want to see me play football," James Kyle said. "There's some hope."