The parallels are "almost identical" to David Neidballa.
Perhaps the seasons of 1986 and 2021 for the Wheaton North football teams are a bit more written in the stars than one might already consider.
One chapter has already been written. The 1986 team won its state title versus Mount Carmel 34-14, the last time the program was in the state final. Neidballa was an inside linebacker. Legendary Falcons coach Jim Rexilius had another 10 years to go in his tenure at that point.
Fast forward a generation later. Neidballa's son, Chuck – now a senior middle linebacker for the Falcons – will help write the next chapter in Wheaton North football history. That will play out at 4 p.m. Saturday against St. Rita in the Class 7A final at Huskie Stadium in DeKalb.
"It's a great thing. We definitely want to go out there and win it," Chuck Neidballa said of the family legacy. "I think my dad [David] was kind of our biggest fan through the offseason as well. He expected a lot of great things from us."
David Neidballa and former teammates have even discussed how the 1986 team would fare against today's Falcons team.
"No disrespect to my former teammates, but no question, we would get smoked by the current Falcons team," David Neidballa said. "They would kill us. Athletic, way more speed, more strength. Different eras, I know."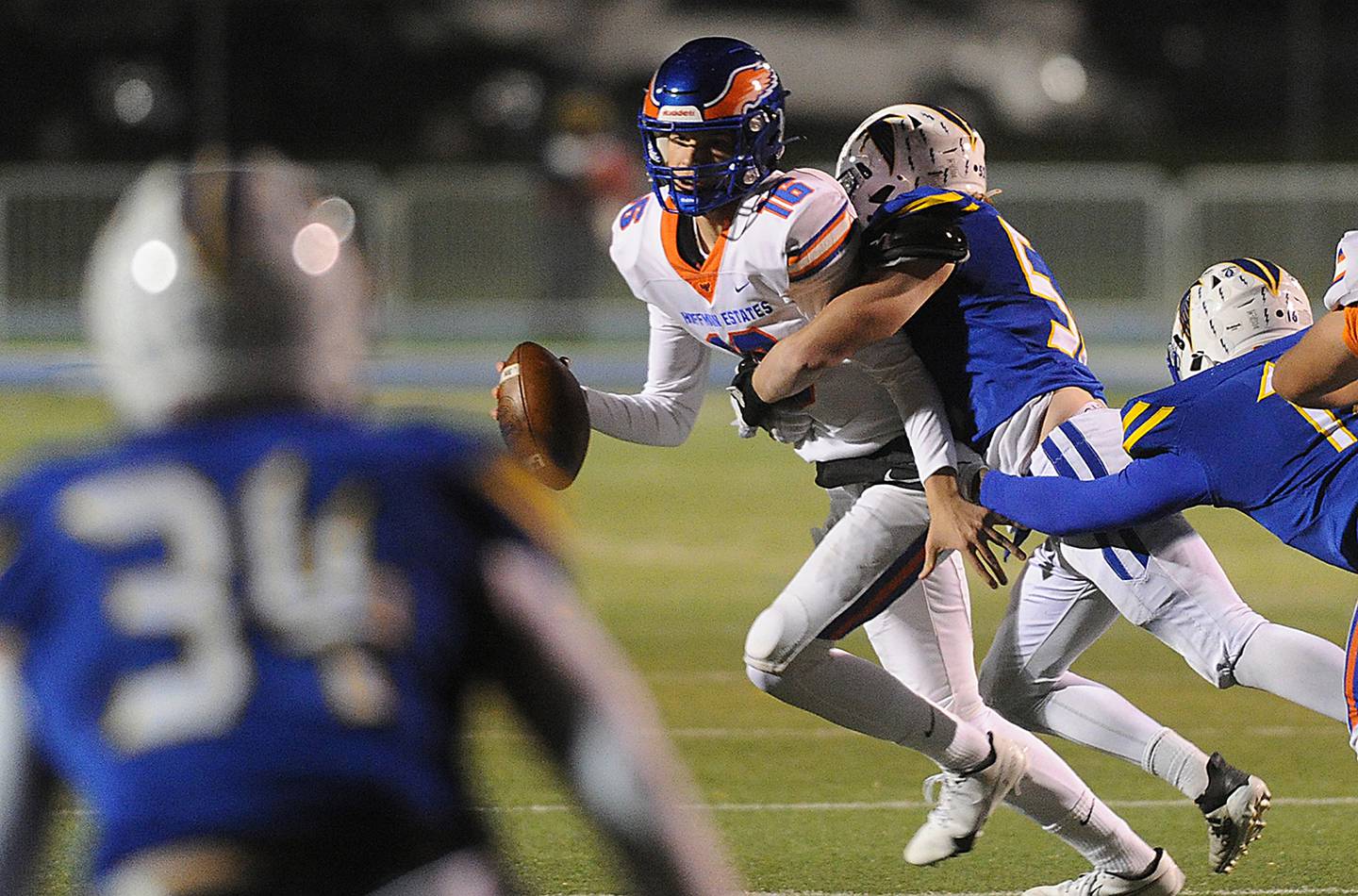 Wheaton North lost to Batavia in 23-20 in overtime in October during the third week of the season. In 1986, the Falcons lost to Naperville Central 7-6, also in Week 3.
"It was a terrible weather game...we were down a couple guys injury-wise," David Neidballa said. "They came out and took it to us. That was probably the pivotal point in our season, where from that point on, we got locked in going forward.
I don't know it it's that much different than what happened with this [year's team]," David Neidballa continued. "Not that the focus wasn't there against Batavia or not that our focus wasn't there against Naperville Central, it changed after that. It did something to us differently. I don't know if it was the feeling of losing and we didn't want that feeling again. But, it was very similar in respect to that."
After losing to Batavia, "the attitude kind of changed after that."
"We really didn't want that feeling again," Chuck Neidballa said. "We knew we had the talent. That was a very winnable game the more we look back on it...It was very much a turning point for us. We haven't lost since and we don't really plan on losing again."
"We weren't glad we lost at the time, but looking back on it, it definitely helped us get things together," Chuck Neidballa continued.
In 2017, Bo Neidballa, Chuck's older brother and also a middle linebacker, played in the Class 7A playoff overtime loss to Batavia.
It's left some unfinished business for the Falcons to put to rest.
"I'd say so," Chuck Neidballa said. "A lot of people who have played here, they kind of bought into [our success]."
Whether or not outside community expectations were high or not on a state appearance entering the season, the Falcons proved enough to vie for one.
Now, they're a day away.
"...There's a lot of us who's been with these boys for as long as they've been playing football," David Neidballa said. "[We've] known for a while about the potential of this class. Going through the shortened spring season last year gave a lot of us who's been around these guys not a doubt in our minds that they had a chance. They had a chance to get there and do this. I think we all kind of believe that; maybe even a little before, but for sure after that spring season, we thought they had a chance."
Before hanging up the phone David Neidballa reflected on his own personal journey as player, and now as dad.
"What we and my teammates went through 35-years ago was awesome and it was the best. It doesn't compare to what it's like when you have a kid go through it," he said. "This is much better. To have a kid go through it and experience the journey you experienced, there's nothing like it."