At his lowest point, Jimmy Liston heard encouragement that proved prescient.
Liston, now an All-State center and anchor of Fenwick's offensive line, lost the first three games of his high school career, as a freshman. The low point came in Week 2 of that 2018 season, a 34-0 loss to rival St. Ignatius.
"We're on the sideline losing to our rivals and our receivers coach came up to me and said the best days are yet to come," Liston said. "He was right. We all worked toward this goal. We have to finish it off in the next 48 minutes."
Liston has seen a lot in four years at Fenwick. A 3-6 first season. A coaching change after the second. A third season abbreviated by a pandemic. A historic fourth.
On Saturday morning, when he takes the field at Huskie Stadium in DeKalb, it will mark Liston's 37th varsity start. Liston, who will play collegiately at Purdue, plans to leave the field with Fenwick's first state championship.
"It means the world to me to play in this game," Liston said. "Anything I have ever asked of Fenwick, they have given to me. It only feels right to give it back this way. I have a feeling that we are going to finish it off the right way."
Fenwick is in its first-ever state championship game because of a roster loaded with future Division I talent, led by Liston, Ball State bound quarterback Kaden Cobb and receivers Eian Pugh (Illinois) and Max Reese (Eastern Michigan).
But the Friars are also here because of a deep well of experience.
Ten players, including the aforementioned four, have played up on varsity for at least three seasons.
"With everything that has happened in the world, having this crew here as long as they have been, it has given us an advantage," second-year Fenwick coach Matt Battaglia said. "It felt going into junior year that they had lost that chance. They have been extra accountable so that they didn't waste an opportunity this year."
Liston won't let it happen, not after his journey.
He recalled doing all summer camp leading up to his first year of high school with the freshman group. The week before the first game against Kenwood, though, he was called up to varsity.
"Had a lot of growing pains," Liston said. "The maturity level is a very big gap. I was still a kid. I wasn't little in size, but I wasn't the most mature yet. There were a lot of growing pains, but worked through them. I just knew we would get to the point where we are now. Credit to our coaching staff, they do such a great job. I've been with my O-line coach for four years."
Centers do not often attract a ton of attention on the football field – but Liston is a hard one to miss.
At 6-foot-4 and 310 pounds, it's been said that at times Liston looks he's playing all five spots on the line at once. There is video of Liston on Twitter of him mauling a Nazareth lineman some five yards down the field on a passing play, knocking over a referee in the process.
"People asked me 'It's a pass play, why are you downfield,'" Liston said. "But Kaden takes off with the ball so much that I have a mental clock on the field. If the ball isn't released by a certain time, I need to move my feet. I thought I knew he was going to take off with it. At first I didn't know I hit the ref. I stood up, I see the ref, and thought 'that's not good.'"
The quarterback/center connection is perhaps understated, but nonetheless an essential one. Liston calls Cobb one of his closest friends, "a great football player and an even better guy." The relationship between positions takes time to develop, but Liston said their friendship has grown greatly.
"Seeing stuff, checking protections, we've been together for three years – I know him and he knows me. I feel like we have a bond that not many quarterbacks and centers have," Liston said. "That connection goes to knowledge, technique on the field and blitzes to as simple as I have to get the ball between my legs to him and block someone before he gets hurt."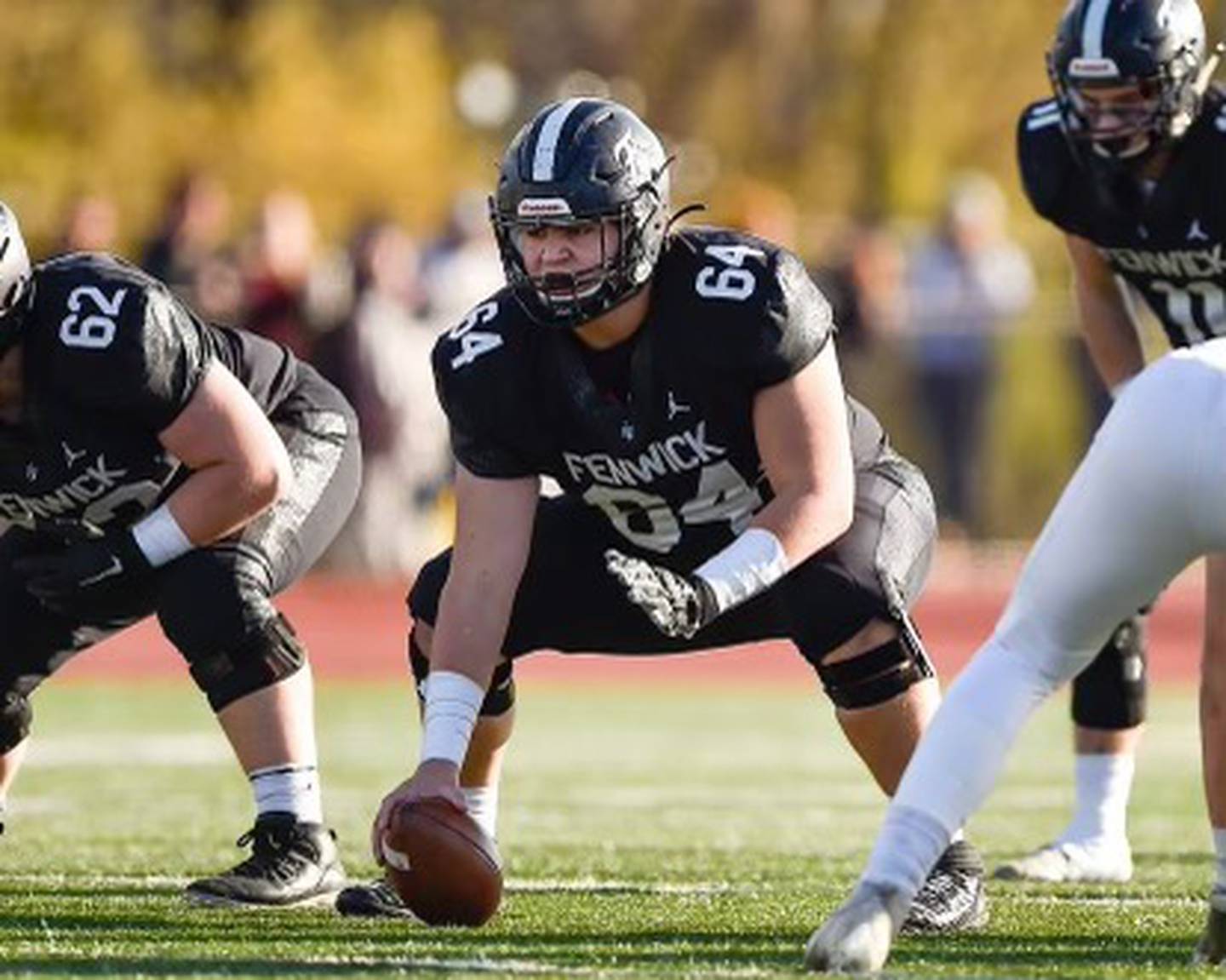 Liston finds himself in awe sometimes at what Cobb can do on the field, but doesn't let that get in the way of doing his job.
"He's really good at extending plays," Liston said. "Once you know he's going to do it, you have to start moving people out of the way so he can make something happen with his feet."
Battaglia, himself a former offensive lineman, can appreciate what Liston does.
"Jimmy is the field general of the offensive line," Battaglia said. "He makes all the protections, gets us in the right place. He is a physical and emotional leader. It's like having a coach on the field and makes it a lot easier for us."
While Liston certainly has the size to play the position, Battaglia noted he's more than just a big body. A state qualifier in wrestling, Liston's grappling skills translate to football.
"He has that nimbleness on the field, the ability to use natural leverage," Battaglia said. "There's a lot of big kids. How many big kids use their body with that leverage?"
Liston's athletic talents shouldn't surprise.
While quickly offering "I'm not related to to the famous Tricia Liston" former Ms. Basketball from Fenwick, he had two sisters that swam at Fenwick and another who golfed. His dad, Brian Liston, played center and guard at Purdue from 1979-83.
"It's an ongoing joke that [playing center] is a family heirloom," Liston said.
He's equally glad to be following his dad's legacy at Purdue, a lifelong dream that he cemented with an August commitment.
"Close to home, great education. It's an opportunity I couldn't pass up," Liston said.
Liston doesn't plan on passing up on the opportunity ahead of him this weekend, either, against an unbeaten Kankakee opponent that has earned his respect.
"They are super talented, super athletic, I think overall they are the best team we have played. It should be a great game," Liston said. "Nobody makes it to state without hard work and these guys have showed it on tape. I can't wait."