Nolan Sharkey knew what was at stake after the 2021 spring football season.
Sharkey was tabbed as one of four new starters on Cary-Grove's offensive line. The Trojans were loaded with returning talented players in the backfield, so the new linemen wanted to hold up their end for a team with state championship aspirations.
"We know the standard of what we have to be to start," Sharkey said, "and we wanted to be that standard to have all this good happen to us."
Sharkey, Niko Neckopulos and Aaron Caspary came to work in the spring and summer with returning starting tackle Max Katsenos. Zach Petko, a two-year starter at linebacker, was slated to also play on the offensive line for the first time this season. Tight end Noah Riley, an important blocking position in G-G's triple option offense, is another returning starter, while the other tight end Michael Gustafson also was new to the lineup.
They watched video of their C-G predecessors who had played on other productive Trojans' offenses. They tirelessly worked on details.
"I could see the potential," Katsenos said. "Once we got to the first game, I was like, 'OK, we really got this going together.' After that first game, I just knew we really had something special."
The line has paved the way for an offense scoring 45 points a game, averaging 421.8 yards a game and one that rarely punts or plays past the third quarter.
The Trojans average 9.5 yards a carry. Fullback Nick Hissong is at 9.3 a carry, while the other three starters – quarterback Jameson Sheehan (10.4) and running backs Drew Magel (15.0) and Wade Abrams (14.8) – are in double digits.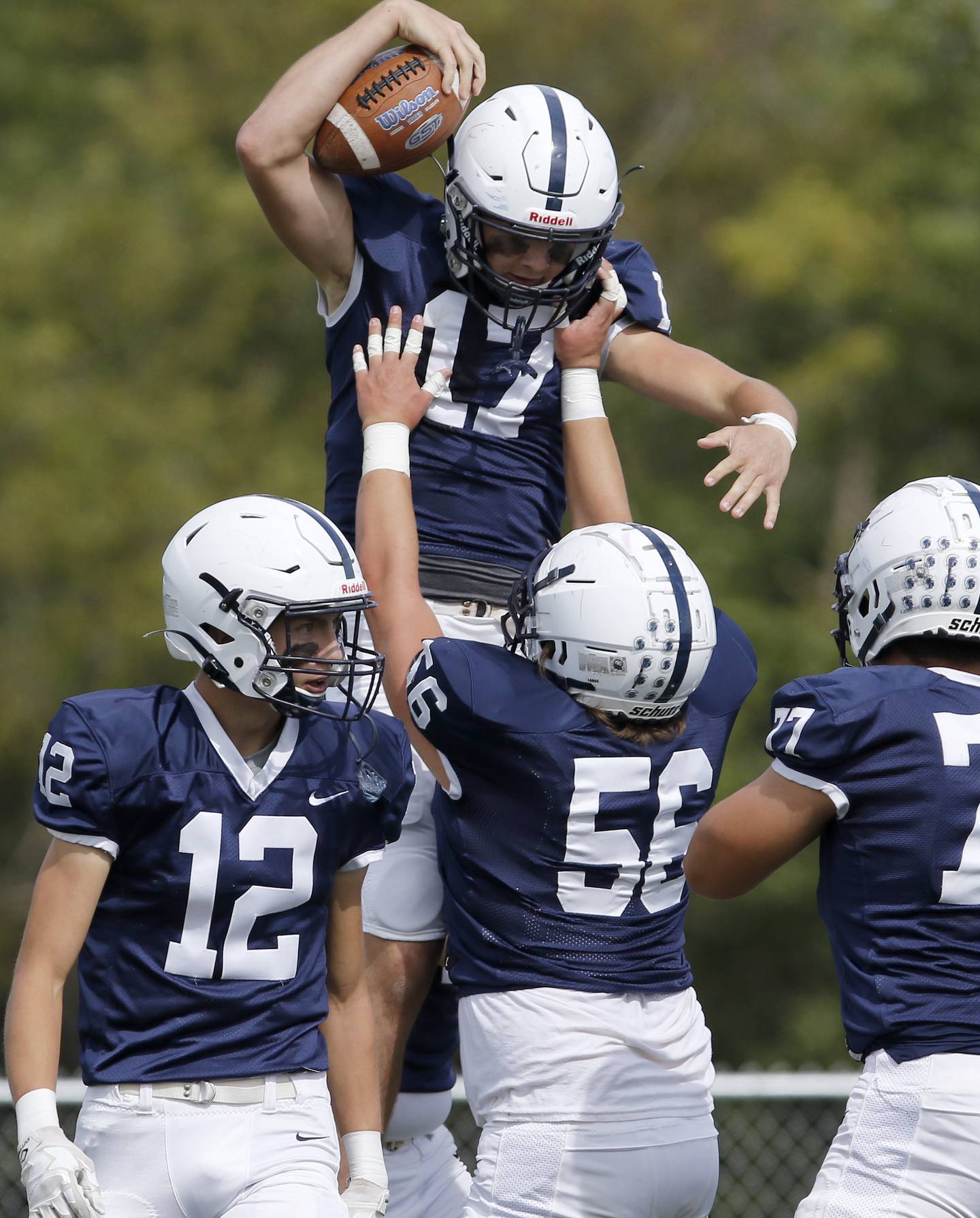 C-G (13-0) will need all of that production when it meets East St. Louis (11-2) at 1 p.m. Saturday in the Class 6A state championship game at Northern Illinois University's Huskie Stadium.
The Flyers are considered by many around the state as the best team, regardless of class, with five current NCAA Division I commits and two others who have offers, just among their senior class.
"They've really improved throughout the year. They just do a great job," Trojans coach Brad Seaburg said of the line. "We had a really good offensive line in the spring and had to replace four of those guys. We knew they were athletic, but we didn't know if they'd be able to understand all the complexities of our (triple-option) blocking schemes up front and the whole offense.
"If you watch our film, you see great pad level, great finish. A lot of observers at our games are impressed with how our kids block to the whistle and finish blocks. We're going to need that."
C-G often goes entire games without punting. At one point early in the season, the Trojans' first-team offense scored on almost 20 consecutive possessions.
Sharkey was proud of the line in its 42-21 quarterfinal victory over Crystal Lake Central.
"They came out in a front we hadn't practiced against and one we hadn't seen all season," he said. "(Offensive line) Coach (Mike) Manning said we'll probably see something we hadn't seen before (at some point). It took us maybe one play and we figured out what we needed to do."
Hissong and the backs are most appreciative of the line's work. C-G's offense has been so good that its closest game was a 36-22 win over Jacobs.
"They've done a great job all year," said Hissong, who has run for 1,489 yards and 27 touchdowns. "They have a lot of push up front and it allows, not just me, but all the backs to make plays.
"They're hustling and making downfield blocks too. You'll look at film and see some offensive lineman actually beating backs down the field to make a block. In the last game (a 40-7 semifinal win over Lake Forest), Zach Petko made a block right in front of the end zone for Drew Magel to score."
Katsenos lauds the work his senior classmates did preparing to start on the line.
"The main thing was really working hard in the weight room and working hard in the summer," Katsenos said. "Those guys in the offseason, when we had our morning practices, they really were just working hard and got to the level where they can compete today."
C-G's offensive line averages 226 pounds a man, about 100 less than the behemoths on East St. Louis' offensive line. But Seaburg likes the option because it can be effective when teams have smaller linemen.
"They've very athletic and very physical at getting off the ball," Seaburg said. "What we're going to need to do offensively to combat East St. Louis' size and athleticism is play as a unit up front. Our guys play well together. Just playing as a team will give us a chance."