Throughout his illustrious career, Nazareth coach Tim Racki has become accustomed to winning.
In particular, winning championships.
Overall, Racki built two programs — Driscoll and Nazareth — into state contenders.
He's won seven state championship, including four consecutive at Driscoll. The former Southern Illinois football player has also notched a pair of second-place trophies, most recently in Class 7A in 2019.
Winning is normal for Racki.
But when the Roadrunners lost several players to transfer, including star quarterback J.J. McCarthy, a current freshman at Michigan, during the 2020-21 season because of the coronavirus pandemic, Racki had a thin roster when the spring 2021 season started.
Nazareth posted a 2-3 record in five games played in the shortened, nonplayoff spring season, culminating with a frustrating 3-0 home loss to Benet in the final game.
After the Roadrunners lost their first three games this season, to Richards, Lemont and Marist, Racki never questioned whether his players could turn it around.
Now, after closing the regular season with three straight wins to become playoff eligible, the Roadrunners (7-4) are among the final few teams standing after defeating Marmion 23-14 in a Class 5A second-round playoff game on Nov. 6. The Roadrunners advanced to play Fenwick in a 5A quarterfinal on Saturday at 1 p.m. in LaGrange Park. Two years ago, Nazareth defeated Fenwick 31-6 in the regular season.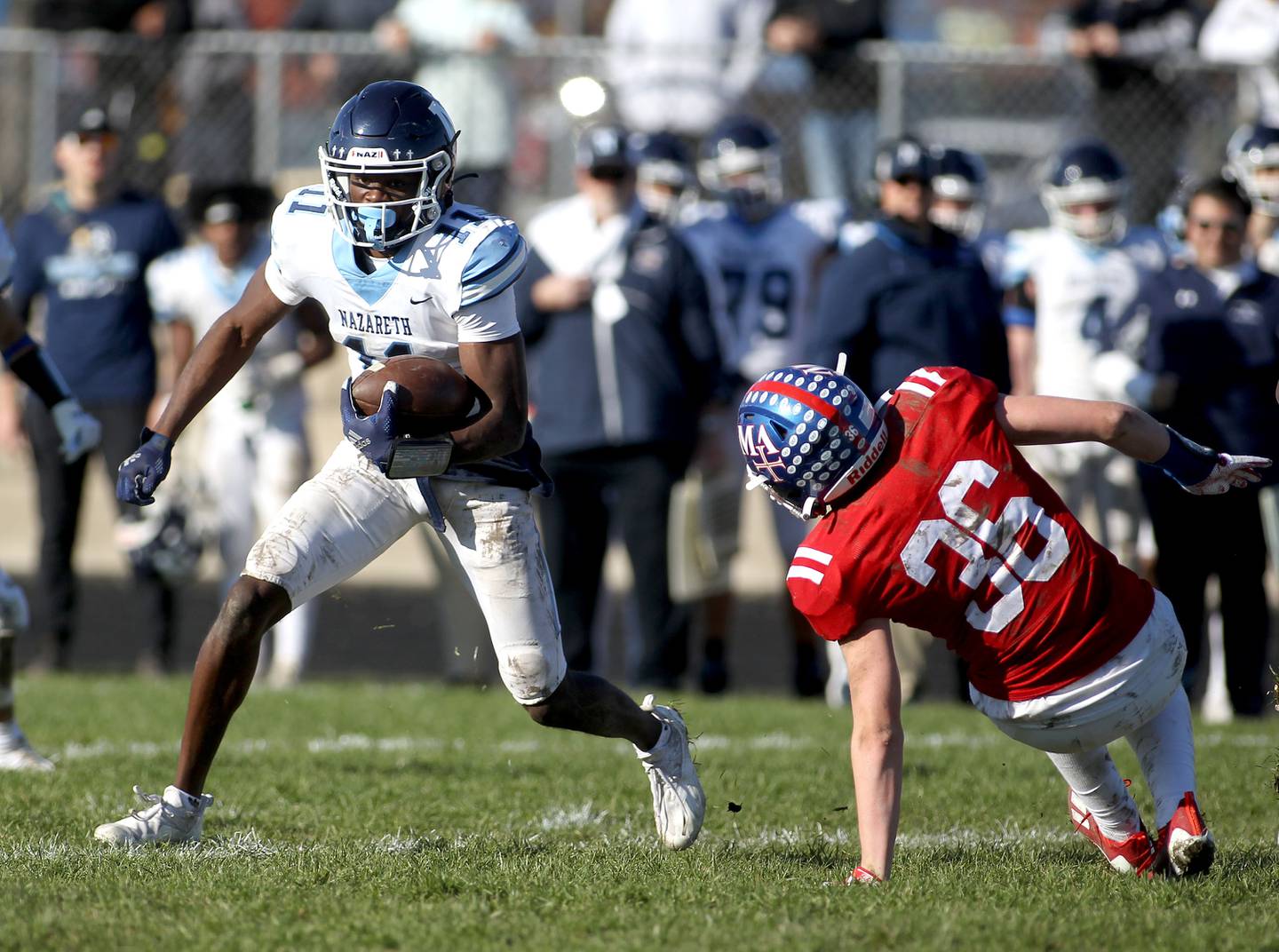 Senior wide receiver Quentrell Harris, who has over 10 scholarship offers, was the star in the win over the Cadets (7-4). He caught passes, played Wildcat and returned kickoffs and punts and even had a strong performance on defense to end the Cadets' season.
"I think the regular season and the teams we played really helped us," Racki said. "We've been improving steadily each week, even in those early-season losses. We're now accustomed to the tough type game, where you have to grind it out for four quarters and 48 minutes. They know how to recalibrate and find ways to grind it out. They make big plays and keep the games close."
Racki said this team — not the traditional star-filled Nazareth teams of the past few years — has been a joy to coach.
"For me and the coaching staff, this season has been rewarding because we have incredible kids, even off the field," Racki said. "They have high character and they listen, work hard and practice hard. They do the right things, on and off the field. They all get along. This team has grown each week, and gotten closer and closer. It's been personally rewarding watching them grow. It's been one of the most rewarding seasons of my career, just watching them develop each week."
Racki pointed to his team's 28-14 road loss to Marist in Week 3 as a turning point. Also, the Roadrunners nearly knocked off St. Rita, losing 42-39 in Week 6. Marist, Lemont and St. Rita all reached the quarterfinals.
"It's been a while since I talked about moral victories, but when we hung with Marist, a Class 8A school, up until the end, it gave the guys confidence. Same with St. Rita," Racki said. "We were able to go to the wire with some great teams that we're going to make runs in the playoffs."
Next up for the Roadrunners is a tough test against an explosive and deep Fenwick team. The Friars (9-2) scored 50 points in their first-round playoff win over Kaneland.
"These are the kids that we played them a couple of years back, when they were all sophomores but now are all seniors and grown up," Racki said. "They're battle-tested, athletic, strong up front. Just leaning on my experience as a head coach, the quarterfinals you always play top teams. Fenwick has played a tough schedule. It should be a great matchup with our skill kids and our kids upfront."
Fenwick senior wide receiver Max Reese, an Eastern Michigan recruit, is a player to watch against Nazareth. The 6-foot-3, 220-pounder has caught 59 passes for 1,154 yards and 14 touchdowns this season.
"Nazareth is a great team with great coaches and great tradition," Reese said. "They have a young quarterback who's very good and poised for his age. It's going to be a great matchup, just a dogfight."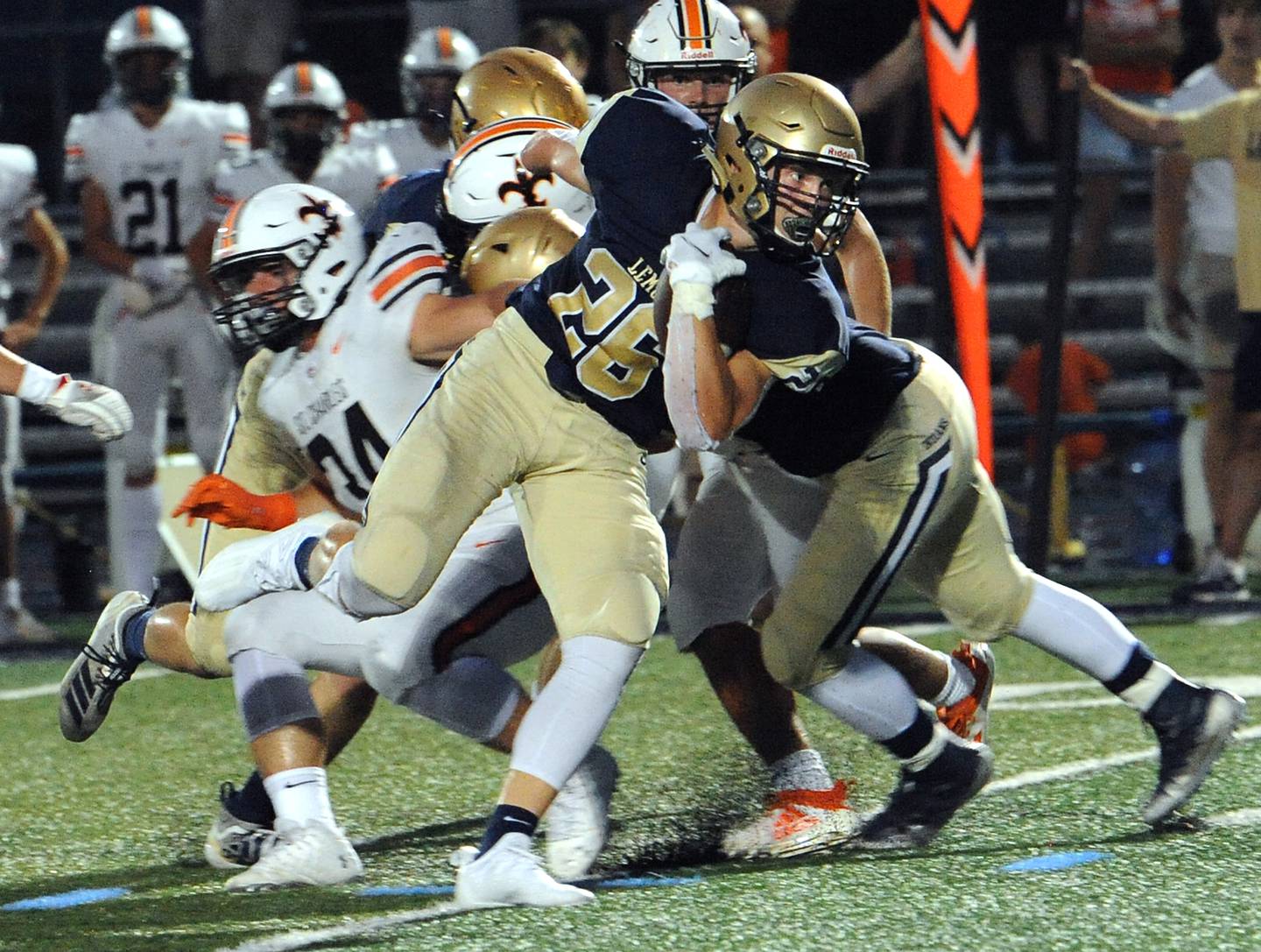 Lemont update
Lemont junior quarterback Payton Salomon probably didn't envision getting ready to lead his team into a possible trip to the Class 6A semifinals back in the summer. A first-year starter, Salomon is one of the leading figures behind Lemont's undefeated start. Lemont (11-0) has a tough test Saturday when it hosts East St. Louis (9-2) in a quarterfinal game at 2:30 p.m.
The Flyers are led by Missouri recruit and five-star wide receiver Luther Burden III, and quarterback Robert Battle.
"East St. Louis is a physical team," Salomon said. "They have more than a few guys that have caught our eye. We really respect their game. We have to execute and limit our mistakes. Our defense needs to keep their offense off the field as much as possible."
Albert Kunickis fueled top-seeded Lemont's 72-36 win over Springfield in the second round, carrying the ball 33 times for 256 yards and five touchdowns.
"Albert is always pushing not only me but the team to be better day in and day out," Salomon said. "We have a great chemistry."
Willowbrook update
Willowbrook advanced to the quarterfinals for the fifth straight season after a stirring 30-26 comeback win over Moline in a Class 7A second-round game. Willowbrook coach Nick Hildreth admitted it's a great accomplishment for his program.
"These kids play hard and are resilient," he said. "I"m very proud of them…Our mantra is 'maintain the culture' and what that means about the guys that come before us and after."
The Warriors (8-3) host Wheaton North (10-1) in a quarterfinal game on Friday at 8 p.m.