A very good last Friday night for Blake Kersting and Yorkville's football team was the capper to a very different week in the Kersting household.
Kersting is a junior and starting outside linebacker for the Foxes. His dad, Marc Kersting, is the offensive coordinator at Oswego.
Blake Kersting said dad and son try to keep things as normal as possible during the season.
In earlier weeks Blake would talk to his dad about the Foxes' plans for the week, what his role was for a particular game.
"Obviously, I didn't share that this week," Blake Kersting said. "I talked some smack during the week, but just kidding. I didn't really talk much this week."
It was a week that ended with Yorkville's 48-26 win, clinching a playoff berth.
Kersting, as usual, was at the center of much of Yorkville's success.
He partially blocked a punt, and blocked an extra point. He was the upback on a fake punt, and later laid a huge hit on an Oswego receiver, one of Kersting's six tackles.
And Kersting capped it off, as the holder on an extra point, turning a busted play on a low snap into a two-point conversion pass to Jake Davies.
"It was pretty cool, with all the history I have with [Oswego], to look over at the sidelines and see my dad while I was playing. It's pretty cool, and cool to beat them," Kersting said. "I was super happy. My dad wasn't as happy."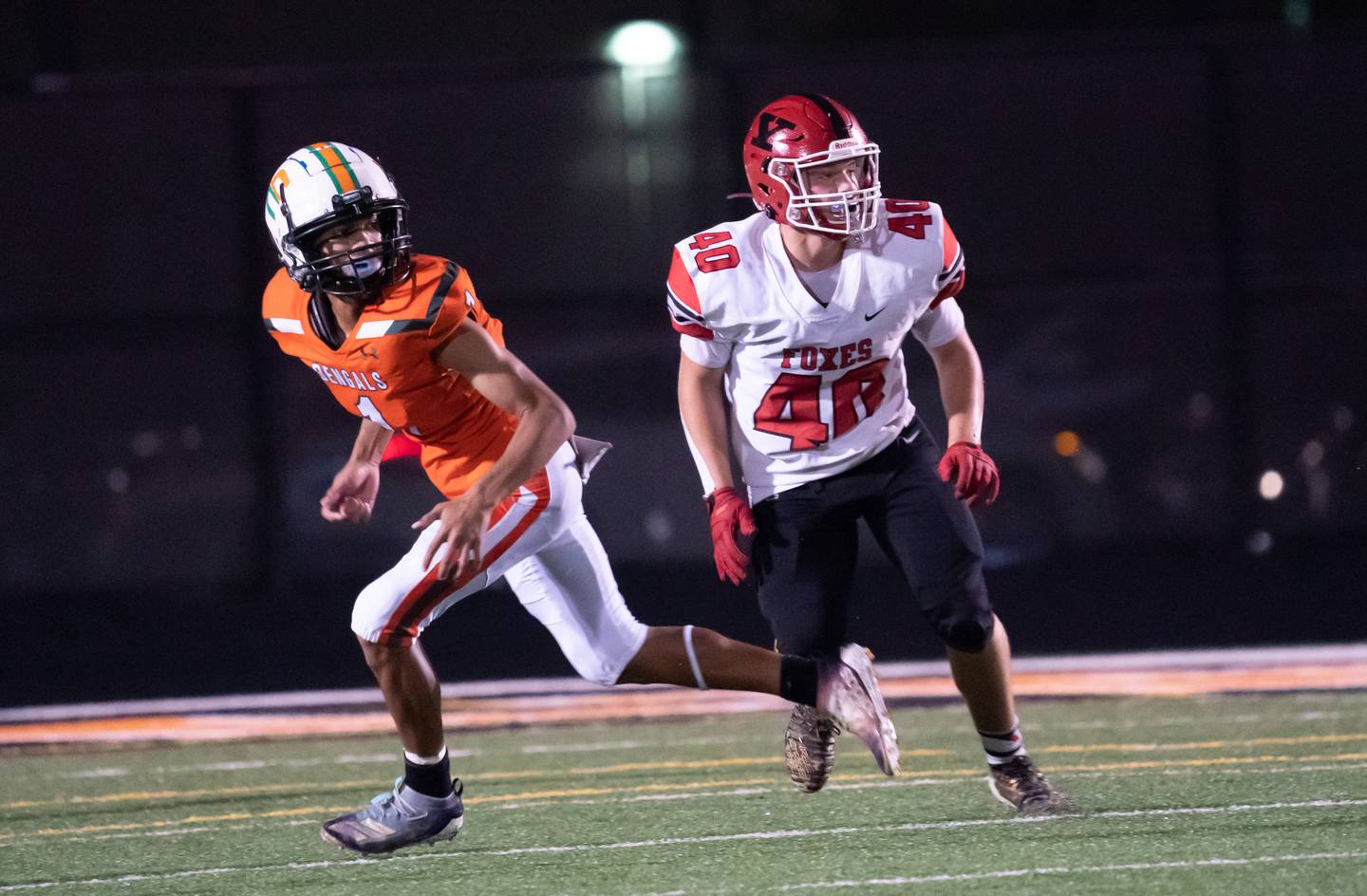 Yorkville coach Dan McGuire is happy to have Kersting around.
"I hate to say an overused term, but he just gets it," McGuire said. "He gets the big block or the big hit, but he also understands the little things that make a big difference. We like to talk about all those things. There are so many things you can't coach. Blake has got a ton of those things, the traits of a coach's kid that's watched a lot of football."
Indeed he has, and watched a lot of Oswego football.
Kersting attended all of his dad's Oswego games growing up, watching from just beyond the end zone. He even went into the locker room at halftime with the team, up until the sixth grade. Summers were spent at Oswego football camps, and he went to their practices.
"I've been very involved," Kersting said. "Definitely, my whole life has been around football."
Kersting was promoted to varsity as a sophomore, where he played safety in the spring.
This fall, Marc Kersting got the blessing from Oswego coach Brian Cooney to attend Blake's Yorkville games, except for Week 8 when Oswego played crosstown rival Oswego East.
"Spring season, he didn't see many of my games, he didn't know how much I would play, but this year he worked something out," Kersting said. "He is with them the entire week and then Friday he's gone to my games."
McGuire, of course, has been happy to have the younger Kersting around.
Moved from safety to linebacker this fall, Kersting leads the Foxes with 64 tackles, with seven tackles for loss and four interceptions.
"He played some safety for us last year and he still could have done that but we were able to use his physicality a little bit more," McGuire said. "He is a very very good tackler, something he doesn't get credit for. He's not only intelligent but a very talented kid."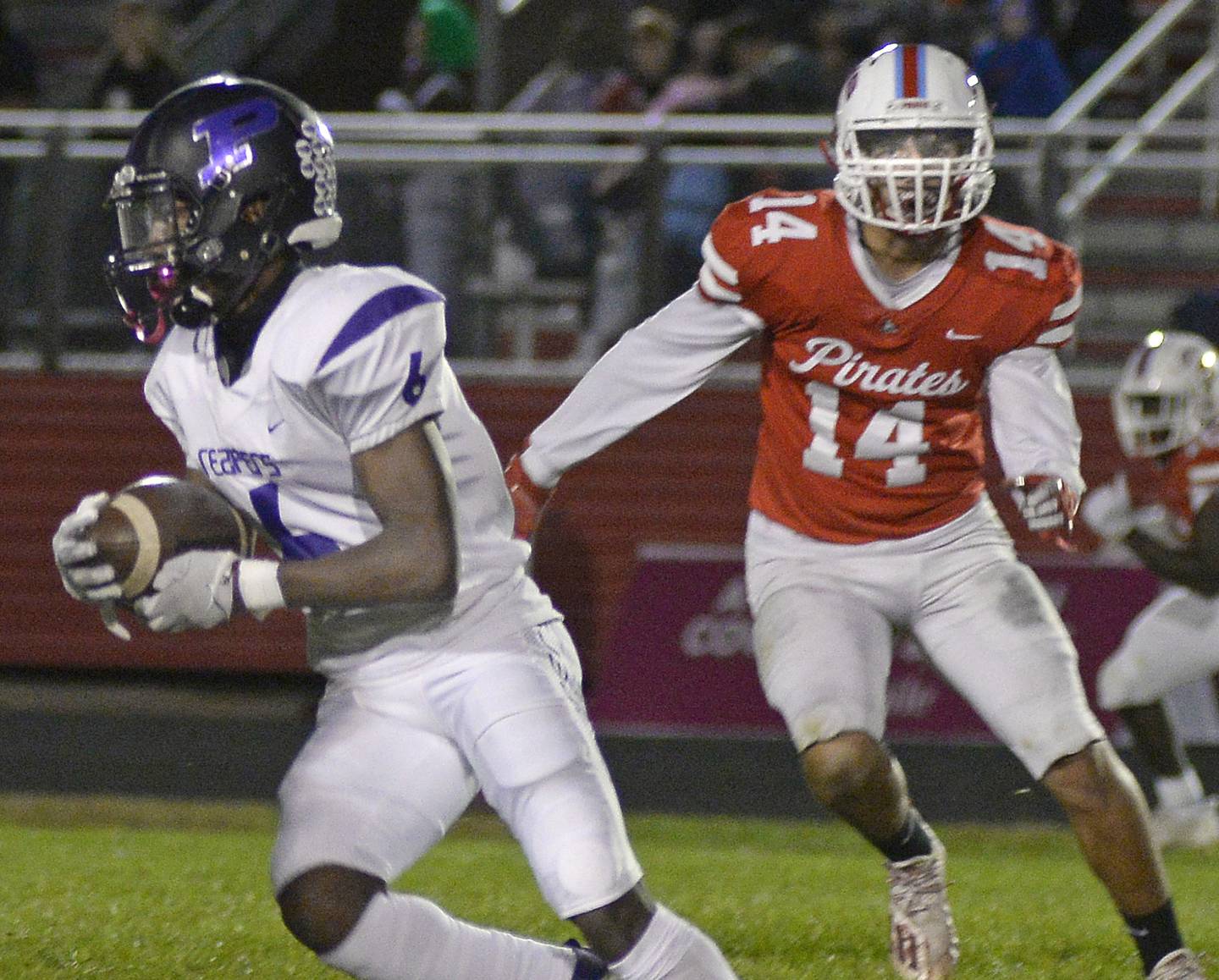 Plano excited to be back in postseason:
Not even cold and dreary conditions Monday could rain on Plano's parade, as the Reapers began preparations for their first playoff game since 2018.
"The energy at practice [Monday] was phenomenal," Plano coach Rick Ponx said. "We didn't know what to expect with it being cold and windy, a wet field, but the kids were excited to be out there. We brought up 15 or so JV kids. They were all excited to continue to be playing football and the energy was carrying over from Friday night. The next few days are work days, polishing things up. We won't try to do anything special. Ray [Jones] better get it 20 times, Waleed [Johnson] 10."
Jones went over 1,000 yards with his game last Friday at Ottawa, while speedy sophomore Johnson had two offensive TDs and one on defense.
"He has now scored a touchdown on special teams, defense and offense this year," Ponx said. "He is just explosive whenever he gets the ball in his hands. He has been there all along, perhaps a little overshadowed by Ray. Teams quit kicking to him. They watched the film, and don't kick to him. Ottawa went ahead and put the ball in his hands, and you see what he can do."
Plano's first-round opponent, Kewanee (8-1), has averaged 38 points per game this season – although Ponx has come away impressed with the Boilermakers' defense.
"They play a 4-3, they have a defensive end and a defensive tackle who is very good, a 6-foot-3, 290-pound kid at defensive end who should be more of a tackle but he moves so well. A shorter little kid inside that is just so quick and gets off the ball," Ponx said. "Their three linebackers are as good of a corps as we have seen. They're like clones of each other, 6-foot-1, 190 pounds, can run, make good decisions. When Ray got to the secondary last week he could run away from people. They guys can track him down. Running side to side will not be the answer against them."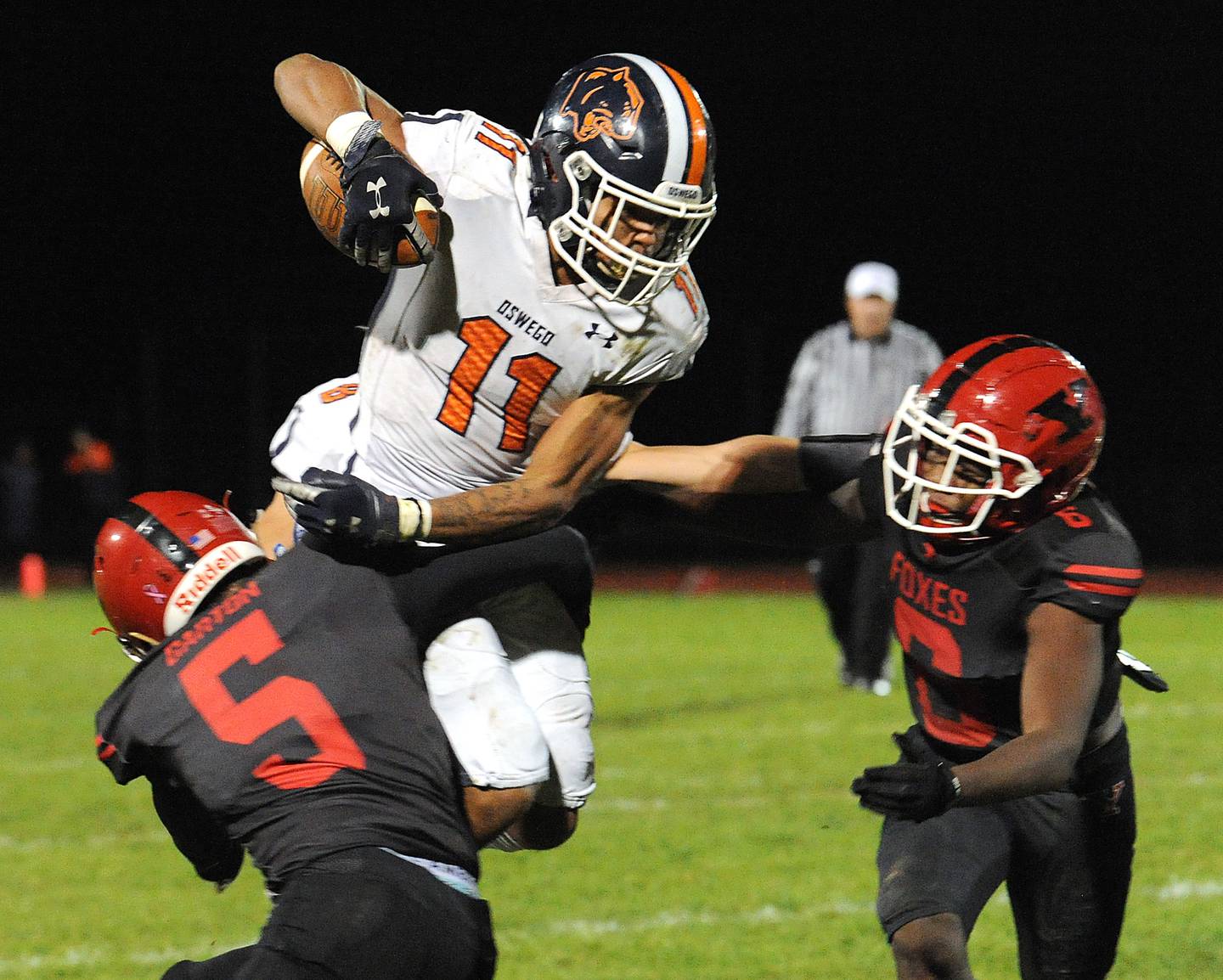 Oswego gearing up for huge Glenbard West challenge:
Oswego had no time to feel sorry for itself after a jarring 48-26 loss to Yorkville in Friday's season finale.
The Panthers drew a first-round assignment at Glenbard West, one of the powerhouse programs of the western suburbs. The Hilltoppers have made 14 consecutive playoff appearances under head coach Chat Hetlet, with state championships in 2012 and 2015.
"It's either get over it, move on, fix it, or we're done, we're out of here," Cooney said. "We want to keep getting better and compete."
Oswego actually has good recent history with Glenbard West, in the programs' limited association. The Panthers beat Glenbard West 24-20 in a 2017 second-round playoff game, a game played at Glenbard East because of poor field conditions at Glenbard West's Duchon Field.
Cooney, though, understands the challenge of this particular assignment.
Glenbard West's defense has given up 71 points all season, and only 31 the last four weeks in matchups against playoff teams York, Downers Grove North, Lyons and Hinsdale Central.
"The points they give up, they're not busted plays, kids missing tackles. Teams have to put a consistent long drive together to move the ball and score on their defense," Cooney said. "We just have to stay patient and realize that every play counts. Like I told Mark Melton and the other guys, it won't all be puppy dogs and ice cream, we're moving the ball all night, stopping teams and you get free hot dogs after the game. This game, you have to pin your ears back, and do the grunt work. It won't be a quarter or a half. It will take a full game."