Three days before a big game against Glenbard East, Trevor Burnett heard some good news about his future.
By his standards, the Glenbard South senior running back had yet to experience a heavy load of carries or passes in a game this season.
He got his wish for the Glenbard East game.
"My coach told me I was going to have to be ready," Burnett said. "He texted me after Tuesday's practice that I was going to get the ball 20 times (at least). I was ready because I knew I was going to have to get us started against Glenbard East. I knew I was going to be the one who had to move the train.
"All season I had been waiting for that moment. Coach was waiting for the moment when we played a game like that. He wanted to keep the other team's guessing, and not showing them what I can do for a full game."
Glenbard South coach Ryan Crissey's plan to unleash Burnett on the Rams worked to perfection. In a matchup of teams with one loss apiece, Burnett was the star attraction in the Upstate Eight Conference game. He rushed for 243 yards and three touchdowns in a 40-20 rout of Glenbard East. Burnett's 83-yard touchdown run late in the third quarter broke open the game. Burnett joked he wasn't ready for the heavy workload.
"In the first quarter, I thought I got the ball 20 times," he said, laughing. "I was happy to show people what I can do for a whole game."
Crissey said the offense is geared toward maximizing Burnett's use.
"There's no secret, especially with our conference in that every team gets every one of our game films due our conference policy, that there's no denying Trevor is going to get the ball," Crissey said. "But you have to stop him. That's very hard to do. He's gifted and has great vision and his ability to accelerate and change directions is uncanny. It's our job as coaches to make sure the offense runs through him. It's about utilizing Trevor is so many ways. You can't guard the whole field. We have some fantastic athletes."
The Raiders (7-1, 7-1) close out the regular season at Elgin. Burnett said the Raiders, led by a dynamic offense, can surprise some people in the playoffs.
"It feels good to win like last week, to build more fire going toward the playoffs," Burnett said. "We needed that. It's been an extremely fun year, knowing this is my last year. I'm trying to win out and enjoy playing with my teammates. The Glenbard East game was a glimpse of what we can do. I want to see what teams are going to do against us in the playoffs."
Burnett, a four-year varsity player, said he's watched the development of star sophomore wide receiver Cam Williams in the last two seasons. The Burnett-Williams combination is one of the top duos in the area.
"It's great to have another player who can also make a big play," Burnett said. "I'm trying to show him what it takes to be successful and show him the way and teach him everything."
Burnett, who has 10 offers, said he's going to focus on his recruiting in the coming weeks. He made visits to Northern Illinois, Kent State and Indiana State.
"I'm in a mindset where I'm focusing on the season," he said. "I know what our team can do, so I'm putting all my effort on that. We have at least two more games left this season. We're going to go to work. I truly think this team is very special."
Crissey said Burnett's on the the path toward a bright future. Colleges, Crissey said, have looked at Burnett as a slot receiver, running back, cornerback and kick returner.
"The offers he has are a byproduct of his hard work and natural talent," Crissey said. "He's never taken it for granted. Football has changed his life trajectory. His family has had hardships for most of his life. Football is like a safety net for him. It can propel him to a more successful life after college. He takes it very seriously. It's not just a game to him."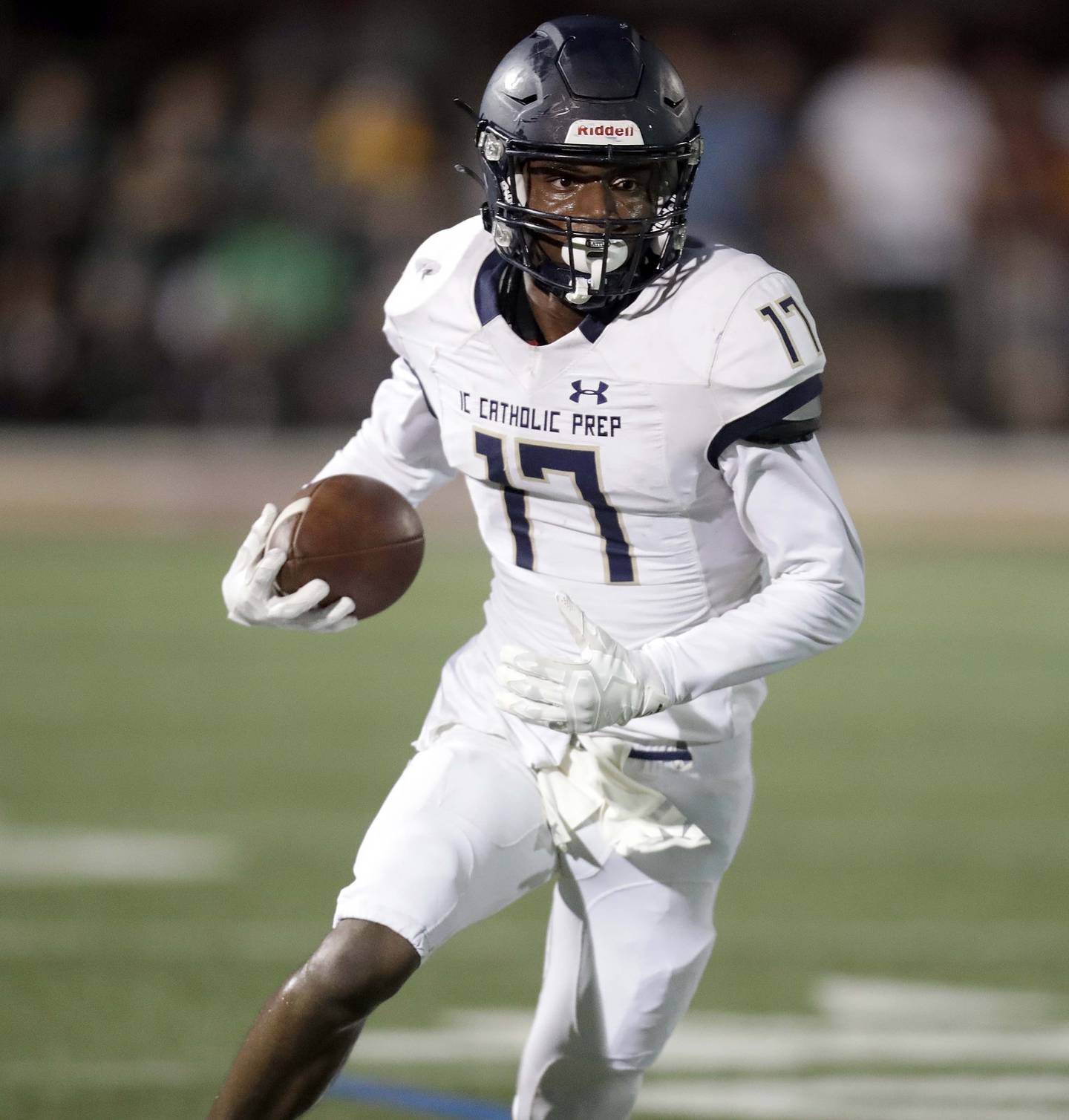 Big game
One of the best games of the season pits two teams in a meaningless end-of-the-regular-season matchup. St. Francis (6-2) hosts undefeated IC Catholic Prep (8-0) on Friday night in Wheaton. The Knights have steamrolled opponents in the last three games, recording a 112-37 winning margin. The Spartans rebounded from a Week 7 loss to Bishop McNamara with a 35-7 win over Riverside-Brookfield.
"I feel good because I think we got some things we needed to get cleaned up done last week," St. Francis coach Bob McMillen said. "IC Catholic does a great job from the standpoint you never can replace a guy like Kyle Franklin, but [Malik] Gray has been running up and down the field. Their offensive line does a phenomenal job of blocking. Defensively, they have 11 guys flying around and being playmakers that are very tough and physical. We have to stop making mistakes and play with maximum intensity and we can't turn the ball over and give them good field position. We have to play smart football and know our assignments."
Extra notes: Several programs with recent state titles could be on the outside looking in when the playoff pairings are announced Saturday night. Montini (3-5) lost its last two games to fall out of playoff consideration. Providence (3-5) failed to score a point in its last two games. Nazareth and Benet face off Friday with identical 4-4 records. Lyons travels to Downers Grove North Friday, with both teams possessing 4-4 records…The West Suburban Silver Conference title could be on the line when Hinsdale Central (7-1, 5-0) faces off against Glenbard West (7-1, 4-1) on Saturday. York (7-1, 4-1) will be keeping an eye on Saturday's game if they can beat Oak Park-River Forest (4-4, 1-3). The Dukes' lone loss was against Hinsdale Central in Week 7.