York football coach Mike Fitzgerald couldn't name his favorite memory from Saturday's epic victory over Glenbard West.
On the surface, it was just a regular season game in the tail end of the first full season in two years.
It was an important showdown in the West Suburban Silver, but not a win-or-go-home playoff game. But the Dukes needed a statement victory to legitimize their undefeated start and build momentum for the coming years. The Hilltoppers entered Saturday's game with 13 straight victories over the Dukes.
While the the game had huge ramifications for the Dukes, it was simply just another game for Glenbard West.
When Max Hansmann's 17-yard field goal sailed through the uprights to signify a 12-10 victory for the Dukes, Fitzgerald admitted it led to a memorable postgame scene.
"There were a lot of great moments," Fitzgerald said. "Seeing that kick going through the uprights was a great feeling. Our team really battled the momentum swings and adversity in that game, and it was awesome seeing that kick go through knowing we were about 40 seconds away from accomplishing one of our big goals that we have been working on for years.
"Seeing the kids smiling and crying tears of happiness was also a special moment as well as I know how much they have put into this football program and to see their hard work be rewarded is just special."
Fitzgerald has preached building a consistent winning program from the bottom up throughout his four-year tenure. Fitzgerald said he was flooded with calls and texts messages from former players after the game. The Dukes (6-0, 4-0) are in the driver's season in the conference with three regular season games left. With the win, York, which hosts Hinsdale Central on Friday, clinched its first playoff berth since 2011.
"I had about 40 text messages before I got back to school from recent alums that helped set the foundation of the program and seeing the pride they had in that win was really special too," he said.
Fitzgerald's decision to insert junior quarterback Matt Vezza into the game in the second quarter at Downers Grove North in Week 4 helped spark the Dukes. Since then, the Dukes' offense has become multi-dimensional, with Vezza's running and pinpoint passing highlighting the attack.
Still, Fitzgerald said quarterback Colin Doherty is an unsung hero and a vital contributor for the Dukes. Fitzgerald emphasized how Doherty handled the transition from starting quarterback to backup as another example of the Dukes' team-first philosophy that helped shape the program.
"Colin hasn't played a down the last couple weeks but he's a huge part of our undefeated season," he said. "We have run quarterback Matt Vezza 45 times the last two games, and I can do that without hesitation because of my confidence in Colin. If you only have one quarterback, you get nervous about how many times you want to run the quarterback but Colin is another outstanding quarterback that started the first couple games before Matt emerged in the Downers Grove North game. Not only does Colin allow us to call the game like that which helps our team and offense tremendously, but the way Colin has handled the situation has really been remarkable."
"We have a lot of great players on this team waiting for their opportunity to play and Colin has set a great example for our team on what it looks like to put the team goals before your own goals, which is easier said than done as a teenager. Colin is also like an assistant coach as he knows the offense inside and out and helps me communicate in-game adjustments to the skill guys during games, is always holding his teammates to a high standard, and is always pulling guys aside to teach the little details of the offense."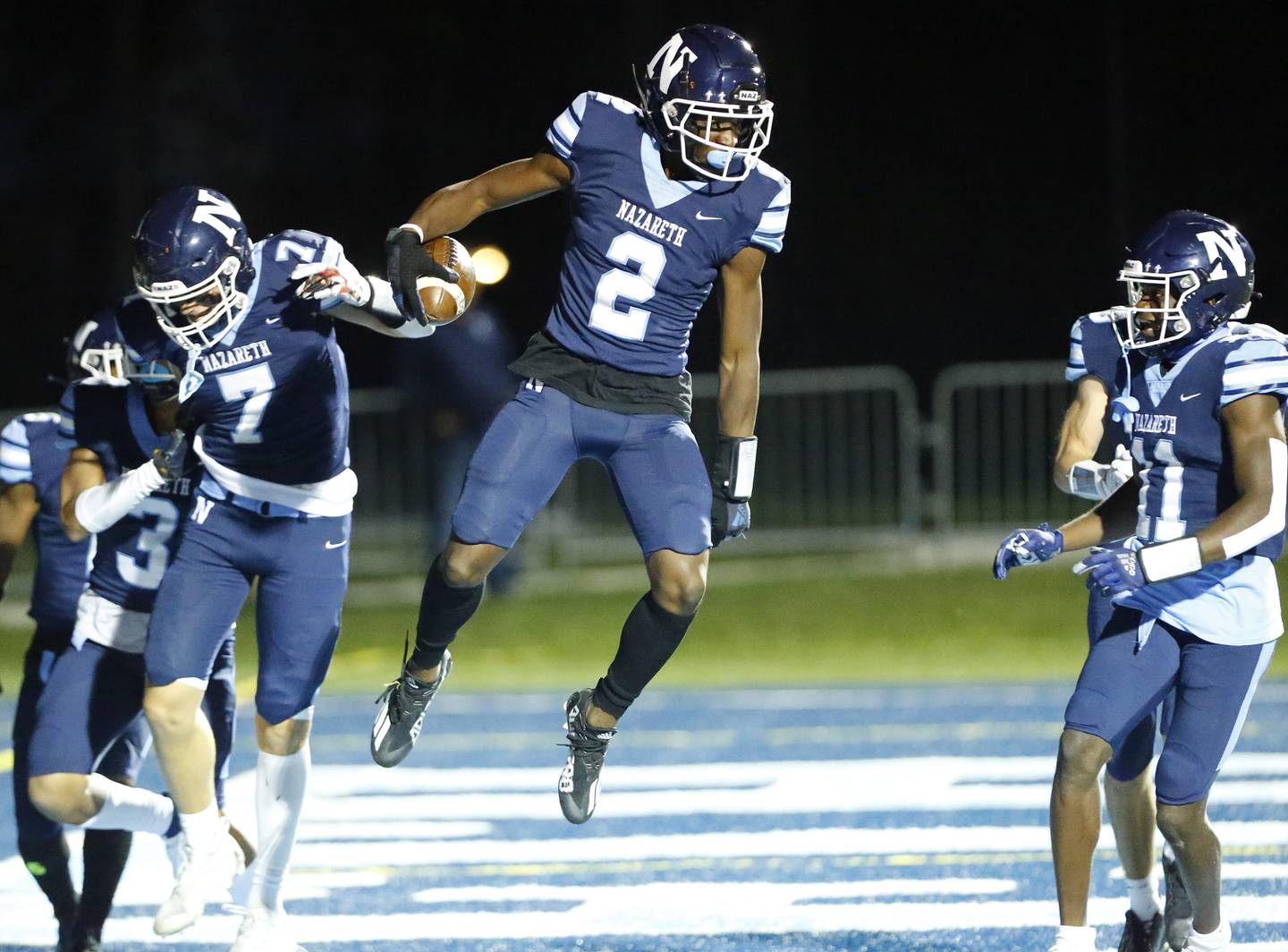 Nazareth fighting for playoff spot in stretch run
Six games into the regular season, Nazareth is fighting for a playoff spot. At 2-4, the Roadrunners enter a key part of their schedule. They close out the regular season with three straight home games, against Leo (2-4), Montini (3-3) and Benet (3-3).
The Roadrunners dropped a hard-fought 42-39 decision to St. Rita in Week 6.
It's been a quick descent for a program that was making deep trips into the playoffs for the past eight years, including winning three state titles and placing second twice since 2014.
"The thing is, what you don't see in the win or loss column, is we're getting better each week," Nazareth coach Tim Racki said. "We went toe to toe with St. Rita, which is bigger and faster than us on paper. Every week we've gotten better, but \just come up short. We're not out of the playoffs yet. The kids are highly motivated and really want to make the playoffs.
"The first third of the season we found our identity, and the middle third found our confidence. We realized we have a lot more mental and physical toughness. Compared to each previous week, we're fighting harder and harder. They have to trust the process. The defense has been really consistent all year. Our offense is struggling, the last few weeks we've been putting points on the board. The offense is growing."
Extra points: Lemont remains among the undefeated teams left in the state. Lemont (6-0) plays two teams with losing records — Tinley Park and Oak Forest — but hosts T.F. South (5-1) in Week 8…Glenbard South hosts Streamwood this week before a key Upstate Eight Conference game at local rival Glenbard East on Oct. 15…Riverside-Brookfield (5-1) has a key test in Friday's clash at IC Catholic Prep (6-0).