Glenbard South senior Dominic D'Ambra is a difficult player to classify on the football field.
At 6-foot and 193 pounds, D'Ambra is a chiseled player with the ability to play in college.
His three-way play is a key reason why the Raiders (4-1, 4-1) are on track to make the playoffs and a possible run at the Upstate Eight Conference title. The Raiders play at East Aurora (3-2, 3-2) on Friday night.
But D'Ambra admitted he's not sure about his future position in college. That's partly due to his versatility, since he plays slot receiver, linebacker and long snapper. D'Ambra, a second-year captain, said he has an offer from Saint Francis University.
"I like being a contributor to the team," D'Ambra said. "That's why I started long snapping. I even got in one varsity snap in my freshman year. I think it's great. I can play both sides of the ball and long snapping adds another element. I can see myself playing either side of the ball at the next level. I think long snapping adds to it, and can maybe help me play (in college)."
A three-year starter, D'Ambra is one of two two-way starters for the Raiders. Senior Connor Murphy, a four-year varsity player, starts at offensive tackle and defensive tackle. D'Ambra doesn't grab the headlines like Murphy or star wide receivers Trevor Burnett and Cam Williams, but his consistent play, durability and leadership have propelled the Raiders this season.
"Dominic is really one of our best leaders and a kid who can flat out play," Glenbard South coach Ryan Crissey said. "He's extremely physical and one of the more well-built individuals that I've ever coached. He plays with intensity and intelligence but has a little caveman in him."
D'Ambra said he credits his work ethic and consistency to watching his older brother and sister succeed in high school and college. His brother, Nick, is a junior slotback at Western Illinois who earned five letters at Glenbard South.
His sister, Sophia, is a freshman midfielder/forward for the Eastern Michigan women's soccer team. Sophia D'Ambra has played in nine games this season for the Eagles.
"My brother was always on me to work hard and stay humble," Dominic D'Ambra said. "I learned so much from both of them. It was really motivating. My brother is always calling me and making sure I'm prepared. I learned from my brother and sister that recruiting takes time. The offers come over time. I saw my sister go through some tough times, not getting a scholarship right away because of COVID-19. She persevered through it, and is now playing Division I."
Crissey said the Raiders have the potential for a special season, especially with a seasoned cast that includes 11 returning starters.
"The nice thing with our offense is we're really balanced," he said. "We have some weapons. It's hard to put all your inventory and stock and put it on one kid when you're a defensive coach. Trevor and Cam are tough to stop. We really try and get both of these kids the ball in space and as quickly as possible, Cam can take the top off a defense with his length and explosiveness. Our quarterback, Michael Champagne, is doing fantastic. He's got great timing and vision and improving each week.
"This is the best defensive line we've had in a number of years. Cain Smith and Connor Murphy are the anchors of the defensive line. Both are not flashy, but are technically sound and play with great leverage."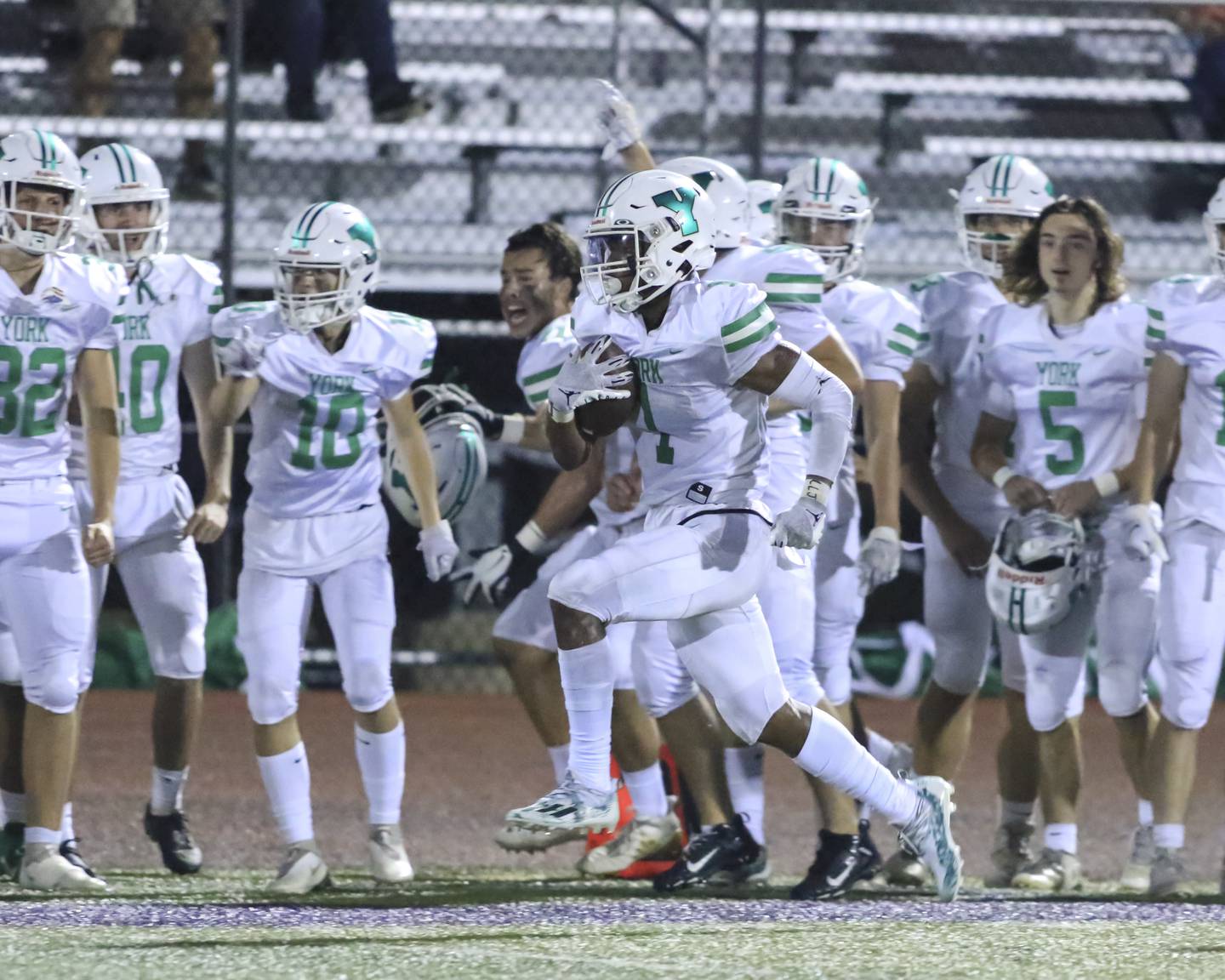 The battle for Silver?
York played one of its biggest games in recent program history on Friday. Before a packed Homecoming crowd, the Dukes pulled out a memorable 14-7 victory over Lyons to remain among the unbeaten ranks.
At 5-0 and 3-0 in the West Suburban Silver, the Dukes are riding high behind a solid running game and a bend-but-don't break defense. The Dukes possess a deep roster of talented players motivated to build the program into a consistent winner.
One week after knocking off the Lions, the Dukes face another big game in program history when they travel to state powerhouse Glenbard West on Saturday. The Hilltoppers (5-0, 2-0) have bounced back from a sluggish showing in the shortened spring season by relying on the traditional dominating "Hitters" traits to overwhelm opponents. The Hilltoppers have shut out three opponents and own a gaudy 278-40 scoring advantage.
York football coach Mike Fitzgerald understands the challenge of Saturday's game at Duchon Field. The Hilltoppers have dominated the annual series, winning the last 13 meetings between the two teams. The Dukes last defeated the Hilltoppers 27-20 in 2007. Since Glenbard West coach Chad Hetlet put his stamp on the program, the Hilltoppers have owned the series, winning the 13 games by an average margin of 33.3 points. Glenbard West's 21-0 win last spring matched the closest margin since 2010.
This York team is one win away from equaling the program's best start since winning six in a row to open the 2010 season.
"Glenbard West has been the class of the conference for years and years," Fitzgerald said. "That's why we're working our tails off to compete with them. We're looking forward to the challenge, for sure."
Extra notes: Downers Grove South (1-4, 1-1) won its first game of the season, defeating Proviso East 37-14 in Week 5…Riverside-Brookfield (4-1, 3-0) sits atop the Metro Suburban Red, with St. Francis (4-1, 2-0) on its heels. The Spartans travel to Aurora Christian (4-1, 2-1) for a pivotal conference game…Montini ended a two-game slide with a 39-32 win over Leo…IC Catholic recently petitioned the IHSA to play in Class 3A, which could have a dramatic impact on the playoffs for 3A and 4A.