Plano coach Rick Ponx received advance notice that Ray Jones Jr. was about to have a game to remember last Friday.
From a reliable source.
Coach and star running back were in the locker room alone at halftime of the JV game at Johnsburg, when Jones offered Ponx a sneak preview.
"He was starting to get into game mode and he said 'This is going to be a special night coach,'" Ponx said. "From what I understand he was [in eighth grade] the last time they played Johnsburg, and lost 70-0. He made reference to that. That stuck with him. He was not going to let us lose that game."
Indeed he did not.
In an individual performance that Plano won't soon forget, Jones ran for 210 yards on 21 carries with four touchdowns, including the decisive 20-yard score with 2:10 left, in the Reapers' big 27-26 win at Johnsburg.
Jones, who also ran for TDs of 3, 27 and 46 yards, accounted for 210 of Plano's 243 yards of offense.
"Without him, we don't win," Ponx said. "You never have a one-man game, but if there was one, that was it."
Jones was one of two area running backs who enjoyed a game for the ages Friday.
At Ken Pickerill Stadium in Oswego, Oswego senior Mark Melton ran for 241 yards and four touchdowns – all the scores coming in the second half – of the Panthers' 41-28 win over Minooka.
"Mark is the type of kid who could break out in any game, regardless of who we play he is capable of doing that," Oswego coach Brian Cooney said, "but obviously 241, that is a whole another ballpark. He was definitely hot, and you could see it from the first play."
Jones said he was in the eighth grade the last time Plano played Johnsburg, the 70-0 loss. When he saw the Skyhawks on this year's schedule, he was ready.
But he didn't let his emotions get in the way of the task at hand.
"It was strictly business. I just wanted to win," said Jones, the Kendall County area's rushing leader with 594 yards in just four games played. "After the game it felt pretty good but during the game, after the touchdowns, I didn't even celebrate. I just walked off the field. It was a dogfight with the opponent and the conditions but we fought through and got the W."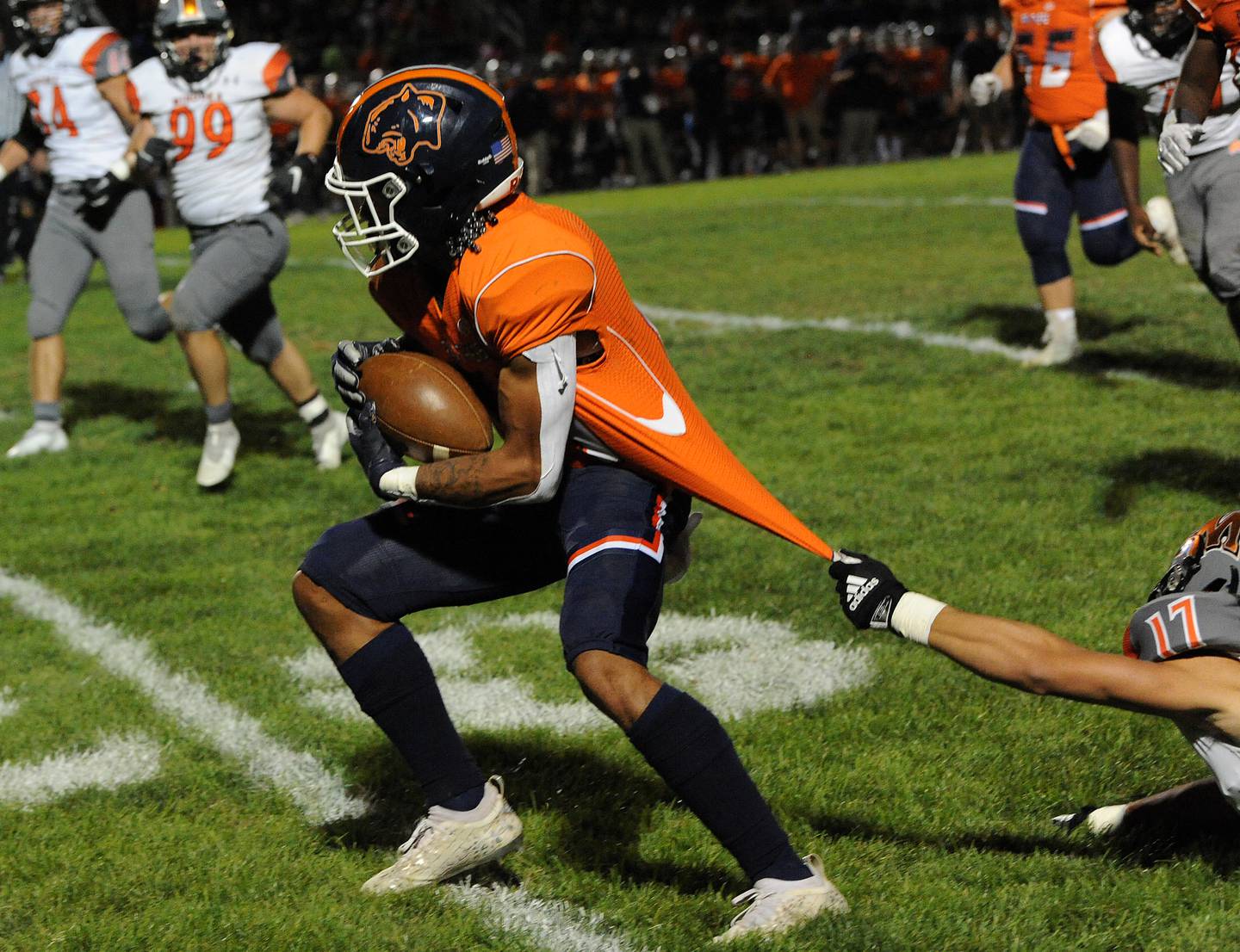 Melton, likewise, was motivated by a recent meeting with Minooka that he did not personally participate in. The Indians in their last trip to Oswego beat the Panthers to end their reign atop the Southwest Prairie Conference.
"I wanted to go out and perform at my best level," Melton said. "Homecoming week, the energy was great. Since freshman year Minooka has been the team I have had the most fun playing against. It was cool to have that be the last time playing them at Ken Pickerill. I love playing them every year."
Melton ran the 40-yard dash in 4.43 seconds as a sophomore, and showcased that elite speed Friday. He scored on a 58-yard hook-and-ladder, and capped off his huge night with a 68-yard TD down the right sideline.
"I'm real humble when it comes to football but personally I don't think anyone can catch me outside," said Melton, who has run for 371 yards and six TDs on the season. "It's just reading the blocks, knowing what I have to do and being ready."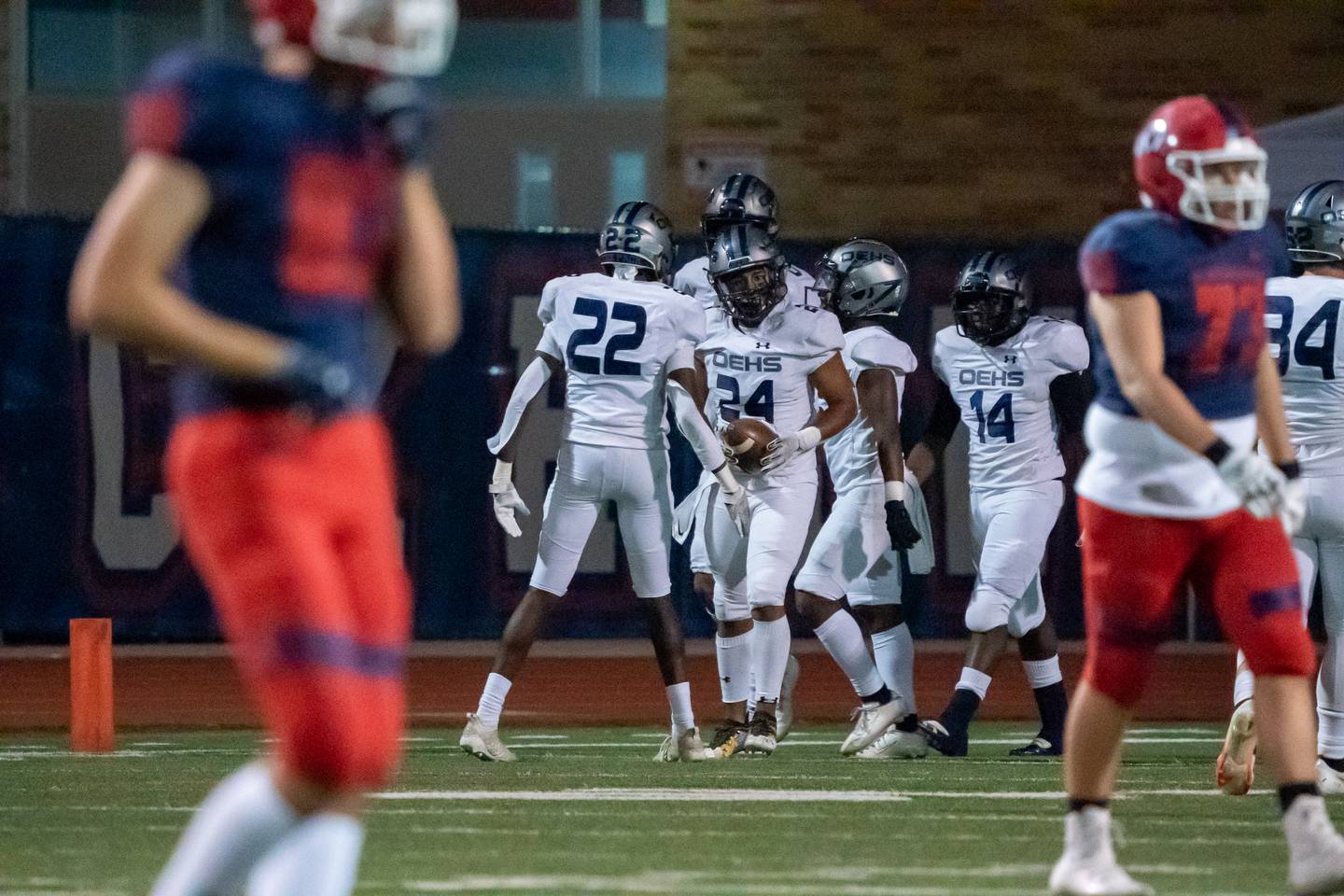 Opportunistic Wolves strike again:
Oswego East coaches can quibble about the yards its defense has yielded this season – but the Wolves get it done in the most important stat.
The Wolves have allowed just 46 points in four games played during a 5-0 start that includes one forfeit. If that is not impressive enough, consider that Oswego East's defense itself has scored five touchdowns, and had two others called back on penalties.
"That's been the name of the game," Wolves coach Tyson LeBlanc said. "We talk about trying to score in all phases of the game. So far the defensive performance has been very above average."
The opportunistic Wolves struck again last Friday.
Juny Almeida returned a fumble of an attempted lateral 78 yards for a critical TD, and Mike Polubinski had a 47-yard interception return for a score in a 27-7 win at West Aurora. Oshobi Odior's return of a fumble for a TD was called back on a penalty.
Almeida, a junior linebacker, had 11 tackles and three tackles for loss, continuing his strong second varsity season.
"Juny stepped up and did a great job for us as a sophomore in the spring; he is an extremely hard worker, extremely dedicated, works hard on perfecting his craft," LeBlanc said. "He has a high football IQ, he understands the game and he more importantly understands our defense. Coming into the year, you could tell he played for us last year. His preparation, his retention, it's the little things."
Plano gets second forfeit win
For the second time this season, Plano has had a game canceled because of its COVID situation. Plano athletic director Jim Schmidt confirmed in an email Monday that due to a COVID situation with the Harvard football team, Harvard will not have enough players to field a varsity team for Friday's game.
Thus, Plano earns a forfeit win, improving to 5-1 to become playoff eligible. Still, it's a disappointment for Ponx and the Reapers to not be playing a Homecoming game.
"The kids are disappointed not being able to play," Ponx said. "At the same token we had some guys banged up on Friday night and we could use a week to heal. We're so thin, so it will work out for the best. We'll practice Tuesday, Wednesday and Thursday this week, give them Friday off, walkthrough Saturday and then give some Sunday off, and then back to game week. Unfortunately, it's Homecoming week this week. Homecoming started with football. Without football, it's parades. We have the Powderpuff game Thursday, I guess that will be our football this week."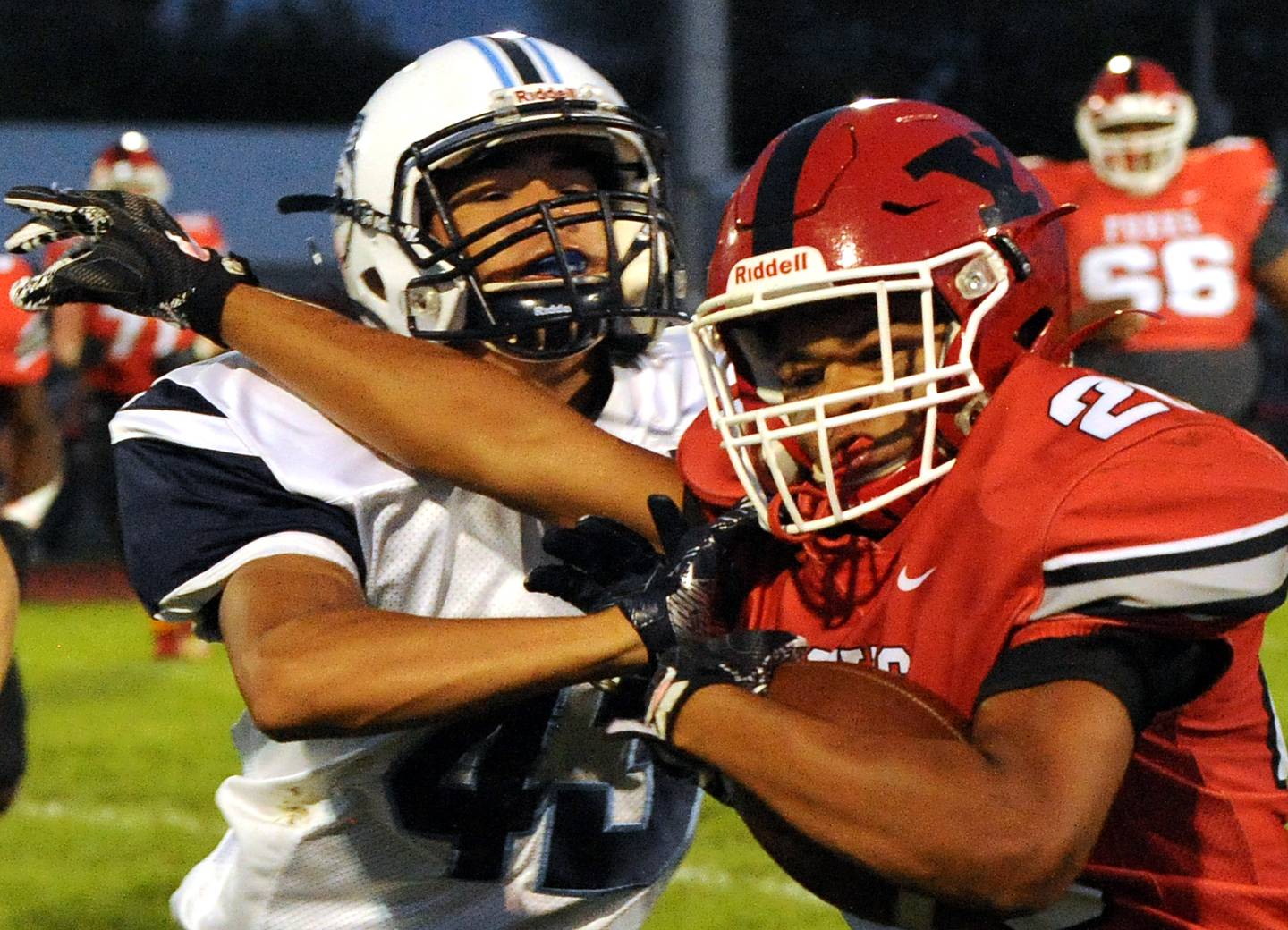 Foxes look to bounce back
Yorkville's 31-3 loss at Plainfield North looked fairly one-sided on the scoreboard, but Foxes' coach Dan McGuire felt it perhaps wasn't indicative of the game.
"It was a 17-3 game in the fourth quarter against a really good team. I think a lot of people reacted to the final score, but we were in the ballgame," McGuire said. "A lot of uncharacteristic things went against us – we gave up an onside kick, and we didn't have the ball as much. First of all, Plainfield North is a very good team. Second of all, we didn't play very well. We had some chances if you watch the film. You learn from it, and realize you can play with really good teams."
McGuire said a key for the Foxes is getting back to establishing the run.
Yorkville managed just 67 yards rushing at 2.91 yards per carry against Plainfield North; the Foxes averaged 195 rushing yards per game and 5.7 yards per carry in their four previous games. Running backs Deajeion Lewis and Gio Zeman both returned to the lineup, but McGuire said neither were at 100%.
"We have to get healthy and we have to get some continuity," McGuire said. "We have to get back to establishing the run. We do that we feel like we'll be successful."
The Foxes host West Aurora in a matchup of 3-2 teams coming off losses. With a bruising schedule ahead, it sets up as a critical game for both teams' playoff chances.
"It's definitely a big game for lots of reasons," McGuire said. "No 1, to see how we respond to not winning last week. We responded well from our previous loss and hopefully we can do that again. But no doubt, every game is extremely important."