Mason Wojtas has ways of endearing himself with the Huntley football coaching staff on days when there are no practices or games.
Huntley assistant coach Gibson Danekas, in his third season as the Red Raiders' special teams coordinator, sometimes sees Wojtas walking down a hallway mimicking his kicking motion.
Last winter, with several inches of snow on the ground, wide receivers coach Mike Naymola looked across the street from his house and saw Wojtas, bundled up, kicking footballs in a park across the street. Naymola recorded a video and sent it to the staff.
"I've never seen it before," Danekas said. "He's out there in a winter jacket, with gloves and a hat, kicking. He loves it."
Wojtas, a junior, is a rarity. He does his placement kicks with his right leg and punts with his left. He discovered his passion by combining two of his favorite sports, football and soccer.
"I enjoyed playing soccer a lot. I always loved playing football," Wojtas said. "Once I found something where I could mesh it together, it drew me to that. There's some sports where you don't find the love for it and want to keep going. For me, that one thing I always want to work on [kicking] keeps me going. I have tried to master that ability the best I can for myself."
Wojtas has made an impact with the Raiders' special teams. He kicked a field goal in Huntley's 16-13 victory and had some big kickoffs and punts in the opener, a 32-21 loss to Crystal Lake Central.
Wojtas' first play this season was memorable as he took off for an 8-yard gain on fourth-and-5 at Huntley's 25. A few plays later, the Raiders scored on their first drive of the season.
Wojtas said the play was not planned.
"Peyton [Grannis] is a very good snapper, he just got a little nervous," Wojtas said. "I love working with Peyton. It was a low snap, and I picked the ball up and saw a giant opening [to the left] and wanted to get that first down. I was looking at the first-down marker. It would have been pointless if I didn't get that."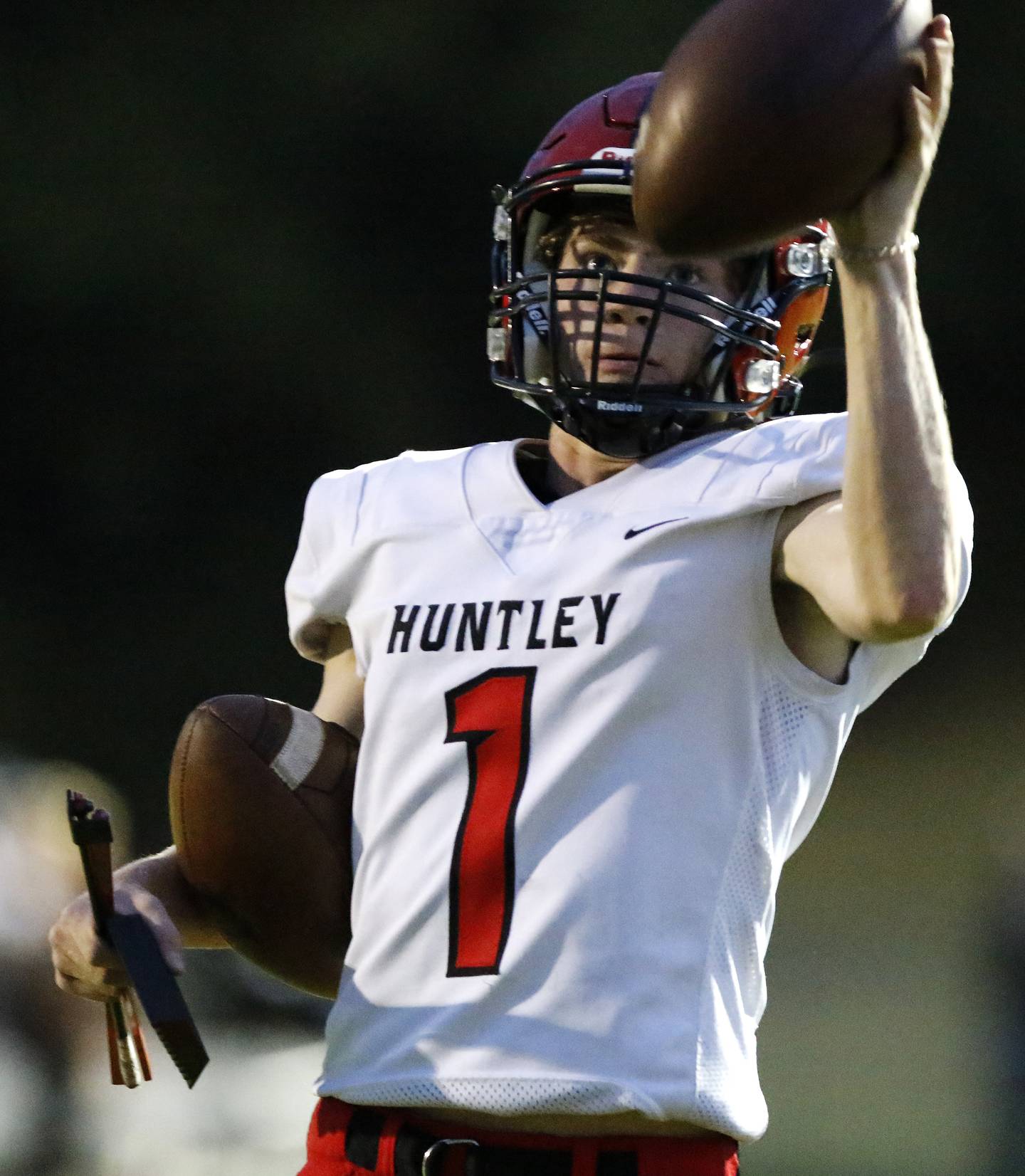 Danekas said Wojtas being gifted as an athlete helped him make that play.
"That was completely unscripted," Danekas said. "If he gets a bad snap, it's kind of his call. He can look and see what he has. We talked about it afterward and he said, 'I really didn't check, I just left.' I said, 'Well, you did a good job.' "
Danekas calls Wojtas a "difference-maker" with his feet. Raiders head coach Matt Zimolzak said "Mason is the best kicker we've had at Huntley. He's unbelievable. Great kid. If he's not a college kicker, I don't know who is."
A former college kicker, 2016 Huntley graduate Jon Alberts, works as a financial advisor with Edward Jones in Algonquin. Alberts, a former NCAA Division III All-American and Academic All-American at Central (Iowa) College, works with Wojtas.
"He is very good, especially for a high school junior," Alberts said. "He works hard, and he's very coachable. He's made a lot of improvements in the last year. He is very invested in the technicalities of kicking. He's made a lot of progress."
Wojtas grew up playing football, but usually played defense. He also played soccer, which is where an injury led the natural lefty to learn to kick right-footed. It is an oddity on Friday nights to see an ambidextrous kicker-punter.
"I sprained my left foot playing soccer [sometime around 2013]," Wojtas said. "It drew me to start kicking with my right foot. [In football] I couldn't figure out punting, so I stuck with my left foot for punting and I kicked righty. That [right] is what I call my dominant foot now."
Danekas said they consider Wojtas a field-goal threat when they reach the 30-yard line, the longest he has connected on in practice is 47 yards. As for punting, Wojtas often kicks a tight spiral that then turns over at the apex of the punt, which makes it a little more difficult to catch.
"Once it turns over at the top, it'll kind of just drop out of the air, and it's hard to gauge when it's going to land and how you need to go about catching it," Danekas said.
One of his first punts landed short of Central's return man and resulted in a muff the Raiders recovered inside the 10 and punched in for a touchdown.
On a kickoff in that game, Wojtas dropped the ball on its nose at the 1 and the ball bounced backward like a punt, pinning the Tigers inside the 10 for that possession.
"I don't think I've ever seen that," Danekas said. "I'm just happy he's on our team."
When Alberts graduated and was hired in the area, he asked Zimolzak about working with his specialists. Alberts feels like Wojtas has what it takes to kick in college at whatever level that ends up being.
"Kicking at the next level is a lot about how good you get from junior year to senior year," Alberts said. "Then your senior year to [college] freshman year is a big transition. Throughout college there's a lot of development that goes into kicking off the ground.
"Compared to where he's at now, to other high school kids, just being a junior, he's in a really good spot if he wants to [kick in college], as dedicated as he is. He has the potential for sure."