Andrew Garton is known for his quick feet in his spring sport, track and field.
He apparently has quick hands, too.
Garton's 35-yard interception return for a touchdown was one of five Yorkville turnovers forced last Friday in a 28-12 win over Plainfield South.
On the second play of the second quarter, Garton picked off sophomore quarterback Connor Folliard and took it to the house.
"We had trips on one side, two of the guys running across the field, a post, I saw the quarterback roll out, saw Jake Davies and Ben Alvarez get pressure on him," said Garton, a senior safety. "The quarterback lobbed it up. Perfect for me to go and take it to the house."
It's Garton's first pick-six in high school. He certainly has the wheels to fly in the open field.
A sprinter in track, Garton took fifth in the 100-meter dash and third in the 200 at conference in the spring, and third in the 100 at sectionals. He's run a 4.36-second 40 hand-timed, and a 10.93 100.
To no surprise, he considers speed one of his biggest strengths. He does speed training twice a week with Dr. Jeff Schutt, then lifts the rest of the week.
Yorkville coach Dan McGuire said Garton only plays at one speed.
"He has one switch and that is 100%," McGuire said. "He gives us everything he has in terms of effort and speed. I've never seen him do anything at 3/4 speed. He's always at 100%."
McGuire said he has noticed Garton's overall knowledge of the game improve, which is a good thing.
This season he switched positions with Blake Kersting, Garton moving from the "Badger" outside linebacker position to the free safety, or "Hero" spot. The switch maximizes Kersting's physicality and knack as a ballhawk and Garton's speed and ability to chase down people.
Now at safety Garton is responsible for calling coverages.
"It is a lot more film watching and reading, less run support," Garton said. "I like it. It's nicer because you can see everything that is happening, get more control."
Garton isn't the only Yorkville player who stars in another sport that is excelling on the Foxes' defense. Sophomore linebacker Alvarez, a state wrestling qualifier last spring and also a baseball player, had seven tackles and two interceptions last Friday.
"He's a kid that we knew last year would be a good player for us. He's a really good all-around athlete," McGuire said. "He plays weakside outside linebacker, our 'Badger' position and that position needs a lot of athleticism. He can play any one of three different positions on any snap: on the best receiver, on top of the offensive tackle or up in the box with running backs. He's a kid that can be really really good when it's all said and done."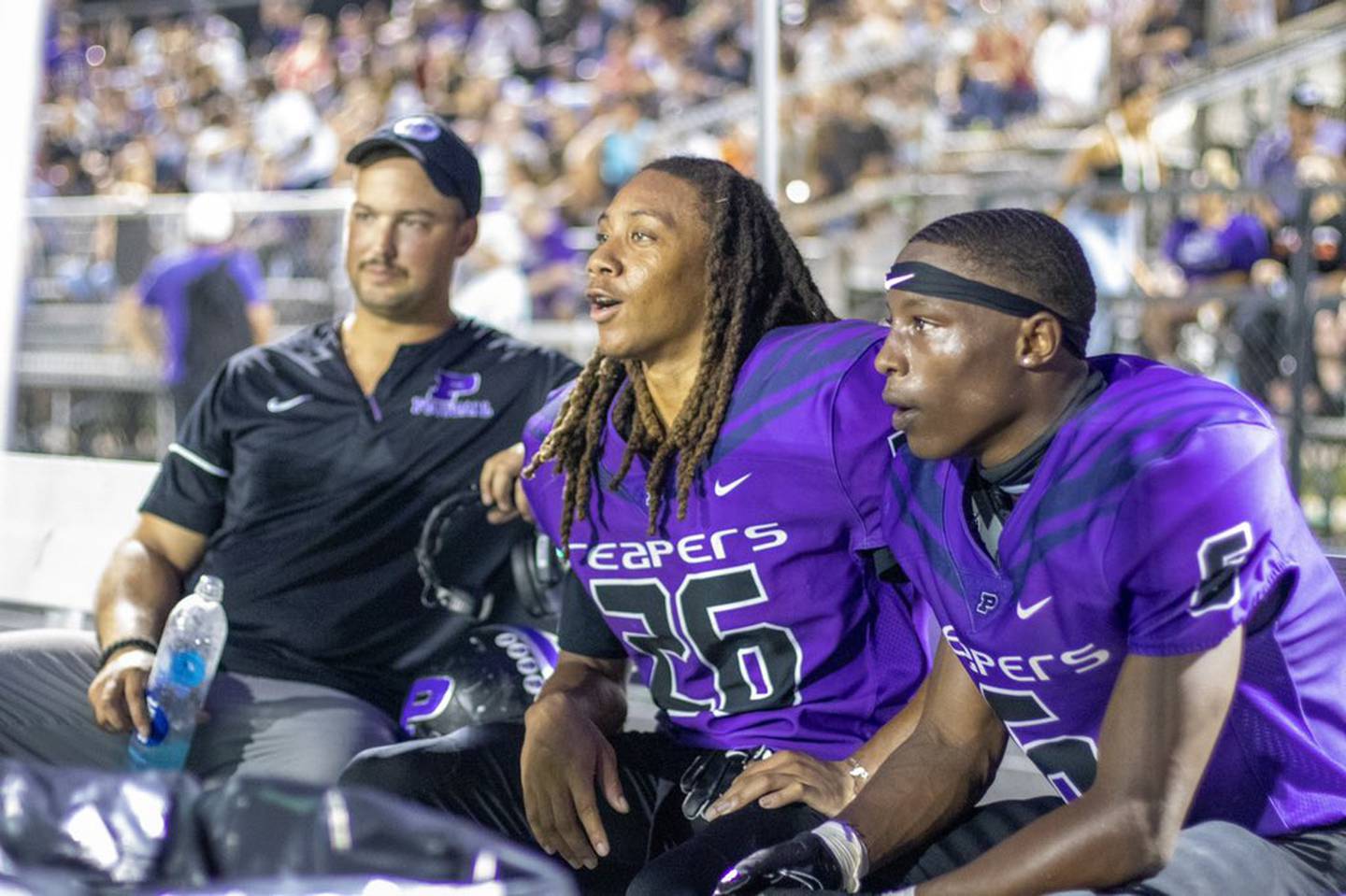 Reapers get 'bye' before big game:
Plano coach Rick Ponx is familiar with "bye weeks" from his college coaching days, but the week off last Friday was different for his Reapers. Plano's Week 3 game at Sandwich was canceled because of a COVID situation at Sandwich, the Reapers getting a forfeit win.
Plano practiced Wednesday and Thursday, and got Friday off, with a number of players driving to watch Plano's Week 4 opponent, Richmond-Burton in action before a Saturday practice.
"Guys that were banged up, [Monday] was their first day back, we gave them Wednesday, Thursday and Saturday off. It was good to see them back with what appeared to be fresh legs," Ponx said. "Normally what would happen Monday and Tuesday of game week we were able to knock out Thursday and Saturday. It made for a smooth practice today [Monday]."
It's a good time for Plano to be fresh and at full strength.
This Friday they welcome fellow unbeaten Richmond-Burton, a team that has won 23 consecutive games since the 2018 Class 4A semifinals.
"Our guys know Richmond-Burton, and they respect the heck out of them, they were state champions in 2019," Ponx said. "We know we have a tall order in front of us, but we are excited for a challenge."
Of Richmond-Burton, Ponx said "they are fast, they are very quick, and No. 34 [All-State running back Brock Wood] is not only big and powerful, but he will run away from you."
"They are a well-oiled machine, they are disciplined – they don't make mistakes," Ponx said. "They are a complete team. [Wood] is as good as they come."
The Reapers, though, are not giving an inch.
"I just want us to go out and compete and play as hard as we can," Ponx said. "Win, lose or draw we have something to build on. This game won't make or break us but we certainly want to compete."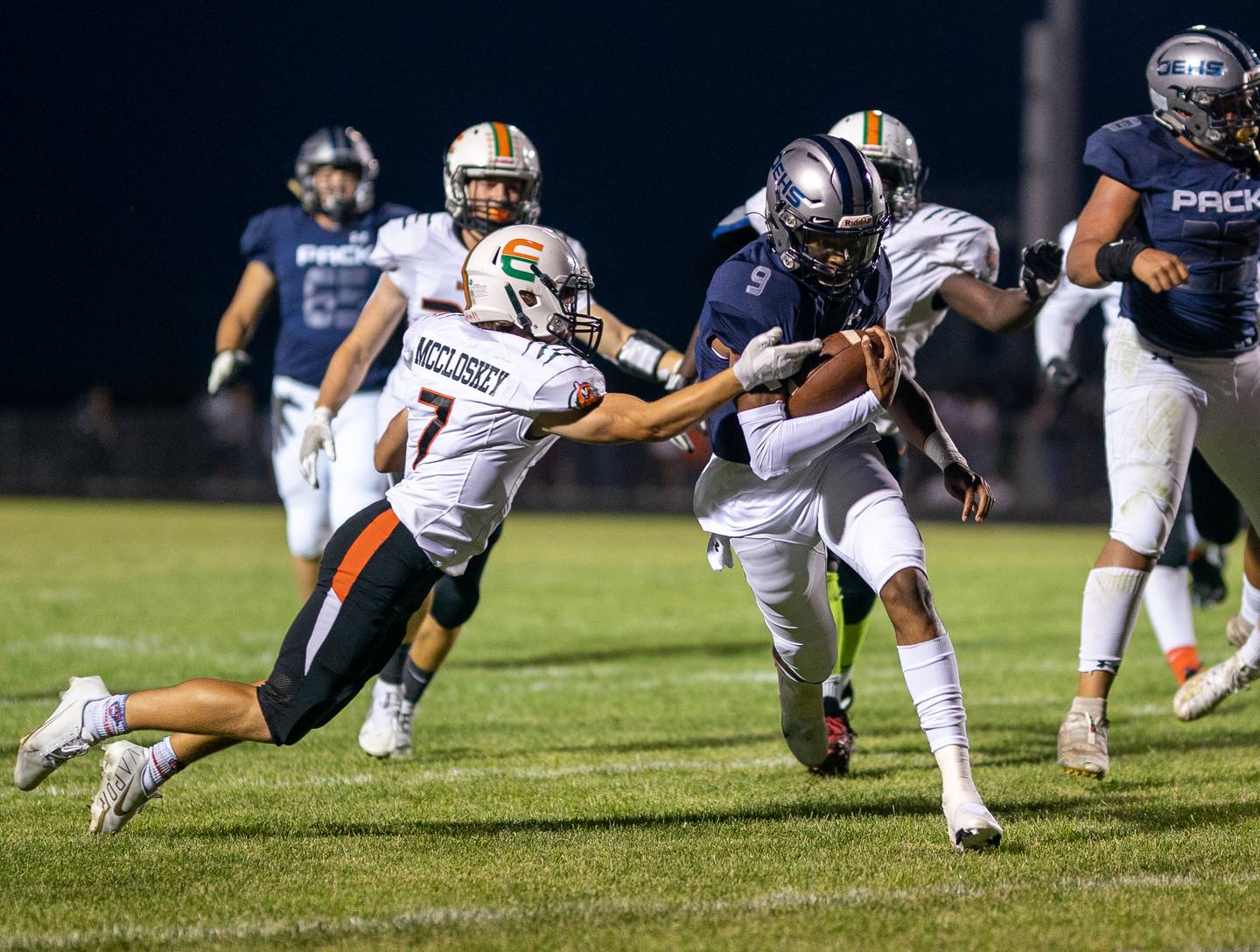 Oswego East QB Tre Jones shows off his wheels
It didn't take long for Tre Jones to elicit some grand comparisons.
When the junior quarterback broke off a 54-yard TD run in his Wolves' debut against Waubonsie Valley Week 1, one observer from the sidelines promptly commented "Justin Fields."
Fields, the Chicago Bears No. 1 draft pick and dual-threat quarterback, naturally has Bears fans excited. They're loving Jones in Oswego, too.
Jones threw four TD passes in Week 2, and ran for three TDs and threw for one last Friday against Plainfield East.
"It's great to have that kind of guy that can not only throw the ball the way he does but when the pocket breaks down he can make plays with his feet," Wolves senior receiver Ty Carlson said.
The Wolves' offense at this point seems to be most successful with Jones making plays with his feet, but Oswego East coach Tyson LeBlanc doesn't want to overwork him just yet – especially with the teeth of the schedule yet to come.
"For me, what it really is is I'm trying to find that happy balance," LeBlanc said. "We're early in the season, still not putting too much of a load on him, he's not running the ball as much as he probably should."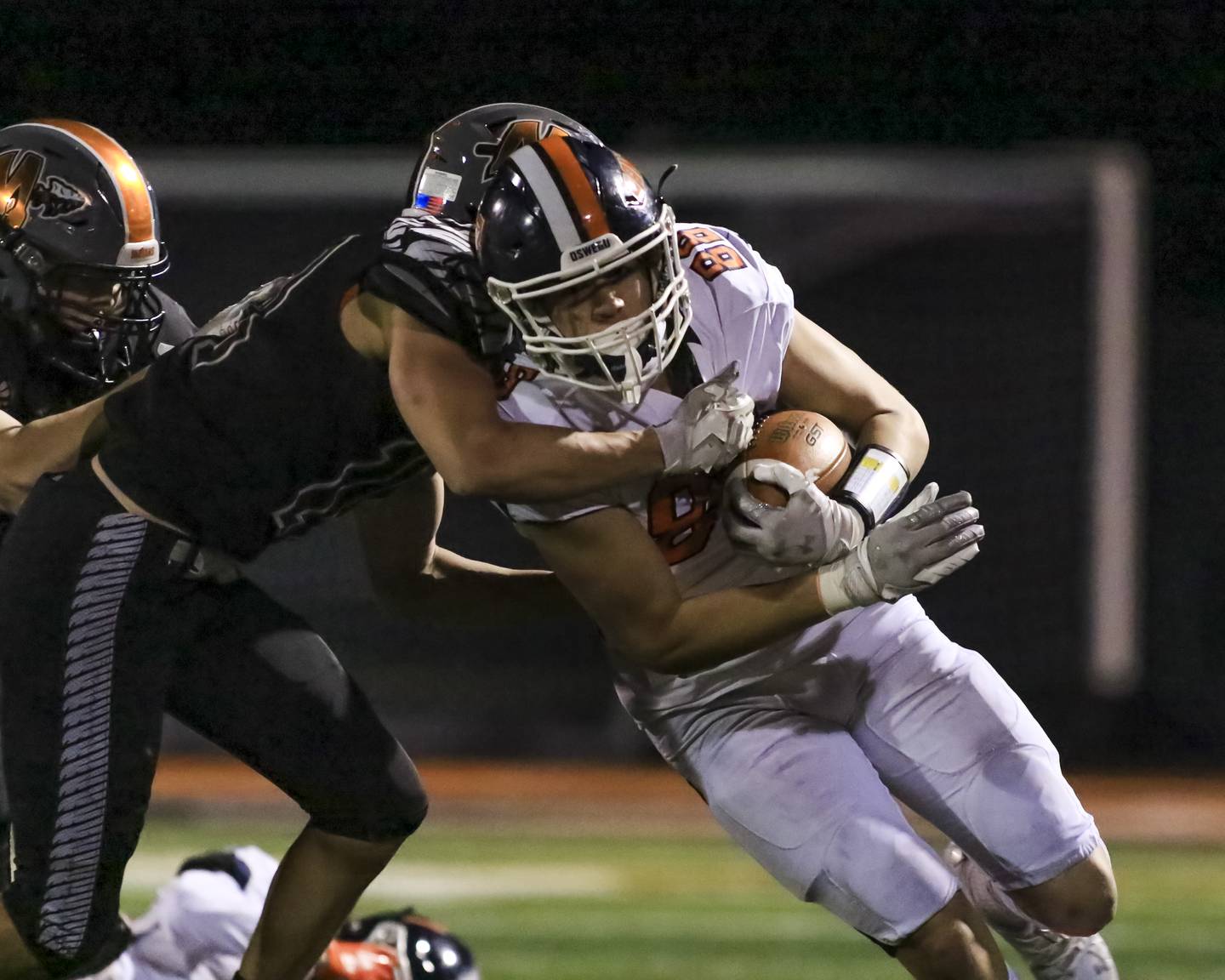 Oswego's Deakon Tonielli up to 10 offers:
Oswego junior Deakon Tonielli has continued to see his recruitment heat up.
The 6-foot-7 tight end is up to 10 scholarship offers after Louisville became the latest on Saturday. Purdue and Kansas have also offered in the last week, joining Tennessee, Michigan, Iowa State, West Virginia, Minnesota, Indiana and Cincinnati.
Tonielli has a team-high nine catches for 90 yards through two games on the field. Oswego earned a forfeit win over Joliet Central last Friday.
Sandwich forfeits second game with 'COVID situation':
For the second consecutive week, Sandwich is forfeiting its game because of a "COVID situation" The Indians, who lost their Week 3 game with Plano, will forfeit this week's game at LaSalle-Peru.
Sandwich coach Kris Cassie said in an email that both the sophomore and varsity games for this Friday are canceled.
"We cannot resume practice until Friday, when our kids return," Cassie said.